Logical Assessment of Japan's Nuke Disaster – FAQ
By Jack Blood
March 14th 2011
Deadlinelive.info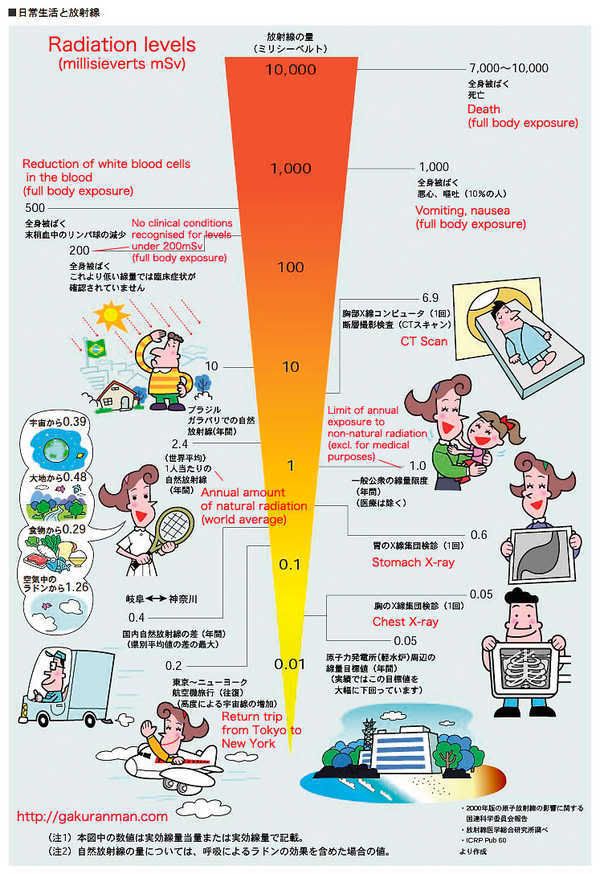 There has been a lot of speculation about Japan's ongoing, and ever widening Nuclear Reactor Disaster. Maybe to put your mind at ease, or to give some hope for those who might be effected by this event… We have put together some best and worst case scenarios, and in doing so hope to answer questions that the Media has either forgotten to address, or is outright avoiding.
There is a lot at stake here as the Reactor Building business concerns hundreds of Billions of dollars, if not the potential for Trillions of dollars as an industry. It also involves international corporations with unsavory pasts,  (Like Halliburton and Bechtel) with dynamic connections to the Military Industrial Complex. IE: These guys will stop at nothing to make money and gain power, and this includes lying, cheating, stealing, espionage, murder, and cover-ups involving all these things. To be sure, they will do whatever it takes to protect their business ventures.
1) What is a Core Meltdown? How might it effect you?
A nuclear meltdown is an informal term for a severe nuclear reactor accident that results in core damage from overheating. The term is not officially defined by the International Atomic Energy Agency or by the U.S. Nuclear Regulatory Commission. (This of course is a problem, and certainly adds to the confusion)
A meltdown occurs when a severe failure of a nuclear power plant system prevents proper cooling of the reactor core, to the extent that the nuclear fuel assemblies overheat and melt, either partially or completely. A meltdown is considered very serious because of the potential that radioactive materials could be released into the environment. A core meltdown will also render the reactor unstable until it is repaired. The scrapping and disposal of the reactor core will incur substantial costs for the operator. (and a boon to those who can rebuild, and supply materials)
Also see here: Nuclear Clean-Up Bonanza for Firms
The effects of a nuclear meltdown depend on the safety features designed into a reactor. A modern reactor is designed both to make a meltdown unlikely, and to contain one should it occur. (These safety "features" have obviously failed big time in Japan. Bechtel and Halliburton have been known to cut corners, and override safety to increase profits! While nearly cornering the market along with GE, Westinghouse…. Any wonder why NBC and CBS may have an interest in soft selling this "accident"?)
In a modern reactor, a nuclear meltdown, whether partial or total, should be contained inside the reactor's containment structure. Thus (assuming that no other major disasters occur) while the meltdown will severely damage the reactor itself, possibly contaminating the whole structure with highly radioactive material, a meltdown alone should not lead to significant radiation release or danger to the public
(assuming that no other major disasters occur) And this is one of the BIG problems with Japan. Not only did they have a cluster of reactors in one place, but by placing them at sea level, and on an earthquake fault line, they have created a scenario never seen before. It seems that it takes an awful lot of hubris not to believe that at some point this might be very risky.
So the REAL question becomes: Have these reactors lost containment of the core due to various risk factors? Remember that Chernobyl was somewhat contained. It was in the middle of nowhere, and only one reactor melted down. Coverage seems to hint that containment might be breached in one of more of the reactors. THIS HAS NEVER HAPPENED, or at least it has never been reported if it has.
Radiation clouds can certainly travel on a jet stream around the world, and although it can accumulated with precipitation and become a major health risk for that area… It is not (allegedly) a huge health risk to the world's population as a whole. (That is unless the 1000′s of people getting cancer in the next 20 years doesn't scare you)
Just to repeat… This situation is in reality incomparable to anything else. BUT, with Chernobyl the only best example to use as a rule… We could be looking at 2 or 3,4,5, or 6 Chernobyl's all at once (see below). Also, because these reactors are on the ocean.. A certain risk, maybe a massive risk; exists in both poisoning the food chain, or even wrecking it altogether if the right perfect storm occurs. I fear we are in the dark on this somewhat.
2) Other than Chernobyl (the constant media example) what are other examples of Nuclear Reactor Meltdowns, and what was the outcome?
* A number of Soviet Navy nuclear submarines experienced nuclear meltdowns, including K-27, K-140, and K-431.
* There was also a fatal core meltdown at SL-1, an experimental
U.S. military reactor in Idaho.
The only large-scale nuclear meltdowns at civilian nuclear power plants
* the Lucens reactor, Switzerland, in 1969
No irradiation of workers or the population occurred, though the cavern containing the reactor was seriously contaminated. The cavern was decontaminated and the reactor dismantled over the next few years.
* the Three Mile Island accident in Pennsylvania, U.S.A., in 1979.
In the end, the reactor was brought under control, although full details of the accident were not discovered until much later, following extensive investigations by both a presidential commission and the NRC. The Kemeny Commission Report concluded that "there will either be no case of cancer or the number of cases will be so small that it will never be possible to detect them. (Total BS) The same conclusion applies to the other possible health effects." Several epidemiological studies in the years since the accident have supported the conclusion that radiation releases from the accident had no perceptible effect on cancer incidence in residents near the plant, though these findings have been contested by one team of researchers.
* the Chernobyl disaster at Chernobyl Nuclear Power Plant, Ukraine, U.S.S.R., in 1986.
This event exposed the graphite moderator components of the reactor to air, causing them to ignite. The resulting fire sent a plume of radioactive fallout into the atmosphere and over an extensive geographical area, including Pripyat. The plume drifted over large parts of the western Soviet Union, Eastern Europe, Western Europe, and Northern Europe. Large areas in Ukraine, Belarus, and Russia had to be evacuated, and over 336,000 people were resettled. According to official post-Soviet data, about 60% of the fallout landed in Belarus.
Despite the accident, Ukraine continued to operate the remaining reactors at Chernobyl for many years. The last reactor at the site was closed down in 2000, 14 years after the accident.
Russia, Ukraine, and Belarus have been burdened with the continuing and substantial decontamination and health care costs of the Chernobyl accident. Fifty deaths, all among the reactor staff and emergency workers, are directly attributed to the accident. Estimates of the total number of deaths attributable to the accident vary enormously.
The radiation levels in the worst-hit areas of the reactor building have been estimated to be 5.6 roentgens per second (R/s) (1.4 milliamperes per kilogram), equivalent to more than 20,000 roentgens per hour. A lethal dose is around 500 roentgens (0.13 coulombs per kilogram) over 5 hours, so in some areas, unprotected workers received fatal doses within minutes. However, a dosimeter capable of measuring up to 1,000 R/s (0.3 A/kg) was inaccessible because of the explosion, and another one failed when turned on. All remaining dosimeters had limits of 0.001 R/s (0.3 µA/kg) and therefore read "off scale." Thus, the reactor crew could ascertain only that the radiation levels were somewhere above 0.001 R/s (3.6 R/h, or 0.3 µA/kg), while the true levels were much, much higher in some areas…
Other core meltdowns have occurred at:
* NRX (military), Ontario, Canada, in 1952
* EBR-I (military), Idaho, U.S.A., in 1955
* Windscale (military), Sellafield, England, in 1957 (see Windscale
fire)
* Sodium Reactor Experiment, Santa Susana Field Laboratory, Simi
Valley, California, U.S.A., in 1959
* Fermi 1 (civil), Michigan, U.S.A., in 1966
* A1 plant at Jaslovské Bohunice, Czechoslovakia, in 1977
So at the end of the day, bottom line… NO ONE really knows what the "fallout" will be. If they say they do, ask them for a comparable example of which they refer. And this is the problem. On the one hand, its easy to say not to worry unless you live in the immediate area. On the other hand… The extent of posthumous death rates and various forms of toxicity, cancer, and death from something like a Chernobyl would be covered up for no other reasons than financial liability, or saving the Nuclear Power Industry altogether… The advancement and growth of this energy sector, and its profits are well recorded, and and no secret.
At his time, until proof of "containment" being breached on a huge level.. Our Threat Level assessment is Thus: (1 – 10 rating system)
USA – 2  (If Containment is Breached) – 4
100 miles from Ground Zero – 6 (If Containment is Breached) – 8
10 miles from Ground Zero – 7 (If Containment is Breached) – 9
Ground Zero – 9 (If Containment is Breached) 10!
We will try to answer all questions posed here in our comments section if you have them. OR email them to me at jackblood@hotmail.com – I will do my best to get back to you and post the questions here if I feel others can benefit.
In all seriousness, the biggest threat to the USA might very well be a similar multi level catastrophe here, and involving our over 100 (some very old) reactors. (USA gets over 20% of its energy from These!) This would hopefully be an obstacle to creating more reactors (As is being lobbied for and propagandized for right now), as well as putting them in sensitive areas.
Also see this: The Dangers from Nuclear Weapons: Myths and Facts
- Jack Blood
Now I pass you on to Jonathon Elinoff at New World Order Report dot com, who has written an excellent article in this vein.
There are 3 reactors with failing or failed cooling systems.  There are 55 nuclear reactors in Japan.  We are NO WHERE NEAR close to saying the worst has been avoided.
The worst-case scenario we face as each reactor fails and we use current available containment methods are as follows.  If the seawater can not be used for treatment, the operators will have to continue to vent the water steam to avoid pressure buildup. The third containment may, in theory, then be completely sealed to allow the core meltdown to happen without releasing radioactive material. After the meltdown, there would be a waiting period for the intermediate radioactive materials to decay inside the reactor, and all radioactive particles to settle on a surface inside the containment. The cooling system will be restored eventually, and the molten core will cool to a manageable temperature. The containment will have to be cleaned up on the inside. Then a messy job of removing the molten core from the containment will begin, packing the (now solid again) fuel bit by bit into transportation containers to be shipped to processing plants. Depending on the damage, the block of the plant would then either be repaired or dismantled.
The first reactor to fail has been cooled and properly dealt with.  It is currently being maintained and there should not be any cause for alarm.  The 2nd reactor to fail was contained, HOWEVER, it was recently announced that it is leaking.  They are unable to contain the situation at this time.  The 3rd reactor that had its cooling systems begin failing today is another story.
These are the points you need to know about the first two reactors that failed:
Japan is looking at an INES Level 4 Accident: Nuclear accident with local consequences. That is bad for the company that owns the plant, but not for anyone else.
Some radiation was released when the pressure vessel was vented. All radioactive isotopes from the activated steam have gone (decayed). A very small amount of Cesium was released, as well as Iodine. If you were sitting on top of the plants' chimney when they were venting, you should probably give up smoking to return to your former life expectancy. The Cesium and Iodine isotopes were carried out to the sea and will never be seen again.
There was some limited damage to the first containment. That means that some amounts of radioactive Cesium and Iodine will also be released into the cooling water, but no Uranium or other nasty stuff (the Uranium oxide does not "dissolve" in the water). There are facilities for treating the cooling water inside the third containment. The radioactive Cesium and Iodine will be removed there and eventually stored as radioactive waste in terminal storage.
The seawater used as cooling water will be activated to some degree. Because the control rods are fully inserted, the Uranium chain reaction is not happening. That means the "main" nuclear reaction is not happening, thus not contributing to the activation. The intermediate radioactive materials (Cesium and Iodine) are also almost gone at this stage, because the Uranium decay was stopped a long time ago. This further reduces the activation. The bottom line is that there will be some low level of activation of the seawater, which will also be removed by the treatment facilities.
The seawater will then be replaced over time with the "normal" cooling water
The reactor core will then be dismantled and transported to a processing facility, just like during a regular fuel change.
Fuel rods and the entire plant will be checked for potential damage. This will take about 4-5 years.
The safety systems on all Japanese plants will be upgraded to withstand a 9.0 earthquake and tsunami (or worse)
The most significant problem will be a prolonged power shortage. 11 of Japan's 55 nuclear reactors in different plants were shut down and will have to be inspected, directly reducing the nation's nuclear power generating capacity by 20%, with nuclear power accounting for about 30% of the national total power generation capacity.
This all is only part of a much bigger picture. Emergency response has to deal with shelter, drinking water, food and medical care, transportation and communication infrastructure, as well as electricity supply
In the case of the 1st two reactors that failed:
The earthquake that hit Japan was 5 times more powerful than the worst earthquake the nuclear power plant was built for (the Richter scale works logarithmically; the difference between the 8.2 that the plants were built for and the 8.9 that happened is 5 times, not 0.7). So the first hooray for Japanese engineering, everything held up.
When the earthquake hit with 8.9, the nuclear reactors all went into automatic shutdown. Within seconds after the earthquake started, the control rods had been inserted into the core and nuclear chain reaction of the uranium stopped. Now, the cooling system has to carry away the residual heat. The residual heat load is about 3% of the heat load under normal operating conditions.
The earthquake destroyed the external power supply of the nuclear reactor. That is one of the most serious accidents for a nuclear power plant, and accordingly, a "plant black out" receives a lot of attention when designing backup systems. The power is needed to keep the coolant pumps working. Since the power plant had been shut down, it cannot produce any electricity by itself any more.
Things were going well for an hour. One set of multiple sets of emergency Diesel power generators kicked in and provided the electricity that was needed. Then the Tsunami came, much bigger than people had expected when building the power plant. The tsunami took out all multiple sets of backup Diesel generators.  This was the biggest problem.  No nuclear reactor has EVER factored in a tsunami with incredibly high PSI pressure at 10-15 meters high slamming into the entire facility.  Hurricane's do not have that kind of force.  These reactors were not built to withstand the quake magnitude or tsunami that followed and there is no power in the region and very little access ability to get to the reactors to setup a containment effort given the fact that man-power is being used for relief and recovery efforts of 500,000 homeless people who need shelter now.  It is a pretty serious situation.
When designing a nuclear power plant, engineers follow a philosophy called "Defense of Depth". That means that you first build everything to withstand the worst catastrophe you can imagine, and then design the plant in such a way that it can still handle one system failure (that you thought could never happen) after the other. A tsunami taking out all backup power in one swift strike is such a scenario. The last line of defense is putting everything into the "third containment", that will keep everything, whatever the mess, control rods in our out, core molten or not, inside the reactor.
When the diesel generators were gone, the reactor operators switched to emergency battery power. The batteries were designed as one of the backups to the backups, to provide power for cooling the core for 8 hours. And they did.
Within the 8 hours, another power source had to be found and connected to the power plant. The power grid was down due to the earthquake. The diesel generators were destroyed by the tsunami. So mobile diesel generators were trucked in.
This is where things started to go seriously wrong. The external power generators could not be connected to the power plant (the plugs did not fit). So after the batteries ran out, the residual heat could not be carried away any more.
At this point the plant operators begin to follow emergency procedures that are in place for a "loss of cooling event". It is again a step along the "Depth of Defense" lines. The power to the cooling systems should never have failed completely, but it did, so they "retreat" to the next line of defense. All of this, however shocking it seems to us, is part of the day-to-day training you go through as an operator, right through to managing a core meltdown.
It was at this stage that people started to talk about core meltdown. Because at the end of the day, if cooling cannot be restored, the core will eventually melt (after hours or days), and the last line of defense, the core catcher and third containment, would come into play.
But the goal at this stage was to manage the core while it was heating up, and ensure that the first containment (the Zircaloy tubes that contains the nuclear fuel), as well as the second containment (our pressure cooker) remain intact and operational for as long as possible, to give the engineers time to fix the cooling systems.
Because cooling the core is such a big deal, the reactor has a number of cooling systems, each in multiple versions (the reactor water cleanup system, the decay heat removal, the reactor core isolating cooling, the standby liquid cooling system, and the emergency core cooling system). Which one failed when or did not fail is not clear at this point in time.
This is when the reports about "radiation leakage" starting coming in. The radioactive nitrogen as well as the noble gases do not pose a threat to human health.
At some stage during this venting, the explosion occurred. The explosion took place outside of the third containment (our "last line of defense"), and the reactor building. Remember that the reactor building has no function in keeping the radioactivity contained. It is not entirely clear yet what has happened because there has been no thorough investigation or assessment of the situation by multiple, credible parties.  Very little information is being disclosed publicly so any so called "experts" are really getting the exact same information the rest of us are getting and these experts are giving their personal opinions on a matter they have not had ANY privilege of seeing the damage reports on or any comprehensive understanding of what we are facing.  Most, if not all, experts are literally giving an outside opinion on the issue, which means they are not in "the know" and they have not been handed or given access to the damage assessments because those assessments have not even been disclosed publicly or privately to any group.  It is TOO EARLY to determine exactly what is happening.  To be sure of anything right now would be naive
While the pressure was under control during the cool down phases of the 1st nuclear reactor core, steam was vented. The core is covered by several meters of water in order to allow for some time to pass (hours, days) before it gets exposed. Once the rods start to be exposed at the top, the exposed parts will reach the critical temperature of 2200 °C after about 45 minutes. This is when the first containment, the Zircaloy tube, probably failed, according to what we are being told.
The cooling could not be restored before there was some (very limited, but still) damage to the casing of some of the fuel. The nuclear material itself was still intact, but the surrounding Zircaloy shell had started melting. What happened now is that some of the byproducts of the uranium decay – radioactive Cesium and Iodine – started to mix with the steam. The big problem, uranium, was still under control, because the uranium oxide rods were good until 3000 °C. It is confirmed that an amount of Cesium and Iodine was measured in the steam that was released into the atmosphere.
It seems this was the "go signal" for a major plan B. The small amounts of Cesium that were measured told the operators that the first containment on one of the rods somewhere was about to give. The Plan A had been to restore one of the regular cooling systems to the core. Why that failed is unclear. One plausible explanation is that the tsunami also took away / polluted all the clean water needed for the regular cooling systems.
The water used in the cooling system is very clean, demineralized (like distilled) water. The reason to use pure water is the above mentioned activation by the neutrons from the Uranium: Pure water does not get activated much, so stays practically radioactive-free. Dirt or salt in the water will absorb the neutrons quicker, becoming more radioactive. This has no effect whatsoever on the core – it does not care what it is cooled by. But it makes life more difficult for the operators and mechanics when they have to deal with activated (i.e. slightly radioactive) water.
But Plan A had failed – cooling systems down or additional clean water unavailable – so Plan B came into effect. This is what it most people who are experts are saying "probably" happened.  Remember, it is all just educated guessing at this point.
In order to prevent a core meltdown, the operators started to use sea water to cool the core.
Because the chain reaction has been stopped a long time ago, there is only very little residual heat being produced now. The large amount of cooling water that has been used is sufficient to take up that heat. Because it is a lot of water, the core does not produce sufficient heat any more to produce any significant pressure. Also, boric acid has been added to the seawater. Boric acid is "liquid control rod". Whatever decay is still going on, the Boron will capture the neutrons and further speed up the cooling down of the core.
The plant came close to a core meltdown.
As happy as everyone wants to be, the entire described process basically needed to be repeated at an entirely other nuclear reactor that began failing.  Well, in a nut shell, they succeeded cooling that one down, or so we are told.
Problem is, just today it was announced that yet another nuclear reactor, a 3rd plant, was losing its cooling systems and was beginning to fail.  The reason people are freaking out is the same reason people are not telling you anything in the mainstream media, basically, each one of the nuclear reactors in Japan will eventually fail.  As they fail, that reactor faces the most critical situation the plant could ever face, if not dealt with properly, a core meltdown is 100% possible and not just possible, but really likely if things don't go as planned.  So for each time a reactor fails, we are no longer in a situation under control and enter into a situation that needs to be placed under control.
Japan is currently addressing the largest disaster in its history and has over 500,000 people without a home right now.  That is a lot of people, larger than refugee numbers after major wars.  Japan does not have the man power or resources to sustain a recovery and relief effort for this scale of a disaster so to add these failing nuclear reactors to their problems should be a concern for the whole planet, which is why the United States has sent the navy and other experts over there to aid in the whole thing.
The last thing we want to happen right now is another quake or some weird, fluke of a late aftershock that may potential disrupt our containment efforts.  Likewise, any more nuclear reactors failing is an increased probability of a meltdown occurring since the law of averages and chaos theory would suggest one of these containment efforts may not succeed.  For anyone to go around right now and say its impossible to have a meltdown would be as irresponsible and reckless as going around saying there are meltdowns in effect.  The truth is, we are walking a tight rope to avoid a meltdown each time a reactor goes down.
This is a situation that needs to be watched very carefully.
This is my personal advice to everyone:
First of all, everyone should understand it NEVER hurts to be prepared for any situation or scenario.  In fact, in all due respect, you should be prepared for any situation or crises as it happens.  Most people are not in this category, hence why most people throughout history die off in any major event largely because of lack of preparedness.  This is what separates the responsible and intelligent from the incompetent and unwise.  The question you have to ask yourself here is this.  Where do you see yourself?  Are you confident you are ready for anything?
With that said, since the massive quake hit in Japan, it became known rather quickly that Japan has an uncommon array of nuclear reactors in the northeast of the country.  I say uncommon because this is one of the only places on the planet with so many nuclear reactors right next to each other, unfortunately, on a freaking fault line.  If you remember Chernobyl, that was one reactor and that was landlocked with NO jetstream.  The big advantage authorities had in dealing with Chernobyl is that they were able to immediately begin containing the meltdown since it was the single catastrophe they were dealing with and they had the man power and resources, including electricity, to run a containment operation.
With this situation in Japan, we are in a completely different scenario.
Everyone needs to understand something right now and that is that the media is NOT in place to alert people of how bad the situation may or may not be.  They are in place to keep people calm and to keep people orderly until the last possible moments.  They WILL NOT disclose what is currently happening.  So any "experts" or CNN, MSNBC, FOX, you name it program talking about this nuke reactor situation WILL NOT be telling you all the current facts due to national security.
Japan's resources, energy and man power is currently being used up in its largest disaster in history, they DO NOT and CAN NOT have the power to contain the reactors as they begin to fail.
Why is this being understated by the media?  Because we literally DO NOT have generators or power systems in any arsenal anywhere on the planet to keep these cooling systems running, which means that YES, these reactors will all at some point fail.  As they fail, a nuclear meltdown is realistic.  This is where the experts disagree.  Some are saying that meltdown is next to impossible, others say that is bullsh*t and that it is damn near expected once the cooling systems fail, but most of the experts agree that we are just walking a tight rope and that as each reactor fails, we need to be very careful about how to proceed with the cooling down of the cores.
Remember, the media WILL NOT tell you whether or not these issues are a reality, they are in place to keep you calm.
No one should be alarmists here, however, with that said, you should probably be prepared to deal with nuclear fallout as a possibility due to the jetstreams and the leaking radioactivity here.  Potassium Iodide is what you need in nuclear fallout.  you can contact Bob at Farris Survival and he will educate you on all this, his website is below.
It never hurts to be prepared for anything and everything, but people should not be alarmists. Just remember the 1st rule of scouts, always be prepared…. Even if it is for something people would think you are crazy for being prepared to handle, like a nuclear fallout. I, personally, have prepared for years in survival-ism. Its kind of a second hobby, so not only do I have tons of Potassium Iodide, I have filters galore, tons of storage-able foods that last 30 years, masks and gear to deal with biological or viral outbreaks, med kits, butane stoves, cases of butane, volcanic rock stoves, huge barrels for water, water storage chemicals, etc, etc, etc, etc… So for me, unlike most people, I am actually completely prepared for a nuclear fallout scenario. I am not worried, but for others, I just don't know what to tell people…
I felt obligated to send an email on my newsletter today and post this article so that people could get educated on this mess. Either way you look at this, you WILL NOT be told information you can trust at this time from ANY source you think may be "credible." PERIOD, due to national security and the lack of disclosed details on the situations at each reactor.  No one is being told the details so no expert can honestly say they can give a correct diagnosis or assessment of the situation.  PERIOD.
If there is or is not a fallout, that radioactive cloud will literally turn one the largest disasters in Japan's history into the largest disaster the planet may have to address because the whole far east region may need to be evacuated.  We are talking shipments of food and supplies CEASE here, people.  We are talking an economic situation, the whole world will have to be engaged in this.  It affects our economy, it affects our environment and YES, the radioactive cloud CAN travel to the United States and although it may dissipate, it will not spread by much due to the extremely unique jetstream we have in the Atlantic during this time of year.  The west coast is literally in the jetstream path.
This situation will MOST LIKELY be contained, HOWEVER, you should be prepared.  There may be only a handful of times in your entire life you need to stop what you are doing, and take something really serious, like you have never before, and think about actually being prepared for the worst.  THIS IS ONE OF THOSE TIMES.
Like it or not, you should be prepared even if this disaster isn't imminent.  You should have weeks of food and water in your house, water filters, survival gear, and the like.  Most of you don't have any of this, in fact, most of you have food to last 3 days.  There is NOT enough supplies in any arsenal by military or anyone else to provide for everyone for any extended period of time.
So with all this said, I want everyone to know that you should plan for the worst, but hope for the best.  Plan for the worst though, be ready, don't be sorry.  You don't want to regret something like this, knowing you could have done something to be more prepared.  Survival gear and supplies are a HUGE commodity and are easy to sell if you want to get rid of that online.  There is a HUGE demand for that stuff, so worrying about wasting your money should not really be entertained.
Like I said, I would suggest getting Potassium Iodide, but learn about survival-ism and look on the internet for a store in your town or city that carries survival gear.  In Colorado, I recommend Farris Survival and I know Bob Farris personally.  He is a very good, trusted friend of mine.
He does sell online and ship so if people want to check it out, feel free.
Farris Survival's website is:
If this is the first you are hearing about all this, here are some links to bring you up to speed:
here is the US NAVY'S website on it: http://www.navy.mil/search/display.asp?story_id=59065
here is the Pacific Fleet's website on it:
http://www.cpf.navy.mil/media/news/articles/2011/mar/mar13_C7F_reposition.shtml
Video of the jetstream:
http://www.youtube.com/watch?v=bLWlxg95sEE&feature=youtube_gdata_player
More video of the jetstreams:
http://www.youtube.com/watch?v=898gfo9VLVA