Anders Breivik, Norway's alleged mass Killer – Played World of Warcraft 7 Hours Per Day
Not that this has anything to do with the Police stand down, or their unwillingness to act on prior knowledge…. It is just one more step in the Cover-up. Motive? He's crazy and played too many graphic fantasy video games. Though at this point we do not really know if these games contain triggers, or are just an easy target like Rock N Roll.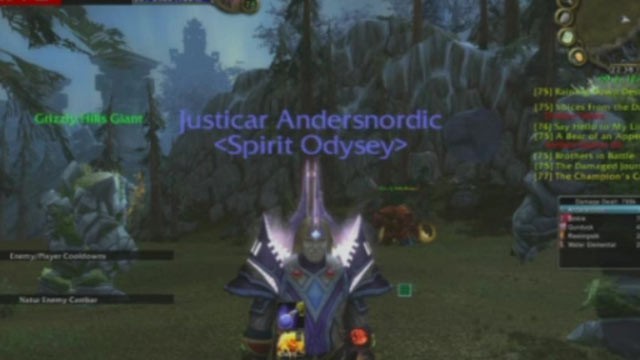 Anders Behring Breivik was an avid World of Warcraft player, using the above avatar and playing under the names "Andersnordic" and "Conservatism", prior to his violent rampage which left 77 people dead in Norway in July, 2011. (Obtained by ABC News)
Anders Breivik, the right-wing extremist who has confessed to killing 77 people during a murder spree in Norway last summer, played the violent computer game World of Warcraft nearly seven hours a day for several consecutive months before his attack, prosecutors say.
Breivik, 33, already known to have a long history with the online role-playing game, was particularly absorbed by it between November 2010 and February 2011, when he played for an average of 6 hours and 50 minutes per day, according to prosecutors.
The new evidence in Breivik's ongoing trial was presented in an Oslo court on Wednesday. When asked about his interest in the game by a prosecutor, Breivik angrily dismissed the idea that playing World of Warcraft had any connection to his attacks, according to media reports.
"It is not relevant to this case whatsoever," Breivik said, getting so upset that he threatened to turn off his microphone, according to Norwegian newspaper Verdens Gang.
On July 22, 2011, Breivik detonated a bomb in central Oslo that killed eight people, and then shot and killed 69 people attending a youth summer camp on the nearby island of Utoya. Breivik admitted mounting the attacks after his arrest, and used weapons named after Norse gods to massacre his victims.
He has previously stated that he played Warcraft, as well as another "first-person shooter" game called Modern Warfare, for hours daily.
In Warcraft, players assume the identity of an online character to use magic and weapons to battle monsters and other characters and go on quests.
According to prosecutors, Breivik played Warcraft under the aliases "Andersnordic" and "Conservatism."
Norwegian anthropologist Thomas Hylland Eriksen, who was brought in as an expert witness for Breivik's defense earlier this year, said in an interview with the British network ITN that Breivik was apparently unable to separate games from reality.
"He does not seem to be very successful at distinguishing between the virtual reality of 'World of Warcraft' and other video games and reality," Eriksen said.
In a March 2008 post on a web forum devoted to the game, user "Andersnordic" posted that the game had been responsible for making him "300kg, bald and pale," and told the game's developer Blizzard Entertainment, "You'll hear from my lawyer!"