SEAL Team 4 Commanding Officer Job W. Price commit suicide. He was best known for finding and then killing Osama bin Laden.
Cmdr. Job W. Price, 42, died Saturday, Dec. 22, of a non-combat-related injury while supporting stability operations in Uruzgan Province, Afghanistan.
Suicide of the Officer of this grade raises many questions among the media, as the team was best known for killing Osama Bin Laden that assaulted his compound in Abbottabad, Pakistan on May 1, 2011.
Australia has threatened Japan with diplomatic action over its whaling programme, after Japan reportedly dispatched its whaling fleet in the Southern Ocean for what Tokyo calls a scientific expedition.
On Saturday, Tony Burke, Australia's environment minister, condemned the move by Japan, describing the claims that its whaling programme is for scientific research as "a joke".
The Australian government has been a long-time critic of the activities of Japan's whaling fleet in regional waters, and initiated legal proceedings against the whaling programme in the International Court of Justice (ICJ) in May 2010.
Burke told reporters in Sydney that he did not expect a response from the ICJ until "sometime next year," but called on Japan to respect a moratorium on whaling in the Southern Ocean.
"Tripwires," Mall Cops, and "Radical Cheerleaders"
On October 19, 2011, an FBI agent filed a report, titled "Domain Program Management [,] Domestic Terrorism," detailing an October 11 briefing given to "Jacksonville Executive Management" (EM) and a supervisory special agent (SSA) "Counter Terrorism Program Coordinator." The subject of the October 11 briefing had been the potential growth of the OWS movement throughout north/central Florida. (All agent names were redacted from this, and other, FBI reports.)
"During the 11 October intelligence meeting, writer advised EM of the Occupy venues and further advised that they may provide an outlet for a lone offender exploiting the movement for reasons associated with general government dissatisfaction," wrote the agent, who went on to say that special areas of concern were Daytona, Gainesville, and Ocala, where "some of the highest unemployment rates in Florida continue to exist."
As such, the report's author recommended that the Counter Terrorism Program Coordinator, "consider establishing tripwires with the Occupy event coordinators regarding their observance of actions or comments indicating violent tendencies by attendees" (emphasis added).
AFP – China has transferred two destroyers and nine other ex-navy vessels to its maritime surveillance fleet, reports said Monday, as it moves to beef up its position in bitter territorial rows with Japan and other neighbours.
Beijing renovated the ships and transferred them to surveillance operations to "alleviate the insufficiency of vessels used to protect maritime interests", said a report on Tencent, one of China's major news portals.
China is embroiled in a maritime dispute with Japan that has seen tensions between the two Asian giants, the world's second- and third-largest economies, at times reach fever pitch.
It is also engaged in a simmering row with its southern neighbours over its claim to vast swathes of the South China Sea.
About 100 peaceful marchers and drummers from Walpole Island made the First Nations Idle No More movement an international phenomenon.
After holding a demonstration at the Walpole Island border crossing for most of the day on Sunday, the rally went across the border to Algonac, Mich, where demonstrators waved flags, chanted and banged on drums as they marched down the main street in Algonac and then held a ceremony in a nearby plaza parking lot.
While he shied away from calling it a protest, Walpole Island's George Henry said the rally was to make people aware and educate them about what the Canadian federal government is doing.
"We want to do all of this in a good way," Henry said.
The grassroots Idle No More movement has held a number of protests across Canada that have targeted the Harper government's Bill C-45, which the First Nations say runs roughshod over their treaty rights and sovereignty, and threatens the environment.
Sunday's rally was believed to be the first Idle No More protest held outside of Canada.
"We want all the non-native people to really listen to what the government is trying to do," Henry said.
"The government has kept things pretty quiet over the years… so we're going to tell our own story now."
A viable device has been discovered close to a police station in Co Armagh.
Army technical officers (ATO) examined the suspicious object in Tandragee, close to Portadown, and local residents were evacuated.
A PSNI spokeswoman said: "The security alert in Tandragee has now ended and residents have been allowed to return to their homes.
Can man create False Flag Tsunamis? That's what we have heard – Now here is the declassified evidence to prove the case. (Of course they put it next to "UFOs" to discredit the info) ALSO: Fukushima was offered to process Iran's nuclear fuel. Do we really know what happened in March 2011?]
In this file photo, released by manipula.co.nz, author Ray Waru inspects files at New Zealand's national archives, in Wellington, on December 7, 2012, following the release of his new book about rare historical gems buried in the archives, including a bizarre WWII plan to create a "tsunami bomb" and military X-Files detailing supposed UFO sightings.
AFP – A new book has revealed rare historical gems buried in New Zealand's national archives, including a bizarre WWII plan to create a "tsunami bomb" and military files detailing supposed UFO sightings.
Author Ray Waru said he wrote "Secrets and Treasures" to highlight the material publicly available at Archives New Zealand in Wellington — where almost 100 kilometres (62 miles) of shelf space is crammed with historical artefacts.
"It was totally overwhelming at the beginning," he told AFP.
"I knew I wanted to get in the important things, the Treaty of Waitangi (New Zealand's founding document), the Declaration of Independence, the women's suffrage petition, and a few other things.
"But once you start digging, one story leads onto another and I'd just follow my nose."
The suffrage petition Waru refers to contains 36,000 signatures and was dramatically unfurled on the floor of the New Zealand parliament in 1893 by supporters of women's right to vote.
Stretching for almost 300 metres (980 feet), the petition, currently undergoing restoration, proved successful and led New Zealand, then a British colony, to become the first country in the world to grant women the vote later that year.
Alongside notable historical documents, such as a letter written by explorer captain James Cook before his final voyage, are curiosities like "Project Seal", a top-secret US-New Zealand attempt to create a doomsday device to rival the nuclear bomb.
The project was launched in June 1944 after a US naval officer noticed that blasting operations to clear coral reefs around Pacific islands sometimes produced a large wave, raising the possibility of creating a "tsunami bomb".
Explosive tests carried out in waters north of Auckland led scientists to conclude that the weapon was feasible and a series of 10 massive blasts offshore could create a 10-metre (33-foot) tsunami capable of inundating a small coastal city.
"It was absolutely astonishing," Waru said.
"First that anyone would come up with the idea of developing a weapon of mass destruction based on a tsunami… and also that New Zealand seems to have successfully developed it to the degree that it might have worked.
"I only came across it because they were still vetting the report, so there it was sitting on somebody's desk (in the archives)."
Waru said the project was shelved in early 1945, despite the success of initial, small-scale tests. (Yeah – cough…. ahem)
"If you put it in a James Bond movie it would be viewed as fantasy but it was a real thing," he said.
Among the other oddities in the archives are Defence Department records of hundreds of UFO sightings by members of the public, military personnel and commercial pilots, mostly involving moving lights in the sky.
Some of the accounts include drawings of flying saucers, descriptions of aliens wearing "pharaoh masks" and alleged examples of extra-terrestrial writing.
New Zealand's most famous close encounter was when a television crew recorded strange lights off the South Island town of Kaikoura in 1978.
However, in a disappointment for ET spotters, the military concluded the lights could be explained by natural phenomena such as lights from boats being reflected off clouds or an unusual view of the planet Venus.
Waru said it was seemingly humdrum documents, like school magazines from the early 1900s extolling the virtues of the British Empire, that provided a window into the attitudes of the past.
"There's masses of records and kilometres of important files but you realise pretty quickly that every piece of paper is related to an individual at some point in time," he said.
"So it gives the modern researcher a peek into the private lives of individuals, which I found interesting — divorce files from Dunedin, letters a young soldier wrote home to their parents."
And the Oscar goes to…. Hitlery Rodham – Clinton / Rockefeller Kissinger. Smart. If she is forced to testify to congress about what she knew, and when she knew the attack was coming in Libya, she would risk perjury and jail, (possibly murder, and treason!) —— That would give us a headache too!
STORY HIGHLIGHTS (Ahem)

The clot was discovered in a follow-up exam related to her concussion
Clinton is expected to remain hospitalized for at least the next 48 hours
She was scheduled to return to work this week after recovering from the concussion
(CNN) — Secretary of State Hillary Clinton was hospitalized Sunday after doctors discovered a blood clot during a follow-up exam related to a concussion she suffered this month, her spokesman said.
She is expected to remain at New York Presbyterian Hospital for the next 48 hours so doctors can monitor her condition and treat her with anti-coagulants, said Philippe Reines, deputy assistant secretary of state.
"Her doctors will continue to assess her condition, including other issues associated with her concussion," Reines said. "They will determine if any further action is required."
Reines did not specify where the clot was discovered.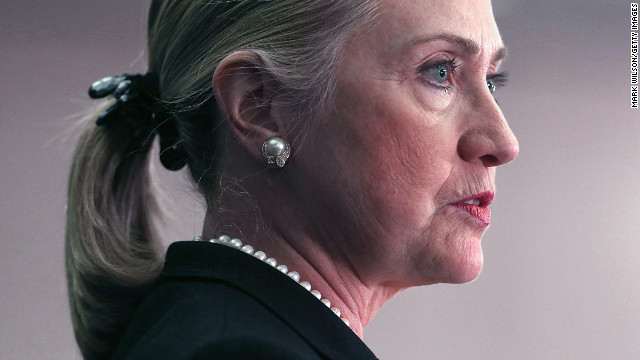 Photos: Clinton through the years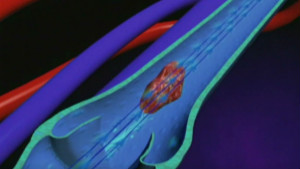 How dangerous are blood clots?
Clinton, 65, was suffering from a stomach virus earlier this month when she fainted due to dehydration, causing the concussion.
Clinton spent the holidays with her family last week after working from home.
She was scheduled to return to work at the State Department this week after being sidelined for the past three weeks. Her illness forced her to bow out of testifying December 20 before the House Foreign Affairs Committee on the deadly attack on the U.S. Consulate in Benghazi, Libya. Deputies Thomas Nides and Bill Burns appeared in her place.
The medical setback comes as Clinton is wrapping up her busy tenure as secretary of state, during which she has logged more than 400 travel days and nearly a million miles. She plans to step down from the post if and when Sen. John Kerry — President Barack Obama's choice to replace her — is confirmed by the Senate.
About three dozen Mohawks from Tyendinaga blocked the main rail line between Toronto and Montreal for several hours Sunday in support of hunger-striking Attawapiskat Chief Theresa Spence and the Idle No More movement.
The move forced CN to suspend all rail traffic along the line.
The blockade stranded about 2,000 passengers, said VIA Rail in a statement to media.
This was the same rail line, between Belleville, Ont., and Napanee, Ont., shut down in 2007 for almost 12 hours by the Mohawks as part of a planned national day of action.
"It's not about me, it's not about you, it's about Chief Spence and everyone else dying," said Tom Maracle, a Mohawk from Tyendinaga, at the blockade.
Maracle, however, issued a warning.
"This is peaceful. The next one won't be," he said.
Farah, who won a 5,000m and 10,000m double at London 2012, was detained for questioning after the US border force saw he was born in Somalia.
The 29 year-old came over to Britain with his English-born father as a child and is one of the most famous athletes in the world, but this did not stop judicious officials from grilling him at the border.
Farah moved to Portland last year to work with his coach Alberto Salazar at Nike's HQ in the Pacific Northwest and was travelling back to spend Christmas with his wife and children.
And even presenting his two gold medals to the officials did not help his cause.
"I couldn't believe it. Because of my Somali origin I get detained every time I come through US Customs. This time I even got my medals out to show who I am, but they wouldn't have it," he told the Sun.