Interview starts 1 hr in.
Say others are afraid to come forward
Israeli forces have conducted raids in the West Bank in the search for the teens and their kidnappers since they were abducted on June 12. Since the search started, more than 240 Palestinians have been arrested in the operation dubbed "Brother's Keeper," the army said.
There are reports that Israeli soldiers have already been deployed in Hebron, and Israeli TV stations earlier showed pictures of soldiers searching through rubble and military vehicles moving through the village of Halhul, just north of Hebron.
The bodies of three Israeli teenagers who were kidnapped in the West Bank earlier this month have been found north of the city of Hebron, a source confirmed to ABC News today.
Hamas, the Palestinian militant group accused by Israel of taking the boys, has denied kidnapping the teens, though senior Israeli and Palestinian officials agree that the abductors were likely tied to — or part of — Hamas but operating without orders from the organization's leadership.
One of the teens, 16-year-old Naftali Frenkel, had dual U.S.-Israeli citizenship and his family is from Brooklyn, N.Y. The two others were Gilad Shaar and Eyal Yifrach.
It's no secret that President Obama and the would-be global governors at the United Nations are anxious to disarm the American people. Now they're looking to hire some help in getting it done.
From the UN's Programme of Action and Arms Trade Treaty, to his own executive orders, Obama is pursuing every available avenue toward de facto repeal of the Second Amendment and the God-given right to keep and bear arms that it protects.
Over the next few weeks, though, the UN is looking to add personnel to its gun grabbing gestapo. In a job advertisement open until July 26, the UN is looking for a "Disarmament, Demobilization and Reintegration Officer."
What will this bureaucrat's bailiwick be? Here's a summary of the job description as posted by the UN:
Act as a Focal Point for DDR [Disarmament, Demobilization and Reintegration] components for 2-3 missions, responsible for planning, support to implementation and evaluation;
Advise, develop and review (as appropriate) initial DDR functional strategy and concept of operations for further development into a full programme by the DDR component and the National DDR Commission;
Provide Headquarters support in planning the civilian and military logistics support for DDR;
Continually review DDR programme strategy and implementation through relevant documents, reports and code cables;
Conduct field missions to assess implementation of established DDR programmes;
Identify potential problems and issues to be addressed and suggest remedies to DDR units in the field; and
Liaise with others (UN, regional organizations [sic] and Member States) providing DDR training.
As if the list of tasks assigned to the disarmament specialist isn't enough to fire up patriots who own firearms and refuse to have them seized by the UN or the Obama administration, the UN wants to base this office in New York City!
It is more than a little incompatible that a country that places such a high value on gun ownership that it enshrined it in its Bill of Rights participates in an organization that has such disdain and disregard for those rights that it is opening a disarmament office in that country.
Lest anyone think that there's nothing to fear from this agent of disarmament, consider the definitions of disarmament, demobilization, and reintegration provided by the UN on an information page linked to the job opening announcement:
Disarmament is the collection, documentation, control and disposal of small arms, ammunition, explosives and light and heavy weapons from combatants and often from the civilian population.
Demobilization is the formal and controlled discharge of active combatants from armed forces and groups, including a phase of "reinsertion" which provides short-term assistance to ex-combatants.
Reintegration is the process by which ex-combatants acquire civilian status and gain sustainable employment and income. It is a political, social and economic process with an open time-frame, primarily taking place in communities at the local level.
The objective of the DDR process is to contribute to security and stability in post-conflict environments so that recovery and development can begin. DDR helps create an enabling environment for political and peace processes by dealing with security problem that arises when ex-combatants are trying to adjust to normal life, during the vital transition period from conflict to peace and development.
Notably, the UN will require the DDR specialist to help disarm ex-combatants. Is this mission not an eery echo of recent efforts in the United States to keep veterans from owning firearms? Perhaps, unbeknownst to the American people, President Obama has already been using his infamous "pen" and "phone" to carry out the disarmament of veterans in furtherance of some higher-level UN strategy.
Could it be also that the rapid militarization of local law enforcement in the United States could be another tactic in the piecemeal, surreptitious deployment of "troops" capable of carrying out a forcible forfeiture of firearms?
As reported by the National Rifle Association's Ginny Simone, there are those on the inside who have raised the warning voice.
Simone reports that in 2012, Ambassador Faith Whittlesey, a U.S. delegate to the UN Small Arms Conference, revealed that the UN's ultimate goal is to disarm all Americans in the name of global peace and an end to armed violence.
"In New York, right here on our own shores, we've got a Trojan horse. They won't accept U.S. firearms policy," Whittlesey said. "They want to take the decision away from the U.S. electorate and undermine our Constitution."
Regardless of the reason, Americans must adamantly refuse to allow the UN to establish an office of disarmament on our own shores. We must demonstrate our ancestors' zeal for liberty, particularly regarding the fundamental right to oppose tyranny by force of arms.
If we do not, we may soon be subject to the full expression of the authority of the U.S.-based DDR specialist and be left defenseless in the fight against absolutism.
Joe A. Wolverton, II, J.D. is a correspondent for The New American and travels nationwide speaking on nullification, the Second Amendment, the surveillance state, and other constitutional issues.  Follow him on Twitter @TNAJoeWolverton and he can be reached at jwolverton@thenewamerican.com.
Via WIRED
Activist groups including the Electronic Frontier Foundation and Greenpeace launched the 135-foot thermal airship early Friday morning to protest the agency's mass surveillance programs and to announce the launch of Stand Against Spying, a website that rates members of Congress on their support or opposition to NSA reform. The full message on the blimp reads "NSA: Illegal Spying Below" along with an arrow pointing downward and the Stand Against Spying URL.
"We thought it would be fun to fly an airship around the Utah data center, which in many ways epitomizes the NSA's collect-it-all strategy," says Rainey Reitman, an activist at the Electronic Frontier Foundation. "We wanted to have a way to symbolize that our movement is getting quite confrontational with NSA surveillance in a visceral way."
The protestors launched the blimp, which is owned by Greenpeace and named the AE Bates after a longtime Greenpeace volunteer, at 6 a.m. to capitalize on calm weather. They flew it 1,000 feet over the Bluffdale facility.1
The stunt was timed, Reitman says, to approximately a year after the political debate on NSA spying began. "Many members of congress have acted as roadblocks or sat on the sidelines of this debate," she says. "The time had come for us to be very honest with the general public about those who have and haven't called for NSA reform."
Greenpeace became involved in the project as a plaintiff in a lawsuit the EFF filed against the NSA last year, which accused the agency of intimidating activists with its mass phone metadata collection programs. Their blimp has made earlier appearances to protest coal-fired power plants in North Carolina, overfishing in the pacific northwest, and the Koch brothers in Southern California.
At least some Utahns who spotted the airship didn't quite get the message. "There was an NSA blimp on my way to work this morning. #whydotheyneedablimp? #whatwasitdoing? #nsa," wrote one local on Twitter. "Wasn't a huge fan of the NSA blimp that saw me on the way to work this morning," added another.
Reitman says they can rest assured the blimp isn't a menacing new surveillance technique. "The only people we're surveilling with this airship is the NSA."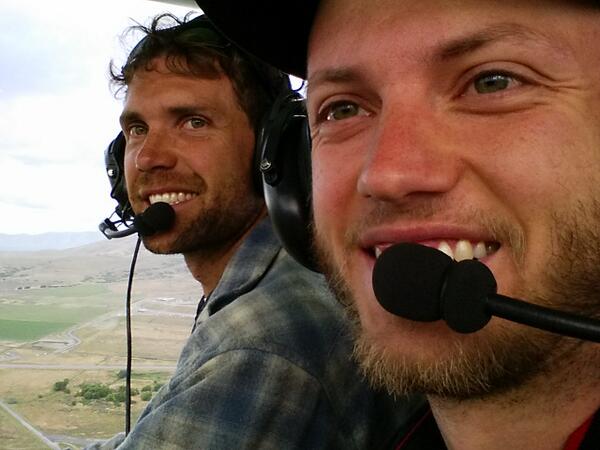 Having lived on Bourbon Street – I can tell you its a pretty violent place, with Street gangs just a few streets away from tourists. ~ JB
Police continued searching Monday for two men who exchanged gunfire on Bourbon Street in the French Quarter, leaving nine people shot in the crossfire, including two who were in critical condition.
Images captured from a surveillance camera above a bar showed people running down the street in the chaos of the shooting at 2:45 a.m. Sunday.
Police placed several views for the shootout online asking for the public's help in identifying the two shooters.
New Orleans Police Chief Ronal Serpas said six victims were hospitalized in stable condition. The other victim's condition was not available. Some of them were tourists. Their names were not immediately released.
Serpas said at a news conference in the French Quarter that the victims were shot "by two cowardly young men trying to hurt each other."
"What happened was two young men got angry at each other and shot at each other," he said.
Bourbon Street is a nightly swirl of bright neon and tourists, usually with beverages in hand. A blend of jazz joints, strip clubs, bars and restaurants, Bourbon Street has everything from four-star dining to sex shows.
New Orleans Mayor Mitch Landrieu pledged a swift response from law enforcement.
"Our No. 1 priority is to keep New Orleans safe," Landrieu said in a statement. "These kinds of incidents will not go unanswered … I am confident that between video evidence and eyewitness accounts, we will bring the perpetrators to justice."
Police have not determined whether the shootings might be gang-related, Serpas said. He called on residents, businesses and witnesses who may have video footage, including any from surveillance cameras, to contact police.
It was the third major shooting on Bourbon Street in the last three years.
On the Saturday before Mardi Gras, four people were treated at a hospital after a shooting. During Halloween in 2011, one person was killed and seven others were injured after gunmen opened fire on each other.
Blackwater USA changed their name to Xe services, and then Academi. Blackwater founder Erik Prince has founded his own version of the group, "Frontier Resource Group" – now competing with Academi and working for China in Africa.
A senior official of the notorious private security company Blackwater allegedly threatened to kill a government investigator probing the firm's Iraqi operation. The US embassy sided with him and forced the inspector to cut the visit short.
The shocking insight into the relations between the US State Department and the company hired to protect government employees in Iraq wasreported by the New York Time on Sunday. The newspaper cites documents which were turned over to plaintiffs in a lawsuit against Blackwater, including a memo describing the incident submitted by the investigator, Jean C. Richter, to his superiors in Washington.
Diplomatic Security special agent Richter was part of the two-man team together with State Department management analyst Donald Thomas Jr. that arrived in Baghdad on August 1, 2007 to inspect Blackwater operations in the country. The company was awarded a $1 billion contract to provide security for the State Department and the CIA in Iraq.
According to the documents, the investigators found numerous violations, including changing of security details without the State Department's approval, reducing the number of guard details and storing of automatic weapons and ammunition in Blackwater employees' private rooms. There were also discipline problems, with guards having parties with heavy drinking and female visitors, including one episode in which an armored Blackwater car was requisitioned by four drunken employees, who drove to a private party and crashed the $180,000 vehicle into a concrete barrier.
As the probe continued, apparently it irritated some people in power in Iraq. On August 20, Richter was summoned by the embassy's regional security officer, Bob Hanni, who said he had received a call asking him to document Richter's "inappropriate behavior." The investigator contacted Washington and was instructed to take his partner to all remaining meetings.
The next day Richter and Thomas met Daniel Carroll, Blackwater's project manager in Iraq, to discuss a complaint over food quality and sanitary conditions at a cafeteria in Blackwater's compound. Carroll said Richter could not tell him what to do in his cafeteria and went on to threaten him.
The Blackwater chief said "he could 'kill me' at that very moment and no one could or would do anything about it as we were in Iraq," Richter recounted in the memo. "I took Mr. Carroll's threat seriously. We were in a combat zone where things can happen quite unexpectedly, especially when issues involve potentially negative impacts on a lucrative security contract."
Thomas corroborated Richter's account of the events in a separate statement, saying that Carroll's comments were "unprofessional and threatening in nature." He added that the investigators were told by people in Baghdad to be "very careful," considering that their review could jeopardize Blackwater's operations there.
Richter said the company officials showed little respect either to State Department officials like himself or to FBI agents present in Iraq.
"To me, it was immediately apparent that the Blackwater contractors believed that they were the de facto authority and acted accordingly, in an alarming manner," the memo said. "Blackwater contractors saw themselves as 'above the law' and actually believed that they 'ran the place'."
He said he was shocked when the US embassy in Baghdad sided with Carroll and ordered the two investigators to leave Iraq immediately. In an August 23 email, Ricardo Colon, the acting regional security officer at the embassy, told Richter that their mission had become "unsustainably disruptive to day-to-day operations and created an unnecessarily hostile environment for a number of contract personnel." The next day the inspectors cut short their probe and left Baghdad.
"The management structures in place to manage and monitor our contracts in Iraq have become subservient to the contractors themselves," Richter stated in the memo.
The events happened just weeks before Blackwater guards killed 17 civilians, including a nine-year-old boy in Bahgdad's Nisour Square on September 16, 2007. The incident sparked outrage with American presence in Iraq among the local population. The US is currently trying to prosecute four of the five guards involved in the incident after a first failed attempt to do it in 2009.
Blackwater was founded by former Navy SEAL Erik Prince and grew to a private security giant with billions worth of contracts from the US government. After a series of scandals marred the company name, Prince sold it. Blackwater was renamed three times eventually merging with its competitor Triple Canopy to form what is now called Constellis Holdings.
—————-
the CIA et al invented "Al Qaeda" ……….. What else is new?
Via
Front Page
The Obama administration asked Congress on Thursday to authorize $500 million in direct U.S. military training and equipment for Syrian opposition fighters
Obama didn't ask Congress for authorization to invade Libya. He told Congress that he wouldn't ask for permission to bomb Iraq.
The only reason Obama asks for something is to score political points or to cover his ass. In this case it's the latter because even Obama knows this is a terrible idea.
That's why he has been delaying for so long.
Within the OCO request, the Syria money is part of a $5 billion fund announced by Obama last month to help build a new counterterrorism infrastructure with partner countries "from South Asia to the Sahel."
So Obama is going engage in counterterrorism… by arming and training terrorists. That's like running guns to Mexican drug cartels to stop Mexican drug cartels from having guns…
… another brilliant Obama plan.
The request does not specify the type of military equipment that would be included. Under the existing covert program, the administration has sent limited quantities of small arms and ammunition and has allowed others to send U.S.-made antitank weapons.
So we're going to be giving them unspecified weapons that could be used against American targets.
A US chopper in Afghanistan was already shot down by the Taliban using a Qatari shipment of Stinger missiles meant for Libya. That was another of Obama's great plans.
Obama turned a blind eye to Qatar smuggling weapons to Jihadists in Syria.
The $500 million training and equipping mission would be aimed at helping "vetted elements" of the Syrian armed opposition to "defend the Syrian people, stabilize areas under opposition control, facilitate the provision of essential services, counter terrorist threats, and promote conditions for a negotiated settlement."
What exactly are these "vetted elements"?
1. Last spring the New York Times wrote, "Nowhere in rebel-controlled Syria is there a secular fighting force to speak of."
2. The only opposition we supposedly backed was the Free Syrian Army.
Unfortunately…
A. The Free Syrian Army consisted of a coalition of mostly Islamist militias under Islamist commanders, some of whom carried out joint operations with Al Qaeda/Al Nusra Front, which has pledged alliance to ISIS/Al Qaeda in Iraq.
B. An Islamist coalition easily took on the FSA and stole all the stuff we gave them while their fighters ran away.
C. 4 out of 5 FSA front commanders demanded to work with Al Qaeda.
D. Its leader initially defended Al Qaeda/Al Nusra and claimed they weren't terrorists.
3. There is no such thing as a "vetted opposition" because the weapons we give will go down to individual groups that can align with whoever they chose and trade weapons with anyone they choose.
The FSA fighter we train today may be an Al Qaeda fighter tomorrow or he may have been Al Qaeda last week.
4. ISIS got so big and dangerous because of the weapons and recruits pouring into the Syrian opposition. Trying to arm and train "moderate elements" just keeps the conflict going which makes Al Qaeda grow faster and bigger than ever.
You can't beat Al Qaeda by helping Al Qaeda.