Failing On Purpose?
World View: American-led air attacks are failing. Jihadis are close to taking Kobani, in Syria – and in Iraq western Baghdad is now under serious threat
This is likely the news you are to be distracted from hearing…
YES we know that MR Thiel is a Bilderberger etc…
CNBC (GE / Comcast)
Silicon Valley venture capitalist Peter Thiel told CNBC on Monday that we are in a "government bubble of massive size," and that the bond market is the most distorted of all the markets. (see metals too..) 
In a wide-ranging interview on CNBC's "Squawk on the Street," Thiel also spoke about tech investing, the PayPal-eBay split, Alibaba, cybersecurity and Elon Musk.
"I think the thing that is most distorted is the bond market and fixed income, and perhaps less on the equity side, but we certainly are back on a government bubble of massive size," he said.
Tech stocks are quite a different story, he added.
Read MoreCNBC NEXT List: Peter Thiel
"They're somewhat overvalued but that's not the core of the insanity," he said. "Tech investors always overrate growth and always underrate durability. You can measure growth but you can't measure durability."
He said he thinks Airbnb is undervalued.
A new report of "economic freedom" around the world finds the US ranked 12th among 152 countries, tied with the United Kingdom, and lower than neighbor Canada or Australia. The index, published by the Cato Institute and Canada's Fraser Institute, has been published since 1996. As recently as 2000, the US ranked 2nd in the world, in terms of boasting a free economy. The US's declining ranking will lower future economic growth.
The index, built on decades of research by Nobel laureates and dozens of leading scholars, measures 5 broad factors that impact the economy: 1. Size of government; 2. Legal structure and security of property rights; 3. Access to sound money; 4. Freedom to trade internationally and; 5. Regulation of Credit, Labor and Business. Countries where citizens are freer to engage in business and trade and property and legal rights are protected by the rule of law will score higher on the index. According to economic research, though, these countries will also do better economically and create and generate more wealth.
The 10 freest economies in the world are: Hong Kong, Singapore, New Zealand, Switzerland, Mauritius, United Arab Emirates, Canada, Australia, Jordan, and Chile and Finland tied for 10th.
America's descent down the ladder of economic freedom is unsettling, in itself. More troubling, however, is the chief factor behind the US decline. The biggest drop in US economic freedom has been in the country's legal structure. The report notes that, "increased use of eminent domain to transfer property to powerful political interests, the ramifications of the wars on terrorism and drugs, and the violation of the property rights of bondholders in the auto-bailout case have weakened the tradition of strong adherence to the rule of law in United States."
The rule of law has long been the foundation of America's economic prosperity and liberty. The US ranking in this area has plummeted to a terrible 36th place in the world. This, combined with increased regulation is stifling US economic growth. The report observes, "[t]o a large degree, the United States has experienced a significant move away from rule of law and toward a highly regulated, politicized, and heavily policed state."
The report estimates the cost of the decline of economic freedom in the US. On current trends, future economic growth will be half the historic average of a 3% yearly gain. The past few years have schooled us on the impact low growth has on the labor market and economic outlook.
This latest report is a sobering look at the scale of challenges facing the US. Curtailing government's leviathan isn't simply solving a math problem, i.e. getting revenue and spending figures for government to balance. A far larger threat is the accumulation of thousands of rules and regulations that not only stifle innovation but also undermine our personal and property rights.
A balanced federal budget is insignificant and meaningless if the rule of law has been subverted. No single election or administration can repair that damage. That is a task that must be tackled by a generation.
MORE HERE
Unless your name is Koch … this is perfectly OK? 
Kansas Senate hopeful Greg Orman insists that he is not beholden to the Democratic Party, but a major Democratic donor is hosting a fundraiser for his campaign to unseat Republican incumbent Sen. Pat Roberts.
Jonathan Soros, son of billionaire Democratic donor George Soros, will host a New York City fundraiser this week for Orman, who is running as an independent candidate, according to an invitation obtained by America Rising.
In addition to the $3.7 million the younger Soros has donated to Democratic candidates, committees, and interest groups, Jonathan is a highly active member of the secretive Democracy Alliance, a hub of Democratic fundraising.
The fundraising consultancy managing the event, the Katz Watson Group, represents a who's-who of Democratic organizations and individuals, including the Democratic Senatorial Campaign Committee and the Hillary Clinton for President Exploratory Committee.
more at free beacon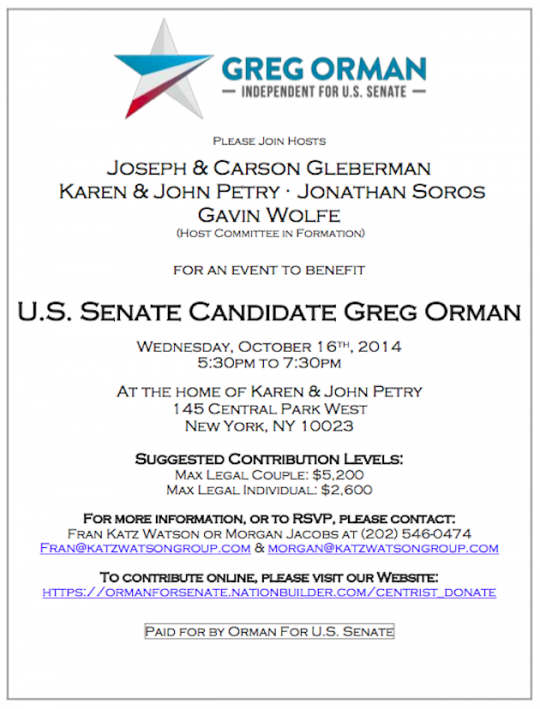 Proving what we have been saying ALL ALONG… That "Ebola" is largely made up. (Just like the Bird Flu and Pig Flu scares) – This is why the (real) media is not allowed in "Hot Zones". With poverty in Africa the highest in the world, it doesn't take much to convince the citizenry to pitch in for a few bucks)
WE DO NOT BELIEVE THAT EVERYTHING IS A "HOAX" – The Ebola Head fake just makes sense.
No audio because this was recorded at a Starbucks. Of particular interest is the scam nature of this video, which is most clearly shown at the end where a kid, supposedly dying of "Ebola" obviously falls down in the most incredibly fake acting job ever. Though there is no audio, the scam nature of this video
WHAT IT REALLY LOOKS LIKE TO HAVE "EBOLA"
predictive programming?
Just sayin……..

Video for "Green Shirt" from the "Armed Forces"
WHY? (Money and Power)
DEEP POCKETS OF WORLD "HEALTH" AND RESOURCE CABALS … WHY NOT TRY TO GET MORE MONEY?
Liberia health workers to go on strike over Ebola danger pay
Sales of gas masks, bio-hazard suits and foil blankets soar as 'survivalists' prepare for Ebola epidemic – and warn others to store water
"People are all too willing to relinquish their civil rights and personal freedoms in the wake of such engineered frights."

Details of How Mandatory Ebola "Vaccines" Will Soon Be a Reality
What might it be that the PTB doesn't want us to see? 
Monrovia (AFP) – Liberia said on Friday it was banning journalists from Ebola clinics, defying media rights campaigners who have warned panicked African governments against "muzzling" reporters.
"Journalists are no longer allowed to enter ETUs. These journalists enter the ETUs and cross red lines," Jackson, the deputy information minister, told listeners to commercial station Sky FM.
"They violate people's privacy, take pictures that they will sell to international institutions. We are putting an end to that."
Journalists had earlier been denied access to the Island Clinic in Monrovia to cover a nationwide "go slow" day of action by healthcare workers demanding risk bonuses for treating Ebola.
The minister told the Monrovia-based station he would insist that journalists report his statements from now on rather than what they saw for themselves.
Sources from global aid agency Medecins Sans Frontieres (MSF, Doctors Without Borders), which runs a unit of around 250 beds in Monrovia, said it would be writing to the government to ask to be excluded from the ban.
Liberia is ranked 89th out of 180 countries in the 2014 press freedom index produced by Reporters Without Borders. Ebola-hit Sierra Leone is 72nd while Guinea is ranked 102nd.
– 'Quarantining journalists' –
The media rights campaign group warned that panicked governments fighting the epidemic were "quarantining" reporters to prevent them covering the crisis.
"Combatting the epidemic needs good media reporting but panicked governments are muzzling journalists," the organisation, known by its French initials RSF, said in a statement.
Liberia's announcement came after soldiers prevented the media in Guinea from investigating the murders in September of eight people, including three journalists, during an Ebola education visit.
An AFP correspondent was among a group of journalists who were initially permitted to look around the southern town of Womey on Saturday, accompanied by troops, before suddenly being ordered to leave and having memory cards confiscated.
In Liberia, medics have been banned from communicating directly with the media, RSF said, while Sierra Leone has threatened to adopt draconian measures against journalists criticising its Ebola response.
"We urge these governments not to yield to a panic that could induce them to reverse democratic advances that have taken years to achieve," said Clea Kahn-Sriber, the head of the group's Africa desk.
The Island Clinic, Liberia's largest government Ebola treatment centre, is run by the World Health Organization (WHO) and opened in September.
Like all units run by NGOs, it is under-resourced and overrun by demand, forced to fill in for a public health infrastructure that has been decimated by 14 years of civil war and grinding poverty.
Although a "go slow" campaign was officially due to start on Friday, the clinic has been crippled by staff protests all week.
– 'We're risking our lives' –
"Most of the workers are no longer coming to work. The few ones who come don't work. We don't have the manpower needed to do the work here at the centre," director Atai Omoruto told reporters before the government clampdown.
Omoruto said the centre had been designed for a maximum capacity of 150 beds but had been forced to take in 300 patients.
"But now, we cannot take any new patient because there is no one to take care of them," he said.
Alphonso Wesseh, representing the clinic's healthcare workers, told AFP the government had refused to pay benefits for dealing with Ebola and salaries were as low as $250 a month.
"We cannot work under these conditions. We are risking our lives every day and the government remains insensitive to our plight. This is not human."
Ebola, which spreads through contact with bodily fluids, has infected around 8,000 people and killed almost half of them.
Liberia, the country hit hardest by the outbreak, has seen more than 2,000 deaths — including 94 healthcare workers — from the haemorrhagic fever which the virus causes.
President Ellen Johnson Sirleaf and her counterparts in Sierra Leone and Guinea pressed the heads of the International Monetary Fund, United Nations and World Bank on Thursday for a more rapid rollout of support to fight the epidemic.
"This will also require support for compensation to healthcare workers who, for fear of the risk involved, have refused or are reluctant to return to work," she told the Washington conference via video link.
ALSO: 
Related Stories
An effort to put a new investigation into the collapse of World Trade Center Building 7 up for vote in New York City won't be on the November ballot , after a New York State Supreme Court judge upheld a ruling dismissing the proposed referendum.
The High-Rise Safety Initiative, which raised $350,000 and collected about 100,000 signatures to support its effort, decided not to appeal the decision by Judge Paul Wooten . Why? To keep open an avenue to try again at the next election in 2016, according to Ted Walter, the group's executive director.
"We are going to take a little break, and try to evaluate whether we can redraft the petition to be successful in the future," he told WhoWhatWhy.
The chances of winning on appeal now are slim and a loss now would foreclose an opportunity to counter the City's use of a particular technicality to successfully scuttle this attempt, Walter said. That involved a finding that the High-Rise Safety Initiative's proposed ballot measure was "merely advisory" and therefore not allowed. A special referee assigned to oversee the case (whose findings Judge Wooten upheld) also ruled that the group's plan to finance the investigation wasn't legally permissible.
That the High-Rise Safety Initiative made it this far should be considered against this fact: only two proposed referenda have made it to the ballot in New York City in the last 50 years. And neither of those cost money to implement, as the High-Rise Safety Initiative would have. New York City electoral laws are written such that it's next to impossible to get any similar measures in front of voters.
In a few months, the High-Rise Safety Initiative will discuss whether to try again, considering three factors before proceeding, Walter said.
Those are: 1) Whether it can propose a plan to finance the investigation that can't be challenged 2) Whether it can surmount the City's legal argument that the proposed referendum is "merely advisory" and 3) If it can raise the minimum $300,000, especially now that this round in court has demonstrated just how long the odds against success are.
Until that happens, the question of how Building 7 collapsed so swiftly and uniformly will remain a baffling part of the story of 9/11 still unanswered by the official probe.
Read the rest HERE
And they would know — cause, er …. They hire them?
WASHINGTON — The Department of Homeland Security is trying to shoot down reports that terrorist fighters are operating in Mexico and that some already have been caught attempting to cross the United States' southern border.
Homeland Security officials said Wednesday that there was no truth to reports that fighters affiliated with the Islamic State, also known as ISIS or ISIL, have been apprehended on the border.
"The suggestion that individuals who have ties to ISIL have been apprehended at the southwest border is categorically false, and not supported by any credible intelligence or the facts on the ground," Marsha Catron, DHS press secretary, said in a statement.
But such assurances by the administration haven't satisfied several Republican members of Congress, who feel the border is so permeable that it's impossible for the government to say with any confidence who has entered the country or what their intentions are.
"Wake up, America," Rep. Jeff Duncan, R-S.C., pronounced at a recent congressional hearing on a possible border threat. "With a porous southern border, we have no idea who's in our country."
Similar claims have been made by other prominent Republicans, including Texas Gov. Rick Perry, Sen. Marco Rubio of Florida and Rep. Jason Chaffetz of Utah.
"My concern is that I have a reason to believe that on September 10th, there were actually four individuals trying to cross the Texas border who were apprehended at two different stations, that do have ties to known terrorist organizations in the Middle East," Chaffetz said at a recent hearing. Although Chaffetz didn't specifically mention the Islamic State in his comments, he told news media that asked about the hearing that he worried about the group coming into the U.S.
Homeland Security spokeswoman Catron also disputed reports that any terrorist groups are organizing in Mexico.
"DHS continues to have no credible intelligence to suggest terrorist organizations are actively plotting to cross the southwest border," she said.
This week, Rep. Duncan Hunter, R-Calif., told Fox News that at least 10 Islamic State fighters have been caught trying to cross the U.S.-Mexican border. A member of the House Armed Services Committee, Hunter said he got his information directly from U.S. Customs and Border Protection.
Sen. John McCain, R-Ariz., meanwhile, has raised concerns that the Canadian border is another vulnerability that terrorists could exploit.
Democrats charge that Republicans are trying to score political points by blaming President Barack Obama for failing to properly secure the country in light of a growing threat from the Islamic State.
A recent NBC News/Wall Street Journal poll found that nearly half of all Americans feel the United States is less safe now than before 9/11.
Read more here: http://www.mcclatchydc.com/2014/10/08/242646_no-islamic-state-fighters-coming.html?sp=/99/200/&rh=1#storylink=cpy
Beacons can push you ads — and help track your every move. Update: Hours after BuzzFeed News exposed the devices, the city ordered the removal of the devices.
A company that controls thousands of New York City's phone booth advertising displays has planted tiny radio transmitters known as "beacons" — devices that can be used to track people's movements — in hundreds of pay phone booths in Manhattan, BuzzFeed News has learned.
And it's all with the blessing of a city agency — but without any public notice, consultation, or approval.
Titan, the outdoor media company that sells ad space in more than 5,000 panels in phone kiosks around the five boroughs, has installed about 500 of the beacons, a spokesman for the city's Department of Information Technology and Telecommunications (DoITT), Nicholas Sbordone, confirmed to BuzzFeed News.
Beacons are Bluetooth devices that emit simple signals that smartphones can pick up. They're best known for their growing use in commercial settings: in stores, for example, to alert customers to sales, or in stadiums, to tell patrons which entrances are least crowded.
But the spread of beacon technology to public spaces could turn any city into a giant matrix of hidden commercialization — and vastly deepen the network of surveillance that has already grown out of technologies ranging from security cameras to cell phone towers.
New York City residents had no say in the deployment of Titan's beacons. Titan notified DoITT of its plans to install the beacons in 2013, which the city agreed to without a formal approval process because, according to Sbordone, the company said it was using the devices for maintenance purposes only. Titan installed the beacons from September to November 2013; a source with knowledge of the situation alerted BuzzFeed News to the program anonymously for fear, the source said, of being fired for speaking publicly.
One of New York's leading privacy advocates, New York Civil Liberties Union executive director Donna Lieberman, denounced the program after learning of it from a New York Daily News reporter.
"To the extent that the city is involved in this, the lack of transparency [is] of even greater concern," Lieberman, who called on the city to make public the details of the arrangement, told the Daily News.
"Consumers should be aware when they're in a zone that projects beacons," said Doug Thompson, the CEO of dot3, a beacon technology company, who also runsBEEKn, an industry blog. "It shouldn't be kept hidden from them."
Neither Titan nor DoITT would provide the specific locations of the beaconized phone booths, but they appear to be densely concentrated in central and lower Manhattan. On a 20-block stretch along Broadway and Sixth Avenue (from the bottom of Madison Square Park to just north of Bryant Park), BuzzFeed News identified 13 Titan-Gimbal beacons — or more than one, on average, every two blocks. To detect the beacons, BuzzFeed News used an Android app that lists nearby beacons, their identification codes, and signal strength, which gets stronger as a phone approaches the transmitter.
Titan, which is also active in San Francisco, Los Angeles, and other cities, said it has installed Gimbal beacons in other markets, but declined to provide details about those programs to BuzzFeed News.
The beacons are manufactured and sold by Gimbal, a San Diego company thatspun off in April from Qualcomm, the telecommunications giant. In its current iteration, a Gimbal beacon requires a third-party app to trigger advertisements, and requires those apps to receive "opt-in" permission from users in order to collect data and send notifications. (Users, of course, also need to have Bluetooth enabled.) Major League Baseball and GameStop, among others, already use Gimbal beacons in their stadiums and stores (respectively). Each uses its own proprietary app (though not necessarily integrated with Gimbal's software). A beacon in a New York City phone booth ad would need to recognize a corresponding app to push beacon-linked content to that phone.
Gimbal has unusual roots for a technology company. Its CEO, Rocco Fabiano, was chairman of Far Western Bank, a subprime auto lender shut down by California regulators in 1990. In 1993, a federal grand jury indicted Fabiano for allegedly taking bribes as part of an auto-financing scheme. He was acquitted in 1995.
DoITT and Titan say the beacons are currently in use on a test basis only, largely to determine the effectiveness of the technology and for "inventory management," helping alert Titan which panels are scheduled to be replaced. DoITT's Sbordone said that any explicit commercialization of the beacons would require a more formal city approval.
The Tribeca Film Festival app used Gimbal beacons this year to send festival-goers notifications about nearby happenings, according to an event press release. Dave Etherington, a spokesman for Titan, confirmed some of the beacons were in city phone booths, but stressed that Titan received no data from the festival-related beacon interactions.
The beacon industry is rooted in the increasingly complex interactions between the beacons, smartphone applications, and cloud-based data collection. Gimbal's own, public documentation repeatedly and plainly indicates that the company receives beacon-phone interaction data. Those interactions, which Gimbal calls "sightings," are illustrated in the following graphic from the documentation's "Proximity Overview" section, intended for prospective Gimbal clients:
"Sightings," according to the documentation, are sent to both Gimbal servers and, in some cases, "3rd party" servers.
Gimbal's privacy policy says Gimbal-powered apps may collect your current location, the time of day you passed the beacon, and details about your device. These apps may also, under certain circumstances, collect data about the websites you visit, the apps on your phone, and the "frequency and duration of app usage." The policy says that app-usage and website-visit data are not sent to Gimbal's servers.
Gimbal COO Kevin Hunter said through a spokeswoman that the company only provides clients with "aggregated, anonymized data." Indeed, Gimbal does not collect names, email addresses, or other personally identifiable information. But the company's software, with users' permission, can collect a remarkably detailed suite of information.
Gimbal has advertised its "Profile" service. For consumers who opt in, the service "passively develops a profile of mobile usage and other behaviors" that allow the company to make educated guesses about their demographics ("age, gender, income, ethnicity, education, presence of children"), interests ("sports, cooking, politics, technology, news, investing, etc"), and the "top 20 locations where [the] user spends time (home, work, gym, beach, etc.)."
Throughout its marketing materials, Gimbal emphasizes the importance of consumer privacy.
But, with severe data breaches at Home Depot, Target, and JPMorgan Chase, written commitments to privacy and security are only as strong as the technology backing them up.
Email the writers of this article at joe.bernstein@buzzfeed.com and jeremy.singer-vine@buzzfeed.com.
CORRECTION
Major League Baseball has installed Gimbal beacons in stadiums, but does not use Gimbal's software in its apps. An earlier version of this post said that an MLB app was "Gimbal-enabled."
A grand jury in Georgia declined to indict the law enforcement officers involved in a botched drug raid that left a toddler disfigured and badly injured.
A SWAT officer tossed a flash grenade May 28 into a playpen where 19-month-old Bounkham "Bou Bou" Phonesavanh was sleeping during a no-knock raid overseen by the Habersham County Special Response Team.
The toddler's nose was detached from his face, and the blast ripped a hole in his chest and caused serious burns.
Deputies had been warned to expect weapons and armed guards at the home, where they believed drugs would be found, the Atlanta Journal-Constitution reported.
A confidential informant told authorities he bought $50 in methamphetamine from a 20-year-old relative who he believed was staying at the house.
Officers found no drugs or weapons during their search, but the maimed boy's cousin was arrested later that day without incident and charged with possession of meth.
A 23-member grand jury panel heard six days of testimony before deciding not to charge any of the officers involved in the raid.
An attorney for the family said the toddler had surgery about a month ago that required 60 stitches to his face and 70 to his chest.
The boy will likely need similar surgeries every two years until he is 20 years old to repair badly damaged nerve endings in his face and additional plastic surgery throughout his life, the attorney said.
The county has said it would not pay for the child's medical bills, arguing that the board of commissioners was not legally permitted to pay for them.
Watch this video report posted online by WGCL-TV: