More anti Russian / Pro Cold War Propaganda…
On the FX show The Americans, Keri Russell and Matthew Rhys play Philip and Elizabeth Jennings, a typical suburban couple in the 1980s. Two kids, nice house, they run a travel agency together. They're also spies for the Soviet Union, moles sent to live among us. And their kids have no idea.
The Americans, which just started its second season, may be the first spy show created by a former spy. Joe Weisberg worked for the CIA in the early '90s, just as the Cold War was ending. He came from a very liberal family, so joining the CIA was a bit of a rebellion.
Yet after some time inside the organization, he started to doubt what the CIA was doing. "It was all kind of BS," he says. "The intelligence they were providing wasn't worth anything to the US government. But what you did to collect that intelligence was ask people to really risk their lives — for a lot of nothing."
Weisberg also had a passion for writing. And that eventually led him to Hollywood. After Russian agents were found working undercover in the US in 2010, Weisberg got a call from DreamWorks executives. Weisberg decided to reset the events during the Reagan era.
There was one clear advantage to setting a spy show in the 1980s: no cell phones. "Philip can't pick up a phone and call Elizabeth and say, 'get out of there!'" Weisberg says. He's also proud to show off what agents could do in the analog era, without great technology, when they had to rely more on brains, guile, and sometimes their bodies.
And there's another unusual aspect to the show. The CIA keeps a close eye on Weisberg's scripts to make sure that he doesn't give away tradecraft he learned while at the Agency.
Though spying provides the tension in the show, at its heart The Americans is about a marriage. Elizabeth and Philip's marriage was arranged by the KGB, but has become more and more authentic for the characters. "It's the emotional underpinning," Weisberg says, "It comes before the spy drama, it comes before the thriller aspects."
OKLAHOMA CITY, Mar. 4, 2014 – A bill that would nullify Agenda 21 in Oklahoma passed through the state house today.
"This bill protects your private property from being acquired by eminent domain from without a public vote or public hearing," said bill sponsor, Rep. Lewis Moore.
HB2807, known as the "Oklahoma Community Protection Act," would prohibit any state agency or political subdivision from adopting or implementing "policy recommendations that deliberately or inadvertently infringe upon or restrict private property rights without due process."
It also would void any previous commitments which may have been made under Agenda 21 or a similar program.
It reads, "any debt or commitment to an international or federal entity whereby the citizens did not have the ability to exercise their constitutional rights shall be considered null and void."
The bill passed by a vote of 66-26.
The United Nations passed Agenda 21 in 1992 at its Conference on Environmental and Development. The global initiative encompasses a wide range of programs meant to promote "sustainability." It works its way into the U.S. system through a back door strategy, targeting local governments. Objections to Agenda 21 include violations  of personal property rights, the erosion of state and local authority, and  binding of the United States to international agreements contrary to the U.S. Constitution.
HB2805 now moves to the state senate, where it will first need to be passed by a committee before the full senate has an opportunity to concur.
The Tenth Amendment Center, a national think tank focused on reclaiming state power from the federal government, has been following the bill closely and working directly with legislators to ensure its success.
FU MSNBC-GE-Comcast and the lying dead horse of propaganda you Rode in on. Abby just proved that RT has more sense and freedom of editorial than you do!
Abby's Brother Robby Martin will be our guest on THE JACK BLOOD SHOW this Friday 3.7.14
Podcast: Play in new window | Download
James and Jack join forces on The Jack Blood Show to discuss the latest from Ukraine, from foreign intervention to the specter of war. We also discuss the terror attack in Kunming, China, and the worries on the economic horizon.
New Jersey has become ground zero this year for legislative battles over gun control. What will Gov Chris Christie do? Chris Christie on Gun Control
The Brady Campaign ranked the state third in the nation for most restrictive firearms laws, yet anti-gun Democrats who control the legislature are determined to go all the way to gun bans and confiscation.
---
SEE ALSO: MILLER: NRA to score Senate vote on Obama's nominee for surgeon general, Vivec Murthy
---
The New Jersey Assembly's Law and Public Safety Committee was scheduled to hold a public hearing on Monday (postponed for snow) about a bill that reduces the maximum magazine capacity from 15 to 10.
Since the legislation covers both detachable and fixed magazines, it has the effect of to banning popular, low-caliber rifles.
The Association of New Jersey Rifle and Pistol Clubs gave the draft legislation to top firearms experts in the country to determine what guns would fall under the expanded ban.
They discovered that the bill would affect tube-fed, semi-automatic rifles because the magazine cannot be separated from the gun.
Thus, the experts found that at least 43 common rifles would suddenly be considered a prohibited "assault firearm," such as the .22 caliber Marlin Model 60, Remington Nylon 66 and Winchester 190.
Just having one such gun would turn a law-abiding owner into a felon overnight.
---
SEE ALSO: MILLER: California attorney general tries to overturn gun carry ruling in 9th Circuit
---
Possession of an "assault firearm" is a second-degree crime in New Jersey. The penalty is up to 10 years in jail and a mandatory minimum sentence of three to five years, with no chance of parole.
"This bill is a gun ban, there's no question about that," Scott Bach, the executive director of the Association of New Jersey Rifle and Pistol Clubs, told me in an interview.
"If it becomes law, it would have zero impact on crime because criminals don't follow bans. It would only affect legal gun owners by essentially tying their hands when they need to defend their lives."
Even worse, the bill has no grandfather clause and no amnesty period. So as soon as this legislation becomes law, everyone in possession of these rifles is automatically a felon and the guns are subject to seizure by the government.
Remember just last May, these same legislators were caught on a hot microphone saying, "We needed a bill that was going to confiscate, confiscate, confiscate."
Mr. Bach said, "For years anti-gun Democrats have claimed that they have no agenda to ban and confiscate guns. But last year their true agenda was revealed on that hot mic. This bill is another step in that process."
The timing of this drastic legislation is not by accident. New Jersey Democrats are determined to make Gov. Chris Christie squirm. Their objective is to make the potential Republican presidential candidate choose between local emotional pleas and national pro-gun voters.
State Senate President Steve Sweeney has had families of Newtown, Conn., school shooting at public events over the past few weeks to encourage passage.
It's most likely that this radical bill will pass the Assembly and the Senate in the next few months. So, Mr. Christie's veto power is the only thing that can stop the outright attack on gun owners and the Second Amendment.
Emily Miller is senior editor of opinion for The Washington Times and author of "Emily Gets Her Gun" (Regnery, 2013).
Company aims to alert prisons of incoming threats
MOUNDSVILLE – Sometimes described as an "angry beehive," the unmistakable sound of drones whizzing through the sky will be heard at the 2014 Mock Prison Riot from May 4-7 at the former West Virginia Penitentiary.
DroneShield LLC, a Virginia-based company that specializes in drone detection systems, will deploy drones and its drone detection technology during training scenarios at the four-day riot. Special operations teams will practice scenarios, in which drones will be flown over the prison walls to drop off contraband to "prisoners."
According to Brian Hearing, co-founder of DroneShield, drones have become a growing concern with prison wardens as improved technology continues to make drones more widely available and inexpensive.
In case you didn't hear – Investor Pierre Omidyar is Glenn Greenwald's new rich uncle! Along with Jeremy Scahill, and Rolling Stone's Matt Taibbi, et al…. And you thought we were just being overly suspicious?
Just hours after last weekend's ouster of Ukrainian president Viktor Yanukovych, one of Pierre Omidyar's newest hires at national security blog "The Intercept," was already digging for the truth.
Marcy Wheeler, who is the new site's "senior policy analyst," speculated that the Ukraine revolution was likely a "coup" engineered by "deep forces" on behalf of "Pax Americana":
"There's quite a bit of evidence of coup-ness. Q is how many levels deep interference from both sides is."
These are serious claims. So serious that I decided to investigate them. And what I found was shocking.
Wheeler is partly correct. Pando has confirmed that the American government – in the form of the US Agency for International Development (USAID) – played a major role in funding opposition groups prior to the revolution. Moreover, a large percentage of the rest of the funding to those same groups came from a US billionaire who has previously worked closely with US government agencies to further his own business interests. This was by no means a US-backed "coup," but clear evidence shows that US investment was a force multiplier for many of the groups involved in overthrowing Yanukovych.
But that's not the shocking part.
What's shocking is the name of the billionaire who co-invested with the US government (or as Wheeler put it: the "dark force" acting on behalf of "Pax Americana").
Step out of the shadows…. Wheeler's boss, Pierre Omidyar.
Yes, in the annals of independent media, this might be the strangest twist ever: According to financial disclosures and reports seen by Pando, the founder and publisher of Glenn Greenwald's government-bashing blog,"The Intercept," co-invested with the US government to help fund regime change in Ukraine.
[Update: Wheeler has responded on Twitter to say that her Tweets were taken out of context, but would not give specifics. Adam Colligan, with whom Wheeler was debating, commented on Pando that "while Wheeler did raise the issue of external interference in relation to a discussion about a coup, it was not really at all in the manner that you have portrayed." Further "[Pax Americana] appeared after the conversation had shifted from the idea of whether a coup had been staged by the Ukrainian Parliament to a question about the larger powers' willingness to weaken underlying economic conditions in a state." Neither Wheeler or Colligan has commented on the main subject of the story: Pierre Omidyar's co-investment in Ukrainian opposition groups with the US government.]
* * * *
When the revolution came to Ukraine, neo-fascists played a front-center role in overthrowing the country's president. But the real political power rests with Ukraine's pro-western neoliberals. Political figures like Oleh Rybachuk, long a favorite of the State Department, DC neocons, EU, and NATO—and the right-hand man to Orange Revolution leader Viktor Yushchenko.
Last December, the Financial Times wrote that Rybachuk's "New Citizen" NGO campaign "played a big role in getting the protest up and running."
New Citizen, along with the rest of Rybachuk's interlocking network of western-backed NGOs and campaigns— "Center UA" (also spelled "Centre UA"), "Chesno," and "Stop Censorship" to name a few — grew their power by targeting pro-Yanukovych politicians with a well-coordinated anti-corruption campaign that built its strength in Ukraine's regions, before massing in Kiev last autumn.
The efforts of the NGOs were so successful that the Ukraine government was accused of employing dirty tricks to shut them down. In early February, the groups were the subject of a massive money laundering investigation by the economics division of Ukraine's Interior Ministry in what many denounced as a politically motivated move.
Fortunately the groups had the strength – which is to say, money – to survive those attacks and continue pushing for regime change in Ukraine. The source of that money?
According to the Kyiv Post, Pierrie Omidyar's Omidyar Network (part of the Omidyar Group which owns First Look Media and the Intercept) provided 36% of "Center UA"'s $500,000 budget in 2012— nearly $200,000. USAID provided 54% of "Center UA"'s budget for 2012. Other funders included the US government-backed National Endowment for Democracy.
In 2011, Omidyar Network gave $335,000 to "New Citizen," one of the anti-Yanukovych "projects" managed through the Rybachuk-chaired NGO "Center UA." At the time, Omidyar Network boasted that its investment in "New Citizen" would help "shape public policy" in Ukraine:
"Using technology and media, New Citizen coordinates the efforts of concerned members of society, reinforcing their ability to shape public policy.

"… With support from Omidyar Network, New Citizen will strengthen its advocacy efforts in order to drive greater transparency and engage citizens on issues of importance to them."
In March 2012, Rybachuk — the operator behind the 2004 Orange Revolution scenes, the Anatoly Chubais of Ukraine — boasted that he was preparing a new Orange Revolution:
"People are not afraid. We now have 150 NGOs in all the major cities in our 'clean up Parliament campaign' to elect and find better parliamentarians….The Orange Revolution was a miracle, a massive peaceful protest that worked. We want to do that again and we think we will."
Detailed financial records reviewed by Pando (and embedded below) also show Omidyar Network covered costs for the expansion of Rybachuk's anti-Yanukovych campaign, "Chesno" ("Honestly"), into regional cities including Poltava, Vinnytsia, Zhytomyr, Ternopil, Sumy, and elsewhere, mostly in the Ukrainian-speaking west and center.
* * * *
To understand what it means for Omidyar to fund Oleh Rybachuk, some brief history is necessary. Rybachuk's background follows a familiar pattern in post-Soviet opportunism: From well-connected KGB intelligence ties, to post-Soviet neoliberal networker.
In the Soviet era, Rybachuk studied in a military languages program half of whose graduates went on to work for the KGB. Rybachuk's murky overseas posting in India in the late Soviet era further strengthens many suspicions about his Soviet intelligence ties; whatever the case, by Rybachuk's own account, his close ties to top intelligence figures in the Ukrainian SBU served him well during the Orange Revolution of 2004, when the SBU passed along secret information about vote fraud and assassination plots.
In 1992, after the collapse of the Soviet Union, Rybachuk moved to the newly-formed Ukraine Central Bank, heading the foreign relations department under Central Bank chief and future Orange Revolution leader Viktor Yushchenko. In his central bank post, Rybachuk established close friendly ties with western government and financial aid institutions, as well as proto-Omidyar figures like George Soros, who funded many of the NGOs involved in "color revolutions" including small donations to the same Ukraine NGOs that Omidyar backed. (Like Omidyar Network does today, Soros' charity arms—Open Society and Renaissance Foundation—publicly preached transparency and good government in places like Russia during the Yeltsin years, while Soros' financial arm speculated on Russian debt and participated in scandal-plagued auctions of state assets.)
In early 2005, Orange Revolution leader Yushchenko became Ukraine's president, and he appointed Rybachuk deputy prime minister in charge of integrating Ukraine into the EU, NATO, and other western institutions. Rybachuk also pushed for the mass-privatization of Ukraine's remaining state holdings.
Over the next several years, Rybachuk was shifted around President Yushchenko's embattled administration, torn by internal divisions. In 2010, Yushchenko lost the presidency to recently-overthrown Viktor Yanukovych, and a year later, Rybachuk was on Omidyar's and USAID's payroll, preparing for the next Orange Revolution. As Rybachuk told the Financial Times two years ago:
"We want to do [the Orange Revolution] again and we think we will."
Some of Omidyar's funds were specifically earmarked for covering the costs of setting up Rybachuk's "clean up parliament" NGOs in Ukraine's regional centers. Shortly after the Euromaidan demonstrations erupted last November, Ukraine's Interior Ministry opened up a money laundering investigation into Rybachuk's NGOs, dragging Omidyar's name into the high-stakes political struggle.
According to a Kyiv Post article on February 10 titled, "Rybachuk: Democracy-promoting nongovernmental organization faces 'ridiculous' investigation":
"Police are investigating Center UA, a public-sector watchdog funded by Western donors, on suspicion of money laundering, the group said. The group's leader, Oleh Rybachuk, said it appears that authorities, with the probe, are trying to warn other nongovernmental organizations that seek to promote democracy, transparency, free speech and human rights in Ukraine.

"According to Center UA, the Kyiv economic crimes unit of the Interior Ministry started the investigation on Dec. 11. Recently, however, investigators stepped up their efforts, questioning some 200 witnesses.

"… Center UA received more than $500,000 in 2012, according to its annual report for that year, 54 percent of which came from Pact Inc., a project funded by the U.S. Agency for International Development. Nearly 36 percent came from Omidyar Network, a foundation established by eBay founder Pierre Omidyar and his wife. Other donors include the International Renaissance Foundation, whose key funder is billionaire George Soros, and National Endowment for Democracy, funded largely by the U.S. Congress."
* * * *
What all this adds up to is a journalistic conflict-of-interest of the worst kind: Omidyar working hand-in-glove with US foreign policy agencies to interfere in foreign governments, co-financing regime change with well-known arms of the American empire — while at the same time hiring a growing team of soi-disant "independent journalists" which vows to investigate the behavior of the US government at home and overseas, and boasts of its uniquely "adversarial" relationship towards these  government institutions.
As First Look staffer Jeremy Scahill told the Daily Beast…
We had a long discussion about this internally; about what our position would be if the White House asked us to not publish something…. With us, because we want to be adversarial, they won't know what bat phone to call. They know who to call at The Times, they know who to call at The Post. With us, who are they going to call? Pierre? Glenn?
Of the many problems that poses, none is more serious than the fact that Omidyar now has the only two people with exclusive access to the complete Snowden NSA cache, Glenn Greenwald and Laura Poitras. Somehow, the same billionaire who co-financed the "coup" in Ukraine with USAID, also has exclusive access to the NSA secrets—and very few in the independent media dare voice a skeptical word about it.
In the larger sense, this is a problem of 21st century American inequality, of life in a billionaire-dominated era. It is a problem we all have to contend with—PandoDaily's 18-plus investors include a gaggle of Silicon Valley billionaires like Marc Andreessen (who serves on the board of eBay, chaired by Pierre Omidyar) and Peter Thiel (whose politics I've investigated, and described as repugnant.)
But what is more immediately alarming is what makes Omidyar different. Unlike other billionaires, Omidyar has garnered nothing but uncritical, fawning press coverage, particularly from those he has hired. By acquiring a "dream team" of what remains of independent media — Greenwald, Jeremy Scahill, Wheeler, my former partner Matt Taibbi — not to mention press "critics" like Jay Rosen — he buys both silence and fawning press.
Both are incredibly useful: Silence, an absence of journalistic curiosity about Omidyar's activities overseas and at home, has been purchased for the price of whatever his current all-star indie cast currently costs him. As an added bonus, that same investment buys silence from exponentially larger numbers of desperately underpaid independent journalists hoping to someday be on his payroll, and the underfunded media watchdogs that survive on Omidyar Network grants.
And it also buys laughable fluff from the likes of Scahill who also boasted to the Daily Beast of his boss' close involvement in the day to day running of First Look.
"[Omidyar] strikes me as always sort of political, but I think that the NSA story and the expanding wars put politics for him into a much more prominent place in his existence. This is not a side project that he is doing. Pierre writes more on our internal messaging than anyone else. And he is not micromanaging. This guy has a vision. And his vision is to confront what he sees as an assault on the privacy of Americans."
Now Wheeler has her answer — that, yes, the revolutionary groups were part-funded by Uncle Sam, but also by her boss — one assumes awkward follow up questions will be asked on that First Look internal messaging system.
Whether Wheeler, Scahill and their colleagues go on to share their concerns publicly will speak volumes about First Look's much-trumpeted independence, both from Omidyar's other business interests and from Omidyar's co-investors in Ukraine: the US government.
Editor's note:Pando contacted Omidyar Networks for comment prior to publication but had not received a response by press time. We will update this post if they do respond.
* * * *
Chesno document showing total funding from USAID and Omidyar Network to "Centre UA":
See it and read MORE here: Information Clearing House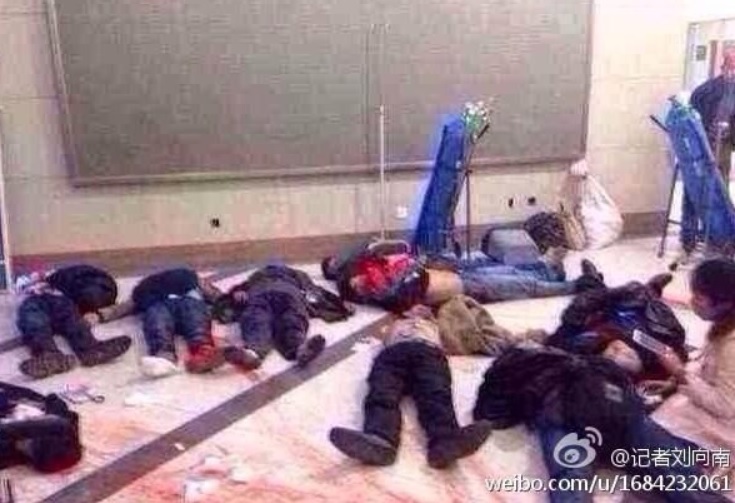 China's President Xi Jinping ordered a crackdown on "violent terrorist activities" after 33 people died when knife-wielding assailants rampaged through a train station in a southwestern city on March 1.
Local officials in Kunming said evidence at the scene showed it was a terrorist attack orchestrated by Xinjiang separatist forces, the state-run Xinhua News Agency reported yesterday. A group promoting human rights for the region's minority people, the Uighur, called for a transparent investigation.
The assault, days before the annual meeting of the legislature in Beijing, highlights growing social unrest amid widening inequality and increasing tensions between the state and ethnic groups such as the mostly Muslim Uighur minority in Xinjiang. The ruling Communist Party last November set up a state committee to better coordinate security issues as it faces dissent at home and expands its military reach.
"The problem in China is that there's no mechanism for people who think they are victims of discrimination to seek redress," said Willy Lam, an adjunct professor at the Center for China Studies at the Chinese University of Hong Kong. "There is no dialogue between the authorities and those with grievances, so they resort to violence, and from official reports it appears the frequency and intensity of those outbursts is increasing."
No one has claimed responsibility for the attack, which started around 9:20 p.m. when more than 10 people dressed in black and armed with knives stormed through the square and ticket hall of the railway station, Xinhua said.
Long Knives
"They were hacking at people like crazy, they didn't stop to look," Qin Gang, a 51-year-old local man who rents out his van, said from a hospital bed after being shot through the lower left arm by a police bullet. He said he joined police and security guards running after a group of assailants as they fled from the station.
Qin said he saw at least five attackers, including two women clad in long robes with only their eyes exposed. They carried knives that were as long as a man's arm and a few inches wide, he said.
"If nobody tried to stop them a lot more would have been killed," he said. "Hatred may explain this but is there anything personal at all between them and ordinary people?"
Li Li, the head of the Kunming No. 1 People's Hospital, where many of the wounded were taken, visited victims and handed each one 2,000 yuan ($325) in a brown envelope. Li also gave a basket of fruit and food donated by Kunming residents.
"Don't worry about medical fees, food or any other expense," Li said. "The government will take care of it."
Attackers Hunted
Twenty nine people died in the attack, according to Xinhua, with more than 140 injured. Four masked assailants were killed by the police, one was captured and the others are being hunted, it said.
Investigations into the attack are continuing, with evidence of flags from the East Turkestan Islamic Movement found at the scene, Foreign Ministry spokesman Qin Gang told reporters today in Beijing. Authorities have blamed the group for past violence in Xinjiang.
"No matter who they are or what group they belong to, no matter where or what time the incident took place, the Chinese government will severely crack down on them in accordance with the law," Qin said.
Kunming District
Kunming is the capital of southwest Yunnan province, home to at least 25 ethnic minority groups who number 15.5 million in total, about a third of the provincial population, according to the local government website. The city is is about 1,550 miles (2,496 kilometers) southeast of the Xinjiang capital Urumqi.
Police arrived at one the city's Uighur neighborhoods, Dashuying, on the night of March 1 after the attack and checked people's identification, according to residents. They also told Uighurs not to travel outside Kunming, unless returning to Xinjiang, they said. A dozen uniformed police were seen registering IDs of Uighurs at a street-side Xinjiang restaurant in the district today.
"We demand a transparent investigation," Dolkun Isa, chairman of the executive committee of the Munich, Germany-based World Uighur Congress, said in an e-mailed statement yesterday. "Terrorism charges brought immediately after the event creates doubts among the Uighur community in the absence" of such a probe, he said.
China's '9-11'
Meng Jianzhu, the nation's top security official, and Guo Shengkun, minister of public security, went to Kunming to direct the investigation, Xinhua said.
"This brutal attack on defenseless, innocent people by violent terrorists devoid of conscience exposes their inhuman and anti-social nature," Xinhua quoted Meng as saying. "We must mobilize all resources and adopt all means to break this case," he said.
We are FOR smarter construction and "green" technology… this however isn't it.
Washington, D.C. may have the highest number of certified green buildings in the country, but research by  Environmental Policy
Alliance suggests it might not be doing much good.
The free-market group analyzed the first round of energy usage data released by city officials Friday and found that large, privately-owned buildings that received the green energy certification Leadership
in Energy Design (LEED) actually use more energy than buildings that didn't receive this green stamp of approval.
LEED is the brainchild of the U.S. Green Building Council (USGBC), a private environmental group.
Washington, D.C.'s Department of Environment made the capital the first city in the nation to mandate LEED certifications in the construction of public buildings. The standards are now being phased in.
The results are measured in EUI's, a unit that relates a building's energy consumption to its size; the higher the number, the more energy is expended by a smaller building.
Take the Green Building Council's Washington headquarters. Replete with the group's top green-energy accolade, the platinum LEED certification
, the USGBC's main base comes in at 236 EUI. The average EUI for uncertified buildings in the capital? Just 199.
Certified buildings' average comes in at 205 EUI, still less efficient than that didn't take home
the ultimate green trophy.
"LEED certification is little more than a fancy plaque displayed by these 'green' buildings," charged Anastasia Swearingen, LEED Exposed's lead researcher on the project. "Previous analyses of energy use by LEED-certified buildings have consistently shown that LEED ratings have no bearing on actual energy efficiency
."
Swearingen told The Daily Caller News Foundation the system doesn't take into account
any proof of energy efficiency. The LEED model grades buildings on ideal conditions — the certification is based on "if everyone shuts their blinds, turns off their computers at the end of the day, makes sure the lights are off — but it doesn't factor in how much energy is really used after it's actually occupied," Swearingen contended.
In its own report released with the data, even the city's Department of Environment acknowledged the concerns raised by the "dependence on a third-party organization
, over which the government has no oversight, to set the District's green building standards." But while it understands the risks, the D.C. government continues to mandate the ratings for public buildings — and get cash from the program.
The city has collected $5.2 million in permit fees from the program since 2010.
WASHINGTON — As Israel's Prime Minister Benjamin Netanyahu flies to Washington – due to arrive on Sunday (March 2), to prepare for talks with President Barack Obama at the White House on Monday – it's clear that there are several points of friction between Israel and the United States.
The two countries are allies, but their leaders often differ on the details of key issues: Israel's peace talks with the Palestinians, America's nuclear talks with Iran, how to approach political turmoil in Egypt, what might be done to limit Syria's horrible civil war, and a broader issue of whether the Middle East sees President Obama as a powerful, influential leader.
Recently, as I sought to update a book I co-wrote about the history of Israel's intelligence agencies, sources close to them revealed that they felt pressure from the Obama Administration – more than a hint – to stop carrying out assassinations inside Iran.
Although Israel has never acknowledged it, the country's famed espionage agency – the Mossad – ran an assassination campaign for several years aimed at Iran's top nuclear scientists. The purpose was to slow the progress made by Iran, which Israel feels certain is aimed at developing nuclear weapons; and to deter trained and educated Iranians from joining their country's nuclear program.
At least five Iranian scientists were murdered, most of them by bombs planted on their cars as they drove to work in the morning. Remarkably, the Israeli assassins were never caught – obviously having long-established safe houses inside Iran – although several Iranians who may have helped the Mossad were arrested and executed.
In addition to strong signals from the Obama Administration that the U.S. did not want Israel to continue the assassinations, Mossad officials concluded that the campaign had gotten too dangerous. They did not want their best combatants – Israel's term for its most talented and experienced spies – captured and hanged.
President Obama – much to the discomfort of Israeli officials – is pursuing negotiations with Iran. The United States is one of the P5+1 nations, continuing to talk with the Iranians about rolling back some of their nuclear potential.
Sources told us that Netanyahu has now ordered the Mossad to focus on hunting – inside Iran and elsewhere – for evidence that the Iranians are cheating on the commitments they made in their interim agreement with the P5+1 last November.
Prime Minister Netanyahu and President Obama will also discuss progress – said by all concerned to be limited, but not non-existent – in Israel's talks with the Palestinian Authority which began last year. Secretary of State John Kerry has had many frustrations in his chosen role as mediator: not least, the harsh criticism of Kerry voiced by some members of Netanyahu's coalition government who distrust the peace process and feel that giving up any of the West Bank would be needlessly dangerous for Israel.
Also: