A majority of the Palin family — Sarah, Todd, Bristol, and Track — was allegedly involved in a booze-filled brawl over the weekend in which the former vice presidential candidate reportedly screamed, "Don't you know who I am?"
According to reports from local bloggers, the Palin crew showed up at a party in Wasilla following a day at the Iron Dog snowmobile race.
According to local blogger Amanda Coyne, witnesses at the scene said Palin's eldest son, Track, showed up to the party in a stretch Hummer. He then confronted a man who had previously dated one of his sisters, according to Coyne and another blog called Immoral Minority.
"That led to some pushing and shoving, which escalated somehow to the family being asked to leave the premises," Immoral Minority, reported.
Alaska political blogger Amanda Coyne spoke to several witnesses who say they were in attendance at the party and compiled a pretty incredible account of what allegedly went down:
Word is that Bristol has a particularly strong right hook, which she employed repeatedly, and it's something to hear when Sarah screams, "Don't you know who I am!" And it was particularly wonderful when someone in the crowd screamed back, "This isn't some damned Hillbilly reality show!" No, it's what happens when the former First Family of Alaska comes knocking. As people were leaving in a cab, Track was seen on the street, shirtless, flipping people off, with Sarah right behind him, and Todd somewhere in the foreground, tending to his bloody nose.
Head over to Coyne's blog for more.
Another Alaska-based blogger, Jesse Griffin, also offered up a report on the alleged melee:
According to the grapevine Track had some altercation with a person who may or may not have once dated one of the Palin girls. That led to some pushing and shoving, which escalated somehow to the family being asked to leave the premises.

However before that could happen a certain former abstinence spokesperson unleashed a flurry of blows at some as of yet identified individual before being pulled off by by another partygoer, after which Todd apparently puffed up his chest and made some threatening remarks. (The "C' word may have been uttered at one point.)
Anchorage Police Department communications director Jennifer Castro confirmed to The Huffington Post that police responded to a "verbal and physical altercation" outside a residence just before midnight on Saturday, and that "some of the Palin family members were in attendance at the party." Police believe that alcohol was a "factor" in the incident.
"The case is still an open and active investigation and is being reviewed by APD and our Municipal Prosecutor's office, therefore, we are unable to release any police reports or further information at this time," Castro wrote in an email.
(h/t Raw Story)
Right – Get pay outs on this under a False Flag? No no no …. Move on now please. (Now read the 1/2 propaganda below) 
After the September 11 terrorist attacks, insurance companies paid out billions in damages — more than ever before. So in 2002, Congress agreed to help in the future by creating federally insured — and relatively cheap — terrorism coverage for businesses.
Claims under that coverage were filed for the first time after the Boston Marathon bombings. But insurance companies haven't paid out — because the federal government doesn't consider the Boston Marathon bombing an act of terrorism.
After the marathon bombings, police and other investigators swarmed downtown and barricaded off whole blocks to examine what's been called the most complex crime scene in history.
"Nobody knew if there was going to be more bombs or anything," said Perry Geyer, whose company, Cybersound Studios, is around the corner from the bombing sites on Newbury street. He says as the manhunt for suspects continued, artists from across the country canceled recording sessions and Geyer lost thousands of dollars.
"In the back of my mind, the whole time when this happened, I was like, 'Wow, thank God I have the terrorism insurance — I'm sure this is going to cover it, if this isn't a terrorist act, then what is?'"
There's an answer to that question from the U.S. Secretary of the Treasury.
In an email yesterday, a spokesperson for the office said they have reviewed the events in Boston, and the treasury secretary did not find that there had been an "act of terrorism" under the Terrorism Risk Insurance Act.
That's the act that Congress passed in 2002 to create this type of federally-backed insurance. Under the law, insurance companies only have to pay claims when property damage tops $5 million and the U.S. Attorney General and the secretaries of state and treasury certify it a terrorist attack.
Since that didn't happen in the case of the marathon bombings, claims like Geyer's, for $9,000, were denied. He's since canceled his terrorism coverage.
"Why should I pay if I'm not going to receive anything?" he asked.
It's confusing for Geyer and other business owners like him, especially since President Obama has called the marathon bombings an act of terror, and the Justice Department's indictment of suspect Dzhokhar Tsarnaev charges him with federal crimes of terrorism.
The issue, says Robert Hartwig, president of the Insurance Information Institute in New York, is size and scope. He says terrorism insurance is meant to cover acts on the scale of the September 11 attacks.
"What terrorism insurance does, is it provides protection against those more severe losses — the type of losses that can put you out of business," Hartwig said. "Generally it's not for the lower level claims that might arise, the less-costly type of claims."
But Boston Mayor Marty Walsh says any formal distinction shouldn't matter.
"Regardless of whether or not this was ruled an official act of terrorism, insurance companies should be willing to do anything and everything in their power to assist these businesses," Walsh said in a statement.
One business is fighting back. Edward Borash says his Sir Speedy print shop on Bolyston still hasn't fully recovered since it was shut for 14 days after the bombings.
"It was such a terrible, heinous act and I was never going to let a terrorist tell me what to do, or whatever, so I fought so hard to stay in business and be strong here," Borash said.
He's suing the agent that sold him terrorism coverage, and his insurance company, Magna Carta, for more than $1 million. Borash's attorney, James Rudolph, says they misled his client.
"His agent never said, 'Listen, there has to be claims for $5 million, otherwise you're not going to get anything,'" Rudolph said. "And his insurance agent never said, 'Listen, it has to be declared an act of terrorism by some politicians in Washington.' Had he been told that, he might have said, 'Well this is ridiculous. They're never going to do that.'"
Magna Carta declined to comment.
"My client completely denies that it acted improperly, and certainly denies that any misrepresentation was made," said said Kurt Fliegauf, attorney for the agent, Allan Insurance Agency in Salem. "We're confident that we will prevail on the merits in court."
As the case progresses, lawmakers in Washington are deciding whether this type of insurance will even continue to exist. If they don't extend the Terrorism Risk Insurance Act, it expires at the end of the year, ending affordable federally backed terrorism coverage.
That would be unfortunate, says Robin Helfand of Robin's Candy Shop on Newbury Street. She thinks businesses need this kind of protection. She still has her terrorism policy, even though after the marathon bombing, her claim for thousands of dollars lost in unsold truffles was denied.
"But you can imagine my concern," she said. "How do I insure this time that I have coverage because — God forbid a million times over — there's another incident, I lose everything, and it's not declared terrorism?"
If it happened again, Helfand says, her business might not survive.
More at WHO WHAT WHY
A group that wants New York City voters to authorize a new investigation into the collapse of World Trade Center Building 7 on 9/11 won a significant victory this week.
The City of New York conceded that the High-Rise Safety Initiative has enough signatures to qualify its petition for an investigation of all high-rise building collapses since the 9/11 attacks. Any credible inquiry would include WTC Building 7. (For our earlier story on the initiative, please click here)
The victory comes as part of a trial which started last month. The High-Rise Safety Initiative sued to overturn the City's determination that not enough of the signatures it collected were bona fide, and that the legal language of the petition is not valid.
So with the first reason for the City's rejection out of the way, the High-Rise Building Initiative now must persuade the court that its petition language is legitimate.
If it can, then voters will decide on the November ballot whether the baffling collapse of Building 7 will get another look. That could answer nagging questions about the building, including how fires caused the building to fall to the ground so swiftly.
Night before 911 Anniversary 13…………
He did so in flagrant violation of international law. It's not the first time. It won't be the last.
It's longstanding US policy. All US wars are lawless. They violate the Constitution's Supremacy Clause (Article VI, Clause 2).
It states all US laws and treaties "shall be the supreme law of the land…"
International law is clear and unequivocal. No nation may attack another except in self-defense.
None may do so without Security Council authorization. None exists. Expect none forthcoming.
UN Charter Article 2(7) states:
"Nothing contained in the present Charter shall authorize the United Nations to intervene in matters which are essentially within the domestic jurisdiction of any state or shall require the Members to submit such matters to settlement under the present Charter."
Under no circumstances may one nation, or combination thereof, intervene against another without Security Council authorization.
Article 8 of the 1933 Montevideo Convention of Rights and Duties says: "No state has the right to intervene in the internal or external affairs of another."
Under Article 10, differences between states "should be settled by recognized pacific methods."
Article 11 calls sovereign state territory "inviolable…"
Other charters affirm non-intervention. They include:
the Organization of American States;
Organization of African Unity;
First Conference of Heads of State or Government of Non-Aligned Countries in Belgrade, among others.
Washington flagrantly violates rule of law principles. It does so repeatedly. It's to advance its imperium.
On Wednesday night, Obama declared open-ended Middle East war. It includes war on Syria.
The Islamic State is the pretext. Assad's government is the target. Regime change is the objective.
So is eliminating an Israeli rival, isolating Iran and wanting unchallenged regional control.
So-called ISIL/ISIS/Islamic State (IS) "terrorists" are a US creation. They're used strategically as both allies and enemies.
Washington arms, trains, funds and directs them. Obama's address included a litany of Big Lies.
Obama: "As Commander-in-Chief, my highest priority is the security of the American people."
Fact: Throughout his tenure, Obama caused more harm to more Americans than any of his predecessors.
Fact: He's done so multiple ways.
Fact: He serves monied interests at the expense of populist ones.
Fact: He uses America's resources for war-making, corporate tax cuts and other handouts.
Fact: He presides over a homeland police state apparatus.
Fact: He's waging war on freedom.
Fact: Francis Boyle calls his planned campaign an "impeachable offense."
Fact: Claiming he has authority is "baloney," said Boyle.
Fact: He plans "dron(ing) people to death with enormous civilian casualties," he added.
Obama: "(W)e continue to face a terrorist threat."
"If left unchecked, these terrorists could pose a growing threat beyond that region, including to the United States."
Fact: The only threats America faces are ones it invents.
Fact: The Islamic State doesn't threaten America's security.
Fact: Claims otherwise are Big Lies.
Fact: Obama hyped them to enlist public support.
Obama: "Our objective is clear: We will degrade, and ultimately destroy, ISIL through a comprehensive and sustained counterterrorism strategy."
"I will not hesitate to take action against ISIL in Syria, as well as Iraq."
"This is a core principle of my presidency. It you threaten America, you will find no safe haven."
Fact: It bears repeating. America's only threats are ones it invents.
Fact: At issue is replacing all independent governments with pro-Western stooge ones.
Fact: It's wanting control of world resources.
Fact: It's wanting ordinary people exploited at home and abroad.
Fact: War on humanity is official US policy.
Fact: Perhaps destroying planet earth to save it will follow.
Obama: "(W)e will send an additional 475 service members to Iraq…(T)hese American forces will not have a combat mission. We will not get dragged into another ground war in Iraq."
Fact: Hundreds of US special forces were sent to Iraq.
Fact: They're trained killers.
Fact: They're not good will ambassadors.
Fact: Obama plans sending 475 more.
Fact: Perhaps larger numbers will follow given protracted conflict Obama envisions.
Obama: "(W)e have ramped up our military assistance to the Syria opposition."
"Tonight, I call on Congress again to give us additional authorities and resources to train and equip these fighters."
"(T)he Assad regime…terrorizes its own people. It will never regain the legitimacy is has lost."
Fact: There's nothing civil about war in Syria.
Fact: Washington, rogue EU allies and complicit Arab states imported thousands of death squad killers.
Fact: They did so from dozens of countries.
Fact: US special forces and CIA operatives arm, fund, train and direct them.
Fact: Syrians overwhelmingly support Assad.
Fact: In a June presidential election independent monitors judged open, free and fair, he was reelected by a near 89% majority.
Fact: Syrians want no one else leading them.
Fact: Assad's legitimacy is solid.
Fact: Hands off Syria, they demand.
Fact: Its sovereign independence is inviolable.
Obama's strategy is four-fold, he claims. It includes:
airstrikes aiding its stooge Iraqi government;
US special forces support;
"counterterrorism" against America's invented enemies; and
false claims about humanitarian concerns.
Obama seeks another coalition of the willing. He'll bully, pressure and bribe other nations to go along.
He calls it "American leadership at its best."
He lied claiming "(w)e stand with people who fight for their own freedom, and we rally other nations on behalf of our common security and common humanity."
He lied claiming authorization to attack America's enemies. None exists. Expect none forthcoming.
It bears repeating. The Security Council has sole authority over whether one country may attack another.
It's permitted only in self-defense. So-called Middle East terrorist elements don't threaten America. Nor does Syria.
Obama intends lawless aggression. Big Lies drown out truths explaining it.
All wars are based on misinformation, deception and Big Lies. Official reasons don't wash.
Waging war on "terrorists" masks Washington's real agenda. A previous article explained as follows:
Obama's campaign has nothing to do with with humanitarian intervention. Or responsibility to protect.
Or protecting national security. Or safeguarding US personnel. Or spreading democratic values. Or championing right over wrong.
It's the oil, stupid. Iraq has huge reserves. It's protecting Big Oil's divine right to exploit them.
It's Washington wanting unchallenged regional control. It's making the world safe for war-profiteers.
It's pillage on a grand scale. It's disenfranchising whole populations. It's turning workers into serfs.
It's prioritizing capital's divine right. It's America's dark side writ large. It's got nothing to do with internal or external threats.
Not according to MSM scoundrels. When America goes to war or plans one, they march in lockstep.
Rule of law principles don't matter. Nor right over wrong.
Might over right justifies the unjustifiable. MSM scoundrels are on the wrong side of history.
New York Times  editors want "(t)he formation of an international coalition that includes Arab states, Western allies and the United States Congress…to give the American-led operation legitimacy."
Unexplained was that waging war extrajudicially denies it altogether.
Washington Post  editors support war without mercy. Naked aggression doesn't matter.
"American drones and warplanes must pursue the Islamic State wherever it can be found, and that includes its havens in Syria," they said.
"We hope Congress welcomes Mr. Obama's renewed commitment and approves funds" he'll request.
Wall Street Journal  editors said Obama "deserves public support as long as he is willing to fight this war…with more resolve and persistence than he has heretofore shown in his Presidency."
"Targeting Syria is crucial," they claimed. Unexplained is that Assad's government is the target. Regime change the objective. Waging war without Security Council authorization is lawless aggression.
Don't expect MSM editors to explain. They're in lockstep with what demands opposition.
Cheerleading war on humanity is longstanding MSM practice. Denouncing what's wrong isn't their long suit. Or assuming the moral high ground.
War without end persists. Homeland needs go begging.
Rule of law principles don't matter. World peace hangs by a thread.
Stephen Lendman lives in Chicago. He can be reached atlendmanstephen@sbcglobal.net. 
His new book as editor and contributor is titled "Flashpoint in Ukraine: US Drive for Hegemony Risks WW III."
http://www.claritypress.com/LendmanIII.html 
Visit his blog site at sjlendman.blogspot.com . 
Listen to cutting-edge discussions with distinguished guests on the Progressive Radio News Hour on the Progressive Radio Network.
It airs three times weekly: live on Sundays at 1PM Central time plus two prerecorded archived programs. 
http://www.progressiveradionetwork.com/the-progressive-news-hour  
interesting, riveting at times, to hear two 9-11 survivors/heroes recount the grizzly details of that horrible event.
Jack Blood of www.deadlinelive.info interviews Richard Andrew Grove, an AIG insider and whistle-blower. This is an insider expose of the AIG / Kroll spook company, their ties to 9/11 and their new financial 9/11.
In an unprecedented interview, Austin-based investigative journalist and radio talk show host Jack Blood interviews the now deceased Tim Russert. Jack Blood asks Mr. Russert about his famous "Skull & Bones" questioning of both George W. bush and John Kerry. Jack also asks the TOUGH questions about 9/11 and the response is unexpected. MUST LISTEN!!
(IndyInAsia and) Jack Blood Interviews Japanese Senator Yukihisa Fujita on September 11 2009 on the premiere of Winning The War on Consciousness. Special Edited One Hour version. Special Guest Callers: (911 hero)William Rodriguez And (911 Surviving family member) Manny Badillo
Jack Blood starts here —->
There rest HERE
We are joined by Richard Gage, founding member of Architects & Engineers for 9/11 Truth www.AE911Truth.org This organization is the direct answer to all those who criticized the "Truth" movement for not have experts to counter NIST, and Popular Mechanics debunking teams. This organization has just surpassed over 1000 experts casting serious doubt on the "official" version of events on Sept 11th 2001. Share THIS!
A two-day non-partisan truth conference with speakers, movie clips & music discussing our current state of affairs and how we got here. From 9/11, the "wars on terror" and the private, not public, Federal Reserve to the undermining of the U.S. Constitution and Bill of Rights
via Patriot Acts 1 & 2, to connecting the dots between different events that go unreported (or under-reported), as a whole, in our mainstream media. Calling on left & right truth-seekers to find common ground and work together to help revive our country! Come learn what many do not know, but what many are waking up to. Knowledge is power.
Jack Blood speaks at the 9/11 Accountability Conference in Chandler, Arizona; Feb 23-25, 2007.
After over a year of investigations, my sources are ready to speak out publicly on one on of the most important Sept 11th puzzle pieces ever to come my way.
It seems that Mohamed Atta and at least 4 other 9/11 (alleged) hijackers were in Oklahoma City just before 9/11/2001.
My sources accidentally ran into several witnesses while investigating leads in the OKC Bombing case.
What did they find?
According to eyewitnesses (none of whom knew each other) Atta and the boys were in OKC just 3 days before 9/11.
ONE OF THEM, TWO WEEKS AFTER 9/11!
My sources (who will remain nameless until today's radio broadcast) also have credit card receipts from an Atta and crew drinking session at a local OKC bar, where they nearly got in a brawl with 2 other patrons.
The CC numbers used by Atta seem to show that the Cards were GOVERNMENT AUTHORIZED!
It gets better….
This could be the most damning evidence to date that the alleged hijackers
of 911 were indeed intelligence assets and NOT "terrorists"
It gets better….
Jack Blood Interviews J. Michael Springmann, former chief of the visa section at the U.S. Embassy in Jeddah, Saudi Arabia. Explained in various interviews with European and Canadian media, that he rejected hundreds of suspicious visa applications in the late 90s, but the C.I.A. officers overruled him and ordered the visas to be issued. Springmann protested to the State Department, the Office of Diplomatic Security, the F.B.I., the Justice Department and congressional committees, but was told to shut up. Springmann observed that 15 of the 19 people who allegedly flew airplanes into buildings in the United States got their visas from the same CIA-dominated consulate in Jeddah. It all continued until FBI CIA VISA september 11 consulate embassy Mid 2001.
RON PAUL GOES ON THE RECORD W/ JACK BLOOD ABOUT 911 – JUST BEFORE HIS GLOBAL FAME.
Image: Despite the NSA's immense resources and all encompassing
spying activities both abroad and domestically, it appears to miss many
even obvious world events unfolding. It is likely this "ignorance" is
feigned to afford plausible deniability between global chaos and US
culpability.  
The U.S. government is tracking and gathering intelligence on as many as 300 Americans who are fighting side by side with the Islamic State group in Iraq and Syria and are poised to become a major threat to the homeland, according to senior U.S. officials.
Officials say concern is widespread in Washington that radicalized foreign fighters could return to the homeland and commit terrorist attacks with skills acquired overseas, according to officials who spoke on condition of anonymity due to the sensitivity of the information. Those concerns were heightened by the disclosure Tuesday that a California man was killed fighting alongside militants with the group, also known as ISIS.
It is incredible because the United States' National Security Agency (NSA) has not only been tapping and recording phone conversations of Americans for years, but also tracking phone locations as well . How is it that this massive, invasive, illegal, abhorrent surveillance control grid can be put in place, sold to the public as a necessity to "protect Americans" and "national security," yet miss entire battalions of Americans signing up for and joining overseas, a terrorist organization like the Islamic State in Iraq and Syria (ISIS)?
If the very scenarios the NSA uses to justify its abhorrent means have unfolded unimpeded, revealed only by "chance" with the passport of an American turning up in the pockets of dead terrorists upon an alleged battlefield in Syria, either the NSA's existence serves another purpose, or the narrative we are being fed regarding the true nature of ISIS is a lie, or the most likely scenario – both.
Not the First Fit of Feigned Ignorance 
Image: A tank flying Al Qaeda's flag – it is difficult to believe the US when
it claims it did not foresee ISIS' emergence when the CIA itself had been
operating in ISIS territory for the past 3-4 years. 
The very appearance of ISIS on the battlefields of Iraq and Syria allegedly took the US intelligence community by surprise. The unlikely narrative was designed entirely to maintain plausible deniability between ISIS mercenaries and their paymasters in Washington, London, Brussels, Riyadh, Doha, and Ankara respectively. In reality, headlines over the past 3-4 years such as, "C.I.A. Said to Aid in Steering Arms to Syrian Opposition ," "First Syria rebels armed and trained by CIA 'on way to battlefield' ," "Arms Airlift to Syria Rebels Expands, With Aid From C.I.A. ," and "Official says CIA-funded weapons have begun to reach Syrian rebels; rebels deny receipt ," indicate precisely how and from where the immense, multinational ISIS mercenary force originated.
The US has yet to account how its CIA could be operating within territory held by ISIS – including all along the Turkish-Syrian border and within Turkish territory itself – and neither know the existence, movements, or intentions of ISIS forces.
Between NSA surveillance at home, and the CIA operating side-by-side with ISIS and other Al Qaeda-linked terrorist organizations, the sudden revelations that Americans are fighting within ISIS' ranks seem to be more a matter of politically-motivated propaganda, timed perfectly to justify US military intervention in Syria, than a case of yet another convenient lapse in American intelligence.
Washington Menacing America With Its Own Mercenaries 
Indeed, in order for the US to begin military operations in Syria under the guise of fighting ISIS forces, it must first demonstrate the threat ISIS poses to America. Already, likely false flags serving ISIS no benefit, but giving the US the green light to begin military operations in Syria have begun making their rounds across Western media. A CBS/Associated Press story titled, "Former Deputy CIA Director: 'I Would Not Be Surprised' If ISIS Member Shows Up To US Mall Tomorrow With AK-47 ," claims:
"The short-term concern is the Americans that have gone to fight with ISIS and the west Europeans that have gone to fight with ISIS could be trained and directed by ISIS to come to the United States to conduct small-scale attacks," Morell stated. "If an ISIS member showed up at a mall in the United States tomorrow with an AK-47 and killed a number of Americans, I would not be surprised."
Morell warned that over the long-term the extremist group could be planning for a 9/11-style attack that killed thousands of Americans.
The same report would also claim:
The United States launched a new barrage of airstrikes Wednesday against the Islamic State extremist group that beheaded American journalist James Foley and that has seized a swath of territory across Iraq and Syria. President Barack Obama vowed relentless pursuit of the terrorists and the White House revealed that the U.S. had launched a secret rescue mission inside Syria earlier this summer that failed to rescue Foley and other Americans still being held hostage.
The current justification for ongoing preparations against Syria has been the Foley execution video, which experts have agreed upon was staged. The London Telegraph in its article, "Foley murder video 'may have been staged'," would state:
Analysts believe the British jihadi in the video may not have been James Foley's killer, although it is accepted that the journalist was murdered.
Of course, if the video was staged, and every claim about it made by ISIS thus far proven a fabrication, no evidence at all suggests when and where, or even if Foley was murdered. If he was, no evidence suggests by whom. And despite this revelation, the US continues building momentum to intervene in Syria.
Imperialism Hiding Behind Righteousness 


Image: Image accompanying Seymour Hersh's
prophetic 2007 report, "The Redirection ," exposing
a US-Saudi-Israeli conspiracy to arm terrorists
aligned to Al Qaeda to fight Iran and its allies in a
cataclysmic regional sectarian bloodbath – a
scenario now fully realized. 
Several years and hundreds of millions of dollars later, ISIS is clearly the product of long-laid Western designs to overthrow the Syrian government and reorder the Middle East as warned by the prophetic 2007 9-page report titled, "The Redirection: Is the Administration's new policy benefitting our enemies in the war on terrorism? ," written by Seymour Hersh and published in the New Yorker. In it Hersh warned about a cataclysmic sectarian war that would ravage the entire region, targeting not only Syria and neighboring Lebanon, but also Iran. He also warned that it was an intentionally engineered conspiracy between the United States, Saudi Arabia, and Israel, with many smaller regional players serving in supporting roles.
With the emergence of ISIS creating the very cataclysmic sectarian conflagration warned about in Hersh's 2007 report, with no other credible explanation to account for ISIS' incredible size, strength, and success beyond multinational state-sponsorship, Hersh's reportage has once again been vindicated.
It is clear that the US has created ISIS, and is to this day using it as both a means to target and attack its enemies across the Middle East, as well as serve as a pretext for direct US military intervention when proxy wars flounder. It is also being used in a third context – on the domestic front – as a manufactured and perpetual threat with which to further justify the militarization and centralization of America's police forces and the continued expansion of the NSA's invasive domestic spying.
It is also clear that all of this adds up not to promoting freedom and democracy abroad while ensuring national security at home, but rather achieving full-spectrum domination in regions abroad and over the population at home. It is naked hegemony and imperialism playing dress-up in the wardrobe of righteousness.
Read More HERE
Tony Cartalucci, Bangkok-based geopolitical researcher and writer, especially for the online magazine " New Eastern Outlook" .
Only 28 pages? Why not go for broke here? Seems these guys are only interested in uncovering the "outside job".  Could lead to new info just the same.  
A Congressman representing some of us in the east wants the President to declassify part of a report on the 2001 terror attacks which have been kept under wraps.
Congressman Walter B. Jones, along with representatives Thomas Massie from Kentucky and Stephen Lynch of Massachusetts, announced they would use House Resolution #428 to ask that President Obama declassify 28 pages of the report.
Those pages of the Joint Inquiry into Intelligence Activities Before and After the Terrorist Attacks of September 2001 were originally classified under President George W. Bush.
This House resolution says, in part, that the pages need to be made public to give Americans "the full truth surrounding the tragic events of September 11, 2001, particularly relating to the involvement of foreign governments."
Jones, the other two Congressman, and some family members of the victims of 9/11 will host a press conference about this resolution at 1 p.m. Monday at the Rayburn House Office Building in Washington D.C.
Ukraine is the epicenter of European fascist reemergence. May's Odessa massacre revealed its ugly face.
Kiev bore full responsibility. What happened was no-holds-barred barbarism.
Reports at the time suppressed. Premeditated mass murder was committed as planned. More on this below.
On September 9, Itar Tass  said Odessa-based media accused Kiev of fabricating its report.
"(W)itnesses' evidence proving the involvement of National Security and Defense Council head Andryi Paruby" was excluded.
Kiev's report suppressed "evidence of numerous witnesses about involvement in the riots of about 500 (Maidan) radicals…"
Regional governor Vladimir Nemrovsky "accommodated (them) in Odessa."
Kiev's report excluded Odessa branch Center Right Ukraine Democratic Alliance for Reform (UDAR) leadership names.
Former world heavyweight boxing champion/current Kiev major Vitali Klitschko heads it.
Other names are omitted. They include Maidan veteran Andrei Yusov and other Maidan leaders.
"…Radical nationalists…set ablaze a tent camp of pro-federalism activists and the House of Trade Unions (TUH)."
Kiev wrongfully blamed "pro-Russian activists" for neo-Nazi-infested Maidan radicals' crimes.
Its report lied calling it "impossible" to determine cause of death of Odessa victims "due to the lack of state-of-the-art equipment."
Verifiable evidence proves otherwise. Neo-Nazi Right Sector thugs set Odessa's Trade Union House (TUH) ablaze.
People were trapped inside. Dozens were massacred. Scores more were injured. Many were missing.
They were either dead or in neo-Nazi hands. Early reports way underestimated what happened. It was multiples worse than reported.
Neo-Nazis isolated Odessans inside the TUH. A largely unwitnessed massacre followed.
Setting the building ablaze was strategy. It was done to conceal mass murder. Ordinary Ukrainians were slaughtered in cold blood.
Nearby tents were set on fire. Doing so preceded what followed. Right Sector thugs positioned themselves inside the TUH. They were there in advance.
They were armed and dangerous. Police did nothing to intervene. They conspired with fascist killers. So did Odessan firefighters.
They only appeared when TUH's entrance doors burned through. Its building was five stories. From outside, fire was only visible in a single room.
Bodies were shown on upper floors untouched by fire. How did they get there? Who bore responsibility?
They were murdered in advance. Things were staged. They were made to seem like fire consumed them.
Corpses were dragged from where they died. People perished inside from gunshot wounds, strangling and beatings.
Some were thrown from windows. They didn't jump. It bears repeating. Setting TUH ablaze masked what happened. Fire didn't kill activists inside. Neo-Nazi hoodlums did.
Some corpses had burnt heads and shoulders only. Clothes they wore showed no signs of fire.
Someone doused their shoulders and heads with "flammable stuff." Hands and wrists were burned to the bone.
Photos showed strange whitewash floor markings. It was powder from extinguishers.
Right Sector thugs used it on people they killed. They did so to protect themselves from fire and carbon monoxide poisoning.
Hardwood floors showed no signs of fire damage. Victims were murdered other ways.
Photographic evidence was damning. So were independent videos. They showed mass murder by means other than fire and/or carbon monoxide poisoning.
Some bodies had multiple gun shot wounds to the head. They were executed in cold blood at point blank range.
A pregnant woman was strangled with an electric wire. Hundreds were killed. As many as 300 or more.
Most were hacked to death with axes or clubbed to death with bats. Some were shot. Others were thrown from windows.
Survivor Tatyana Ivananko said anti-Kiev activists tried hiding from Right Sector thugs. They barricaded themselves for protection.
Right Sector thugs were inside the TUH before fire started. They wouldn't let anyone out.
Most floors weren't affected by fire. Victims died by other means, said Tatyanya.
At the time, damning videos circulated online. One showed a woman atop the TUH. She screamed for help.
Street-level thugs mocked her. She's "not a woman," they said. "She's a separatist. Beat the s..t out of her so she finally shuts up."
Acting prosecuting general Oleg Makhnitsky lied. It's too early to know who set the building ablaze, he said.
Clear evidence proved otherwise. Coverup and Big Lies concealed it. Mass murder was ignored. Accountability remains denied.
Fascists operate this way. America is a hotbed of injustice. So is Ukraine. No-holds-barred barbarism reflects official policy.
Washington manipulates things covertly. Coup-appointed putschists are convenient stooges.
They committed gruesome atrocities. They murdered hundreds of Odessans in cold blood.
Survivors won't forget May 2. Neo-Nazi Right Sector thugs planned well in advance. Western leaders buried truth. So did MSM scoundrels.
A survivor explained what she saw. "When I was on the Cathedral Square, I personally saw with my own eyes how a man of maybe around 40 – they cut his throat."
"They pushed him on the ground and cut his throat – and they shouted, 'Glory to Ukraine.' "
"Everything happened so quickly. Someone said that
we all have to get inside the Trades Union building."
"Everyone quickly began carrying everything into the building
and reinforcing everything inside."
"When I was on the second floor, I saw many of the pro-Maidan (supporters) gathering around. They surrounded us."
"They were all around the building." A fire was "ignited…I went downstairs and heard shooting inside the building."
A man "was shouting that the Right Sector was coming. Everybody run."
"I ran into an office. Two men were brought in. They had suffocated. They were dead."
"There was not a sound other than the shots. (A) couple of minutes passed. People inside said "(l)et us in. Let us in. We are with you. They are killing us."
"I was in such a shock. I can't even describe this to you. I did not expect that anyone could rejoice so much over killing someone."
"My ears were wringing. We were screaming. We were just begging them not to kill us."
"They killed everyone they saw. Everyone at once. A man was lying right by my feet. He was covered in blood. They beat him with bats."
"They took one woman away. I don't know where. Then as soon as they took me out of an office, I begged them to let me go because I have a small child."
"They could not care less…I stood there. I saw everything. They were dragging people. I don't know where they were taking them."
"When they took me out of an office, I was walking on corpses. Then we went on the stairs and there I only saw blood."
"I saw bodies in the hallway. They were dragging them. They began shooting."
"People inside tried to get out to safety. Some of them were shot."
Somehow the eyewitness survived. Most inside the TUH perished. Most others who got out were murdered.
It bears repeating. Right Sector thugs killed hundreds of Odessans in cold blood.
They shot them. They hacked them to death with axes. They beat them to death with bats.
They threw people out windows. Survivors able to escape were attacked outside. Most were murdered in cold blood.
Official accounts suppressed what happened. MSM scoundrels regurgitated official Big Lies.
Whitewash substituted for truth and full disclosure. Fascist regimes operate this way. America's newest colony is one of the worst.
It bears repeating. It's the epicenter of European fascist reemergence.
Stephen Lendman lives in Chicago. He can be reached atlendmanstephen@sbcglobal.net. 
His new book as editor and contributor is titled "Flashpoint in Ukraine: US Drive for Hegemony Risks WW III."
http://www.claritypress.com/LendmanIII.html 
Visit his blog site at sjlendman.blogspot.com . 
Listen to cutting-edge discussions with distinguished guests on the Progressive Radio News Hour on the Progressive Radio Network.
It airs three times weekly: live on Sundays at 1PM Central time plus two prerecorded archived programs. 
http://www.progressiveradionetwork.com/the-progressive-news-hour 
Scots Independence Genie Fires Separatist Dreams of EU Statehood
A short walk from Edinburgh Castle, past tourist stores hawking kilts and tartan scarves, a church hall is about to become a patch of Barcelona for the day.
As Scotland votes next week on whether to break up the U.K. after more than three centuries, a group of about 100 Catalans will gather to watch the outcome unfold and ponder the implications for their own bid for freedom from Spain.
"I get goose bumps just thinking about it," said Raquel Gella, 25, a Catalan marketing manager who has lived in Scotland for five years after arriving as a student. "Who has the chance to see history made in two countries?"
Related:
The Catalan interest is just the tip of the iceberg. Whether Scots choose to remain in the U.K. or call time on the 307-year-old union with England and Wales, the vote has already proved to separatists from Flanders to Venice that the dream of taking control of their own futures has a chance of becoming reality.
If the political spirits of the 18th and 19th centuries were dedicated to forging larger sovereign states, the referendum has opened up an alternative vision for the 21st century in which smaller national groups dismantle them. That reshaping of the map has ramifications for governments, finances, international relations, companies and investors.
Evolving Europe
The pound dropped to the weakest since November against the dollar yesterday after polls showed the pro-independence campaign in Scotland had wiped out the No camp's long-standing advantage, leaving the result too close to call. In Spain, bonds fell, with 10-year yields rising the most since May.
Scotland's Bid for Independence
"The symbolic value of what is going to happen in Scotland is very important," said Gerolf Annemans, president of Vlaams Belang, a Flemish party calling for Flanders to secede from Belgium. "Marching toward independence and the reshuffling of the older nation states is a logical evolution, and Scotland, Catalonia and Flanders are pieces of that new Europe."
The Scottish vote has sharpened the divide in Europe between competing schools of thought. One says that globalization and a hyper-connected world mean the continent should consign cultural and ethnic tensions to history. The other says the European Union is exactly the framework in which regions and provinces can assert their identities and thrive.
That would mean "a Europe of peoples and regions where the Bavarians can be Bavarians instead of Germans," Ibon Areso, the mayor of Bilbao, the economic capital of Spain's Basque region, said in an interview. "A Europe that is more a Europe within which different identities can live together more easily."
Integration Blueprint
The successive waves of European integration over half a century have already changed the definition of a state, said Robert Lineira, apolitics researcher at Edinburgh University.
"The nation, state and market had to be the same but with the EU that's not true anymore," said Lineira, who moved to the Scottish capital from Barcelona in January. "The state doesn't mean what it used to mean. The independence that the Scottish nationalists are proposing doesn't look like a traditional state."
The U.K. has been a blueprint for political and economic integration. The 1707 Acts of Union that united the English and Scottish Parliaments in London and Edinburgh merged currencies, budgets, trade tariffs and weights and measures and opened an era of nation-building as the English and Scots went on together to become an imperial power beyond parallel.
300 Years
Spain consolidated its control of Catalonia after the siege of Barcelona which ended 300 years ago tomorrow. Germany, Italy and smaller countries like Belgium were stitched together in the 19th century from city states and provinces. Places like Veneto were joined with Sicily, Prussia married with Bavaria.
Scottish nationalists led by Alex Salmond, who heads the semi-autonomous government in Edinburgh, say the U.K. served its purpose and now it's time for smaller countries to have their day again. They are spurred on by the history of Europe since World War II and the creation of newly independent states such as the Baltic countries of Estonia, Latvia and Lithuania.
Salmond points to 193 countries in the United Nations compared with 55 originally in 1945. The EU now has 28 members, a quarter of which didn't exist as sovereign states a little over two decades ago.
Scotland's Gift
"Scotland has given so much to the world in terms of invention and innovation and if we do achieve a Yes vote, that demonstration of a peaceful path to change will be another great gift," Michael Russell, education secretary in Salmond's administration, said in a speech in Glasgow last week.
If the Scottish referendum is successful for the Yes campaign, it will trigger at least 18 months of negotiations to carve up the U.K.'s institutions, including moving the British nuclear submarine fleet from the deep waters of Gare Loch about 30 miles (50 kilometers) west of Glasgow.
It will also ensure the ripples across Europe continue, said Sebastian Balfour, professor emeritus of contemporary Spanish studies at the London School of Economics.
"The response within the nation states of the EU is going to be quite alarmist," said Balfour. "I certainly see a whole range of responses to tame this movement, to give it some kind of institutional form that does not undermine the nation state."
Barcelona Crowd
The rumblings are already being felt: Balfour will be in Barcelona as an observer tomorrow when Catalan nationalists aim to bring more than a million people onto the streets of the region's capital to build momentum for their own independence ballot set for Nov. 9. Unlike in the U.K., that's a vote the central government in Madrid refuses to recognize.
Then there are the Basque provinces and the Veneto region of northeast Italy. An informal Internet vote in Veneto in March found 89 percent of respondents wanted to leave Italy, according to results on the plebiscito.eu website.
Gianluca Busato, who organized the poll and runs the website, said last month that the Scottish and Catalan votes showed "the wind is blowing louder and louder for independence." He declined to comment for this story.
Belgian Talks
In Belgium, forged as a state in 1830 after winning independence from the Netherlands, elections in May saw the N-VA Flemish nationalists become the biggest party. They are in talks with groups from both sides of the linguistic divide to form a coalition and enter the federal government for the first time.
Never far from the heart of the argument is economics, as well as what happens to debt and who pays for what.
Scottish nationalists want control of North Sea oil and say Scotland, whose gross domestic product makes up about 10 percent of the U.K.'s, would be the 14th richest country in the world. Catalans too say they can run their affairs better than Spain.
"That's actually an unspoken key part of the equation," said Balfour. "The votes in favor of independence are fueled very much by the failure of the nation state because it has followed austerity policies to generate growth and jobs."
Both sides in Scotland say the battle will go down to the wire.
A YouGov Plc poll last weekend suggested the lead for the No campaign had crumbled, with the Yes side overtaking for the first time. A monthly survey by TNS published yesterday provided more evidence of a swing to the nationalists, reducing the No lead to a single percentage point.
'Already Won'
For many Catalans, it's a victory for Scotland just to hold a vote on independence, something the Spanish government has said it won't agree to for Catalonia.
"Regardless of the result, Scotland has already won, because they can exercise their sovereignty, they can decide," said Carme Forcadell, president of the Catalan National Assembly, a campaigning group that has organized tomorrow's demonstrations in Barcelona.
In Edinburgh, the church hall on George IV Bridge in the city's Old Town is booked for 120 people to mark the day of the Scottish vote, with debates in Catalan on politics and cultural representation in the Spanish region.
At least 50 people are coming over especially from Barcelona and representatives of all political parties have been invited, said Meritxell Ramirez-Olle, president of Scotland's Catalan Centre, which is organizing the event.
Genie Released
Gella, the 25-year-old marketing manager, says while she's not sure of the outcome in Scotland, she's clear about how Catalans will vote if they're allowed. As an EU citizen — the Scottish vote is for residents rather than U.K. nationals — she is eligible to vote in both ballots.
"The point of no return" has been passed, she said on a lunch break in Edinburgh in July. "Catalonia will become independent regardless of the result in Scotland."
Martin Davis, chief executive officer of Edinburgh-based fund management company Kames Capital, has been advising clients as far back as May to recognize the way that voters like Gella are changing the status quo.
While the referendum may go either way, its consequences are already reverberating across the continent, he told the audience at a dinner on the Royal Yacht Britannia.
"The genie is out of the bottle," he said.
Polish president warns of nationalism…
---
Cameron close to tears: Don't vote Yes…
Vote rekindles statehood dreams across Europe…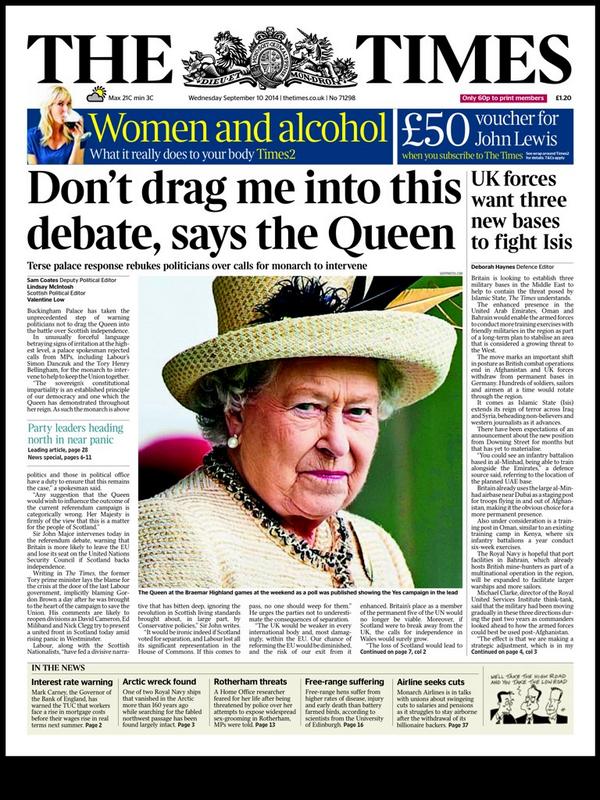 Podcast: Play in new window | Download | Embed
As the latest ISIS beheading video hoaxes continue to be exposed, we cast our minds back to the Nick Berg beheading video of 10 years ago. Jack Blood of DeadlineLive.info did his own original reporting into where that video originated from and as a result became the target of surveillance and death threats. We recall that incident and reflect on the significance of these videos, their propaganda value, and the potential for a future false flag terror attack.
Direct link HERE