Not only are foodstuffs, medical supplies—even clinics—going to ISIS, the distribution networks are paying ISIS 'taxes' and putting ISIS people on their payrolls.
Daily Beast
GAZIANTEP, Turkey—While U.S. warplanes strike at the militants of the so-called Islamic State in both Syria and Iraq, truckloads of U.S. and Western aid has been flowing into territory controlled by the jihadists, assisting them to build their terror-inspiring "caliphate."
The aid—mainly food and medical equipment—is meant for Syrians displaced from their hometowns, and for hungry civilians. It is funded by the U.S. Agency for International Development, European donors, and the United Nations. Whether it continues is now the subject of anguished debate among officials in Washington and European. The fear is that stopping aid would hurt innocent civilians and would be used for propaganda purposes by the militants, who would likely blame the West for added hardship.
The Bible says if your enemy is hungry, feed him, and if he is thirsty, give him something to drink—doing so will "heap burning coals" of shame on his head. But there is no evidence that the militants of the Islamic State, widely known as ISIS or ISIL, feel any sense of disgrace or indignity (and certainly not gratitude) receiving charity from their foes.
Quite the reverse, the aid convoys have to pay off ISIS emirs (leaders) for the convoys to enter the eastern Syrian extremist strongholds of Raqqa and Deir ez-Zor, providing yet another income stream for ISIS militants, who are funding themselves from oil smuggling, extortion, and the sale of whatever they can loot, including rare antiquities from museums and archaeological sites.
"The convoys have to be approved by ISIS and you have to pay them: The bribes are disguised and itemized as transportation costs," says an aid coordinator who spoke to The Daily Beast on the condition he not be identified in this article. The kickbacks are either paid by foreign or local nongovernmental organizations tasked with distributing the aid, or by the Turkish or Syrian transportation companies contracted to deliver it.
"What are we doing here helping their fighters, who we are bombing, to be treated so they can fight again?"
And there are fears the aid itself isn't carefully monitored enough, with some sold off on the black market or used by ISIS to win hearts and minds by feeding its fighters and its subjects. At a minimum, the aid means ISIS doesn't have to divert cash from its war budget to help feed the local population or the displaced persons, allowing it to focus its resources exclusively on fighters and war-making, say critics of the aid.
One of the striking differences between ISIS and terror groups of the past is its desire to portray the territory it has conquered as a well-organized and smoothly functioning state. "The soldiers of Allah do not liberate a village, town, or city, only to abandon its residents and ignore their needs," declares the latest issue of Dabiq, the group's slick online magazine. Elsewhere in the publication are pictures of slaughtered Kurdish soldiers and a gruesome photograph of American journalist Steven Sotloff's severed head resting on top of his body. But this article shows ISIS restoring electricity in Raqqah, running a home for the elderly, a cancer-treatment facility in Ninawa, and cleaning streets in other towns.
Last year, a polio outbreak in Deir ez-Zor raised concerns throughout the region about the spread of an epidemic. The World Health Organization worked with the Syrian government and with opposition groups to try to carry out an immunization campaign. This has continued. In response to a query by The Daily Beast, a WHO spokesperson said, "Our information indicates that vaccination campaigns have been successfully carried out by local health workers in IS-controlled territory."
"I am alarmed that we are providing support for ISIS governance," says Jonathan Schanzer, a Mideast expert with the Washington D.C.-based think tank Foundation for Defense of Democracies. "By doing so we are indemnifying the militants by satisfying the core demands of local people, who could turn on ISIS if they got frustrated."
U.S. and Western relief agencies have been caught before in an aid dilemma when it comes to the war on terror. Last December, the Overseas Development Institute, an independent British think tank focusing on international development and humanitarian issues, reported that aid agencies in Somalia had been paying militants from the al Qaeda offshoot al-Shabab for access to areas under their control during the 2011 famine.
Al-Shabab demanded from the agencies what it described as "registration fees" of up to $10,000. And in many cases al-Shabab insisted on distributing the aid, keeping much of it for itself, according to ODI. The think tank cited al-Shabab's diversion of food aid in the town of Baidoa, where it kept between half and two-thirds of the food for its own fighters. The researchers noted the al Qaeda affiliate developed a highly sophisticated system of monitoring and co-opting the aid agencies, even setting up a "Humanitarian Co-ordination Office."
Something similar appears to be underway now in the Syrian provinces of Raqqa and Deir ez-Zor.
Aid coordinators with NGOs partnering USAID and other Western government agencies, including Britain's Department for International Development, say ISIS insist that the NGOs, foreign and local, employ people ISIS approves on their staffs inside Syria. "There is always at least one ISIS person on the payroll; they force people on us," says an aid coordinator. "And when a convoy is being prepared, the negotiations go through them about whether the convoy can proceed. They contact their emirs and a price is worked out. We don't have to wrangle with individual ISIS field commanders once approval is given to get the convoy in, as the militants are highly hierarchical." He adds: "None of the fighters will dare touch it, if an emir has given permission."
That isn't the case with other Syrian rebel groups, where arguments over convoys can erupt at checkpoints at main entry points into Syria, where aid is unloaded from Turkish tractor-trailers and re-loaded into Syrian ones.
Many aid workers are uncomfortable with what's happening. "A few months ago we delivered a mobile clinic for a USAID-funded NGO," says one, who declined to be named. "A few of us debated the rights and wrongs of this. The clinic was earmarked for the treatment of civilians, but we all know that wounded ISIS fighters could easily be treated as well. So what are we doing here helping their fighters, who we are bombing, to be treated so they can fight again?"
What becomes even more bizarre is that while aid is still going into ISIS-controlled areas, only a little is going into Kurdish areas in northeast Syria. About every three or four months there is a convoy into the key city of Qamishli. Syrian Kurds, who are now defending Kobani with the support of U.S. warplanes, have long complained about the lack of international aid. Last November, tellingly, Syrian Kurds complained that Syria's Kurdistan was not included in a U.N. polio-vaccination campaign. U.N. agencies took the position that polio vaccines should go through the Syrian Red Crescent via Damascus when it came to the Kurds.
The origins of the aid programs pre-date President Barack Obama's decision to "degrade and defeat" ISIS, but they have carried on without major review. The aid push was to reach anyone in need. A senior State Department official with detailed knowledge of current aid programs confirmed to The Daily Beast that U.S. government funded relief is still going into Raqqa and Deir Ez-Zor. He declined to estimate the quantity. But an aid coordinator, when asked, responded: "A lot."
The State Department official said he, too, was conflicted about the programs. "Is this helping the militants by allowing them to divert money they would have to spend on food? If aid wasn't going in, would they let people starve? And is it right for us to withhold assistance and punish civilians? Would the militants turn around, as al-Shabab did when many agencies withdrew from Somalia, and blame the West for starvation and hunger? Are we helping indirectly the militants to build their caliphate? I wrestle with this."
Western NGO partners of USAID and other Western agencies declined to respond to Daily Beast inquiries about international relief going to ISIS areas, citing the complexity of the issue and noting its delicacy.
Mideast analyst Schanzer dismisses the notion that ISIS can use an aid shutdown as leverage in its PR campaign: "I think this is false. In areas they control, everyone understands they are a brutal organization. This is their basic weakness and by pushing in aid we are curtailing the chances of an internal revolt, which is the best chance you have of bringing down ISIS."
Literally False Flags? 
Gardeners in the Israeli city of Nazareth Illit discovered a bag containing about 25 ISIS flags.
Israel Police have opened an investigation into the discovery of the flags on Tuesday in an industrial area of northern Israeli city. The possession of materials from the jihadist group was outlawed in Israel several weeks ago.
"When something like this is discovered in the heart of a Jewish city, it needs to light up many warning signs," Nazareth Illit Mayor Alex Gadalkin told Ynet.
In late September, a 24-year-old Arab-Israeli from Kfar Kana who was suspected of being associated with ISIS was arrested and questioned.
Earlier in the month, another Arab-Israeli was arrested for allegedly traveling to Syria and training with ISIS. Contact with the group also was made illegal.
By Jack Blood for Deadlinelive.info / RadioFreeBlood.com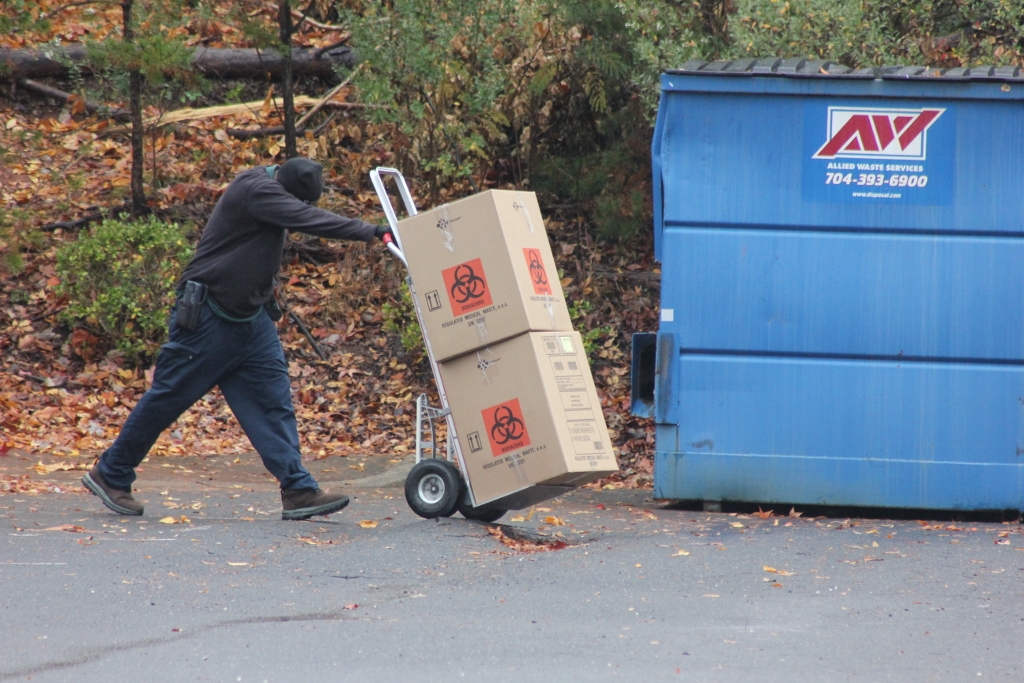 More Cronyism has been found ALL OVER the recent "Ebola" Scare. Here is yet another example of how serious your leaders are taking Ebola and the removal / destruction of medical waste.
This just in from our Confidential Eye Witness in Texas:
A few days ago, I went to do some work at a medical facility in Port Arthur, TX., and I learned that they had patient zero's incinerated belongings there, allegedly still contaminated with Ebola. I found out that the company taking care of disposing the bio-waste was called Stericycle. I did some research and found out that this was the same company involved in the fetus heater burning scandal at some hospital in the northwest. They were also caught burying fetuses in a New Jersey landfill (instead of incinerating them like they were supposed to).

 While I was there, the current controversy was that Stericycle was trying to dump the bio-waste in Louisiana. But some judge there barred them from doing so. That was no surprise given Stericycle's horrendous track record. If I was that Louisiana judge, I wouldn't want that crap in by back yard either.

 I also found out that this government contractor, Stericycle, was owned at some point by Bain Capital, in other words, Mitt Romney… what a small world this is! They are also based out of a suburb in Chicago (Northbrook, IL)… can you say Rahm? Barry-O?

Wow… another coincidence?

 Just as Rick Perry and his 'task force' announced that UTMB (University of Texas Medical Branch) in Galveston will take care of the Ebola bio-waste disposal, the MSM announced that another hospital worker took a cruise ship out of Galveston and is being quarantined.

 Galveston may very well be the next 'Ebola epicenter' in this psy-op.

 UTMB in Galveston has Ebola bio labs there.
WHO IS STERICYCLE?
Revenue: US$ 2,142.807 million (2013)
More HERE
NORTH SALT LAKE — For the third time this year, plumes of black smoke and incinerated medicate waste blew out of an emergency bypass valve at Stericycle,  according to the company.
After legislators gave approval, Stericycle began the process of moving to Tooele County far away from homes, but the relocation can't come soon enough for some residents watching its continual bypass events.
"They have made zero effort to communicate with the community — that they are still in," Communities for Clean Air co-founder Natasha Henderson said Thursday.
While driving home from work around 5 p.m. Wednesday, Henderson saw a big, dark cloud of smoke billowing from Stericycle.
COMPANY THAT WAS FINED FOR ILLEGALLY DUMPING ABORTED BABIES IN LANDFILL GRANTED EBOLA WASTE DISPOSAL CONTRACT
There are so many unborn babies being discarded in the world today that some are now being illegally shoveled into landfills right along with household waste. One waste disposal company was caught doing this in 2011, trying to cut corners and save money.
How is their morbid business practice reprimanded? Just a few years later, the company responsible is awarded the special privilege of hauling away high-risk Ebola waste from the Texas Health Presbyterian Hospital in Dallas. Apparently, the U.S. Department of Transportation (DOT) doesn't care about this company's sketchy background. Can we really trust a company that illegally dumped babies in a landfill in order to save money to properly dispose of Ebola waste? Why did this unethical company get the contract?
U.S. government grants controversial Stericycle permit to dispose of Ebola waste
The DOT just granted controversial Illinois-based Stericycle a permit to haul away large quantities of Ebola waste out of Texas. Stericycle has a questionable history of illegally dumping aborted babies in landfills and was even caught using the babies to fuel an Oregon power plant.
The DOT permit details how the waste is to be disposed, providing instructions for operation controls during transit, but the Department of Transportation gives Stericycle plenty of leeway on how the waste will be disposed. The carrier is supposed to maintain a written spill response plan just in case there is a travel accident. The waste is to be sealed in a series of inner and outer packaging and disinfected with CDC-approved cleaners. The question still remains: How will it all be disposed of from there and can Stericycle be trusted?
Stericycle caught using deceased babies to fuel Oregon power plant
There are some groups who already mistrust Stericycle after the company was fined $42,000 in 2011 for illegally dumping aborted babies in a municipal landfill in Austin, Texas. The babies were disgracefully dumped into the landfill alongside household and commercial garbage. If Stericycle broke their permit then in the most morbid way, how can they be trusted with Ebola waste? The Texas Commission of Environmental Quality (TCEQ) ruled that Stericyle failed to "prevent the disposal of treated fetuses at a municipal solid waste landfill," and TCEQ also charged the disposal company with "failure to comply with permit conditions."
To make matters worse, a little over a year ago, Stericycle was caught using deceased babies from an abortion clinic to fuel a local power plant in Oregon. Upon the discovery, the Marion County Board of Commissioners in Oregon severed their contract with Stericycle.
Still, that matter won't affect Stericycle too much, for the federal government just gave them a landmark permit to take care of Ebola waste in Texas.
As a result of the media attention and the public outcry, the US Congress passed the Medical Waste Tracking Act of 1988, and the US medical waste industry was born.
The seeds of Stericycle were planted in the late 1980s, around the same time that illegally disposed medical waste began rolling onto the beaches of the Atlantic Coast. The media dubbed the event "Syringe Tide.
Stericycle's hospital offerings grew in 2003 when it acquired Bio Systems. Today, Stericycle Sharps Management Service with Bio Systems containers is the US leader in reusable sharps container management service.
In 2014, a major acquisition expanded and complemented our existing specialty waste services, making Stericycle a leader in hazardous waste solutions. With the formation of Stericycle Environmental Solutions, we broadened our ability to serve the needs of our healthcare, retail, and other regulated waste customers.
The company's international business began in 1997 with a joint venture in Mexico.
Since then, Stericycle has created services, tools and resources for healthcare professionals not only in the United Statesand Mexico, but also in Argentina, Brazil, Canada, Chile, Ireland, Japan, Portugal, Puerto Rico, Romania, Spain, and the United Kingdom.
Beyond services related to healthcare wastes, in some markets the company has expanded its offerings to include management of certain hazardous wastes as well as patient transport and medical courier services.
Klain is a Jewish Democrat Politico and campaign expert. He is also a Protectorate of Wall St. K Street. He has ZERO medical experience, or any experience dealing with Pandemics. He is there to protect the Democrats interests.
He is an influential Democratic Party insider.
Chief of Staff to two Vice Presidents – Al Gore (1995–1999) and Joseph Biden (2009–2011)
He was Chief Counsel to the Senate Judiciary Committeeduring the Clarence Thomas Supreme Court nomination. He was portrayed byKevin Spacey in the HBO film Recount depicting the tumult of the 2000 presidential election. On October 17, 2014, President Obama named Klain the newly created "Ebola Czar"
1994 – became Chief of Staff and Counselor to Attorney General Janet Reno
Klain helped Fannie Mae overcome "regulatory issues"
During the 2004 Presidential campaign, Klain worked as an adviser to Wesley Clark in the early primaries. Later, during the General Election, Klain was heavily involved behind the scenes in John Kerry's campaign and is widely credited for his role in preparing Senator Kerry for a strong performance in the debates against President George W. Bush, which gave Kerry a significant boost in the polls.[8] He then acted as an informal adviser to Evan Bayh, who is from Klain's home state of Indiana. Klain has also commented on matters of law and policy on televised programs such as the Today Show, Good Morning America, Nightline, Capital Report, NewsHour with Jim Lehrer, and Crossfire.
In 2005, Klain left his partnership at O'Melveny & Myers to serve as Executive Vice President and General Counsel of a new investment firm, Revolution LLC, launched by AOL co-founder Steve Case
Klain apparently signed off on President Obama's support of a $535 million loan guarantee for now-defunct solar-panel company Solyndra. Despite concerns about whether the company was viable, Klain approved an Obama visit, stating, "The reality is that if POTUS visited 10 such places over the next 10 months, probably a few will be belly-up by election day 2012.
Corporate Employer O'Melveny & Myers LLP: 
The firm is 29th largest law firm in the world / The firm has represented clients, such as Bank of America, Exxon Mobil, Fannie Mae,Goldman Sachs, the District of Columbia, New Line Cinema, Metro-Goldwyn-Mayer Studios, and other law firms. They represented former Enron Corporation chief executive Jeffrey K. Skilling during his four-month fraud and conspiracy trial
Helped on Gun Ban Legislation District of Columbia v. Heller
Argued before the Supreme Court in Exxon Shipping Co. v. Baker, on behalf of Exxon regarding the Exxon Valdez oil spill. The Supreme Court, in a 5-3 decision (Justice Alito had recused himself), reduced the $2.5 billion punitive damages award against Exxon to $507.5 million
| | |
| --- | --- |
| Revenue | US$818.5 million (2013)[1] |
| Date founded | 1885 |
Lead story Wash Times:
Responding to urgent calls from Congress and a fearful public, President Obama has tapped a former White House official to serve as his "Ebola czar."
Ron Klain, an attorney who worked for Vice Presidents Joe Biden and Al Gore, is president of Case Holdings, which handles business interests for former AOL CEO Steve Case, and general counsel at Revolution LLC, a tech-focused venture capital firm in Washington, according to the White House.
He will be the point-person in charge of responding to the deadly virus in the U.S., and will report directly to Homeland Security Adviser Lisa Monaco and National Security Adviser Susan Rice.
Although Mr. Klain does not come from the public health sector, the White House said he possesses "strong management credentials, extensive federal government experience overseeing complex operations and good working relationships with leading members of Congress, as well as senior Obama administration officials, including the president."
Mr. Obama had said late Thursday it "may make sense for us to have one person" coordinating the government's response to the Ebola outbreak, after the Liberian national who brought the virus to America's shores died and two nurses who treated him tested positive in the following days.
The president said administration officials such as Centers for Disease Control and Prevention Director Dr. Thomas Frieden, Health and Human Services Secretary Sylvia Burwell and Ms. Monaco have other responsibilities and may benefit from having one person in charge of the government's entire response.
"It may make sense for us to have one person in part just so that after this initial surge of activity we can have a more regular process, just to make sure that we're crossing all the t's and dotting all the i's going forward," the president said.
The appointment won early praise from Democrats and expert observers.
"I've known Ron Klain for over twenty years. He is smart, aggressive, and levelheaded — exactly the qualities we need in a czar to steer our response to Ebola," said Sen. Chuck Schumer, New York Democrat. "He is an excellent choice."
Carl Tobias, a professor of law at the University of Richmond who tracks judicial appointments, said Mr. Klain's experience in executive offices and on Capitol Hill should buoy him through this challenge.
"I think he really does know his way around Washington better than a whole lot of people," he said.
Read more: Washington Times
For MORE on Mr Panetta and his Globalist connections and ideology … see our article CIA / Pentagon… Whats the Difference? Petraeus to CIA, Panetta to DOD
US war plans against North Korea recently included the option of a nuclear strike, former CIA Director and Defense Secretary Leon Panetta revealed in his memoirs, triggering major controversy.
READ MORE: The Kim is Back: North Korean leader makes first public appearance in a month
Panetta described a 2010 briefing in Seoul by General Walter L. 'Skip' Sharp, the commander of US forces in South Korea, where it was made clear that the nuclear option was on the table if North Korean forces crossed into the demilitarized zone (DMZ) between the North and the South.
"If North Korea moved across the border, our war plans called for the senior American general on the peninsula to take command of all US and South Korea forces and defend South Korea— including by the use of nuclear weapons, if necessary," Panetta wrote in 'Worthy Fights: A Memoir of Leadership in War and Peace'.
Panetta added that he left the briefing with "the powerful sense that war in that region was neither hypothetical nor remote."
Panetta's revelations sparked various responses, ranging from surprise to indignation.
"Typical wooden-headedness on the part of a US official," a former top CIA expert on Korea told Newsweek. "How in the world do we think South Koreans will react to the news that the US is prepared to use nuclear weapons on the peninsula? It doesn't reassure them, only makes them think having the US bull in their china shop is maybe not such a good idea."
Others said Panetta did not write anything unexpected. A 'Joint Vision' statement signed between US-South Korea in 2009 "references extended deterrence to include the nuclear umbrella … in many respects, the information is not new," Korea expert at the Naval War College Terence Roehrig said. "The United States has long had a position that South Korea was under the US nuclear umbrella."
The US sent over tactical nuclear weapons to the Korean Peninsula in 1958, but their deployment was only revealed in mid-1970s.
The Korean War took place in 1950-1953, with no peace deal ever signed between North and South Korea. Thus the two countries remain technically at war.
High-level military talks
Meanwhile, the relationship between the North and the South remain tense. On Wednesday senior-level military talks were held between them to resolve a series of recent live-fire incidents in South Korea and maritime borders, AFP quoted Seoul's Defense Ministry as saying.
The meeting was referred to as the highest-level military exchange in seven years. It lasted for five hours and included officers up to the rank of general.
The main focus of the talks was Friday's incident involving an exchange of gunfire after North Korea's military shot at balloons launched by anti-Pyongyang activists. Tuesday's fire exchange between North and South Korean naval patrol boats near the disputed Yellow Sea border was also discussed.
"Our side clarified our position that North Korea should respect (the maritime boundary) … and that as a democratic nation, we cannot regulate balloon launches by civilian groups," South Korean Defense Ministry spokesman Kim Min-seok said.
READ MORE: Surprise talks: North Korea officials arrive to South for highest-level visit in years
(Above – Jack Blood w/ G. Edward Griffin @ 57:00)
An old airport from World War II has been renovated to be used as a base for cloud seeding in central China's Hunan Province.
Cloud-seeding aircraft have successfully landed at the Zhijiang Airport, also known as Chihchiang Airfield, in a trial operation on Sept. 30, Fan Zhichao, a senior engineer with the provincial weather modification office, told Xinhua on Tuesday.
He said the airport's new mission is an important part of the efforts in Hunan, China's largest rice producer, to fight severe droughts in recent years.
Built in 1936, the airport was once home to the American Volunteer Group known as the Flying Tigers and played a key role in China's fight against invading Japanese.
"The Zhijiang Airport still needs to fix some facilities for its new service, but we are happy to have it as our new base anyway," said Fan.
Zhijiang airport joins another airport in Changsha, the provincial capital, as a base of operations for artificial precipitation.
"It's far more than enough considering the droughts worsening in recent years. Plus, the need of cloud seeding is mounting because of smog," said Fan.
Despite nearly 2,000 artificial rainfall operations, Hunan saw the worst drought in decades in 2013, which led more than 3 million people experience water supply shortages and a direct economic loss of more than 11 billion yuan (1.79 billion U.S. dollars), according to the provincial government. Endi
This wave is seemingly sweeping Europe. Will the USA ever do the same? Not Bloody likely. 
MPs back Palestinian statehood alongside Israel
It did so overwhelmingly. Symbolically. Voting 274 to 12. A PR victory only. Yet significant because it happened. A first in Britain.
It followed Sweden's newly-formed center-left Prime Minister, Stefan Lofven, announcing his intention to recognize Palestinian statehood.
The first EU country to do so. The 134th to recognize what's long overdue.
Parliamentary approval doesn't commit Britain to officially extend recognition. A UK Foreign Office spokesman said:
"We continue to believe that negotiations toward a two-state solution are the best route to meeting Palestinian aspirations in reality and on the ground."
UK Foreign Secretary William Hague added:
Britain "reserves the right to recognize a Palestinian state bilaterally at the moment of our choosing and when it can best help bring about peace."
Expect business as usual to continue. Britain's parliamentary vote grants Palestine symbolic recognition only.
Israel's genocidal Operation Protective Edge high crimes against peace perhaps influenced parliamentarians. So does continued land lawless settlement construction on stolen Palestinian land.
Conservative foreign affairs select committee chairman Richard Ottaway said recent large-scale annexation of West Bank land infuriated him. Angered him more than anything else in politics.
He's been a loyal Israeli supporter. His family is connected to the generation involved in creating Israel.
"The Holocaust had a deep impact on me growing up in the wake of the second world war," he stressed.
"Looking back over the past 20 years, I realise now Israel has slowly been drifting away from world public opinion."
"The annexation of the 950 acres of the West Bank just a few months ago has outraged me more than anything else in my political life. It has made me look a fool and that is something I deeply resent."
"(S)uch is my anger with the behaviour of Israel in recent months that I will not be opposing this motion."
"I have to say to the government of Israel: if it is losing people like me, it is going to be losing a lot of people."
Former Foreign Secretary Jack Straw called the vote more than a simple gesture. If it was, Israel wouldn't have expressed as much concern, he said.
Its government wants bilateral negotiations only to determine Palestine's fate. According to Straw, "such an approach would give the Israelis a veto over whether a Palestinian state should exist."
"The only thing that the Israeli government, in my view, in its present demeanour under Bibi Netanyahu understands is pressure."
Tory MP James Clappison opposed the measure, saying:
"I believe that international recognition of a Palestinian state in the terms of the motion would make a two-state solution less likely rather than more likely."
"I don't see Israel, having faced the challenges it has over the years, caving in to this backbench motion. It might be a gesture on behalf of this house, but it would take the process no further."
He lied claiming Hamas opposes peace and conducts a "campaign of terror." Truth is polar opposite. Previous articles explained.
Hamas numerous times expressed willingness to cede 78% of historic Palestine to Israel. In return for an independent Palestinian state within June 1967 borders.
These and other inconvenient facts are buried. Including explaining that Hamas is Palestine's legitimate government. Democratically elected in January 2006.
Abbas and other Fatah Israeli collaborators have no legitimacy whatever. Why Palestinians put up with them they'll have to explain.
Labour Friends of Palestine proposed what parliamentarians approved, stating:
"This House believes that the Government should recognize the state of Palestine alongside the State of Israel as a contribution to securing a negotiated two-state-solution."
While UK MPs debated, Palestinian supporters outside parliament held banners saying:
"Yes Vote for a Palestinian State."
"Time to start giving back what we had no right to take."
It referred to Britain's 1917 Balfour Declaration. Committing it to establish a Jewish "national home" in Palestine where it doesn't belong.
To establish Western influence. To do so for the usual imperial interests. For resource theft. For regional dominance.
According to Middle East minister Tobias Ellwood:
Britain remains a "staunch supporter" of Israel's right to defend itself. But settlement-building makes "it hard for Israel's friends to make the case that (it's) committed to peace."
He believes de facto Palestinian statehood is only possible when occupation ends. Cameron's government claims only through bilateral negotiations.
Empowering Israel this way eliminates any possibility of Palestinian self-determination. Netanyahu's government and others preceding him categorically oppose statehood.
They've gone all-out to prevent it. Expect nothing different ahead. Israel wants virtual total Judea and Samaria control.
It wants Palestinians denied all rights. It considers them subhumans. Institutionalized racism is official policy. So is state terror.
Reactions to Britain's vote came swiftly. Israel's was unsurprising. Its Foreign Ministry lied, saying:
"Premature international recognition sends a troubling message to the Palestinian leadership that they can evade the tough choices that both sides have to make, and actually undermines the chances to reach a real peace."
Tory MP Nicholas Soarnes is Winston Churchill's grandson. He called recognizing Palestinian statehood "both morally right and in our national interest."
Britain's ambassador to Israel, Matthew Gould, called the vote "a sign of shifting public opinion in the UK and indeed beyond."
Prime Minister David Cameron abstained. So did other government ministers. A number of high-profile MPs were absent during debate.
Ahead of Monday's vote, Britain's Observer editors  headlined "The Observer view on Palestine. Formal British recognition would be a powerful, progressive step in the right direction."
They called supporting Palestinian statehood "a rare opportunity (for) peace and justice in the Middle East."
Parliamentarians "should seize it with both hands." Though symbolic and non-binding, it sends "a powerful message to a region where unseeing violence often usurps legitimate political action."
"The message, in its simplest form, is that in even the most long-running and intractable disputes (and the Israel-Palestine conflict certainly qualifies on that score), positive progress is possible when democrats of all parties and persuasions find the courage to fight for the principles they were elected to uphold."
"(F)ormal British recognition of Palestinian statehood would be a powerful progressive step in the right direction…(It) cannot be sensibly disputed."
Even by Israel's staunchest supporters. Claiming otherwise is duplicitous.
"A parliamentary vote in favour of statehood would put Israel on notice that while its right to exist in peace and security as an independent state remains a fundamental, undisputed tenet of British and western policy, its apparently endless foot-dragging on the question of equivalent Palestinian rights is no longer acceptable to a growing segment of British and European opinion," said Observer editors.
It's unacceptable to say resolving longstanding intractable issues must precede recognition, they added.
Nor should Israel ignore "tangible momentum" building for Palestinian statehood. It's inevitable. Growing world public opinion demands it.
Labor party leader Edward Miliband called Cameron "wrong not to have opposed Israel's incursion into Gaza."
He criticized his "silence on the killing of innocent Palestinian civilians caused by Israel's military action."
He said he'll "fight with every fibre of my being to get the two-state solution, two states for two people, Israel and a Palestinian state living side by side."
"That will be a very, very important task of the next Labour government." It remains to be seen if his word is his bond.
In August, Tory MP Sayeeda Warsi quit her senior Minister of State for Foreign and Commonwealth Office involvement over Cameron's failure to hold Israel accountable for its war on Gaza.
She called government policy "morally indefensible." Former Labour MP Martin Linton serves as editor of the Palestinian Briefing.
He believes events are catching up with public opinion. They're shifting significantly towards recognizing Palestinian statehood.
A French Foreign Ministry spokesman said "France will have to recognize Palestine."
It's inevitable sooner or later for most countries. It's just a matter of time. Perhaps America, Israel and a few Pacific islands dominated by Washington will become final holdouts.
Whether Britain's overwhelming vote proves catalyst enough for change remains to be seen.
UK Shadow Minister for Africa and the Middle East, Ian Lucas, believes "(s)tatehood will be decided by Labour when it comes to power if it has not been decided by (Cameron's) government."
Pollster Dahlia Scheindlin said "(i)t used to be understood that political support for Israel was bipartisan and goes across political party lines."
Recent survey results show "people are now looking at the issue through the prism of their political ideology."
On October 13, Reuters  headlined "UK lawmakers pass symbolic motion to recognise Palestine as a state," saying:
Doing so won't change UK policy. "(B)ut (it) carries symbolic value for Palestinians in their pursuit of international recognition."
The New York Times  highlighted Palestine's symbolic victory. It called it a "potent indication of how public opinion has shifted since the breakdown of American-sponsored peace negotiations and the conflict in Gaza this summer."
Parliament's vote "was the latest evidence of how support for Israeli policies, even among staunch allies of Israel, is giving way to more calibrated positions and in some cases frustrated expressions of opposition to Prime Minister Benjamin Netanyahu's stance toward the Palestinians."
The Washington Post and Wall Street both ran what AP News reported . It covered the ground explained above in abbreviated form.
London's Independent  called parliament's vote "a historic decision to recognise Palestinian state(hood)."
It quoted former UK international development minister Alan Duncan saying:
"Refusing Palestinian recognition is tantamount to giving Israel the right of veto."
"Recognising Palestine is not about recognising a government. It is states that are recognised not governments."
"It is the recognition of the right to exist as a state – it is not about endorsing a state that has to be in perfect working order."
"It is the principle of that recognition that this House should pass today."
A previous article explained why Respect party Bradford West MPGeorge Galloway  abstained from voting. He's Palestine's best friend in Parliament.
He forthrightly supports their rights. He's done so for decades despite harsh criticism against him.
He's fully able to give more than he takes. He stresses vital hard truths most others suppress.
He regretted not being able to support Parliament's Palestinian statehood motion.
It "accepts recognition of the state of Israel, does not define borders of either state, or addresses the central question of the right of return of the millions of Palestinians who have been forced to live outside Palestine," he said.
He "continue(s) to support the only realistic solution, one democratic and secular state, called Israel-Palestine or Palestine-Israel."
"The proposed two-state solution is to all intents and purposes dead and is only used in order to provide Israel further breathing space to consolidate the illegal settlements and expand its land grab further."
"For these reasons," he said, he'd "abstain on Monday."
At the same time, if UK Parliament's vote kickstarts other EU states to follow suit, it's a good start toward recognizing Palestinian statehood officially.
It's just a matter of time!
Stephen Lendman lives in Chicago. He can be reached atlendmanstephen@sbcglobal.net. 
His new book as editor and contributor is titled "Flashpoint in Ukraine: US Drive for Hegemony Risks WW III."
http://www.claritypress.com/LendmanIII.html 
Visit his blog site at sjlendman.blogspot.com . 
Listen to cutting-edge discussions with distinguished guests on the Progressive Radio News Hour on the Progressive Radio Network.
It airs three times weekly: live on Sundays at 1PM Central time plus two prerecorded archived programs. 
A man in Schieffelin, a community located in Margibi County on the Robertsfield Highway, has been arrested for attempting to put formaldehyde into a well used by the community.
Reports say around 10 a.m., he approached the well with powder in a bottle. Mobbed by the community, he confessed that he had been paid to put formaldeyde into the well, and that he was not the only one. He reportedly told community dwellers, "We are many." There are  are agents in Harbel, Dolostown, Cotton Tree and other communities around the ountry, he said.
State radio, ELBC, reports that least 10 people in the Dolostown community have died after drinking water from poisoned wells.
The man also alleged that some water companies, particularly those bagging mineral water to sell, are also involved. The poison, he said, produces Ebola-like symptoms and subsequently kills people.
The Observer had previously been informed that people dressed as nurses were going into communities with 'Ebola Vaccines'. Once injected, it reportedly produces Ebola-like symptoms and sends victims into a coma. Shortly thereafter, victims expire. Communities are now reportedly chasing vaccine peddlers out of their communities. After 10 children reportedly died from the 'vaccine' in Bensonville, the peddlers were reportedly chased out of the community upon their next visit.
It is possible that the 'vaccine' is/was composed of the same formaldehyde-water mixture. This publication has received reports from families whose loved ones' organs were missing upon return of the bodies to the families. Families suspect an organ trafficking operation is capitalizing on the outbreak of the Ebola virus in Liberia.
The district's representative condemned the act as barbaric, but called upon Liberians not to doubt the existence of the Ebola virus in the country.
An investigation is ongoing.
Video of (fake) beheading, purged from you tube….
ANTWERP, BELGIUM — The Islamic State on Sunday posted the third installment of what it says will be a seven-part video series featuring British hostage John Cantlie that raises anew the issue of when the videos were recorded.
In the new posting, Cantlie references the videotaped murder of British aid worker David Haines, which was posted to the Internet Sept. 13, but makes no reference to the beheading of another aid worker, Alan Henning, whose murder-video was posted Oct. 3.
The nearly seven-minute rambling statement, which criticizes U.S. and British policy toward the Islamic State, also makes no reference to a number of events that have happened since early September, indicating that the tape was made more than a month ago.
In referencing the murder of Haines, who was beheaded on video at some point before the Sept 13 video release, Cantlie says that he had not yet seen British Prime Minister David Cameron's response to Haines' death, although the British prime minister had made strong condemnations of both Haines' and Henning's deaths.
Cantlie also quoted heavily from foreign affairs columnists and blogs but, again, only used citations from early September, including statements by President Barack Obama about the potential cost of the air war against the Islamic State made around the time of his address to the U.S. people on Sept. 10, when he announced that that he had ordered the U.S. military to begin a widespread program to "degrade and destroy" the Islamic State's military capability.
Cantlie also mentioned what has been a long-running theme, the refusal of the United States and Great Britain to "negotiate" with the group for the lives of the hostages. Each of the four murder-videos – which include those of Americans James Foley and Steven Sotloff – have mentioned the refusal by both governments to attempt to negotiate a release. That policy is in stark contrast to that of several European countries whose hostages have been released in exchange for millions of dollars in ransom payments.
The Islamic State kidnapped Cantlie, a freelance photographer, Nov. 22, 2012, near the Turkish border in Syria while he was traveling with Foley. It was Cantlie's second abduction; he was briefly held by foreign jihadists in Syria in July 2012.
After giving testimony about one of his abductors, a British doctor who was arrested when he returned to the United Kingdom, Cantlie returned to Syria and disappeared. The British doctor was acquitted last year after Cantlie, by then a hostage, failed to appear at his trial.
Failing On Purpose?
World View: American-led air attacks are failing. Jihadis are close to taking Kobani, in Syria – and in Iraq western Baghdad is now under serious threat