Inflation is a TAX / A Regressive tax on the poor!
Seven years of extraordinary fiscal and monetary stimuli are proving ineffective towards achieving the growth and inflation targets laid out by the Federal Reserve. The Consumer Price Index (CPI), the Producer Price Index (PPI) and Gross Domestic Product (GDP) have all failed to grow over 2%. This is because asset prices, at these unjustified and unsustainable levels, need massive and ever increasing amounts of QE (new money creation) to stave off the gravitational forces of deflation. Fittingly, it isn't much of a mystery that the major U.S. averages have gone nowhere since QE officially ended in October of 2014.
According to the highly accurate Atlanta Fed model, GDP for Q3 will be reported at an annual growth rate of just 0.9%. And things don't appear to be getting any better for those who erroneously believe growth comes from inflation: September core retail sales fell 0.1%, PPI month over month (M/M) was down 0.5% and year over year (Y/Y) was down 1.1%. CPI was down 0.2% M/M and the Y/Y headline level was unchanged.
While the deflation effect from plummeting oil prices wears off by years-end, there is no reason to believe the same deflationary forces that sent oil and other commodities down to the Great Recession lows won't start to spill over to the other components, such as housing and apparel, inside the inflation basket. This would especially be true if the Fed continued threatening to raise interest rates and driving the U.S. dollar higher.
Central banks and governments can always produce any monetary environment they desire. It is a fallacy to believe that deflation is harder to fight than inflation. Deflation is currently viewed as harder to fight because the policies needed to create monetary inflation have not yet been fully embraced-although this is changing rapidly.
The Fed just can't seem to grasp why its newly minted $3.5 trillion since 2008 hasn't filtered through the economy. But this is simply because debt-disabled consumers were never allowed to deleverage and markets were never allowed to fully clear.
But the Fed isn't one to let the truth get in the way of its Keynesian story. And why should it? Financial crisis is the mother's milk of increased central bank power. For example, before the last financial crisis the Fed was unable to buy mortgaged back securities; rules were then changed to allow it to purchase unlimited quantities of distressed mortgage debt. The Fed is perversely empowered to continue making greater mistakes, thus yielding them greater authority over financial institutions and markets.
Since 2008 the rules and regulations fettering Central Banks have become more malleable depending on the level economic distress. Congress has mandated that the Fed can not directly participate in Treasury auctions. But there is no reason to believe in the near future that this law won't be changed to better accommodate fiscal spending.
Strategies such as: pushing interest rates into negative territory, outlawing cash, and sending electronic credits directly into private bank accounts may appear more palatable in the midst of market distress. The point is that Central Banks and governments can produce either monetary condition of inflation or deflation if the necessary powers have been allocated.
In the Fed's most recent dot plot (a chart displaying voting member's expectations of future rates) the Minneapolis Fed's Kocherlakota was mocked as the outlier for placing his interest rate dot below zero. However, persistent bad economic news has quickly driven the premise of negative rates into the mainstream. Ben Bernanke told Bloomberg Radio that despite having the "courage to act" with counterfeiting trillions of dollars, he thought other unconventional issues (such as negative interest rates) would have adverse effects on money market funds. However, anemic growth in the U.S., Europe and China over the past few years has now changed his mind on the subject.
Supporting this notion, the president of the New York Fed, William Dudley recently told CNBC, "Some of the experiences [in Europe] suggest maybe can we use negative interest rates and the costs aren't as great as you anticipate." Indeed, over in Euroland, ECB President Draghi hinted recently that the current 1.1 trillion euro ($1.2 trillion) level of QE would soon be increased, its duration would be extended and deposit rates may be headed further into negative territory.
Statements such as these have me convinced that negative interest rates in the U.S. are likely to be the next desperate move by our Federal Reserve to create growth off the back of inflation. After all, the Fed is overwhelmingly concerned with the increase in the value of the dollar. Keeping pace with other central banks in the currency debasement derby is of paramount importance. Outlawing physical currency and granting Ms. Yellen the ability to directly monetize Treasury debt and assets held by the public outside of the banking system could also be on the menu if negative rates don't achieve her inflation mandates.
Instead of repenting from the fiscal and monetary excesses that led to the Great Recession the conclusions reached by government are: debt and deficits are too low, asset prices aren't rising fast enough, Central Banks didn't force interest rates down low enough or long enough, banks aren't lending enough, consumers are saving too much and their purchasing power and standard of living isn't falling fast enough.
The quest of governments to produce perpetually rising asset prices is creating inexorably rising public and private debt levels. The inability to generate inflation and growth targets from the "conventional" channels of interest rate manipulation and the piling up of excess reserves are leading central banks to come up with more desperate measures.
We can see more clearly where Keynesian central bankers are headed by listening to NY Times columnist Paul Krugman's suggestions for Japan to escape its third recession since 2012. He recently avowed that Japan needs much more aggressive fiscal and monetary stimulus to escape its "liquidity trap" and "too-low" rate of inflation. However, his spurious argument overlooks that the Bank of Japan is already printing 80 trillion yen each year, its Federal Debt is spiraling north of 250% of GDP, and the annual deficits are currently 8% of GDP.
Here it is in his own words:
"What Japan needs (and the rest of us may well be following the same path) is really aggressive policy, using fiscal and monetary policy to boost inflation, and setting the target high enough that it's sustainable. How high should Japan set its inflation target…it's really, really hard to believe that 2 percent inflation would be high enough."
You see! According to this revered Keynesian economic expert if what you've already done in a big way hasn't worked all you need to do is much more of the same.
Unfortunately, Krugman and his merry band of arrogant Keynesian haters of free markets represent the conscious of global governments and central bankers. What they indeed are creating is a perfect recipe for massive money supply growth and economic chaos. Therefore, if these strategies are followed, it will inevitably lead to a worldwide inflationary depression. And this is why having a gold allocation in your portfolio is becoming increasingly more necessary.
Originally posted on Pentoport.com.
Crime Doesn't Pay (In Iceland)
Five of the world's largest banks, including JPMorgan Chase & Co and Citigroup Inc, were fined roughly $5.7 billion, and four of them pleaded guilty to U.S. criminal charges over manipulation of foreign exchange rates, authorities said on Wednesday.
A fifth bank, UBS AG, will plead guilty to rigging benchmark interest rates, the U.S. Justice Department said.
U.S. banks JPMorgan Chase and Citigroup will pay $550 million and $925 million in criminal fines, respectively, as part of their guilty pleas.
British banks Barclays Plc will pay $650 million in criminal penalties and Royal Bank of Scotland Plc $395 million. Each will plead guilty to one felony count of conspiring to fix prices and rig bids for U.S. dollars and euros in the foreign exchange spot market.
Euro dollar traders at four of the banks described themselves as members of "The Cartel" and used an electronic chat room and coded language to manipulate exchange rates to increase profits, the Justice Department said.
The $5.7 billion total includes $1.6 billion in fines separately imposed by the U.S. Federal Reserve on the five banks.
Separately, the Fed fined Bank of America Corp $205 million for unsound practices in foreign exchange.
Barclays also will pay an additional $1.3 billion to settle with the New York State Department of Financial Services, the U.S. Commodity Futures Trading Commission and the UK's Financial Conduct Authority, authorities said.
As part of the agreement, Barclays will fire eight bank employees involved with rigging foreign exchange rates, the New York regulator said.
In addition, Barclays will pay a $60 million criminal penalty for violating an earlier non-prosecution agreement with the Justice Department to resolve a probe of the manipulation of the London interbank offered rate, or Libor, and other benchmark interest rates.
Swiss-based UBS will separately plead guilty to manipulating Libor and other benchmark interest rates. It will also pay a $203 million criminal penalty for breaching a 2012 non-prosecution agreement with the Justice Department over Libor.
The fines announced on Wednesday follow agreements in November with many of the same banks over currency trading and bring total penalties to nearly $9 billion, the Justice Department said.
US regulator orders PayPal to pay $25 million in refunds, fines
19.5% reserves is still double what Fed Member banks allegedly need in the USA. These banks will also get low or NO interest rates to receive fiat currency credits they can loan out AT INTEREST more than 5 times. This is the 3rd cut in the last year, indicating that the Chinese global powerhouse economy is in trouble. Most news orgs are calling this a "Stimulus" – (Jack)
Fractional reserve banking… and why it's a disaster.
Fractional Reserve Banking, and the Money Multiplier Myth
BEIJING (AP) — China's Central Bank said Sunday that it will cut its bank reserve requirement ratio by 1 percentage point to stimulate more lending into a slowing economy.
The new reserve requirement will take effect Monday, the bank said in a statement. The move allows banks to hold onto less of their money and lend more of it out. The Communist Party-run People's Daily said the cut will release 1.2 trillion yuan ($194 billion) into the world's second-biggest economy.
The Central Bank also said it will cut an extra 1 percentage point for commercial banks providing agricultural financing and an extra 2 percentage points for the Agricultural Development Bank of China. It will also cut the requirement by an additional half a percentage point to eligible banks that lend a certain share of loans to agricultural borrowers and small businesses.
The Central Bank last cut its reserve requirement in February, when it slashed the rate to 19.5 percent for big banks and 16 percent for small- and medium-sized banks.
Official data showed last week that China's economy grew by 7 percent in the first quarter of the year, the lowest level since the financial crisis of 2009.
Black Ops?
April 4, 2015 by Klaus Marre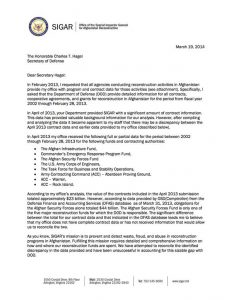 Out of $56 billion that the Department of Defense (DOD) has spent on Afghanistan's reconstruction, only $21 billion can be properly accounted for.
The $35 billion discrepancy is revealed in a new report from the Special Inspector General for Afghanistan Reconstruction (SIGAR).
.
SIGAR's core mission is "to prevent and detect waste, fraud and abuse" in the Afghanistan aid program. Yet the Pentagon is claiming that it would be "extremely labor intensive to compile information" on how exactly the remaining $35 billion has been used.
Here is a letter from SIGAR asking the DOD to make more information available, and here is the Pentagon's response as to why it could not.
In all, Congress appropriated $104 billion for Afghanistan reconstruction between 2002 and 2014. Of the $66 billion that went to DOD, $56 million has been committed to outside contractors. The SIGAR report offers a fine-grained analysis of the $21 billion in contracts that DOD was able to track—while drawing attention to the $35 billion "gap" in accountability.
As a point of reference, Afghanistan's gross domestic product in 2013 was $20.65 billion, according to the CIA's World Factbook.
The vast majority of the money that was adequately tracked went to the Afghan Security Forces Fund (ASFF). Exactly what this money bought may never be known. In 2014, the Inspector General of the DOD issued a report that found the Government of the Islamic Republic of Afghanistan lacked "the ministerial capability and capacity to manage and oversee ASFF direct contributions."
The next largest recipient of DOD funds was the Drug Interdiction and Counter-Drug Activities fund (DOD CN); the lion's share of this allocation ($569 million) went to the Academi Training Center. Academi is part of a successor company to the former security contractor Blackwater. In 2014, one former Blackwater agent was convicted of murder while three others were convicted of manslaughter and weapons charges for the 2007 deaths of 17 Iraqi civilians.
Read the rest at WHO WHAT WHY
This can be reported, as both Unions and citizens are affected ….. In other words, immgration loving democrats are very upset… so this is not perceived as "racist"
Imagine getting a layoff notice, then being ordered to train your replacement.
That's what has happened to hundreds of information technology employees at Southern California Edison. Since last summer, Edison, which serves nearly 14 million customers, has been firing its domestic IT workers and replacing them with outsourced employees from India.
In doing so, the utility is exploiting a gaping loophole in immigration law, which Congress has failed to close despite years of warnings that it's costing thousands of American jobs.
The Indian workers are brought in on H-1B visas, which are temporary work permits for "specialty occupations" — those requiring "highly specialized knowledge" and a bachelor's degree.
The purpose is to allow employers to fill slots for which adequately trained Americans aren't available, not to replace existing workers with cheap foreign labor. That's why employers such as Google and Microsoft, which say they're short of highly trained software engineers, have lobbied hard to expand the program beyond the 65,000 visas available annually. These high-tech companies say they can't meet their needs from the pool of U.S. graduates in STEM specialties — science, technology, engineering and math.
But Edison is using the program for a different purpose — to cut its wage costs, possibly by as much as 40%, according to data compiled by Ron Hira, a public policy expert at Howard University.
The pay for Edison's domestic IT specialists is about $80,000 to $160,000 not including benefits, with the average at about $120,000 for experienced personnel, according to records Edison submitted to the state Public Utilities Commission. The two Indian outsourcing firms providing workers to Edison, Tata Consultancy Services and Infosys, pay their recruits an average of about $65,000 to $71,000, according to their federal filings.
"They told us they could replace one of us with three, four, or five Indian personnel and still save money," one laid-off Edison worker told me, recounting a group meeting with supervisors last year. "They said, 'We can get four Indian guys for cheaper than the price of you.' You could hear a pin drop in the room."
This worker and the half-dozen others I interviewed asked to remain anonymous because their severance packages forbid them to speak disparagingly about the company.
These employees perform the crucial work of installing, maintaining and managing Edison's computer hardware and software for functions as varied as payroll and billing, dispatching and electrical load management across Edison's vast power generating and electric transmission network. The workers I interviewed are in their 50s or 60s and have spent decades serving as loyal Edison employees.
They're not the sort of uniquely creative engineering aces that high-tech companies say they need H-1B visas to hire from abroad, or foreign students with master's degrees or doctorates from U.S. universities who also can be employed under the H-1B program. They're experienced systems analysts and technicians for whom these jobs have been stairways from the working class to five- or six-figure middle-class incomes. Many got their training at technical institutes or from Edison itself.
Some laid-off Edison employees say the transition is not going well.
Some report that Tata was unable to recruit enough workers in time to replace — or get training from — the domestic workers ushered out the door. Edison delayed some layoffs scheduled for November and December until as late as March. Sources say the utility may now even be considering recalling some laid-off employees to fill the gaps.
Meanwhile, important IT projects have been delayed and complaints from Edison offices about poor tech support are rising, according to some workers and sources at the International Brotherhood of Electrical Workers, which represents thousands of Edison employees (though not the laid-off IT workers).
Edison acknowledges that the transition "has not been seamless but it is also not complete." The firm says the outsourcing will be completed early this year, and that once the transition reaches "a mature state," its IT operating costs will fall 20%.
Thus far, the PUC's interest in this affair has been to demand that any savings get passed on to ratepayers. The commission should be more concerned about potential problems: The consequences a botched transition could have for Edison's service and emergency response could be dire.
Edison has been less than forthright about the outsourcing, which it says will cost the jobs of 500 IT employees — 400 laid off and an additional 100 "leaving voluntarily."
Edison relies on a loophole to skate around rules forbidding the use of cheap H-1B labor to replace existing domestic employees. Technically, Edison isn't the H-1B employer; Tata and Infosys are. This sleight of hand allows Edison to say, as it told The Times, that it is "not hiring H-1B visa workers to replace displaced employees." The contractors, Tata and Infosys, are doing the hiring. Edison says those firms "determine the composition of their own workforce." Because the outsourcing firms employ minimal American staffs themselves, the thousands of Indian workers they import aren't technically replacing Americans.
What's even more disgraceful is how Tata and Infosys are alleged to treat their employees. In 2013, Tata paid $29.8 million to settle a federal class action brought by 12,800 outsource workers. The employees alleged that Tata cheated them of wages they were due and forced them to sign over their U.S. tax refund checks to the firm. Tata didn't admit wrongdoing.
The same year, Infosys paid $34 million — a record penalty in an immigration case — to settle federal charges that it had systematically defrauded immigration authorities.
Infosys told Edison the settlement was related to "paperwork administrative issues."
The Department of Justice put it differently. When federal prosecutors announced the settlement, they specified that Infosys was alleged to have deliberately submitted falsified documents to U.S. immigration authorities, and even instructed visa holders how to deceive consular officials. Infosys denied wrongdoing.
Tata and Infosys declined to comment.
It has long been an open secret that the H-1B program has gone off the rails.
"The reality is that what's going on at Southern California Edison is the most common usage," Hira says. Last year, for instance, Minnesota-based agribusiness behemoth Cargill said it would outsource as many as 900 IT jobs to Tata.
Tata and Infosys have become two of the largest recipients of H-1B visas, receiving more than 12,400 new visas in fiscal 2013. A report last year from the Federal Reserve Bank of Boston observed that a majority of firms requesting and receiving H-1B visas "specialize in offshore outsourcing and rarely sponsor H-1B workers for permanent residency."
That conforms to Hira's findings that Tata filed only seven applications for permanent residency in fiscal 2013 despite receiving 6,163 H-1B visas; Infosys received 6,269 visas and filed no applications for permanent residency.
The H-1B system turns the Indian workers virtually into indentured servants, Hira says. The visas are held in the employer's name, and are canceled if the worker loses the job. That gives the employer immense power to keep its workforce docile. "If you speak out, they'll terminate you and you'll have to leave the country," Hira says.
The H-1B program has turned into a scam for outsourcing firms and their U.S. clients. Congress must fix it so it serves its original purpose. Instead, a measure introduced by Sen. Orrin Hatch (R-Utah) would increase the number of available H-1B visas to 115,000 per year. Democrats Amy Klobuchar (D-Minn.), whose state is home to Cargill, and Richard Blumenthal of Connecticut, where Northeast Utilities announced plans last year to outsource some 200 IT jobs, have signed on as co-sponsors. But critics say the bill would do almost nothing to stem the abuses.
Some pushback is coming from legislators such as Sens. Dick Durbin (D-Ill.); Chuck Grassley (R-Iowa); and Jeff Sessions (R-Ala.).
Sessions asked, in a "primer" for his GOP colleagues last month, why Congress should ever consider "advancing legislation that provides jobs for the citizens of other countries at the expense of our own."
As it stands now, the H-1B program works chiefly for employers looking for new ways to fire older, experienced workers. One laid-off Edison worker put it best: "When you are referred to as a commodity or a cost, not even treated as a human being, it's pretty degrading."
a tale of a fascist Troika and its private central bank carnage…
Joseph E. Stiglitz, Feb 3, 2015
NEW YORK – When the euro crisis began a half-decade ago, Keynesian economists predicted that the austerity that was being imposed on Greece and the other crisis countries would fail. It would stifle growth and increase unemployment – and even fail to decrease the debt-to-GDP ratio. Others – in the European Commission, the European Central Bank, and a few universities – talked of expansionary contractions. But even the International Monetary Fund argued that contractions, such as cutbacks in government spending, were just that – contractionary.
We hardly needed another test. Austerity had failed repeatedly, from its early use under US President Herbert Hoover, which turned the stock-market crash into the Great Depression, to the IMF "programs" imposed on East Asia and Latin America in recent decades. And yet when Greece got into trouble, it was tried again.
Greece largely succeeded in following the dictate set by the "troika" (the European Commission the ECB, and the IMF): it converted a primary budget deficit into a primary surplus. But the contraction in government spending has been predictably devastating: 25% unemployment, a 22% fall in GDP since 2009, and a 35% increase in the debt-to-GDP ratio. And now, with the anti-austerity Syriza party's overwhelming election victory, Greek voters have declared that they have had enough.
So, what is to be done? First, let us be clear: Greece could be blamed for its troubles if it were the only country where the troika's medicine failed miserably. But Spain had a surplus and a low debt ratio before the crisis, and it, too, is in depression. What is needed is not structural reform within Greece and Spain so much as structural reform of the eurozone's design and a fundamental rethinking of the policy frameworks that have resulted in the monetary union's spectacularly bad performance.
Greece has also once again reminded us of how badly the world needs a debt-restructuring framework. Excessive debt caused not only the 2008 crisis, but also the East Asia crisis in the 1990s and the Latin American crisis in the 1980s. It continues to cause untold suffering in the US, where millions of homeowners have lost their homes, and is now threatening millions more in Poland and elsewhere who took out loans in Swiss francs.
Given the amount of distress brought about by excessive debt, one might well ask why individuals and countries have repeatedly put themselves into this situation. After all, such debts are contracts – that is, voluntary agreements – so creditors are just as responsible for them as debtors. In fact, creditors arguably are more responsible: typically, they are sophisticated financial institutions, whereas borrowers frequently are far less attuned to market vicissitudes and the risks associated with different contractual arrangements. Indeed, we know that US banks actually preyed on their borrowers, taking advantage of their lack of financial sophistication.
Every (advanced) country has realized that making capitalism work requires giving individuals a fresh start. The debtors' prisons of the nineteenth century were a failure – inhumane and not exactly helping to ensure repayment. What did help was to provide better incentives for good lending, by making creditors more responsible for the consequences of their decisions.
At the international level, we have not yet created an orderly process for giving countries a fresh start. Since even before the 2008 crisis, the United Nations, with the support of almost all of the developing and emerging countries, has been seeking to create such a framework. But the US has been adamantly opposed; perhaps it wants to reinstitute debtor prisons for over indebted countries' officials (if so, space may be opening up at Guantánamo Bay).
The idea of bringing back debtors' prisons may seem far-fetched, but it resonates with current talk of moral hazard and accountability. There is a fear that if Greece is allowed to restructure its debt, it will simply get itself into trouble again, as will others.
This is sheer nonsense. Does anyone in their right mind think that any country would willingly put itself through what Greece has gone through, just to get a free ride from its creditors? If there is a moral hazard, it is on the part of the lenders – especially in the private sector – who have been bailed out repeatedly. If Europe has allowed these debts to move from the private sector to the public sector – a well-established pattern over the past half-century – it is Europe, not Greece, that should bear the consequences. Indeed, Greece's current plight, including the massive run-up in the debt ratio, is largely the fault of the misguided troika programs foisted on it.
So it is not debt restructuring, but its absence, that is "immoral." There is nothing particularly special about the dilemmas that Greece faces today; many countries have been in the same position. What makes Greece's problems more difficult to address is the structure of the eurozone: monetary union implies that member states cannot devalue their way out of trouble, yet the modicum of European solidarity that must accompany this loss of policy flexibility simply is not there.
Seventy years ago, at the end of World War II, the Allies recognized that Germany must be given a fresh start. They understood that Hitler's rise had much to do with the unemployment (not the inflation) that resulted from imposing more debt on Germany at the end of World War I. The Allies did not take into account the foolishness with which the debts had been accumulated or talk about the costs that Germany had imposed on others. Instead, they not only forgave the debts; they actually provided aid, and the Allied troops stationed in Germany provided a further fiscal stimulus.
When companies go bankrupt, a debt-equity swap is a fair and efficient solution. The analogous approach for Greece is to convert its current bonds into GDP-linked bonds. If Greece does well, its creditors will receive more of their money; if it does not, they will get less. Both sides would then have a powerful incentive to pursue pro-growth policies.
Seldom do democratic elections give as clear a message as that in Greece. If Europe says no to Greek voters' demand for a change of course, it is saying that democracy is of no importance, at least when it comes to economics. Why not just shut down democracy, as Newfoundland effectively did when it entered into receivership before World War II?
One hopes that those who understand the economics of debt and austerity, and who believe in democracy and humane values, will prevail. Whether they will remains to be seen.
Joseph E. Stiglitz, a Nobel laureate in economics and University Professor at Columbia University, was Chairman of President Bill Clinton's Council of Economic Advisers and served as Senior Vice President and Chief Economist of the World Bank. His most recent book, co-authored with Bruce Greenwald, …

 
read more
Competition is a sin" – John D. Rockefeller

Financial Times
Small US banks have been disproportionately hurt by post-financial crisis regulation, a former JPMorgan Chase executive working at Harvard University has found.
Amid a renewed push in Washington for regulatory relief for the country's community banks, research by Marshall Lux — JPMorgan's former chief risk officer for consumer businesses, now a senior fellow at Harvard's Kennedy School — has concluded that they were hit hardest by new rules.
Although the market share of smaller US banks with less than $10bn in assets has been shrinking for some time, the research shows their decline has accelerated since the introduction of the Dodd-Frank financial reform bill.
Community banks lost 6 per cent in market share between 2006 and mid-2010, during the worst of the crisis. But, since the passage of Dodd-Frank in early 2010, the decline in market share has doubled to more than 12 per cent.
"What if Dodd-Frank created a too-small-to-succeed problem in addition to the too-big-to-fail problem?" said Mr Lux, who is based at the Mossavar-Rahmani Center for Business and Government at Harvard's John F. Kennedy School of Government. "This research suggests it has."
America's smaller bank sector has long been a hot topic given its importance to communities, but the topic has met with renewed interest in Washington in recent months. These small banks are estimated to provide 70 per cent of US agricultural loans and 50 per cent of small business loans.
"It's hard to imagine that remote parts of the country are going to be served by these larger consolidated banks," said Mr Lux, who also works at the Boston Consulting Group. "If the trend continues, we're going to see fewer community banks and more substitutions that would not be under the same scrutiny."
"What if Dodd-Frank created a too-small-to-succeed problem in addition to the too-big-to-fail problem?"– Marshall Lux, senior fellow Harvard's Kennedy School
In January, community banks won a regulatory concession when the Consumer Financial Protection Bureau proposed easing mortgage lending requirements for the country's smallest providers. That same day, the Fed offered to ease certain capital requirements for banks with less than $1bn of assets.
Regulators have been trying to walk a fine line between easing burdens on smaller banks and ensuring that the sector remains under control – with many arguing that the US was overbanked before the financial crisis and in need of consolidation.
Some regulators are now wary of over-easing the rules on small banks at a time when lenders are attempting to boost profit margins, according to people familiar with their thinking.
Community banks' share of the US lending market has fallen from more than 40 per cent in 1991 to 22 per cent last year. At the same time, the market share of America's five biggest banks has jumped from 17 per cent to 41 per cent.
"It does seem like smaller institutions are the hardest hit," said Robert Greene, Mr Lux's research assistant. "There are economies of scale when dealing with regulation."

I can't believe its not butter.
Gary North – February 06, 2015
 
Methadone is a legal drug that is taken by former heroin addicts. It eliminates the "rush" that heroin offers, but it also eliminates withdrawal symptoms. It lets heroin addicts escape the need to buy the expensive illegal drug.
Methadone is for heroin addicts who just cannot bring themselves to go cold turkey from an addictive drug that distorts their perception.
That is what a 401(k) retirement plan is for middle-class workers.
Most workers have no retirement program other than Social Security. About 55% of American workers are eligible for a 401(k) plan, but only about 38% participate. This, according to a 2014 CNBC article perceptively titled, "The right ways to get workers hooked on a 401(k)."
Plans offer as little as 3% of salary from the worker, which is matched by the employer: 3/3. The maximum is 6/6.
The first question that someone being offered a 401(k) program is this: "What has been the rate of return for the program since March 2000?" Why March 2000? Because that was the month in which the heroin rush ended. It began on the weekend of August 13, 1982. The bottom was on Thursday, August 12, when the Dow Jones Industrial Average was 777, and the S&P 500 was 102. The S&P 500 peaked on March 24, 2000, when it closed at 1527.
Why do I say it peaked? It is over 2000 today. We must discount for price inflation. The best way to do this is to go to the inflation calculator of the Bureau of Labor Statistics. It is here. Insert 1527 into the box. Click "Calculate." As of 2014, you get 2099. That is the break-even point for an investment in the S&P 500. Depending on dividends minus fees, that is a losing investment or close to it, compared with buying Treasury bills.
When you find out what the performance of a 401(k) program has been since March 2000, discount by 15%. That is what price inflation has done to the dollar's purchasing power.
But what if the fund's managers won't tell you what the rate of return has been? Then they are embarrassed by the performance of the program. Why stay in it?
Is the program keeping pace with price inflation? Then ask this: to be relevant for retirement purposes, what rate of return do you need to retire at age 65?
To do this, you need a nest egg that will fund your retirement in comfort. If you reduce this nest egg by the traditional 4% per annum, will it sustain you through retirement? That depends on your life expectancy. To calculate this, you need a life expectancy calculator. Actually, you need two or three. Take the average. Set it for age 65. Then calculate, given your present weight and lifestyle.
http://media.nmfn.com/tnetwork/lifespan/#0
http://www.bankrate.com/calculators/retirement/life-age-expectancy-calculator.aspx
http://gosset.wharton.upenn.edu/mortality/perl/CalcForm.html
What will Social Security provide if you wait until age 67 to retire? (Age 70 is better.) Find out. The younger you are, the lower the likelihood that Social Security and Medicare will outlast you. Both systems are statistically bankrupt. The unfunded liabilities are over $200 trillion. The trust funds are empty: IOU's from the Treasury.
Then there is your equity in your home. This will do you no good unless you move into low-cost housing and rent your existing home for income, or unless you take out a reverse mortgage. Will you have a mortgage at retirement?
Prof. Alicia Munnell recently wrote an article for MarketWatch on home equity for people in their 60's. It reveals that the median equity — half have more, half have less — for Americans immediately before retirement is $110,000.
In 2013, 77% of households in their early 60s owned a house. The median house price was $185,000. But 63% of households in their early 60s continued to have a mortgage. Subtracting outstanding mortgage balances from the gross house price yields median home equity of $110,000, which accounts for more than 40% of the homeowners' total wealth as conventionally measured. The fraction is lower if Social Security wealth and that from defined benefit plans are included in the wealth measure.
That is home equity. So, what is the median value of a 401(k) program for the typical American, age 55-65? A pathetic $104,000.
Combined, the home equity and the 401(k) total about $215,000. But the home equity is being used for consumption: a place to live.
Now, here is my favorite figure. Retirement experts for decades said that the typical family must withdraw 4% per year from capital in order to live comfortably. Today, everyone knows this is fake. I did a Google search. Take a look at the articles. But it was fake back then, too. You can't take 4% out of your 401(k) nest egg without getting taxed. It's not your money. It's the federal government's money and the state government's money. They hit you at ordinary income tax rates on withdrawals.
So, you get maybe 3%, not the 4% you pull out. Let's see: 3% of $104,000 in year one. Then 3% of $100,000 in year two. Then 3% of $96,000 in year three. You think this is the road to comfortable retirement? At the top (beginning), that's $3,000 a year. How far will that get you? Nowhere. Your goose is cooked. The "experts" who talked about 4% annual withdrawals were trying to sell the suckers investment schemes at high commissions.
Next, you need to estimate your expenses in retirement. This requires a calculator. There are lots of them on the Web. For an introduction on which ones do what, Read this Wall Street Journal article. Click here. For a comprehensive one, click here. If you don't have Java installed, use this. Your future is on the line. You need to devote some serious thought to this issue.
Do not assume that Medicare will cover your medical expenses. A good article on what Medicare will not cover is here. Its conclusion:
HealthView's calculations assume that the higher-earning member of the example couple receives the Social Security average of $1,294 a month in today's dollars, while the spouse earns $817. Based on actual claims data, the couple will incur projected lifetime medical costs of $366,599 in today's dollars if retiring next year, and costs of $421,083 if retiring in another 10 years.
Then there is the cost of entering an assisted care home.
Excluded from the calculation is the cost of long-term care. An estimated 70% of adults turning 65 will eventually need help with bathing, dressing and other activities of daily living. This type of care can be costly, whether provided in the home or in a facility.According to the Genworth 2014 Cost of Care Survey, the median annual cost of a private nursing-home room is $87,600 nationally, while the median annual cost of a home health aide is $45,188. These expenses vary greatly from region to region–in Alaska, for example, a home health aide costs $56,125 and a private room in a nursing home costs a whopping $240,900.
Grim, isn't it?
This is why 401(k) programs are methadone. People do not go through the exercise I have just summarized. They prefer not to. They get into the 401(k) program on this assumption: "I am doing all that I can. This will sustain me." No, it won't.
You must work much longer than you are planning. You must save far more than a 401(k) plan allows. You must get a much higher rate of after-tax, after-price inflation rate of return. You must actively manage your retirement program. That is a huge defect of a 401(k) program: you do not actively manage it. If your response is this — "But I don't know how" — then you had better find out how. Better to skip the 401(k) strategy and either start a business or buy income-producing real estate. (Start with books by John Schaub.)
When you retire, you will leave the 401(k) program. The methadone will be removed. You will go cold turkey. If you assume that the 401(k) program is anything more than methadone, you will suffer withdrawal pains to a degree that you can barely imagine today. It doesn't hurt today. It will hurt greatly when you retire.
If your 401(k) program has not returned at least 10% per year after price inflation since 2000, get out of it. It is methadone. It is numbing your judgment. Skip the income tax benefit and put the money to better uses.
If the program is not generating consistent 10% returns, what good is it? The money that you put in isn't yours alone. It's the government's. The government will tax it as ordinary income when you retire. The only thing that isn't taxed is the rate of return. That's the only reason to bother with a 401(k): compounding capital with deferred taxes. If there are not substantial returns, then the 401(k) is simply a form of deferred income. The government says, "Pay us now or pay us later." Pay them now. After that, they can't tell you how to invest the money. They won't monitor what you do with it. They won't force you to report to them. They do require fund managers to report to them. With a 401(k), you lose privacy. If you are not getting 10% per annum, tax-free, don't consider it.
It is far better to have nothing saved and therefore conclude, "I must work until I am 80," than to fool yourself into believing that your 401(k) will provide any meaningful support.
Bottom line: if you regard your 401(k) as anything more than chump change, you are making a mistake. Forget about it. It is distorting your judgment. It is not worth bothering about, one way or the other. So, pull it out, pay the taxes, pay the penalties, and buy something that will appreciate enough to make a difference when you retire.
The stock market's heroin fix ended on Match 24, 2000, yet it still afflicts millions of addicts. There is no more rush, but the horror of withdrawal pain keeps them in the stock market. It has been 15 years, yet they still cannot break the habit. "I can quit at any time," they tell themselves. But they don't.
Now it's time to end the methadone fix. If you are on methadone, go cold turkey.
Former BIS chief economist warns that QE in Europe is doomed to failure and may draw the region into deeper difficulties
The economic prophet who foresaw the Lehman crisis with uncanny accuracy is even more worried about the world's financial system going into 2015.
Beggar-thy-neighbour devaluations are spreading to every region. All the major central banks are stoking asset bubbles deliberately to put off the day of reckoning. This time emerging markets have been drawn into the quagmire as well, corrupted by the leakage from quantitative easing (QE) in the West.
"We are in a world that is dangerously unanchored," said William White, the Swiss-based chairman of the OECD's Review Committee. "We're seeing true currency wars and everybody is doing it, and I have no idea where this is going to end."
Mr White is a former chief economist to the Bank for International Settlements – the bank of central banks – and currently an advisor to German Chancellor Angela Merkel.
He said the global elastic has been stretched even further than it was in 2008 on the eve of the Great Recession. The excesses have reached almost every corner of the globe, and combined public/private debt is 20pc of GDP higher today. "We are holding a tiger by the tail," he said.
"QE is not going to help at all. Europe has far greater reliance than the US on small and medium-sized companies (SMEs) and they get their money from banks, not from the bond market," he said.
"Even after the stress tests the banks are still in 'hunkering down mode'. They are not lending to small firms for a variety of reasons. The interest rate differential is still going up," he said.
The warnings come just as the European Central Bank prepares a blitz of bond purchases at a crucial meeting on Thursday. Most ECB-watchers expect QE of around €500bn now that the eurozone is already in deflation. Even the Bundesbank is struggling to come with fresh reasons to oppose it.
The psychological potency of this largesse will depend on whether the ECB opts for shock-and-awe concentration or trickles out the stimulus slowly. It also depends on the exact mechanism used to conduct QE, a loose term at best.
ECB president Mario Draghi hopes that bond purchases will push money out into the broader economy through a "wealth effect", but critics fear this will be worse than useless if it leads to an asset bubble without gaining traction on the real economy. Classic moneratists say the ECB may end up spinning its wheels should it merely try to expand the money base.
Mr White said QE is a disguised form of competitive devaluation. "The Japanese are now doing it as well but nobody can complain because the US started it," he said.
"There is a significant risk that this is going to end badly because the Bank of Japan is funding 40pc of all government spending. This could end in high inflation, perhaps even hyperinflation.
"The emerging markets got on the bandwagon by resisting upward pressure on their currencies and building up enormous foreign exchange reserves. The wrinkle this time is that corporations in these countries – especially in Asia and Latin America – have borrowed $6 trillion in US dollars, often through offshore centres. That is going to create a huge currency mismatch problem as US rates rise and the dollar goes back up."
Mr White's warnings are ominous. He acquired great authority in his long years at the BIS arguing that global central banks were falling into a trap by holding real rates too low in the 1990s, effectively stealing growth from the future through "intertemporal" effects.
He argues that this created a treacherous dynamic. The authorities kept having to push rates lower with the trough of each cycle, building up ever greater imbalances, in an ineluctable descent to the "zero bound", where monetary levers stop working properly.
Under his guidance, the BIS annual reports over the three years before the Lehman crisis were a rising crescendo of alarm calls at a time when other global watchdogs were asleep. His legendary report in June 2008 openly discussed whether the world was on the cusp of events that might prove as dangerous and intractable as the Great Depression, as it indeed it was.
Mr White said central banks have been put in an invidious position, compelled to respond to a deep economic disorder that is beyond their power. The latest victim is the Swiss National Bank, which was effectively crushed last week by greater global forces as it tried to repel safe-haven flows into the franc. The SNB was damned whatever it tried to do. "The only choice they had was to take a blow to the left cheek, or to the right cheek," he said.
He deplores the rush to QE as an "unthinking fashion". Those who argue that the US and the UK are growing faster than Europe because they carried out QE early are confusing "correlation with causality". The Anglo-Saxon pioneers have yet to pay the price. "It ain't over until the fat lady sings. There are serious side-effects building up and we don't know what will happen when they try to reverse what they have done."
The painful irony is that central banks may have brought about exactly what they most feared by trying to keep growth buoyant at all costs, he argues, and not allowing productivity gains to drive down prices gently as occurred in episodes of the 19th century. "They have created so much debt that they may have turned a good deflation into a bad deflation after all."
Related Articles