Bitcoin enthusiast Mike Caldwell puts away his coins at his office in Sandy, Utah, September 17, 2013.(Reuters / Jim Urquhart)

RT
The United States government hasn't decided on the legality of Bitcoin just yet, but federal regulator have determined that a Utah man must stop mining and selling physical copies of the crypto-currency to online customers.
Mike Caldwell of Sandy, UT has for years been offering a novelty of sorts for sale over the internet. In exchange for a nominal fee, he'll hand-mint personalized, tangible Bitcoins that are then shipped around the world and used for online transactions. Each coin is protected by several levers of security, including a touch-sensitive hologram, and Caldwell says he's minted the equivalent of around $82 million dollars' worth of the items.
Production of his "Casascius" physical Bitcoin has been recently brought to a halt, however, after Caldwell received a letter from the Department of the Treasury's Financial Crimes Enforcement Network, or FINCEN. He announced on his website in late November that he had suspended taking orders "pending resolution of some concerns I have as to regulatory issues," and now two weeks later he's opened up and admitted that his Bitcoin business is the latest to be busted by federal regulators.
"They considered my activity to be money transmitting," he told Wired's Robert McMillan of the FINCEN letter, and the Treasury insists that such activity adhere to certain regulations.
Caldwell isn't convinced he's doing that, though, and isn't sure what the future holds for the Casascius coin.
The coins are made in Caldwell's Sandy residents and are crafted from real metal. The 1 BTC item, worth around $863 as of this writing, is minted from solid brass and weighs around an ounce. He had been up until now selling other denominations as well, including the 25 BTC version electroplated with gold.
"Each Casascius Bitcoin is a collectible coin backed by real Bitcoins embedded inside," his website still reads. "Each piece has its own Bitcoin address and a redeemable 'private key' on the inside, underneath the hologram." That key is accessed with a unique 8-digit code printed on the outside of each coin
"In order to redeem the BTC kept on the coin, you simply enter the physical coin's 8-digit code into your Bitcoin client of choice," Geek.com's James Plafke explained earlier this year. "Considering the value of the Bitcoin is stored on the card embedded within the coin and not upheld by the coin itself, if you remove funds from the coin, your shiny 25 BTC coin won't be worth 25 BTC anymore."
Therein lies part of Caldwell's argument. He told Wired that he doesn't take any sort of fiat currency, including the US dollar, from Casascius customers, and essentially offers just a practically worthless piece of metal whose value exists only online. His whole transaction process is rather primitive, as well: someone pays him in Bitcoin for the order, and then he mints the coin and ships it through the US Postal Service. And because there's no bank account linked to his business, there's no dollars to seize, either.
Caldwell was making around $50 off of each of his coins, but has suspended operations until he figures out how to handle the feds.
"It's possible," he told Wired of exiting the Bitcoin business. "I haven't come to a final conclusion,"
In the meantime, he said he's spent $5,000 worth of legal fees in just two weeks trying to figure out how not to trample on the toes of the Treasury.
And as far as the other branches of government go, the consensus for now is that buying and selling with Bitcoin isn't necessarily breaking any laws. The Department of Justice said Bitcoins can be "legal means of exchange" during a Senate committee hearing last month, and Federal Reserve Chairman Ben Bernanke said the central bank "does not necessarily have authority to directly supervise or regulate these innovations or the entities that provide them to the market."
Hey… we're  good for the next few weeks. Thanks DC
*Here is the uSA we can start by ENFORCING the Constitution and the Treatise of Founders Like Jefferson. Rewriting our constitution would be a last resort, as it could open the door for scoundrels to replace the rights we do have with privileges.
Thanks to LV Guardian Express
Can you imagine participating in a protest outside the White House and forcing the entire U.S. government to resign? Can you imagine a group of randomly chosen private citizens rewriting the U.S. constitution to include measures banning corporate fraud? It seems incomprehensible in the U.S., but Icelanders did just that.  Icelanders forced their entire government to resign after a banking fraud scandal, overthrowing the ruling party and creating a citizen's group tasked with writing a new constitution that offered a solution to prevent corporate greed from destroying the country. The constitution of Iceland was scrapped and is being rewritten by private citizens; using a crowd-sourcing technique via social media channels such as Facebook and Twitter. These events have been going on since 2008, yet there's been no word from the U.S. mainstream media about any of them. In fact, all of the events that unfolded were recorded by international journalists, overseas news bureaus, citizen journalists and bloggers. This has created current accusations of an intentional cover up of the story by mainstream U.S. news sources.
An "iReport" on CNN, written by a private citizen in May 2012, has questioned the reasons why this revolution has not been widely covered in the U.S., suggesting that perhaps the mainstream media is controlled by large corporate interests and thus has been unwilling to report on Iceland's activities. That report is currently making its way around social media. CNN today placed a statement on its website saying: "We've noticed this iReport is being shared widely on Facebook and Twitter. Please note that this article was posted in May 2012. CNN has not yet verified the claims and we're working to track down the original writer." It is interesting to note that CNN's European version, CNN Europe, already covered the story of the protests and the government's resignation, leading many to question why CNN would now need to "look into" the claims.
Besides CNN Europe's own coverage of the scandal, the events in Iceland were widely covered by international media and are easily verified by a simple search on Google which leads to a variety of reputable international news sources that ran numerous stories on the Icelandic revolution. A whole documentary has been made on the governmental overthrow called Pots, Pans and Other Solutions, and now, the conversation is focused on whether or not the citizens' actions actually worked to make Iceland a more equitable nation.
To understand the enormity of what happened in Iceland, it's best to draw parallels between the initial banking fraud that caused Iceland's economy to collapse and the banking fraud in the U.S. that caused the mortgage crisis six years ago. In Iceland, unscrupulous bankers had inflated the value of Iceland's banks internationally which in turn caused the "bubble" to eventually burst in 2008 and saw most of Iceland's banks going bankrupt.
A similar situation happened in the U.S. just one year before the collapse in Iceland, with the mortgage crisis of 2007. Mortgage lenders in the U.S. knowingly lent money to prospective homeowners who could not afford to purchase a home. This, in turn, led to falsely inflated home values and a vicious cycle of too much lending. Just as in Iceland, the bubble burst and many U.S. banks were about to declare bankruptcy. In Iceland, the citizens took to the streets by the thousands, banging pots and pans in what is known as the "pots and pans revolution," leading to the arrest and prosecution of many unscrupulous bankers responsible for the economic collapse. Icelandic citizens also refused to pay for the sins of the bankers and rejected any measures of taxation to bail them out. In the U.S., the government bailed out the banks and arrested no one.
The pots and pans revolution in Iceland was not covered by mainstream U.S. media. In fact, any information about this revolution is found only on international newspapers, blogs and online documentaries, not on mainstream front-page articles as would be expected from news organizations covering a story of this magnitude. The New York Times published a small handful of piecemeal stories, blogs and opinion pieces, but mostly glossed over the main narrative by saying the 2008 financial collapse in Iceland caused "mayhem far beyond the country's borders" rather than pointing out that Icelanders took to the streets with pots and pans and forced their entire government to resign.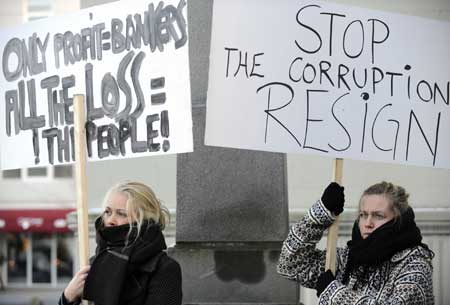 As the saying goes, "there are two sides to every story," but a more accurate articulation of this phrase would be "in any story, there are multiple sides, viewpoints, opinions and perspectives." The story in Iceland is no exception. Socialist and Marxist blogs here in the U.S. say that there's been a massive U.S. news conspiracy and cover up about the revolution in Iceland because the U.S. media is controlled by corporations, including banks, and the "powers that be" don't want U.S. citizens getting any ideas to stage a revolution of their own. Some conservative Icelandic bloggers claim that while there was, indeed, a revolution, it did not lead to a successful or widely accepted new constitution. They say the situation in Iceland is worse than ever, and that international news reports of an effective democratic uprising leading to a better government are simply myths. Social media commenters are scratching their heads over why they were robbed of the story of Iceland's pots and pans revolution.
As with most narratives, the truth may lie somewhere in the middle of all of these varying perspectives. One thing is clear, though: it's nearly impossible to find one mainstream U.S. news report of the pots and pans revolution in Iceland, the resignation of Iceland's entire government, and the jailing of the bankers responsible for the economic collapse there. Whether or not the revolution led to a more fair government or a workable and effective constitution is irrelevant to the fact that the U.S. media has essentially skipped over this story for the past five years.
Is it possible that mainstream media sources purposely covered up the Iceland story to appease their corporate sponsors? It doesn't seem likely, and yet, what explanation could be given as to why this news never made it to the front pages of our most trusted media organizations here in the U.S.?
As Iceland struggles to regain its footing with a new government, U.S. citizens may or may not be able to look to Iceland as an example of perfect democracy in action. The real question, though, is why weren't U.S. citizens given the information about the ousting of the Icelandic government and the jailing of the unscrupulous bankers? Are journalists in control of the mainstream media or is there some truth to accusations that big business may, in fact, be strong-arming reporters to keep quiet about world events that could inspire similar actions here in the U.S.?
By: Rebecca Savastio
Sources:
Pressenza International Press Agency
President Barack Obama's 19 minute speech at Nelson Mandela's memorial cost
taxpayers at least $5 million.
That's not counting any cakes and coffee he and his inner circle consume aboard Air Force
One during the 18,000-mile round trip to Johannesburg, via Dakar, in Senegal.
The 28-hour two-way flight to the memorial will cost $5 million because the four-engined Boeing 747 costs
roughly $180,000 an hour to operate, according to a May 2012 report by the Congressional Research Service.
The cost includes jet fuel and subsequent maintenance of the aircraft's engines, electronics and hotel-class facilities.
Obama has been accompanied by the First Lady, Attorney General Eric Holder, national security
advisor Susan Rice and confidante Valerie Jarrett.
However, Obama will get numerous free
mementoes of his trip , including photographs of him telling the world's dignitaries his personal feelings Mandela's legacy and how it affected his own world-historic life.
The president's extensive security details, including guards and armored limousines, are flown to his destinations aboard C-17 cargo
lifters, based in Andrew Air Force base. These no-frills cargo aircraft are cheaper to fly, at roughly $23,811 per hour, according to one official report.
Sending just two of the C-17 aircraft down to Johannesburg on their slower, 30-hour trip would cost the taxpayers roughly $1.4 million. When Vice President Joe Biden travels
abroad, he flies on Air Force Two, which is a converted Boeing 757. That aircraft's costs are roughly $22,000 per hour.
At that price, Biden could fly to Johannesburg, deliver a speech, and get back for $616,000.
ED. Note: Foreigners are not allowed to purchase as many properties as they wish. … Foreigners buying property in China are required to have a Chinese name …
Manufacturing has been destroyed and shipped off to China, Mexico et al. Post depression, Detroit has been working to rebuild itself with Deflation of property being an excellent opportunity to create a new and better Motown! This effort has been blocked by the Federal and Local government tightening the noose of regulations, and compliance laws.
In other words, Detroit didn't need this foreign cash influx…. But the Government enables the cause of the Chinese.
*Living in North Austin a few years back we witnessed a total change in the landscape. Chinese malls, and banks littered the main road, and homes were being snatched up at record speed by Chinese nationals. (One of the few areas in the USA where property is cheap and appreciating daily!) – Here in Atlanta the same game is running in N. Atlanta (Gwinnet Co.)
So why do we allow this in the US? Desperation, and corruption!  It is also tough to get home loans if you are a middle class American without collateral.  Banks are getting Quantitative easing (free money) at record setting pace. Remember all this when you buy more useless crap made in China! ~ JB
Detroit, broke with almost no prospects for recovery, is the fourth most popular U.S. destination for Chinese real estate investors.  In fact, it was bad news—the city's July 18 bankruptcy filing—that triggered renewed interest.  "While the bankruptcy is viewed as a bad thing elsewhere, it raised the exposure level of Detroit's real estate market in China," says Evonne Xu, a Michigan attorney catering to Chinese purchasers.  Middle Kingdom, meet Motown.
Chinese shoppers can't resist a bargain.  Where else can you buy a two-story home in the U.S. for $39?  China Central Television, the state broadcaster, in March reported that two houses in Detroit cost the same as a pair of leather shoes.  No wonder a poster on Sina Weibo, the Twitter-like service, asked, "Seven-hundred thousand people, quiet, clean air, no pollution, democracy—what are you waiting for?"
Who says the Chinese are waiting?  Dongdu International Group of Shanghai bought, sight unseen, two downtown icons, the David Stott building for $4.2 million and the Detroit Free Press building for $9.4 million, both at auction this September.
Moreover, Chinese purchasers are making bulk purchases of "inexpensive properties"—those selling for $25,000 or less—in the rings surrounding the city center.  "They're banking on the downtown resurgence spiraling out into those rings," explains Kelly Sweeney of Coldwell Banker Weir Manuel.  Mainland parties often buy at tax and foreclosure sales, hold their property, and patiently wait for appreciation.
The Chinese certainly have made an impact on the locals in Detroit.  "I have people calling and saying, 'I'm serious—I wanna buy 100, 200 properties,' " said Caroline Chen, a real estate broker in nearby Troy, Michigan, to Quartz.com.  "They say 'We don't need to see them.  Just pick the good ones.' "  Chen reports that one of her colleagues sold 30 properties to a Chinese investor.
The Chinese are coming, but what are they doing?  Dongdu International will make a big contribution to downtown by redeveloping the Detroit Free Press building, turning it into a retail and residential complex, but that ambitious plan appears to be the exception.  China's rich are investing in the Motor City like they invest in their own country, where they buy multiple units at a time.  In China, like here, they often keep their acquisitions vacant, treating new properties like stores of value.
The Chinese buy-and-hold tactics in Detroit suggest patience, but that's not the whole story.  The bigger story is that the parking of wealth offshore indicates capital flight.  The Chinese have only 13% of their wealth outside China, according to Oliver Williams of WealthInsight, while the global average is 20% to 30%, so some of transfers of wealth abroad are normal for a developing society.
But it's not just money that is fleeing.  A study conducted by Bank of China and Hurun found that more than half of China's millionaires have taken steps to emigrate or are considering doing so.  This statistic tells us the transfers of cash out of China are not just normal diversification.
There is substantial disagreement as to how much Chinese individuals have already stashed offshore.  Boston Consulting Group estimates they hold $450 billion in assets outside their country, and WealthInsight believes the number to be $658 billion.
Yet everyone agrees that the figure, whatever it is, will go up fast.  Boston Consulting, for instance, predicts offshore assets will double in three years.  CNBC late last month called the movement of Chinese capital "one of the largest and most rapid wealth migrations of our time: hundreds of billions of dollars, and waves of millionaires flowing out of China to overseas destinations."
So the Chinese buying up Detroit says less about the prospects of Motown than what they think of their own country.  It's not like the Motor City is a good place to invest.  It has what is surely the worst housing market in the U.S.  "I've been in the Detroit area for 35 years," says Chen, the broker from Troy.  "Thirty-five years ago downtown Detroit was like this, and it's not getting better."
She's right.  After all, who can love a city where the most powerful figure is a bankruptcy judge, the state has had to take over the local government, and creditors are about to cart off the art museum?
But as grim as the future is for Motown, it is evidently better than China's, at least according to many Chinese.  They are pouring their cash into Detroit.
Linda Woodford spent the last 15 years of her career inserting phony numbers in the U.S. Department of Defense's accounts.
Every month until she retired in 2011, she says, the day came when the Navy would start dumping numbers on the Cleveland, Ohio, office of the Defense Finance and Accounting Service, the Pentagon's main accounting agency. Using the data they received, Woodford and her fellow DFAS accountants there set about preparing monthly reports to square the Navy's books with the U.S. Treasury's—a balancing-the-checkbook maneuver required of all the military services and other Pentagon agencies.
And every month, they encountered the same problem. Numbers were missing. Numbers were clearly wrong. Numbers came with no explanation of how the money had been spent or which congressional appropriation it came from. "A lot of times there were issues of numbers being inaccurate," Woodford says. "We didn't have the detail … for a lot of it."
The lack of prosecution of bankers responsible for the great financial collapse has been a hotly debated topic over the years, leading to the coinage of such terms as "Too Big To Prosecute", the termination of at least one corrupt DOJ official, the revelation that Eric Holder is the most useless Attorney General in history, and even members of the judicial bashing other members of the judicial such as in last night's essay by district judge Jed Rakoff. And naturally, the lack of incentives that punish cheating and fraud, is one of the main reasons why such fraud will not only continue but get bigger and bigger, until once again, the entire system crashes under the weight of all the corruption and all the Fed-driven malinvestment. But what can be done? In this case, Vietnam may have just shown America the way - use the death penalty on convicted embezzling bankers. Because if one wants to promptly stop an end to financial crime, there is nothing quite like the fear of death to halt it.
Bloomberg reports that a Vietnam court will consider the death penalty for a Vu Quoc Hao, the former general director of Agribank Financial Leasing Co. who is charged with embezzling 531 billion dong. While that sounds like a whole lot of dong, converted into USD it is only $25 million, or what Goldman would call "weekend lunch money." Just imagine how much cleaner Wall Street would be, where the typical bank fraud is generally in the billions, if bankers and other white collar criminals had the fear of death if caught manipulating petty prices or outright stealing amounts that are considered petty cash by most of the 0.001%.
But back to Vietnam and its shining example:
The trial comes as the government seeks to shore up Vietnamese banks saddled with Southeast Asia's highest rate of bad debt and turn around an economy that grew last year at the slowest pace since 1999. The central bank governor vowed to crack down on violations by groups of shareholders working against banking reforms last year.

Eleven defendants, including Hao, 58, and Hai, are charged with embezzlement, mismanagement, abuse of power and fraud, according to a statement on the court's website. Prosecutors allege that Hao and Hai formed 10 fake financial leasing contracts to disperse almost 800 billion dong.

At the trial yesterday, Hao said he regrets his violations and hopes the judges will give other defendants lighter sentences, Tuoi Tre newspaper reported today. The verdict and sentencing is expected to be announced Nov. 15, according to the newspaper.

Under Vietnam law, those convicted of embezzling property valued at 500 million dong or more, or creating "other particularly serious consequences," can be sentenced to life imprisonment or death.

"The party, the government, prosecutors and our courts will give stiff verdicts in these types of cases," Deputy Prime Minister Nguyen Xuan Phuc, said on the sidelines of an anti-corruption conference in Hanoi yesterday. "We need to make our regulations and legal framework tighter to reduce and prevent corruption."

"It would be a signal: You could be executed for being caught doing large-scale corruption," said Adam McCarty, the Hanoi-based chief economist at Mekong Economics. "It has implications for the whole bank restructuring the government is about to do. They want to really dig into these bad debt issues and find out who is responsible for the problems."
And while one can dream, an outcome such as this in the US is impossible: after all it is these same embezzling bankers that control the legislative and judicial branches (the executive branch is too busy with 404 website errors), which is why deterrence of any substantial scale will never take place in the US and small, medium and large-scale theft will continue unabated, with the occasional slaps on the wrist, until there is nothing left to steal.
A record high 91,541,000 Americans did not participate in the labor force this October.
According to data from the Bureau of Labor Statistics (BLS), 932,000 people dropped out of the labor force last month, from at total of 90,609,000 in September to 91,541,000 in October.
The BLS defines a person "[n]ot in the labor force" as age 16 and older who are not employed and not considered to be unemployed as they have not looked for work in the four weeks prior to the survey.
The labor force participation rate — or all employed and unemployed people — in accordance with the decline, also hit a record low at 62.8 percent.
When President Obama took office in January 2009, the labor force participation rate was 65.7 percent.
From January 2009 to October 2013, more than 11 million people have dropped out of the labor force — from 80,507,000 to October's 91,541,000.
The economic blog Zero Hedge notes that at the current rate, the number of people not participating in the labor force could exceed those working in about four years.
Was there ever any doubt?