Standard Podcast
[ 1:59:45 | 54.82 MB ]
Play Now
|
Play in Popup
|
Download
(33)
Hour two: James Evan Pilato of Media Monarchy
529 BC – The international day of Cyrus the Great, king of Persia, who declared the first charter of human rights in the world also known as Cyrus Cylinder.
312 – Constantine the Great enters Rome after his victory at the Battle of the Milvian Bridge, stages a grand adventus in the city, and is met with popular jubilation. Maxentius' body is fished out of the Tiber and beheaded.
439 – The Vandals under the leadership of Gaiseric occupy Carthage
1390 – First trial for witchcraft in Paris leading to the death of three people.

1618 – English adventurer, writer, and courtier Sir Walter Raleigh is beheaded for allegedly conspiring against James I of England.
1682 – William Penn lands at what is now Chester Pennsylvania
1656 – Edmund Halley, astronomer (Halley's Comet) [NS=Nov 8] Born
1792 – Mount Hood (Oregon) is named after the British naval officer Alexander Arthur Hood by Lt. William E. Broughton who spotted the mountain near the mouth of the Willamette River.
1844 – Albert von Rothschild, Austrian banker Is Birthed
1863 – Eighteen countries meet in Geneva and agree to form the International Red Cross.
1863 – American Civil War: Battle of Wauhatchie – Forces under Union General Ulysses S. Grant repel a Confederate attack led by General James Longstreet. Union forces thus open a supply line into Chattanooga, Tennessee.
1877 – Nathan Bedford Forrest, American general (b. 1821) died.
1886 – The first ticker tape parade takes place in New York City when office workers spontaneously throw ticker tape into the streets as the Statue of Liberty is dedicated.
1888 – Lord Salisbury grants Cecil Rhodes charter for British South Africa Company
1897 – Joseph Goebbels, German politician, Chancellor of Germany (d. 1945) was birthed
1901 – In Amherst, Massachusetts nurse Jane Toppan is arrested for murdering the Davis family of Boston with an overdose of morphine.
1901 – Capital punishment: Leon Czolgosz, the assassin of U.S. President William McKinley, is executed by electrocution. Sulfuric acid was poured into Czolgosz's coffin so that his body would be completely disfigured
1911 – Joseph Pulitzer, Hungarian-American publisher, lawyer, and politician, founded Pulitzer, Inc. (b. 1847) died.
1929 – The New York Stock Exchange crashes in what will be called the Crash of '29 or "Black Tuesday", ending the Great Bull Market of the 1920s and beginning the Great Depression.
1938 – Ellen Johnson-Sirleaf, President of Liberia – Born
1940 – Secretary of War Henry L Stimson drew 1st number-158-in 1st peacetime military draft in US history
1941 – The Holocaust: In the Kaunas Ghetto over 10,000 Jews are shot by German occupiers at the Ninth Fort, a massacre known as the "Great Action".
1942 – The Holocaust: In the United Kingdom, leading clergymen and political figures hold a public meeting to register outrage over Nazi Germany's persecution of Jews.
1944 – Denny Laine, English singer-songwriter and guitarist (The Moody Blues, Ginger Baker's Air Force, and Wings) was born
1945 – Mick Gallagher, English keyboard player and songwriter (The Animals, The Blockheads, and Skip Bifferty) was born.
1945 – First ball point pen goes on sale, 57 years after it is patented
1949 – David Paton, Scottish guitarist (Pilot, The Alan Parsons Project, Bay City Rollers, and Camel) was born
1949 – James Williamson, American guitarist, songwriter, and producer (The Stooges) was born.
1955 – Kevin DuBrow, American singer-songwriter (Quiet Riot) (d. 2007) was born.
1955 – Roger O'Donnell, English keyboard player (The Cure and Thompson Twins) was born.
1957 – Dan Castellaneta, American voice actor, Best known as the voice of Homer Simpson was Born
1957 – Israel's prime minister David Ben-Gurion and five of his ministers are injured when a hand grenade is tossed into Israel's parliament, the Knesset.

1958 – Boris Pasternak refuses Nobel prize for literature ( Doctor Zhivago – (1958), a novel which takes place between the Russian Revolution of 1905 and the Second World War. Given its independent-minded stance on the socialist state, Doctor Zhivago was rejected for publication in the USSR. At the instigation of Giangiacomo Feltrinelli, Doctor Zhivago was smuggled to Milan and published in 1957. Pasternak was awarded the Nobel Prize for Literature in 1958, an event which both humiliated and enraged the Communist Party of the Soviet Union. It forced him to refuse to accept the prize. His descendants accepted it in his name in 1988. )
1960 – In Louisville, Kentucky, Cassius Clay (who later takes the name Muhammad Ali) wins his first professional fight.
1961 – Randy Jackson, American singer-songwriter and dancer (The Jackson 5) was born.
1964 – A collection of irreplaceable gems, including the 565 carat (113 g) Star of India, is stolen by a group of thieves (among them is "Murph the surf") from the American Museum of Natural History in New York City.
1965 – Mehdi Am Barka, Moroccan socialist leader, murdered in Paris
1969 – The first-ever computer-to-computer link is established on ARPANET, the precursor to the Internet.
1969 – Supreme Court orders end to all school desegregation "at once"
1971 – Winona Ryder, [Horowitz], Mn, actress (Heathers, Edward Scissorhand) Born
1971 – Duane Allman, American singer-songwriter and guitarist (The Allman Brothers Band, Hour Glass, Derek and the Dominos, and The Allman Joys) (b. 1946) died.
1972 – The three surviving perpetrators of the Munich massacre are released from prison in exchange for the hostages of hijacked Lufthansa Flight 615.
1975 – 'Yorkshire Ripper' Peter Sutcliffe kills first victim, Wilma McCann

1983 – Johnny Lewis, Los Angeles, California, actor (Sons of Anarchy: Kip "Half-Sack" Epps, Aliens vs. Predator: Requiem), (d. 2012) born
1985 – Major General Samuel K. Doe is announced the winner of the first multiparty election in Liberia.
1991 – The American Galileo spacecraft makes its closest approach to 951 Gaspra, becoming the first probe to visit an asteroid.
1994 – Francisco Martin Duran fires over two dozen shots at the White House (Duran is later convicted of trying to kill US President Bill Clinton).
1996 – James Leo Herlihy, author (Midnight Cowboy), commits suicide at 66
1998 – Apartheid: In South Africa, the Truth and Reconciliation Commission presents its report, which condemns both sides for committing atrocities.
1998 – While en route from Adana to Ankara, a Turkish Airlines flight with a crew of 6 and 33 passengers is hijacked by a Kurdish militant who orders the pilot to fly to Switzerland. The plane instead lands in Ankara after the pilot tricked the hijacker into thinking that he was landing in the Bulgarian capital of Sofia to refuel.
1998 – Space Shuttle Discovery blasts off on STS-95 with 77-year old John Glenn on board, making him the oldest person to go into space.
2004 – In Rome, European heads of state sign the Treaty and Final Act establishing the first European Constitution.
2004 – The Arabic-language news network Al Jazeera broadcasts an excerpt from a 2004 (an ALLEGED) Osama bin Laden video in which the terrorist leader first admits direct responsibility for the September 11, 2001 attacks and references the 2004 U.S. presidential election.
2007 – Argentina elects its first female president, Cristina Fernandez de Kirchner.
2008 – Delta Air Lines merges with Northwest Airlines, creating the world's largest airline and reducing the number of US legacy carriers to 5.
2011 – Jimmy Savile, British media personality / Pedophile (b. 1926) Dies
2011 – Record-breaking snowstorm in the northeastern United States leaves nearly 2 million residents without power for more than 36 hours.
2012 – Publishing companies Penguin and Random House merge to form the world's largest publisher
2012 – Hurricane Sandy hits the east coast of the United States, killing 148 directly and 138 indirectly, while leaving nearly $70 billion in damages and causing major power outages.
25 Oct 2014 An apparent eyewitness who works at the Parliament Building tells his/her account of events unfolding under his/her office window. "I'm a legislative assistant, Here is the view outside my office at 9:30 AM, (about 15 minutes before the 'crazed' gunman). Just a shit ton of cops hanging out by west block for no reason. I know two things they aren't telling the press/public…Wednesday's there are events hosted at parliament, and security is slack. There was no need for all these police at parliament this morning pre-shooting incident."
Thank the gods that "Ebola" is over (ahemmmmm)
Ron Klain on the "top leadership issue in the world today."
362 – The temple of Apollo at Daphne, outside Antioch, is destroyed in a mysterious fire.
1633 – Battle of southern Fujian sea: The Ming dynasty defeats the Dutch East India Company.
1721 – Czar Peter the Great becomes "All-Russian Imperator"
1734 – Daniel Boone, American hunter and explorer (d. 1820) was born.
1746 – The College of New Jersey (later renamed Princeton University) receives its charter.
1777 – American Revolutionary War: American defenders of Fort Mercer on the Delaware River repulse repeated Hessian attacks in the Battle of Red Bank.
1790 – Warriors of the Miami tribe under Chief Little Turtle defeat United States troops under General Josiah Harmar at the site of present-day Fort Wayne, Indiana, in the Northwest Indian War.
1836 – Sam Houston is inaugurated as the first President of the Republic of Texas.
1844 – Louis Riel, Canadian politician (d. 1885) was born. he was founder of the province of Manitoba, and a political and spiritual leader of the Métis people of the Canadian prairies. He led two resistance movements against the Canadian government and its first post-Confederation prime minister, Sir John A. Macdonald. Riel sought to preserve Métis rights and culture as their homelands in the Northwest came progressively under the Canadian sphere of influence. He is regarded by many today as a Canadian folk hero. Louis Riel was hanged for treason on 16 November 1885.
1879 – Using a filament of carbonized thread, Thomas Edison tests the first practical electric incandescent light bulb (it lasted 13½ hours before burning out).

1906 – Paul Cézanne, French Post-Impressionist painter (b. 1839) Dies
1907 – Panic of 1907: A run on the stock of the Knickerbocker Trust Company sets events in motion that will lead to a depression.
1910 – Dr. Crippen is convicted at the Old Bailey of poisoning his wife and is subsequently hanged at Pentonville Prison in London.
1914 – Congress pass the Revenue Act mandating the first tax on incomes over $3,000. .
1926 – J. Gordon Whitehead sucker punches magician Harry Houdini in the stomach in Montreal, precipitating his death.
1927 – Nikola Tesla introduces six new inventions including a motor with onephase electricity
1934 – Pretty Boy Floyd, American gangster (b. 1904) died. Floyd was shot in a corn field behind a house on Sprucevale Road between Beaver Creek State Park and East Liverpool, Ohio near Clarkson, while being pursued by local law officers and FBI agents led by Melvin Purvis. Varying accounts exist as to who shot him and the manner in which he was killed. He was carried out of the field by FBI agents and died under an apple tree.
1938 – Christopher Lloyd, American actor was born.
1948 – Lynette Fromme, American attempted assassin of Gerald Ford was born.
1949 – Stiv Bators, American musician (The Dead Boys) (d. 1990) Born
1957 – Vietnam War: First United States casualties in Vietnam.
1960 – Darryl Jenifer, American bassist (Bad Brains) Born
1962 – Cuban missile crisis: US President John F. Kennedy, after internal counsel from Dwight D. Eisenhower, announces that American reconnaissance planes have discovered Soviet nuclear weapons in Cuba, and that he has ordered a naval "quarantine" of the Communist nation.
1964 – Canada: A Multi-Party Parliamentary Committee selects the design which becomes the new official flag of Canada.

1964 – French philosopher/author Jean-Paul Sartre refuses Nobel prize
1965 – John Wesley Harding, American musician, Born
1966 – Ice hockey legend Bobby Orr scores his first career goal (vs Montreal Canadiens)
1967 – Thousands of youthful antiwar demonstrators stormed the Pentagon today but were hurled back by armed soldiers and club swinging US Marshalls
1968 – Shaggy, Jamaican-American rapper was born.
1969 – Spike Jonze, American director and film producer, Born
1972 – Vietnam War: In Saigon, Henry Kissinger and South Vietnamese President Nguyễn Văn Thiệu meet to discuss a proposed cease-fire that had been worked out between Americans and North Vietnamese in Paris.
1973 – Following President Nixon firing special prosecutor Archibold Cox and abolishing the Watergate Prosecution Force . Also the resignation of the Attorney General Elliot L Richardson and the firing of all his deputies the call for Impeachment of President Nixon is growing including members of both sides of the house and the first formal steps are expected to come on Tuesday when congress returns from the long weekend including veterans day.
1976 – Red Dye No. 4 is banned by the US Food and Drug Administration after it is discovered that it causes tumors in the bladders of dogs. The dye is still used in Canada.
1978 – Papal inauguration of Pope John Paul II.
1981 – The United States Federal Labor Relations Authority votes to decertify the Professional Air Traffic Controllers Organization for its strike the previous August.
1983 – Two correctional officers are killed by inmates at the United States Penitentiary in Marion, Illinois. The incident inspires the Supermax model of prisons.
1993 – Fred C Shapiro, US journalist (Tiananmen-square 1989), dies at 62
1997 – Compaq testifies Microsoft threaten to break Windows 95 agreement if they showcased a Netscape icon
2002 – Richard Helms, American intelligence agent and diplomat, 8th Director of Central Intelligence (b. 1913) died
2006 – A Panama Canal expansion proposal is approved by 77.8% of voters in a National referendum held in Panama.
2008 – India launches its first unmanned lunar mission Chandrayaan-1.
2009 – Soupy Sales, American comedian and television personality (b. 1926) Dies
2012 – 6 Italian scientists are convicted of manslaughter for their failure to predict the 2009 L'Aquila earthquake
2012 – Hurricane Sandy forms in the Western Caribbean Sea
2012 – Russell Means, Native American activist, dies from esophageal cancer at 72
2013 – 37 Boko Harem Islamist militants are killed by air and ground strikes in Nigeria
By Jack Blood for Deadlinelive.info / RadioFreeBlood.com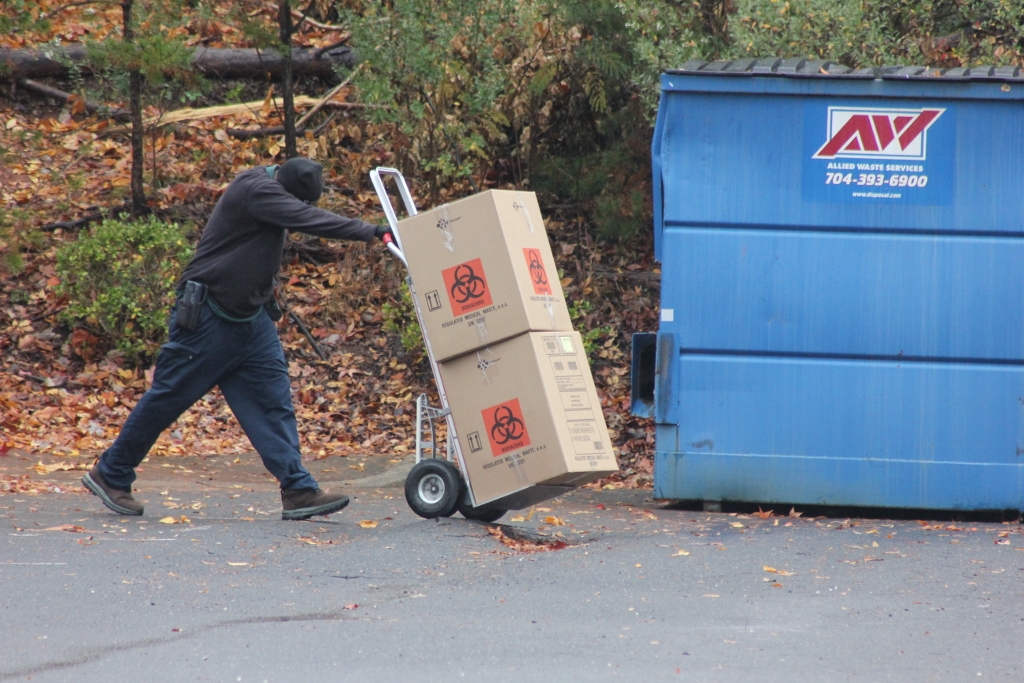 More Cronyism has been found ALL OVER the recent "Ebola" Scare. Here is yet another example of how serious your leaders are taking Ebola and the removal / destruction of medical waste.
This just in from our Confidential Eye Witness in Texas:
A few days ago, I went to do some work at a medical facility in Port Arthur, TX., and I learned that they had patient zero's incinerated belongings there, allegedly still contaminated with Ebola. I found out that the company taking care of disposing the bio-waste was called Stericycle. I did some research and found out that this was the same company involved in the fetus heater burning scandal at some hospital in the northwest. They were also caught burying fetuses in a New Jersey landfill (instead of incinerating them like they were supposed to).

 While I was there, the current controversy was that Stericycle was trying to dump the bio-waste in Louisiana. But some judge there barred them from doing so. That was no surprise given Stericycle's horrendous track record. If I was that Louisiana judge, I wouldn't want that crap in by back yard either.

 I also found out that this government contractor, Stericycle, was owned at some point by Bain Capital, in other words, Mitt Romney… what a small world this is! They are also based out of a suburb in Chicago (Northbrook, IL)… can you say Rahm? Barry-O?

Wow… another coincidence?

 Just as Rick Perry and his 'task force' announced that UTMB (University of Texas Medical Branch) in Galveston will take care of the Ebola bio-waste disposal, the MSM announced that another hospital worker took a cruise ship out of Galveston and is being quarantined.

 Galveston may very well be the next 'Ebola epicenter' in this psy-op.

 UTMB in Galveston has Ebola bio labs there.
WHO IS STERICYCLE?
Revenue: US$ 2,142.807 million (2013)
More HERE
NORTH SALT LAKE — For the third time this year, plumes of black smoke and incinerated medicate waste blew out of an emergency bypass valve at Stericycle,  according to the company.
After legislators gave approval, Stericycle began the process of moving to Tooele County far away from homes, but the relocation can't come soon enough for some residents watching its continual bypass events.
"They have made zero effort to communicate with the community — that they are still in," Communities for Clean Air co-founder Natasha Henderson said Thursday.
While driving home from work around 5 p.m. Wednesday, Henderson saw a big, dark cloud of smoke billowing from Stericycle.
COMPANY THAT WAS FINED FOR ILLEGALLY DUMPING ABORTED BABIES IN LANDFILL GRANTED EBOLA WASTE DISPOSAL CONTRACT
There are so many unborn babies being discarded in the world today that some are now being illegally shoveled into landfills right along with household waste. One waste disposal company was caught doing this in 2011, trying to cut corners and save money.
How is their morbid business practice reprimanded? Just a few years later, the company responsible is awarded the special privilege of hauling away high-risk Ebola waste from the Texas Health Presbyterian Hospital in Dallas. Apparently, the U.S. Department of Transportation (DOT) doesn't care about this company's sketchy background. Can we really trust a company that illegally dumped babies in a landfill in order to save money to properly dispose of Ebola waste? Why did this unethical company get the contract?
U.S. government grants controversial Stericycle permit to dispose of Ebola waste
The DOT just granted controversial Illinois-based Stericycle a permit to haul away large quantities of Ebola waste out of Texas. Stericycle has a questionable history of illegally dumping aborted babies in landfills and was even caught using the babies to fuel an Oregon power plant.
The DOT permit details how the waste is to be disposed, providing instructions for operation controls during transit, but the Department of Transportation gives Stericycle plenty of leeway on how the waste will be disposed. The carrier is supposed to maintain a written spill response plan just in case there is a travel accident. The waste is to be sealed in a series of inner and outer packaging and disinfected with CDC-approved cleaners. The question still remains: How will it all be disposed of from there and can Stericycle be trusted?
Stericycle caught using deceased babies to fuel Oregon power plant
There are some groups who already mistrust Stericycle after the company was fined $42,000 in 2011 for illegally dumping aborted babies in a municipal landfill in Austin, Texas. The babies were disgracefully dumped into the landfill alongside household and commercial garbage. If Stericycle broke their permit then in the most morbid way, how can they be trusted with Ebola waste? The Texas Commission of Environmental Quality (TCEQ) ruled that Stericyle failed to "prevent the disposal of treated fetuses at a municipal solid waste landfill," and TCEQ also charged the disposal company with "failure to comply with permit conditions."
To make matters worse, a little over a year ago, Stericycle was caught using deceased babies from an abortion clinic to fuel a local power plant in Oregon. Upon the discovery, the Marion County Board of Commissioners in Oregon severed their contract with Stericycle.
Still, that matter won't affect Stericycle too much, for the federal government just gave them a landmark permit to take care of Ebola waste in Texas.
As a result of the media attention and the public outcry, the US Congress passed the Medical Waste Tracking Act of 1988, and the US medical waste industry was born.
The seeds of Stericycle were planted in the late 1980s, around the same time that illegally disposed medical waste began rolling onto the beaches of the Atlantic Coast. The media dubbed the event "Syringe Tide.
Stericycle's hospital offerings grew in 2003 when it acquired Bio Systems. Today, Stericycle Sharps Management Service with Bio Systems containers is the US leader in reusable sharps container management service.
In 2014, a major acquisition expanded and complemented our existing specialty waste services, making Stericycle a leader in hazardous waste solutions. With the formation of Stericycle Environmental Solutions, we broadened our ability to serve the needs of our healthcare, retail, and other regulated waste customers.
The company's international business began in 1997 with a joint venture in Mexico.
Since then, Stericycle has created services, tools and resources for healthcare professionals not only in the United Statesand Mexico, but also in Argentina, Brazil, Canada, Chile, Ireland, Japan, Portugal, Puerto Rico, Romania, Spain, and the United Kingdom.
Beyond services related to healthcare wastes, in some markets the company has expanded its offerings to include management of certain hazardous wastes as well as patient transport and medical courier services.
Klain is a Jewish Democrat Politico and campaign expert. He is also a Protectorate of Wall St. K Street. He has ZERO medical experience, or any experience dealing with Pandemics. He is there to protect the Democrats interests.
He is an influential Democratic Party insider.
Chief of Staff to two Vice Presidents – Al Gore (1995–1999) and Joseph Biden (2009–2011)
He was Chief Counsel to the Senate Judiciary Committeeduring the Clarence Thomas Supreme Court nomination. He was portrayed byKevin Spacey in the HBO film Recount depicting the tumult of the 2000 presidential election. On October 17, 2014, President Obama named Klain the newly created "Ebola Czar"
1994 – became Chief of Staff and Counselor to Attorney General Janet Reno
Klain helped Fannie Mae overcome "regulatory issues"
During the 2004 Presidential campaign, Klain worked as an adviser to Wesley Clark in the early primaries. Later, during the General Election, Klain was heavily involved behind the scenes in John Kerry's campaign and is widely credited for his role in preparing Senator Kerry for a strong performance in the debates against President George W. Bush, which gave Kerry a significant boost in the polls.[8] He then acted as an informal adviser to Evan Bayh, who is from Klain's home state of Indiana. Klain has also commented on matters of law and policy on televised programs such as the Today Show, Good Morning America, Nightline, Capital Report, NewsHour with Jim Lehrer, and Crossfire.
In 2005, Klain left his partnership at O'Melveny & Myers to serve as Executive Vice President and General Counsel of a new investment firm, Revolution LLC, launched by AOL co-founder Steve Case
Klain apparently signed off on President Obama's support of a $535 million loan guarantee for now-defunct solar-panel company Solyndra. Despite concerns about whether the company was viable, Klain approved an Obama visit, stating, "The reality is that if POTUS visited 10 such places over the next 10 months, probably a few will be belly-up by election day 2012.
Corporate Employer O'Melveny & Myers LLP: 
The firm is 29th largest law firm in the world / The firm has represented clients, such as Bank of America, Exxon Mobil, Fannie Mae,Goldman Sachs, the District of Columbia, New Line Cinema, Metro-Goldwyn-Mayer Studios, and other law firms. They represented former Enron Corporation chief executive Jeffrey K. Skilling during his four-month fraud and conspiracy trial
Helped on Gun Ban Legislation District of Columbia v. Heller
Argued before the Supreme Court in Exxon Shipping Co. v. Baker, on behalf of Exxon regarding the Exxon Valdez oil spill. The Supreme Court, in a 5-3 decision (Justice Alito had recused himself), reduced the $2.5 billion punitive damages award against Exxon to $507.5 million
| | |
| --- | --- |
| Revenue | US$818.5 million (2013)[1] |
| Date founded | 1885 |
Lead story Wash Times:
Responding to urgent calls from Congress and a fearful public, President Obama has tapped a former White House official to serve as his "Ebola czar."
Ron Klain, an attorney who worked for Vice Presidents Joe Biden and Al Gore, is president of Case Holdings, which handles business interests for former AOL CEO Steve Case, and general counsel at Revolution LLC, a tech-focused venture capital firm in Washington, according to the White House.
He will be the point-person in charge of responding to the deadly virus in the U.S., and will report directly to Homeland Security Adviser Lisa Monaco and National Security Adviser Susan Rice.
Although Mr. Klain does not come from the public health sector, the White House said he possesses "strong management credentials, extensive federal government experience overseeing complex operations and good working relationships with leading members of Congress, as well as senior Obama administration officials, including the president."
Mr. Obama had said late Thursday it "may make sense for us to have one person" coordinating the government's response to the Ebola outbreak, after the Liberian national who brought the virus to America's shores died and two nurses who treated him tested positive in the following days.
The president said administration officials such as Centers for Disease Control and Prevention Director Dr. Thomas Frieden, Health and Human Services Secretary Sylvia Burwell and Ms. Monaco have other responsibilities and may benefit from having one person in charge of the government's entire response.
"It may make sense for us to have one person in part just so that after this initial surge of activity we can have a more regular process, just to make sure that we're crossing all the t's and dotting all the i's going forward," the president said.
The appointment won early praise from Democrats and expert observers.
"I've known Ron Klain for over twenty years. He is smart, aggressive, and levelheaded — exactly the qualities we need in a czar to steer our response to Ebola," said Sen. Chuck Schumer, New York Democrat. "He is an excellent choice."
Carl Tobias, a professor of law at the University of Richmond who tracks judicial appointments, said Mr. Klain's experience in executive offices and on Capitol Hill should buoy him through this challenge.
"I think he really does know his way around Washington better than a whole lot of people," he said.
Read more: Washington Times
Which is why we Drone Killed him? and his 16 year old son?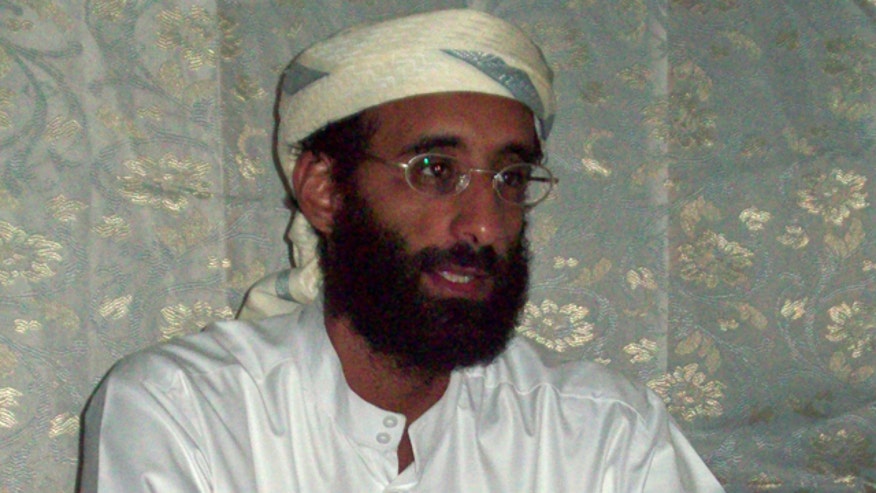 FBI was working with radical cleric Anwar al-Awlaki, documents show
1 Oct 2014 Newly released documents  further support the conclusion that the FBI was working with radical cleric Anwar al-Awlaki after the 9/11 attacks – in the years before he became the first American targeted for death by a U.S. drone strike. As part of an ongoing investigation of the cleric that began after the 2009 Fort Hood shooting massacre, Fox News was first to report that in 2002, al-Awlaki was released from custody at JFK International Airport — despite an active warrant for his arrest — with the okay of FBI Agent Wade Ammerman…The documents further support claims that Awlaki, who eventually went overseas and linked up with an Al Qaeda [al-CIAduh] affiliate, worked with the FBI and was likely a U.S. government asset.
Newly released documents further support the conclusion that the FBI was working with radical cleric Anwar al-Awlaki after the 9/11 attacks – in the years before he became the first American targeted for death by a U.S. drone strike.
As part of an ongoing investigation of the cleric that began after the 2009 Fort Hood shooting massacre, Fox News was first to report that in 2002, al-Awlaki was released from custody at JFK International Airport — despite an active warrant for his arrest — with the okay of FBI Agent Wade Ammerman.
Watchdog group Judicial Watch has since obtained more than 900 pages of new documents in the course of its federal lawsuit against the FBI under the Freedom of Information Act. They show the cleric was emailing and leaving voice messages with an FBI agent in 2003, a year after Ammerman told customs agents at JFK airport to bypass an outstanding warrant for the cleric's arrest.
The documents further support claims that Awlaki, who eventually went overseas and linked up with an Al Qaeda affiliate, worked with the FBI and was likely a U.S. government asset.
"I have little doubt that President Obama assassinated a terrorist that was an asset of the U.S. government," Judicial Watch President Tom Fitton said.
He added: "There have been so many missed opportunities in getting the bad guys, but it's one thing to have a bad guy working with you and for you and actually in your custody and then letting them go."
Fitton questioned whether Obama was even aware of al-Awlaki's connections to federal law enforcement. "These unanswered questions cast President Obama's decision to assassinate [al-Awlaki] in a disturbingly different light," he said.
In one Oct. 2, 2003 email, an FBI agent whose name is redacted writes to a colleague regarding a voicemail: "Holy crap, [redacted] isn't this your guy? The aman (imam) with the prostitutes."
Three weeks later, after leaving another voicemail, the cleric uses his personal Yahoo account to write directly to an FBI agent, now stationed at the FBI Academy in Quantico, Va., to complain about news reports linking al-Awlaki to the 9/11 hijackers.
"I was astonished by some of the talk circulating in the media about me. … I am amazed at how absurd the media could be and I hope that the US authorities know better and realize that what was mentioned about me was nothing but lies," al-Awlaki writes, appearing to scold the FBI agent.
In another email, an FBI agent bristles at attempts by the 9/11 Commission to locate al-Awlaki and interview him independently, describing the requests as "numerous and unrelenting." The email says the 9/11 Commission wanted to talk to the cleric after it learned he had been phoning and emailing with FBI agents.
Significantly, the email traffic shows that while the 9/11 Commission was trying to find al-Awlaki, an FBI agent was in direct contact with the cleric and set up a meeting with him in March 2004.
"SA [redacted] has had a conversation with Aulaqi and has tentatively set up an interview for mid-March in London. With the VA. Jihad trial scheduled for early Feb. this will be the earliest SA (redacted) can meet Aulaqi … If the 9/11 commission needs to meet with Aulaqi, we will provide the contact information so they can set up their own interview."
Previously obtained records show that in 2002, within days of al-Awlaki's re-entry to the U.S., he showed up in Ammerman's counterterrorism investigation in Virginia into Ali al-Timimi, who is now serving a life sentence on non-terrorism charges. On Oct. 22, 2002, 12 days after the imam's return, another FBI memo obtained through the Judicial Watch federal lawsuit (marked "Secret") includes the subject line "Anwar Nasser Aulaqi" and "Synopsis: Asset reporting." The existence of the customs entry records was first documented by author Paul Sperry.
Asked about the FBI's involvement in al-Awlaki's release and whether the FBI tried to recruit the cleric, in a September 2013 interview with Fox News, then-FBI Director Robert Mueller did not deny it.
"I am not personally familiar with any effort to recruit Anwar al-Awlaki as an asset — that does not mean to say there was not an effort at some level of the Bureau (FBI) or another agency to do so," Mueller said.
Mueller did not elaborate on a memo he personally sent then-Attorney General John Ashcroft on Oct. 3, 2002 — seven days before the imam suddenly re-entered the U.S., was detained and then released at JFK Airport, by the order of Mueller's agent — that is marked "Secret" and titled "Anwar Aulaqi: IT-UBL/AL-QAEDA."
It is not public whether al-Awlaki's contact information was provided by the FBI to the commission, but in the 9/11 report into the 2001 terrorist attacks, it states efforts to locate al-Awlaki were unsuccessful.
Fitton claims federal law enforcement had al-Awlaki in their custody, until the FBI let him walk — and in the years before he was killed by a CIA drone in 2011, al-Awlaki pioneered the digital jihad, now being capitalized upon by the Islamic State, or ISIS.
"ISIS took that and ran with it — who knows, maybe if we had gotten al-Awlaki and kept him off the streets and in jail or in prison where he belonged that there would have been a much more slower development of the Internet jihad that we're all facing worldwide."
Our low opinion of Mr Holder has nothing to do with Race. (Just ask the Black Communities he persecuted!) This guy made even John Ashcroft blush…. HOPEfully he will be held accountable for his crimes on behalf of the global elite!!! 
Just for the sake of it – Here is a little walk down Memory Hole Lane:
1) In his final days with the Clinton administration, Holder carried out his duties with Clinton's last-minute pardon of fugitive and Democratic contributor Marc Rich. Regarding discussions with the White House lawyers on the issue, Holder said he was at first "neutral" on the decision to grant Rich a pardon, but might lean in favor of it if there were national security benefits. Holder said that he was told that Israeli Prime Minister Ehud Barak had asked Clinton to grant the pardon.
2) Holder briefly served as Acting Attorney General under President George W. Bush until the Senate confirmed Bush's nominee John Ashcroft
3) From 2001 until he became Attorney General, Holder worked as an attorney at Covington & Burling in Washington, D.C. (Along with Michael Chertoff et al) – representing clients such as Merck and theNational Football League. He represented the NFL during its dog fighting investigation against Michael Vick.
In 2004, Holder helped negotiate an agreement with the Justice Department for Chiquita Brands International in a case that involved Chiquita's payment of "protection money" to the United Self-Defense Forces of Colombia, a group on the U.S. government's list of terrorist organizations. In the agreement, Chiquita's officials pleaded guilty and paid a fine of $25 million. Holder represented Chiquita in the civil action that grew out of this criminal case. In March 2004, Holder and Covington & Burling were hired by Illinois Governor Rod Blagojevich to act as a special investigator to the Illinois Gaming Board. The investigation was subsequently canceled on May 18, 2004.
The firm represented Guantanamo inmates but Holder "never participated directly in the firm's Guantanamo work", and is not expected to recuse himself from matters pertaining to it.
*Controversial clients of the firm include: Office Chérifien des Phosphates, Creekstone Farms Quality Beef, Southern Peru Copper Corporation, Philip Morris, Halliburton (War profiteering case), and Xe Services aka Blackwater, and David Samson (Christie / Rockefeller stooge at Port Authority NJ)
4) During his years in private practice, Holder represented the Swiss private bank UBS. Because of this, he recused himself from participating in the Department of Justice investigation of UBS's abetting of tax evasion by U.S. account-holders and the prosecution of Brad Birkenfeld. (As Attorney General, he also had to bow out of the Roger Clemens contempt of Congress prosecution because the pitcher was once a client of Covington and Burling.
5) Holder defended the legality of drone strikes against terrorists. Addressing the death of Anwar al-Aulaqi, an American citizen (As well as his 16 year old son, whom had no provable ties to terrorism)
6) On April 1, 2009, Holder announced that he had ordered the dismissal of the indictment against former Senator Ted Stevens on corruption charges. Stevens had been found guilty, but hadn't been sentenced; Holder's action effectively vacated Stevens' conviction
7) In 2010, in the run up to the referendum on California Proposition 19, which would have legalized marijuana use for personal recreation, Holder stated that the DOJ would continue to prosecute individuals on the federal level for possession of marijuana even if voters approved a ballot measure
* House Oversight Committee chairman Darrell Issa and Iowa Republican Sen. Chuck Grassley sent Holder a letter in May 2011 asking for details about Operation Fast and Furious, a "botched federal firearms sting" operation that allowed about 2,000 weapons to reach Mexican drug gangs. Grassley and Issa "urged Holder to cooperate and turn over subpoenaed records that would reveal the scope of the government coverup." (We are all still waiting….)
8) On March 6, 2013, Holder testified to the Senate Judiciary Committee that the size of large financial institutions has made it difficult for the Justice Department to bring criminal charges when they are suspected of crimes, because such charges can threaten the existence of a bank and therefore their interconnectedness may endanger the national or global economy. (See his connections to Banks above – Under Holder, Prosecution rates against crimes by large financial institutions are at 20-year lows)
Holder has also endorsed the notion that prosecutors, when deciding to pursue white-collar crimes, should give special consideration to "collateral consequences" of bringing charges against large corporate institutions, as outlined in a 1999 memorandum by Holder. Nearly a decade later Holder, as head of the Department of Justice, put this into practice and has demonstrated the weight "collateral consequences" has by repeatedly sought and reached deferred prosecution and non-prosecution agreements and settlements with large financial institutions such as J.P. Morgan Chase, HSBC, Countrywide Mortgage, Wells Fargo, Goldman Sachs, and others where the institution pays a fine or penalty but faces no criminal charges and admits no wrongdoing.  Whereas in the previous decade EVEN the Bush administration's Department of Justice often sought criminal charges against individuals of large institutions regardless of "collateral consequences" such as cases involving Enron, Adelphia Communications Corporation, Tyco International, and others.
9) On May 13, 2013, the Associated Press announced telephone records for 20 of their reporters during a two-month period in 2012, had been seized by the Justice Department. They described these acts as a "massive and unprecedented intrusion" into news-gathering operations.  Holder testified under oath in front of the House Judiciary Committee and made it clear he recused himself from the leak investigations to avoid any appearance of a conflict of interest. Holder said his Deputy Attorney General, James Cole, was in charge of the AP investigation and would've ordered the subpoenas. When questioning turned to possibility of journalists being charged under the Espionage Act for reporting classified material, Holder stated: "With regard to the potential prosecution of the press for the disclosure of material, that is not something that I've ever been involved in, heard of or would think would be a wise policy."
It was later reported the DOJ monitored Fox News reporter, James Rosen's activities by tracking his visits to the State Department, through phone traces, timing of calls and his personal emails. NBC confirmed with the Justice Department that Holder had personally signed off on the Rosen subpoenas.
10) 
Articles of impeachment against
On November 14, 2013, Representative Pete Olson (R-TX), along with 19 Republicans, introduced an Articles of Impeachment resolution against Holder for his role in Operation Fast and Furious and other scandals of President Barack Obama's administration.  As of June 2014, there awere 26 co-sponsors to the bill.
Contempt of Congress case against Holder will proceed
Opponent says timing of resignation no coincidence
via NPR (National Petroleum Radio / or… National Protection Racket)
Eric Holder Jr., the nation's first black U.S. attorney general, is preparing to announce his resignation Thursday after a tumultuous tenure marked by civil rights advances, national security threats, reforms to the criminal justice system and 5 1/2 years of fights with Republicans in Congress.
Two sources familiar with the decision tell NPR that Holder, 63, intends to leave the Justice Department as soon as his successor is confirmed, a process that could run through 2014 and even into next year. A former U.S. government official says Holder has been increasingly "adamant" about his desire to leave soon for fear that he otherwise could be locked in to stay for much of the rest of President Obama's second term.
Holder already is one of the longest-serving members of the Obama Cabinet and ranks as the fourth-longest tenured AG in history. Hundreds of employees waited in lines, stacked three rows deep, in early February 2009 to witness his return to the Justice Department, where he previously worked as a young corruption prosecutor and as deputy attorney general — the second in command — during the Clinton administration.
But some of that early glow faded in part due to the politicized nature of the job and in part because of Holder's own rhetoric, such as a 2009 Black History Month speech where he said the country was "a nation of cowards" when it comes to discussions about racial tension.
Five years later, violence erupted between police and protesters in Ferguson, Mo., after a white policeman killed an unarmed black 18-year-old. And this time, the White House dispatched Holder to speak his piece, in effect jump-starting that conversation and helping to settle nerves in the frayed community.
Another huge controversy — over his decision to try the Sept. 11 plotters in a New York courthouse in the shadow of the Twin Towers of the World Trade Center — prompted venomous reaction from lawmakers, New York City officials and some victims' families.
Under pressure that threatened his job and his legacy, the attorney general reversed his decision and instead sent the cases to military court — where they continue to languish even as Osama bin Laden's son-in-law and other terrorism defendants are serving life sentences in maximum-security prisons on American soil.
Holder most wants to be remembered for his record on civil rights (seriously?): refusing to defend a law that defined marriage as between one man and one woman; suing North Carolina and Texas over voting restrictions that disproportionately affect minorities and the elderly; launching 20 investigations of abuses by local police departments; and using his bully pulpit to lobby Congress to reduce prison sentences for nonviolent drug crimes. Many of those sentences disproportionately hurt minority communities.
And then there's his relationship with Congress. From the day Holder's nomination was announced, Republicans led by Sen. Mitch McConnell, R-Ky., signaled that he would be a political lightning rod.
The attorney general's portfolio, which spans sensitive law enforcement cases and hot-button social issues including marijuana and gay marriage, didn't help. But even longtime aides say Holder didn't do enough to help himself by shrugging off preparations and moot sessions before congressional appearances and speaking off the cuff — and obliquely.
Things hit a crisis point when the GOP-led House voted him in contempt for refusing to hand over documents about a gun trafficking scandal known as Fast and Furious. That represented the first time an attorney general had ever been rebuked that way, but still Holder held on to his job.
In the end, the decision to leave was Holder's alone — the two sources tell NPR that the White House would have been happy to have him stay a full eight years and to avoid what could be a contentious nomination fight for his successor. Holder and Obama discussed his departure several times and finalized things in a long meeting over Labor Day weekend at the White House.
The attorney general told DOJ staff the news this morning and has called civil rights icon (And corrupt money skimmer)  Rep. John Lewis, D-Ga., and Ethel Kennedy, the widow of former AG Robert F. Kennedy.
The sources say a leading candidate for that job is Solicitor General Don Verrilli, the administration's top representative to the Supreme Court and a lawyer whose judgment and discretion are prized in both DOJ and the White House.
Friends and former colleagues say Holder has made no decisions about his next professional perch, but they say it would be no surprise if he returned to the law firm Covington & Burling, where he spent years representing corporate clients.
The friends say Holder is also considering donating his papers to a university in Washington, D.C., or his native New York, where he could establish a civil rights center to work more on law enforcement interactions with communities of color and host public forums on those issues.
Even though the attorney general has his eyes on the door, the two sources say several more policy and enforcement initiatives are underway and could be announced soon.
For instance, Holder sent a memo to U.S. attorneys Wednesday urging them not to use sentencing enhancements known as "851" tools to gain leverage in plea negotiations with defendants — in essence, threatening defendants into avoiding trial with huge amounts of prison time. The practice has been criticized by U.S. District Judge John Gleeson in Brooklyn and other jurists.
Holder is also expected to notify federal prosecutors in coming days that the Justice Department will no longer require defendants who plead guilty to waive their rights to appeal based on ineffective lawyering. Many U.S. attorneys now forgo that practice, but not all.
Long-awaited racial profiling guidelines for federal agents will be released soon, too. Those guidelines will make clear that sexual orientation, ethnicity and religion are not legitimate bases for law enforcement suspicion, but controversial mapping of certain communities — including Muslim Americans (or  enemies of the Obusha admin…) — would still be allowed for national security investigations, one of the sources said.
The mainstream media is hyping the "biggest ever" Ebola outbreak in West Africa. (Ya know, where ALL the resources are and where China has been exerting its influence and power. 
Press TV (Iran)
We are told that the dread disease, which produces symptoms like something out of a horror movie, is spreading to the USA. Some Americans are canceling their vacations and refusing to fly, believing that they might catch Ebola on an airplane.
People are being terrorized by horrific images, fear of a quick and awful death, and fear of airplanes. The fears are out of all proportion to the reality of the threat. Where have we seen this before?
On September 11th, 2001, the American public was subjected to trauma-based mind control – an intensive form of the brainwashing technique known as coercion, described in a book by Douglas Rushkoff of the same name. Trauma-based mind control uses extreme fear or horror to shape the subconscious minds of its victims. It is a highly effective technique for making people submit to authority without realizing what they are doing or why.
In the autumn of 2001, we were brainwashed into believing that radical Muslims, using airplanes, anthrax, and who knows what else, were willing and able to kill large numbers of Americans. As a result, the US went to war against Muslim nations, persecuted Muslims worldwide, shredded the Constitution, threw away trillions of dollars, and risked moral as well as fiscal bankruptcy.
Since then, evidence that the 9/11-anthrax scare was a hoax has left many Americans sadder but wiser. Today, whenever the government and mainstream media begin terrorizing people with a hyped-up menace, knowledgeable observers ask themselves: Is this threat real? Or just another false flag?
In an exclusive interview with Truth Jihad Radio, Dr. Garth Nicolson, a leading expert in emerging diseases and biological warfare, suggested that the Ebola threat has been exaggerated due to the spectacular nature of the symptoms. Indeed, Dr. Nicolson suggested that it is precisely those spectacular symptoms, which show up very quickly, that make Ebola relatively easy to contain:
"If you have a vicious, highly lethal disease like Ebola, that gains a lot of attention. But you can isolate those patients immediately, and that contains the whole process."
A spectacular disease that gains a lot of attention, but is incapable of killing a large number of people, is ideal for false-flag manipulations of public opinion. One of the leading indicators of a false flag is disproportion between the event's massive public relations impact and the feeble reality of the alleged threat.
This pattern has existed for centuries.
In early 17th-century England, Robert Cecil's war party wanted to launch an assault on the Spanish and Portuguese empires, but was constrained by the irenic policies of King James and some of his advisors, and by the recalcitrance of peace-loving public opinion. Since Spain and Portugal were Catholic countries, Cecil needed to convince his countrymen that they faced a terrifying "Catholic threat." So he found a radical Catholic agitator, Guy Fawkes, put Fawkes and a few barrels of soggy gunpowder in a tunnel beneath the Parliament building, and had him arrested according to plan.
Cecil's plot worked to perfection. From every Anglican pulpit in the land, preachers denounced the evil Catholic extremists who had nearly blown up the entire British government. The British public entered a state of anti-Catholic hysteria similar to America's post-9/11 anti-Muslim hysteria. And Cecil got his war.
In fact, British Catholics had posed little or no actual threat to anyone. But due to the enormous public relations impact of Cecil's gunpowder plot, the public was convinced that a wave of Catholic mayhem was washing over their shores.
The US government, like the British government, has repeatedly convinced its citizens to fear an exaggerated or nonexistent threat. In 1847 Washington fabricated a phony "Mexican invasion." In fact, Mexico was much weaker than the US and posed no threat whatsoever. But frightening headlines stampeded Americans into war against Mexico, and Washington stole nearly half of Mexico's territory.
In 1898 a fake "Spanish threat" was fabricated by the false-flag sinking of the U.S.S. Maine in Havana Harbor. In reality, Spain posed no threat to the US; being the weaker party, it wanted to avoid war. But once again, Americans were brainwashed into fearing a non-existent threat by a false flag attack. And once again, Washington used the ensuing hysteria to grab large swathes of territory for its bankers and capitalists to feed upon.
Prior to World War I, a nonexistent German threat to the US was manufactured by two public relations stunts: The forged Zimmerman Telegram that convinced Americans Germany was conspiring with Mexico to invade the USA; and the orchestrated sinking of the weapons-laden passenger liner "Lusitania." Americans arose in hysterical fear of Germans – and went to war on behalf of the British and their Zionist financiers.
Washington and London also dragged the US into World War II through a fabricated threat. They used an Eight Point Plan that included cutting off Japan's oil supplies to force Japan to attack the US at Pearl Harbor. The shocking, spectacular newsreel footage convinced Americans that they faced a horrific threat from Japan and its German ally. In fact, had the US simply remained neutral, it never would have faced any such threat.
In the 1960s, another nonexistent threat – this time from Vietnam – was fabricated to drag the US into full-scale war against that country. A fake Vietnamese attack on America, the famous Gulf of Tonkin Incident, was arranged.
These are just a few of the many examples showing that media-hyped public hysteria is almost always in service to a hidden agenda.
What might be the hidden agenda of the Ebola scare?
Researcher Anne Sullivan argues that an orchestrated Ebola outbreak in America could be used to "create a level six pandemic emergency that includes mandated vaccines, which will contain their patented weaponized Ebola." This nightmarish worst-case scenario envisions the eugenicist faction of the global elite using a fake Ebola threat to create a real one.
With or without an actual threat, the US government could use the specter of an emergency pandemic to lock down Americans and remove the few remaining shreds of their Constitutional rights. President Obama recently signed an amendment to George W. Bush's Executive Order 13295, which authorizes the "apprehension, detention, or conditional release of individuals to prevent the introduction, transmission, or spread of suspected communicable diseases." Obama's amendment broadens the order to allow the detention of unlimited numbers of Americans based on mere suspicion that they have a dangerous illness.
Why would the US government manufacture a disease threat, real or feigned, as an excuse for martial law and mass detentions? It might do so as a pre-emptive measure against the likelihood of popular unrest when the dollar collapses and the American economy implodes. Currently the BRIC nations, led by Russia and China, are pulling the plug on the US dollar, which is swirling with increasing rapidity as it prepares to go down the drain. When the dollar takes its final plunge, Americans will face the full consequences of their government's squandering of trillions on the 9/11 wars. The likely result: A second American revolution.
If the US government can terrorize Americans with Ebola, militarize society, and lock up thousands or millions of people in concentration camps, it may be able to head off the revolution before it starts. That, at least, might be their plan.
But natural Ebola could not possibly create a pandemic in America. It is not easily transmissible, it lacks a long latency period, and it cannot survive outside the body except in extremely hot, humid temperatures.
So be forewarned: If the mainstream media reports an alleged Ebola pandemic in America, there are only two possibilities: Either they are lying, or they have created a synthetic, weaponized version of Ebola.
If that happens, we had better start the revolution…before they lock us up.
Or kill us.
Quoting Global Research (Canada) 
The increased near nonstop mainstream reporting about Ebola in recent weeks is undoubtedly in part government propaganda designed to frighten people as well as perhaps take some of the heat off its number one genocidal ally Israel. The security state typically exaggerates or fabricates crises after crises in order strengthen its control through fear tactics over the general population. It only solidifies the absolute authority and power of the police state. Add the media propensity to over sensationalize as a tool of state sponsored propaganda and sufficient excuse emerges to activate security forces to quell ensuing panic and disorder. That said, local citizens in all nations do need to stay informed of any real global danger if in fact an Ebola pandemic does break out in a neighborhood near you, whether by accident or by sinister government design.
Right in stride with the Ebola hype comes the signing of Obama's latest executive order. "Revised List of Quarantinable Communicable Diseases" allows for the "apprehension, detention, or conditional release of individuals to prevent the introduction, transmission, or spread of suspected communicable diseases," added to George Bush's 2003 Executive Order 13295. This means that anyone with respiratory problems that might include bronchitis, COPD or pneumonia can potentially be rounded up at any time. This disinformation of protecting people under benign pretense is the deceptive bait by which the totalitarian police state closes in on its stranglehold of the American populace. Every week the government is ratcheting up conditions ripe for the next manufactured crisis on domestic soil that will ultimately pave the way for martial law and the FEMA roundups of American citizens. With these latest developments, we are one step closer.
Under CDC authority not just people with respiratory problems can be apprehended and detained against their will under the protocol of being quarantined. CDC asserts that any healthy American can be detained as well based on mere suspicion that he or she might have come into contact with an infected person. This loosening of the criteria for detaining individuals opens the floodgate for Big Brother to round up virtually anyone.
In other recent related news, along with people with respiratory problems, there is a current plan in place to soon be rounding up the homeless in Los Angeles and locking them up in FEMA concentration camps with implanted RFID chips. They will be baited with a promised meal. That famous poem by Martin Niemöller comes to mind about the passivity and denial of so many German citizens in response to the series of Nazi prewar mass roundups – "when they came for the homeless, I did not speak out because I was not homeless." The Orwellian nightmare is officially underway.