*Human Rights Watch documents 'sting' operations
• Report raises questions about post-9/11 civil rights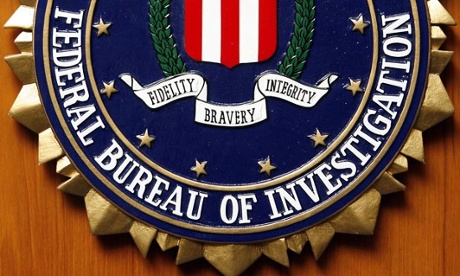 Nearly all of the highest-profile domestic terrorism plots in the United States "since" 9/11 featured the "direct involvement" of government agents or informants, a new report says.
Some of the controversial "sting" operations "were proposed or led by informants", bordering on entrapment by law enforcement. Yet the courtroom obstacles to proving entrapment are significant, one of the reasons the stings persist.
The lengthy report, released on Monday by Human Rights Watch , raises questions about the US criminal justice system's ability to respect civil rights and due process in post-9/11 terrorism cases. It portrays a system that features not just the sting operations but secret evidence, anonymous juries, extensive pretrial detentions and convictions significantly removed from actual plots.
"In some cases the FBI may have created terrorists out of law-abiding individuals by suggesting the idea of taking terrorist action or encouraging the target to act," the report alleges.
Out of the 494 cases related to terrorism the US has tried since 9/11, the plurality of convictions – 18% overall – are not for thwarted plots but for "material support" charges, a broad category expanded further by the 2001 Patriot Act that permits prosecutors to pursue charges with tenuous connections to a terrorist act or group.
In one such incident, the initial basis for a material-support case alleging a man provided "military gear" to al-Qaida turned out to be waterproof socks in his luggage.
Several cases featured years-long solitary confinement for accused terrorists before their trials. Some defendants displayed signs of mental incapacity. Jurors for the 2007 plot to attack the Fort Dix army base, itself influenced by government informants, were anonymous, limiting defense counsel's ability to screen out bias.
Human Rights Watch's findings call into question the post-9/11 shift taken by the FBI and other law enforcement agencies toward stopping terrorist plots before they occur. While the vast majority of counterterrorism tactics involved are legally authorized, particularly after Congress and successive administrations relaxed restrictions on law enforcement and intelligence agencies for counterterrorism, they suggest that the government's zeal to protect Americans has in some cases morphed into manufacturing threats.
The report focuses primarily on 27 cases and accordingly stops short of drawing systemic conclusions. It also finds several trials and convictions for "deliberate attempts at terrorism or terrorism financing" that it does not challenge.
The four high-profile domestic plots it found free of government involvement were the 2013 Boston Marathon bombing; Najibullah Zazi's 2009 plot to bomb the New York subway; the attempted Times Square carbombing of 2010; and the 2002 shooting at Los Angeles International Airport's El Al counter.
But the report is a rare attempt at a critical overview of a system often touted by the Obama administration and civil libertarian groups as a rigorous, capable and just alternative to the military tribunals and indefinite detention advocated by conservative critics. It comes as new pressure mounts on a variety of counterterrorism practices, from thecourtroom use of warrantless surveillance  to the no-fly list and law enforcement's "suspicious activity reports" database.
In particular, Human Rights Watch examines the extent and impact of law enforcement's use of terrorism informants, who can both steer people into attempted acts of violence and chill religious or civic behaviour in the communities they penetrate.
Linda Sarsour, the executive director of the Arab American Association of New York, a social services agency, told the Guardian she almost has a "radar for informants" sent to infiltrate her Brooklyn community.
While the FBI has long relied on confidential informants to alert them to criminal activity, for terrorism cases informants insert themselves into Muslim mosques, businesses and community gatherings and can cajole people toward a plot "who perhaps would never have participated in a terrorist act on their own initiative", the study found.
Many trade information for cash. The FBI in 2008 estimated it had 15,000 paid informants . About 30% of post-9/11 terrorism cases are considered sting operations in which informants played an "active role" in incubating plots leading to arrest, according to studies cited in the Human Rights Watch report. Among those roles are making comments "that appeared designed to inflame the targets" on "politically sensitive" subjects, and pushing operations forward if a target's "opinions were deemed sufficiently troubling".
Entrapment, the subject of much FBI criticism over the years, is difficult to prove in court. The burden is on a defendant to show he or she was not "predisposed" to commit a violent act, even if induced by a government agent. Human Rights Watch observes that standard focuses attention "not on the crime, but on the nature of the subject", often against a backdrop where "inflammatory stereotypes and highly charged characterizations of Islam and foreigners often prevail".
Among the informants themselves there is less ambiguity. "It is all about entrapment," Craig Monteilh, one such former FBI informant tasked with mosque infiltration, told the Guardian in 2012.
Informants, the study found, sometimes overcome their targets' stated objections to engage in terrorism. A man convicted in 2006 of attempting to bomb the Herald Square subway station in Manhattan  told an informant who concocted the plot he would have to check with his mother and was uncomfortable planting the bombs himself. One member of the "Newburgh Four" plot to attack synagogues and military planes – whose case is the subject of an HBO documentary airing on Monday – told his informant "maybe my mission hasn't come yet".
Once in court, terrorism cases receive evidentiary and pre-trial leeway rarely afforded to non-terrorism cases. A federal judge in Virginia permitted into evidence statements made by a defendant while in a Saudi jail in which the defendant, Amed Omar Abu Ali, alleged torture, a longstanding practice in Saudi Arabia. The evidence formed the basis for a conviction, and eventually a life sentence, for conspiracy to assassinate George W Bush. Mohammed Warsame, who pleaded guilty to conspiracy to provide material support to a foreign terrorist organization, was held in solitary confinement for five years before his trial.
Another implication of the law-enforcement tactics cited the report is a deepening alienation of American Muslims from a government that publicly insists it needs their support to head off extremism but secretly deploys informants to infiltrate mosques and community centers.
"The best way to prevent violent extremism inspired by violent jihadists is to work with the Muslim American community – which has consistently rejected terrorism – to identify signs of radicalization and partner with law enforcement when an individual is drifting towards violence. And these partnerships can only work when we recognize that Muslims are a fundamental part of the American family," Obama said in a high-profile 2013 speech .
Yet the Obama administration has needed to purge Islamophobic training materials from FBI counterterrorism, which sparked deep suspicion in US Muslim communities. It is now conducting a review of similar material in the intelligence community after a document leaked by Edward Snowden used the slur "Mohammed Raghead" as a placeholder for Muslims.
* This article (Below)originated in 2009 after a local investigation into the Privatization of TX and the US Border. We have every reason to believe its still going on, though we are still working to confirm it.
Follow the Money with this Guy!!!!
He can activate the national guard, but in order to do so, he has to have a clear objective and he has to demonstrate the need for a military force where the deployment needs to take place.
But notice how he's using the 'our citizens are under attack' rhetoric, referring to the drug cartels. That means only one thing: He's escalating Operation Border Star and probably increasing the funding to the no-bid contractor (ALIS) that leases the equipment, trailers, procedures, support services, logistics, etc. to the troops and DPS at the border.
It's pure (Hegelian)theater!
A Democrat legislator leaked a memo to the press, mentioning that 1,000 troops is actually a gradual increase to the soldiers already there. In essence, Perry is increasing the budget to the private contractor running Operation Border Star, called Abrams Learning and Information Systems Inc. or ALIS.
Founder, General John Abrams is an internationally recognized subject matter expert in border security, public policy, international treaties, operations, training and education, and technology integration. He served with General Jim Jones, the current National Security Advisor to the President for the Congressional Commission to assess the Iraqi Security Forces in 2007. He is also a recognized corporate leader in developing sustainable strategies and programs. ALIS' Border Security Operational and IT applications support to the U.S. – Mexico border has enabled the area to significantly reduce border crime over the last two years. ALIS, under John Abrams' leadership, is committed to supporting government agencies and corporations to improve preparedness and mitigate risk to the many challenges of contemporary threats and hazards.
Perry's got a sweet tooth and is hooking up his buddies one last time before he leaves office… and politically making Obama look bad at the same time… what a deal, right?!
You've got to love these Republicans and how they always say the right things while doing something else completely different at the same time.
DPS outsourced border security to private firm via no-bid contracts
A little-known private defense contractor from Virginia has quietly received about $20 million under a series of no-bid contracts with the State of Texas to develop its border security strategies, an effort that included shaping the state's public message on the increasingly controversial nature and extent of violence spilling into Texas from Mexico.
According to an internal Department of Public Safety memo, the role of Abrams Learning and Information Systems Inc. expanded dramatically after Gov. Rick Perry, then in the midst of a campaign for governor, ordered an acceleration of border security operations that the state wasn't equipped to handle on its own.
Over the next 4 1/2 years — ALIS, founded in 2004 by retired Army Gen. John Abrams — would become intimately involved in nearly every aspect of the Texas Department of Public Safety's border security apparatus, according to documents obtained by the American-Statesman through the Texas Public Information Act. Its assignments ranged from refining the state's Operation Border Star campaign and coordinating the role of National Guard troops along the border, to setting up the state's joint intelligence support centers and creating a multimillion-dollar high-tech system to map border crime.
Despite the firm's work on the state's most important border operations, ALIS flew so far under the radar that outside of law enforcement, few state and local leaders knew of its activities. Several officials who have worked closely on border security issues said they had no knowledge of the firm until contacted by the Statesman.
State Sen. Jose Rodriguez, D-El Paso, said he plans to call for an investigation into the state's relationship with ALIS, saying that the state had outsourced vital security operations to a firm with "less accountability and less transparency than I would expect from state agencies."
Even a keen observer of the Department of Public Safety could easily have been unaware of the contractor. Despite more than half a dozen contracts totalling $19.2 million, according to the Texas comptroller's office, a review of the minutes and agendas of the state's Public Safety Commission meetings between 2006 and 2011 revealed no public discussion about the firm's role and only passing references to the firm's contracts.
Department policy did not require contracts such as those with ALIS to be presented to the commission until September 2009, according to DPS officials.
Nor does the website of the Legislative Budget Board, the only agency charged with gathering information on state contracts, reveal the extent of the ALIS role; it shows just two contracts worth $2.1 million.
The outsourcing also raises questions regarding DPS's contract procedures. The DPS awarded the initial ALIS contracts on an emergency basis, saying there wasn't time to solicit bids from other vendors. The DPS then extended the emergency contracts through a state procurement system that is more often used to purchase goods and commodities from a list of pre-qualified vendors, bypassing the bidding process.
The state auditor's office, while not specifically targeting the Abrams contracts, has reprimanded DPS for its frequent use of emergency contracts and failure to solicit bids as required by state and federal rules.
Doubts about status
Why was the DPS moved to declare border security planning an emergency?
A June 2006 memo from Jack Colley, who was chief of the DPS Division of Emergency Management at the time, spells out the reasons: "The governor directed expanded state and local border security to begin quickly and before any contracting process could begin," wrote Colley, who died in 2010. Colley added that the state lacked the staff, expertise and technology to coordinate the security operations called for by Perry.
Perry's call for increased border operations came during a gubernatorial election in which the issue of border security played a central role in Perry's campaign. Perry's first campaign ad in the 2006 general election touted the state's border security efforts, but made no mention of the private firm at the controls.
By 2008, at least some within DPS believed it was a bad idea — and too expensive — to give private contractors such responsibility over border security operations. In the agency's 2008 budget request to the Legislature, DPS asked for money to hire 19 state employees to replace the contract workers then staffing the border security operations and joint intelligence centers.
"It is more desirable and more cost effective to have state employees planning, coordinating, and evaluating joint state-local border security operations that involve more than $100 million in state appropriated funds," the document says.
Instead, the following year, Abrams received a $4.2 million contract in part to staff and provide "leadership" to the Border Security Operations Center, where it would produce plans, analyses and "decision support tools for Texas leadership."
That same year, 2009, the ALIS contract came under the purview of the Texas Rangers. By the next year, it was discontinued — because, officials said, the state could do the work itself for less money.
"The contract was coming to an end and when I looked at what (ALIS) was doing, I promoted people within the division to do the same jobs. It was more cost effective to do it ourselves," said former Ranger chief Tony Leal, who left the Rangers last year and now is a vice president for a Houston rubber company. "When (ALIS) first came in, they offered a service to do something that the state was not doing at that time. Over time we developed the expertise to do it ourselves."
High-ranking DPS officials had been aware for some time of the issues with emergency contracts.
In January 2010, DPS Director Steven McCraw told commissioners: "There's a tendency toward everything being an emergency. We recognize that's not the way to do business. We need to plan ahead."
But seven months later, DPS gave Abrams another emergency, no-bid contract, worth $1.4 million, in part to shape the state's public message on border security.
Controlling the message
As much as the Texas-Mexico border has been a battlefield between drug cartels and law enforcement, so too has it been a battlefield over public perception of what's been dubbed spillover violence. At stake: the allocation of millions of federal and state dollars, which observers say very much depends on who controls the public message.
This fight has largely pitted state Republicans and some law enforcement officials, who portray the Texas border as a war zone, against border politicians and President Barack Obama's administration, who point to the overall decline in the border's violent crime rate and maintain it is among the safest areas of the country.
A 2011 American-Statesman analysis of five years of crime statistics in border counties revealed over-simplification by both sides. While many counties across from the worst Mexican violence showed notable crime decreases, other areas have seen crime rates soar in conjunction with drug violence in Mexico (El Paso, long held up as a paragon of the safe border city, saw aggravated assault rates increase 26 percent since 2006.)
State politicians, notably Perry in his successful 2006 gubernatorial campaign and failed presidential bid, have campaigned vigorously on a platform of increased border security and the notion that the federal government has failed to adequately guard the border.
In August 2010, the DPS enlisted Abrams to develop a public and media outreach strategy to "position Texas border security efforts in a positive light," paying the firm to develop talking points, presentations, testimony and the "orientation" of senior government leaders. Abrams created a public relations campaign featuring 36 principal messages, including "The success of Texas border security and law enforcement efforts are critical to preserving you and your family's safety and way of life" and "Border Security is a Federal Responsibility but a Texas problem" — the exact language contained in an earlier Perry speech and a common refrain during Perry's presidential campaign.
A draft document obtained by the American-Statesman, titled "Border Security Public Outreach Themes and Messages," includes talking points that would seem to boost the firm's standing. In touting Operation Border Star, the state's principal border security strategy, the document says that law enforcement agencies "join with private companies" to "reduce border-related crime." The messages were meant to be used by the agency's public information department and to guide agency interactions with the media.
DPS officials say they contracted with ALIS on media outreach because they wanted the public to know about Mexican cartels recruiting Texas students to carry drugs and other threats such as smuggling operations and public corruption.
Rodriguez said he thinks ALIS's public information work represented a conflict of interest. "They are giving talking points to officials so they can make the case for more public money for border security, which they can then use to pay for more contracts," Rodriguez said. "(ALIS) was doing this to make themselves more relevant."
Law enforcement officials along the border say the firm brought a military sensibility to border operations, supporting "surges" of local and state law enforcement and helping to form Texas Ranger Reconnaissance teams, units that operate along remote areas of the border. ALIS also helped to set up joint intelligence centers in cities along the border, where military-style "joint" commands of local, state and federal law enforcement come together.
Don Reay, the head of the Texas Border Sheriff's Coalition, said that ALIS initially butted heads with some border sheriffs. "It was more of a military approach, and some things need more local input," Reay said, adding that in subsequent years the firm accepted more input from local officials. "The strength of the ALIS contract is that it allowed (DPS) to access former military personnel with expertise in a variety of areas critical to defending and securing terrain," said DPS spokesman Tom Vinger.
Abrams, a retired four-star general, headed the Army's training and doctrine command until 2002. After his retirement he became a military analyst for The Associated Press, joining a growing number of retired generals providing paid commentary on the Iraq and Afghanistan wars for media outlets.
And like several fellow generals, Abrams went on to create a consulting company to compete for government contracts, mostly in the realm of homeland security. Since its founding in 2004, Abrams Learning and Information Systems has received a number of state and federal contracts, including a $701,597 contract in 2011 with Abrams' former training and doctrine command. According to its website, the company specializes in management and technology work related to homeland security.
Abrams is not the only retired general to receive a border security contract from the State of Texas: Last year, DPS and the Agriculture Department hired retired Gens. Barry McCaffrey and Robert Scales to produce an $80,000 report that declared spillover violence was occurring at alarming levels and that Texas border counties had become a "war zone." Though it never mentioned the contractor by name, the report effusively praised the state's border security infrastructure, much of it designed by ALIS, and called it a "model" for the federal government and the nation's three other border states.
The amount of money Abrams earned from the state also was a source of some discontent among border law enforcement officials. "I'm not for or against Abrams, but I would rather see money going to boots on the ground to make our communities safer," Reay said.
Laredo Mayor Raul Salinas said he was stunned to learn the private contractor had received $20 million from the state. According to a state auditor's report, that represents a quarter of all state money spent on border security between 2005 and 2008 (in more recent years, border security funding has increased sharply). The firm's federal contract price schedule lists wages for company employees that range from $39.54 an hour for a support specialist to $233.52 an hour for a subject matter expert.
"I hope state money was not being used to propagandize," Salinas said.
A larger role
The firm's role grew increasingly complex after it received its first contract in March 2006. That contract, along with several subsequent contracts, was an emergency procurement, which means it was not put out for competitive bids.
That first $471,898 contract called on Abrams to assist the state in setting up the Border Security Operations Center, the state's Austin-based nerve center for border security efforts. After Perry instructed DPS to redouble its border security efforts, Abrams got a second emergency contract, valued at $679,676, three months later.
That contract vastly increased the firm's responsibilities, which included developing a statewide border security plan; the National Guard's mission along the border; a Web-based border surveillance camera program; and the concept for Operation Wrangler, a high-profile "rolling surge" of state and local law enforcement along the border.
The company received a series of contract extensionsbefore landing its largest single contractin August 2009 for $4.2 million. It assigned ALIS responsibility for developing the state's 2010-2015 Homeland Security Strategic Plan and TXMap, a Web-based map of border incidents and arrests by various agencies.
Despite DPS rules enacted the previous October that required contracts of more than $1 million to be presented to the Public Safety Commission, it was not. DPS officials say the rules didn't go into effect for such contracts until the following month. Nor was the contract — or any other contract between DPS and ALIS — put out for competitive bidding, according to DPS.
After its initial contract, ALIS became an authorized state vendor under the Texas Multiple Award Schedule, in which state agencies can contract with preferred firms without soliciting bids.
ALIS's public and media outreach duties came in the form of another DPS emergency contract totalling $1.45 million over four months' time. In an internal memo asking the Public Safety Commission to authorize the emergency extension in August 2010, DPS officials wrote that contract personnel from Abrams provided services that were "vital to the life, safety and welfare of those citizens and law enforcement officers working and living along the Texas border."
That contract was presented to the commission but without any discussion of the firm's specific duties.
At the same August meeting, commissioners expressed concern about how the media presented border violence, complaining about an August 2010 Texas Monthly article that questioned the extent of cross-border violence in Texas.
"Despite fears to the contrary, the violence has not spilled over into Texas," the article concluded.
"I think it did the governor a disservice (by downplaying the severity of border violence)," said then-Commissioner Tom Clowe. "He's asking the federal government for troops, we're asking for more funds, more people, more equipment. I don't think that article gave a proper impression at all. I think it did the state of Texas, frankly, a disservice."
Contact Jeremy Schwartz at 912-2942
---
About this story
Investigative reporter Jeremy Schwartz spent more than three months reviewing thousands of pages of contracts, program status reports and internal Department of Safety Public documents that were the result of multiple open records requests. Schwartz, the American-Statesman's former Mexico correspondent, has covered border issues for several years and has recently conducted an analysis of violent crime along the border and documented the presence of the La Familia cartel in Austin.
2014.7.20 (AE) – The rebranded wing of Al Qaeda known as ISIS, or ISIL, has been receiving "internet anti tracking software" and "internet technical support" from the US State Department via two contracting NGO's… the Institute For War & Peace Reporting (IWPR) and Freedom House.
This should be the biggest news story in the US, especially considering that Obama has now sent over 750 US troops back into Iraq, to supposedly "help" the Iraqi government "fight" the invading radical Sunni ISIS forces… but we now know that ISIS has been achieving their miraculously "sophisticated Social Media strategy" with direct help from the US government.
So the fact that the US State Department, headed by John Kerry, is helping the most radical Al Qaeda terrorists achieve internet anonymity, assisting them in using Social Media platforms to recruit new fighters, and assisting them in uploading radical messages, including ultra violent beheading videos to YouTube… well, this is a scandal of the highest order…
**WATCH AT 720P HD**
CAST OF CHARACTERS & TOPICS (IN ALPHABETICAL ORDER):
Abu Bakr Al Baghdadi
Al Qaeda
Beheading Videos
Coup Of Iraq 2014
Facebook
Freedom House
Institute For War & Peace Reporting (IWPR)
Internet Anonymity
Internet Anti Tracking Software
Internet IP Masking (Proxy Server)
Islamic State Of Iraq & Levant (ISIL)
Islamic State Of Iraq & Syria (ISIS)
John Kerry
Memes Of Terror
Non Governmental Organizations (NGO's)
Obama
Ryan Mauro
Social Media
Terrorism
Terrorists
Terror On Twitter
Twitter
US Secretary Of State
US State Department
War On Syria
YouTube
On July 12th 2014, 9 am – 6 pm CT: The Good Liberty Loving folks at THE REPUBLIC OF TEXAS are holding a rally to Announce their position to Texas and the world! TEXAS WAS NEVER LEGALLY ANNEXED by the USA.
With all of the problems facing the USA, and the State of Texas… Is there a better time to discuss the SOVEREIGNTY of Texas and her people?
Texas is currently the 15th Largest economy in the world. (This rank would be a few steps down since 2008) It's people, it's resources, it's mass, and it's strategic border location has made Texas a prime mover of the US economy, and a target of Federal control and exploitation.
This is NOT secession! It is a correcting of the record! A restoring of the Original status as THE REPUBLIC OF TEXAS, an ally and partner to the united States of America.
COME OUT AND MEET YOUR OWN JACK BLOOD
Jack will be speaking (and maybe jamming) at this LIVE event. Also speaking: Established TX Political activist, and Former Glenn Addison Senatorial Campaign manager, Talk host, Phil Pepin. You will meet REPUBLIC OF TEXAS President John Jarnecke, as well as several RoT Senators and Congressman. Live Music, Food, and drink will be available.
Live Web streaming of this event will run all day at Livestream.com
But that doesn't mean you should sit home and watch it. This will be fun and you should rather come out and participate and get on the video.
COME OUT AND DISCOVER HOW YOU CAN BECOME A SENATOR OR CONGRESSMAN FOR THE REPUBLIC OF TEXAS. (Many counties in TX are not currently being served.)
The Rally will take place at Marktplatz right in the center of downtown FREDRICKSBURG TEXAS!
This is certainly one of the BOLDEST measures we have been involved in!
Jack has not been to Texas for two years, and may not be back for a few more! If you live in TX, this may be your only chance to meet and greet the Blood family!
Facebook location for the Event – SPREAD THE WORD!
2014.7.4 (AE) – The Connecticut State Police (CSP) registered a Confidential Informant (CI) in January 2013.  CSP Spokesman Paul Vance Sr. claimed investigators solved the crime within 24 hours, so exactly who needed to be "informed on"???… or was the CI hired to perform other tasks.
Also explored is the relationship of Yale University, Fairfield State Mental Hospital (located in Newtown), and Jose Delgado's experiments with brain implants to produce "Mind Control Assassins" for the CIA under their top secret "Operation MK-ULTRA" project.
Thanks to the "Blind JFK Researcher" Chuck Ochelli
Podcast: Play in new window | Download | Embed
Jack Blood of DeadlineLive.info joins us for his regular monthly news round up. This month we discuss the problem at the US-Mexican border as the amnesty/immigration debate seems to be coming to a head as new immigration detention centers are being built by DHS. We also cover the Iraq situation and the Keystone/Capstone pipeline, the lawless TSA and lawless government in general, the death of David Rockefeller's son, and the paradigm busting Krist Novoselic, former bass player of Nirvana.
SHOW NOTES:
Immigration Paradigm: New "Detention Centers" to be built by DHS
Iraq conflict: Could it boost the Keystone XL pipeline bid?
Israel accepts first delivery of disputed Kurdish pipeline oil
Despite Protests, Canada Approves Northern Gateway Oil Pipeline
Do as we say, not as we do: TSA Naked Scanners Illegal but They're Using Them Anyway
Final Report on Richard Rockefeller Plane Crash
Nirvana's Krist Novoselic on Punk, FairVote, Why He Dumped the Dems, & Why the GOP Should Embrace Anarchy
Why should we be surprised?
Jerad and Amanda Miller, who were banished from Bunkerville by supporters of Cliven Bundy, had worked as informants for Nevada law enforcement agencies. After the Millers murdered three people — Las Vegas Metro Officers Alyn Beck and Igor Soldo, and Joseph Wilcox, an armed citizen who heroically tried to stop their rampage — their former handlers claimed that they were unaware of the couple's "anti-police sentiments." That claim is difficult to credit, given that Jerad Miller had a lengthy criminal record, and the fact that the couple had made itself very prominent in protests associated with the Occupy Wall Street movement.Jerad Miller, who was mired in the probation system because of narcotics convictions, was precisely the kind of person whose vulnerabilities make him valuable as an informant and provocateur.

The Millers were among many hundreds of people who traveled to Bunkerville, Nevada to support rancher Cliven Bundy in his confrontation with the BLM. They may well have been the only volunteers who were asked to leave because of concerns regarding what was described as their "aggressive nature and volatility." During their brief visit, however, Jerad was interviewed by the local NBC affiliate, which meant that he was depicted as representative of the people who had rallied to the Bundy family's cause.

Predictably, following the couple's subsequent killing spree critics of Cliven Bundy claimed that the rancher, his supporters, and the entire "insurrectionist right" shared collective responsibility for that crime. Honest people who aren't imprisoned in collectivist ideology would recognize that rather than being radicalized by so-called anti-government extremists, Jerad Miller is more properly seen as a living example of "blowback" in the government's war on drugs.
British woman Katherine Tee is saying she spotted what she believes is the missing Malaysian Air flight MH370 while she was sailing.
 She saw in early March, but is only now coming forward because she did not believe her eyes at the time.
Tee said that while she and her husband Marc Horn were sailing across the Indian Ocean from India to Thailand, she spotted what looked like a plane on fire during the night of March 7. She thought she was hallucinating, but after the media coverage, she looked up the flight plan of the aircraft and discovered their journeys intersected, Business Insider reports.
"It caught my attention because I had never seen a plane with orange lights before so I wondered what they were," Tee said. "It looked longer than planes usually do. There was what appeared to be black smoke behind it. Since that's not something you see every day, I questioned my mind. I was looking at what appeared to be an elongated plane glowing bright orange, with a trail of black smoke behind it. It did occur to me that it might be a meteorite. But I thought it was more likely that I was going insane."
The more interesting observation Tee made was that the plane was not alone.
"There were two other planes well above it — moving the other way — at the time," she said. "They had normal navigation lights. I remember thinking that if it was a plane on fire that I was seeing, the other aircraft would report it."
Since authorities still haven't found the plane, Tee feels bad for not saying something sooner.
"Will this help the authorities of the families get closure? I have no idea … but I chose to sweep it under the carpet and now I feel really bad," she said. "Maybe I should have had a little more confidence in myself. I am sorry I didn't take action sooner."
Last month we reported that the "Walmart" bomber had died in Federal custody.
Story here: Walmart Bomber (FBI Sting Op) found Dead in prison… Tells no tales
The U.S. Bureau of Prisons said Thursday that 52-year-old Larry Ray Gillette was discovered unresponsive at the Federal Detention Center at SeaTac on Wednesday and was taken to a hospital, but could not be revived.

Monday the 28th of April. Larry Gillette allegedly told an undercover police officer that he hoped for "carnage" in the bombing of a Walmart and two nearby gas stations. Federal prosecutors claim Gillette, 53, tried to acquire a bomb and four pistols from an undercover officer during a sting operation. The bombing of the Walmart was to be a diversion while he robbed local banks.

Again the bomb he was given was a dummy bomb, it never would have exploded. The official FBI complaint filed can be viewed here
Now we find history repeating itself – also in the month of May 2014! Whats going on here?:
A Raymond man in custody in Fresno County on federal bomb-making charges died late last month, authorities confirmed Wednesday.
Richard Wilson Key Jr., 37, died May 26 at Community Regional Medical Center in Fresno, the Fresno County Coroner's Office confirmed.
Key, a U.S. Army Corps of Engineers employee, was indicted May 22 on a charge of planting pipe bombs at the Crossroads Christian School in Madera on May 4 and a Chowchilla Shell gas station on March 28, according to the FBI.
According to federal court records, Key was scheduled for arraignment the day after his indictment was handed down, but the May 23 hearing was continued after Judge Stanley A. Boone learned Key had "injured himself and (was) in the hospital."
U.S. Marshals Service officials informed the court May 27 that Key "passed away this weekend while in custody at the hospital," court records state.
It was unclear Wednesday exactly what occurred that led to Key's death. Key's family did not comment Wednesday.
Key was still listed Wednesday as an inmate in custody at the Fresno County Jail. The coroner's office confirmed an investigation is underway by the Fresno County Sheriff's Department.
The Sheriff's Department did not return numerous phone calls seeking comment Wednesday.
Key was arrested May 8 in connection with the two planted explosives. Neither suspected pipe bomb caused any injuries and both were safely defused. Investigators found a third suspected pipe bomb when they arrested Key, the FBI said.
According to a criminal complaint filed in U.S. District Court in Fresno, the first pipe bomb was found March 28 on the ground between two large trash bins at the Shell gas station in the 100 block of North Chowchilla Boulevard.
"Written on the top of one of the caps in black pen were the words: 'Pull to open' and a smiley face was drawn on the bottom of the cap," the complaint says. "The writing … demonstrated that this bomb was manufactured for the purpose of killing or seriously injuring an unsuspecting victim."
Children at a private religious grade school found a similar device May 4 on property owned by Grace Community Church, the FBI said.
Authorities have not commented on possible motives in the case.
There seems to be no information about how the suspect was identified – Or if this was also an FBI (JTTF) Sting Operation.