RT has managed to re-establish contact with Graham Phillips, a news contributor who was captured at Donetsk airport on Tuesday night while covering the Ukrainian conflict. Philips shared firsthand details of his three days in captivity with RT.
"I am in Poland. I am not exactly sure where I am. I just got to the border by the SBU (Ukrainian Security Service) quite recently, so I am getting my bearings," Phillips told RT, which contacted the journalist via Skype after his release.
Phillips said he was deported from Ukraine and banned for three years on the grounds that he works for RT. "The reason they gave [me] that was simply that I work for RT, that was all it said in the form. They wouldn't let me take it or copy it. Just said that 'you work for RT, it's the enemy.' I wasn't given the chance to defend myself. I was just taken to the border."
The journalist said it all started three days ago when he was on his way to film fire exchanges between government forces and militants just a few hundred meters away from the airport in Donetsk. He was with Vadim Aksyonov, a stringer for ANNA News agency.
"RT told me not to go in strong terms, but I went anyway with the local journalist Vadim. And we were taken by Ukrainian soldiers and Vadim was pretty badly beaten right in front of me by Ukrainian soldiers. He was on the ground, his head in the ground, just a young guy punching him and kicking him," Phillips said.
Meanwhile, Cuomo's dad being investigated for political Corruption in NY! 
The gloves came off between CNN's Chris Cuomo and Russia Today's Peter Lavelle on Wednesday in a lengthy segment over the handling of the investigation and crash site of Malaysia Airlines Flight 17.
In a nearly 10-minute back and forth, the two hosts fought — and traded insults — over whether the U.S. has provided intelligence to support suspicions of Russia's involvement. Afterward, Cuomo apologized to viewers and said the segment "became a little bit too heated."
Read more: http://www.politico.com/story/2014/07/chris-cuomo-russia-today-peter-lavelle-argue-109275.html#ixzz38JozCX10
Cuomo opened the exchange by asking Lavelle why Russian President Vladimir Putin hasn't condemned the handling of the Flight 17 crash site.
(Also on POLITICO: W.H. official: Still looking for 'direct link' on MH17)
"Vladimir Putin doesn't control a crime scene in a foreign country. I think it's quite ludicrous for you to ask that question," Lavelle responded, adding that Putin has called for a complete investigation.
The Russia Today host instead pointed a finger at the State Department, which he said was relying on Twitter and YouTube for evidence.
"Maybe you haven't been following it, but the U.S. has actually [come] out with its own intelligence" connecting Russia to possibly assisting the separatists, Cuomo said.
(Also on POLITICO: Obama: No new world order yet)
"What forensic evidence are you referring to? Twitter?" Lavelle replied.
"I do not think, Peter, that this is something to be flip about—298 people lost their lives, let's not play politics here," Cuomo shot back.
The hosts continued talking over each other about the investigation and Russia's involvement.
"Peter, why are you afraid to hear what I'm saying? I'm not here to fight with you. I just left the crime scene; the last thing I want to see is more violence of any kind, verbal or otherwise," Cuomo said.
Lavelle said the U.S. should be releasing and comparing satellite data and when Cuomo said it has done so, Lavelle told the anchor, "You're living in a parallel universe!"
"Peter, calm down, take a breath. We've already had something bad happen, there's no reason to compound it," Cuomo said.
Lavelle snapped back, "Ask me an intelligent question."
"I think I've asked you several. Your answers, I don't know about the intelligence of, but the questions are pretty spot on. Let me ask you again because I'm not a representative of the U.S.; you seem to be acting like a representative of Russia," Cuomo said.
Lavelle interjected, "Great, character assassination. So you went to character assassination in what? Five minutes?"
"You sound like Jen Psaki at the U.S. State Department," Lavelle continued.
"No, what I sound like is a reporter who feels deeply for the 298 lives who were lost, who were not part of this conflict and don't need to be part of your discussion about whether Russia is being unfairly blamed," Cuomo replied.
The pair continued in a lengthy back and forth and speaking over one another, before Cuomo expressed exasperation.
"This is a joke. We gotta get out of this," Cuomo said.
After ending the segment, Cuomo told viewers, "The last thing I want to do is to stoke some type of useless conversation, the emotion sometimes gets the better of you, especially when you've been on the scene … I apologize for getting involved for what became more about emotion than reason there for a moment."
Read more: http://www.politico.com/story/2014/07/chris-cuomo-russia-today-peter-lavelle-argue-109275.html#ixzz38JotvV2p
In unprecedented criticism of the White House, 38 journalism groups have assailed the president's team for censoring media coverage, limiting access to top officials and overall "politically-driven suppression of the news."
In a letter to President Obama, the 38, led by the Society of Professional Journalists, said efforts by government officials to stifle or block coverage has grown for years and reached a high-point under his administration despite Obama's 2008 campaign promise to provide transparency.
Worse, they said: As access for reporters has been cut off, the administration has opened the door to lobbyists, special interests and "people with money."
And as a result, they wrote, Obama only has himself to blame for the current cynicism of his administration. "You need look no further than your own administration for a major source of that frustration – politically driven suppression of news and information about federal agencies. We call on you to take a stand to stop the spin and let the sunshine in," wrote David Cuillier, president of SPJ.
The administration has dismissed similar charges from other journalism groups, notably the White House Correspondents' Association, but the new letter sent Tuesday provided several examples of censorship and efforts to block reporter access. Among them:
• Officials blocking reporters' requests to talk to specific staff people.
• Excessive delays in answering interview requests that stretch past reporters' deadlines.
• Officials conveying information "on background" — refusing to give reporters what should be public information unless they agree not to say who is speaking.
• Federal agencies blackballing reporters who write critically of them.
"In many cases, this is clearly being done to control what information journalists — and the audience they serve — have access to. A survey found 40 percent of public affairs officers admitted they blocked certain reporters because they did not like what they wrote," added the letter.
In addition to asking for openness, the groups demanded Obama create an ombudsman position to help clear away barriers to news coverage.
"It has not always been this way," concluded the letter. "In prior years, reporters walked the halls of agencies and called staff people at will. Only in the past two administrations have media access controls been tightened at most agencies. Under this administration, even non-defense agencies have asserted in writing their power to prohibit contact with journalists without surveillance. Meanwhile, agency personnel are free speak to others — lobbyists, special-interest representatives, people with money — without these controls and without public oversight."
SPJ's Cuillier told Secrets, "I feel this excessive message management and information control are caused by the professionalization of PR in the bureaucracy — in all levels of government."
And, he added, "It is up to journalists — and citizens — to push back against this force. Hard!"
President Obama made headlines in Minneapolis on Thursday, rolling out his "phony scandal" rhetoric to address the cascade of questionable acts now receiving public outrage, and not just from Republicans. In a stunning rebuke, the dominant newspaper in the state of Minnesota, the very left-wing and politically correct Star-Tribune of Minneapolis has editorialized a demand for a special prosecutor:
The old caution against ascribing to malice what can be explained by incompetence is worth keeping in mind when evaluating a high-profile blunder in either the private or public sector, such as the Internal Revenue Service's targeting of conservative groups for extra scrutiny.

But the latest twist in the long-running controversy — the eye-rollingly convenient loss of IRS e-mails — moves the needle from ineptitude and toward the other, more troubling end of the spectrum. While the lost e-mails aren't definitive proof of an orchestrated effort by the IRS or the Obama administration, the recent news that thousands of e-mails were obliterated in a computer hard-drive crash in 2011 is tough to swallow, not only for technology professionals, but also for an increasingly tech-savvy public.
Read More: http://www.americanthinker.com
Here is what IAITAM's president, Dr. Barbara Rembiesa, says about the disappearance of Lerner emails:
The notion that these emails just magically vanished makes no sense whatsoever. That is not how IT asset management at major businesses and government institutions works in this country.

When the hard drive in question was destroyed, the IRS should have called in an accredited IT Asset Destruction (ITAD) professional or firm to complete that process, which requires extensive documentation, official signoffs, approvals, and signatures of completion. If this was done, there would be records. If this was not done, this is the smoking gun that proves the drive or drives were destroyed improperly – or not at all.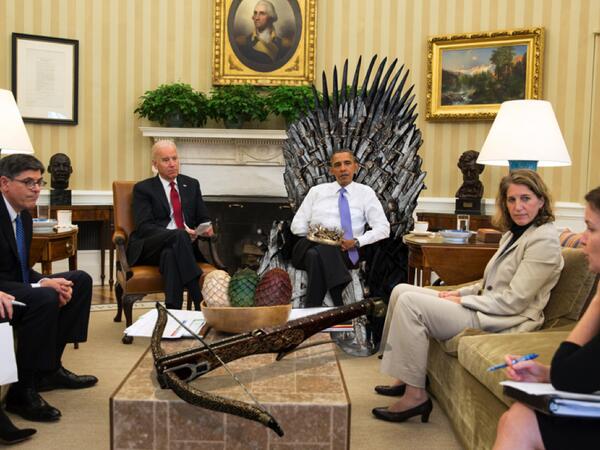 WASHINGTON– Last year, United States Senator Rand Paul (R-Ky.) criticized Obama for acting "like a king or monarch" as the administration threatened to unconstitutionally bypass Congress on gun control. It seems as though the administration felt the title should stick.
The picture depicts "King Obama" sitting upon the "Iron Throne" at Kings Landing in the ancient kingdom of Westeros from the HBO hit series Game of Thrones. The photo looks as if it was lifted straight from The Onion. However, it is not. The image is a result of Obama's speech at last week's White House Correspondents' Dinner where he joked about enacting more executive orders. The administration took it upon themselves to create the photo of King Obama, and the official White House Twitter account sent out the tweet before last week's episode aired.
Obama sits with the King's crown in his hands and former King Joeffrey's crossbow sitting on the coffee table. The tweet reads "The Westeros Wing."
Is it a joke? If you call making fun of your truth as a diversionary tactic a joke, then sure- we're all laughing. Regardless, Obama's countless dead, innocent drone victims are not laughing. Furthermore, those who take their oath to uphold the Constitution of the United States are not laughing either.
The image is disturbing for multiple reasons.
First, those familiar with the series know all too well the nature of kings found within Game of Thrones. As Tywin Lannister, a central antagonist, says, the kings have all been ignorant, insane and ruthless murderers. Then again, what more would you expect from a president that boasts about "being really good at killing people."
Second, why the president of a constitutional republic would find such an image appropriate is beyond understanding. Could you imagine if George Bush's administration posted such a picture?
Finally, a crossbow sitting on the coffee table of the West Wing? Why didn't the "most transparent administration in history" just photoshop a drone in? In the name of transparency, of course. Perhaps they will find this image more suitable for next week's episode.
Read more: Ben Swann
ALSO:
Rand Paul to President Obama: Show Us the Drone Memos (NYTimes op-ed)
Its been fun! Thanks for supporting DeadlineLive.info
Check it out:
If two Democratic lawmakers have their way, Barack Obama's Justice Department will submit a report for action against any Internet sites, broadcast, cable television or radio shows determined to be advocating or encouraging "violent acts."
This according to the text of a new bill from Sen. Ed Markey, D-Mass., and Rep. Hakeem Jeffries, D-N.Y.
The Hate Crime Reporting Act of 2014 "would create an updated comprehensive report examining the role of the Internet and other telecommunications in encouraging hate crimes based on gender, race, religion, ethnicity, or sexual orientation and create recommendations to address such crimes," stated a news release from Markey's office.
The one-page bill, reviewed by WND, calls for the Justice Department and the U.S. Commission on Civil Rights to "analyze information on the use of telecommunications, including the Internet, broadcast television and radio, cable television, public access television, commercial mobile services, and other electronic media, to advocate and encourage violent acts and the commission of crimes of hate."
The bill does not define which actions by broadcasters would be considered to have encouraged violence, seemingly leaving that open to interpretation.
Besides being quite dismissive of the problem, and American Patriots in general… FOX tosses in some unrelated footage (Ukraine?) without labeling or explaining it. Subliminal?
Check it out @ 2:40 mark
ALSO SEE:
Bundy Ranch – What You're Not Being Told
This "Incident" is eerily similar to the The great Iraq War lie. A girl told the world under tears that she saw how Saddam Hussein's soldiers took babies out of their incubators and let them die on the cold floor.
In Novembre 1990 Bush41 told this lie to the poor soldiers.
In truth she hadn't been in Kuwait at the time. The girl was in fact the daughter of the Kuwaiti ambassador in Washington, USA.
CLICK HERE! For the original BBC News story on Syria school "Napalm Attack" https://www.youtube.com/watch?v=pPba_…
Also: FLASHBACK –
March 22, 2014 Russia Today News http://MOXNews.com
Sharyl Attkisson, 'Fast and Furious' Investigative Reporter, Resigns from CBS
The White House won't be shedding any tears.
CBS News investigative correspondent Sharyl Attkisson, known for her critical reporting on the Obama administration, resigned on Monday, bringing an end to months of hard-fought negotiations stemming from her dissatisfaction with the network, sources familiar with her departure told POLITICO.
And the story goes on from there. Politico.com provides a great deal of fodder to make conservatives really mad at the liberal media.
I think that is mostly a diversion.
Yes, CBS News is liberal, but Attkisson had already managed to win the respect and support of her peers. And yes, we heard a lot of noise accusing Attkisson about being "agenda-driven," but was that really the source of the pressure on her?
Just to remind everyone about the "agenda-driven" nonsense, Attkisson was never questioned when she published stories that hurt the Republicans. There is no evidence at all that she was or is an ideological conservative of some stripe.
But whatever the case, the liberal bias at CBS News or other media outlets should not be our real concern. We already know about liberal bias.
The real point here is not that "the White House won't be shedding any tears." The White House had a victory celebration for a job well done.
This was a case of our political masters exerting enough pressure to get a journalist to resign.
Remember, at a time when the NSA is revealed to be doing all sorts of crimes and the Justice Department has hacked emails of a journalist Attkisson's computer was hacked. Illegal (or "extra-legal" perhaps) things were done to her and there was nothing she could do about it.
And we have no idea how much pressure CBS was under from a regime that we know does not hesitate to illegally harass and intimidate anyone they want to.
Attkisson was isolated and marginalized by Big Government.
You may say I don't have absolute proof. There's no Lois Lerner to plead the fifth here. No IRS emails.
Fine, but isn't that the problem? The First Amendment imagines a government that can be kept from interfering with the press. But when the government has vast and hidden power in regulatory and revenue and law enforcement agencies, the populace will often have no idea of how strings are being pulled.
Did liberals cooperate with the attack on Attkisson only because they are liberals, or also because they are afraid?
Read more at – Political Outcast
American news anchor Liz Wahl criticized Russia's Putin just before quitting her job at the state-owned TV network Russia Today (RT) Wednesday, saying she is "proud to be an American" and could no longer "be a part of a network that whitewashes the actions of Putin."
RT responded calling Wahl's move "nothing more than a self-promotional stunt."