High Profile German Journalist reveals than many Western Journalists are paid by CIA
Members of the German media are paid by the CIA in return for spinning the news in a way that supports US interests, and some German outlets are nothing more than PR appendages of NATO,according to a new book by Udo Ulfkotte, a former editor ofFrankfurter Allgemeine Zeitung, one of Germany's largest newspapers.
Ulfkotte is a serious mainstream journalist.  Here he is on Germany's leading political talk show a couple of years ago.  The book is a sensation in Germany, #7 on the bestseller list.  Its political dynamite, coming on the heels of German outrage of NSA tapping of their phones.  Check out the RT.com story on it in the video below.
Here at Russia Insider, it has long been apparent to us that there is something distinctly odd about the German media regarding Russia.  We follow it, and it is much more strident than even the anglo-saxon media regarding Russia, while German public opinion is much more positive towards Russia than in other countries.
Another interesting thing about it is that it is very disparate.  Some major voices are very reasonable about Russia, but most are negative, and some are comically apocalyptic.  This is what one would expect if there was some financial influence ginning the system.
We've been talking about this for a while now.  German public opinion is becoming more and more fed up with the what they increasingly believe to be a rigged media, and its starting to come out everywhere.
The allegations, while shocking, are consistent with the CIA's long and well-established history of media infiltration.
Operation Mockingbird, which began in the 1950s, was a secret CIA operation which recruited journalists to serve as mouthpieces for the American government. The program was officially terminated after it was exposed by the famous Church Committee investigations, but evidence of ongoing CIA influence over the media continues to accumulate.
Just last week Glenn Greenwald's (of Edward Snowden fame) new groundbreaking investigative website, The Intercept, charged that the CIA leveraged its considerable influence – some might even say friendship – with media in order to discredit Gary Webb, the fearless American journalist who uncovered CIA cocaine trafficking as part of the Iran-Contra scandal of the 1980s.
From The Intercept (emphasis our own):
On September 18, the agency released a trove of documents spanning three decades of secret government operations. Culled from the agency's in-house journal, Studies in Intelligence, the materials include a previously unreleased six-page article titled "Managing a Nightmare: CIA Public Affairs and the Drug Conspiracy Story." Looking back on the weeks immediately following the publication of "Dark Alliance," the document offers a unique window into the CIA's internal reaction to what it called "a genuine public relations crisis" while revealing just how little the agency ultimately had to do to swiftly extinguish the public outcry.

Thanks in part to what author Nicholas Dujmovic, a CIA Directorate of Intelligence staffer at the time of publication, describes as "a ground base of already productive relations with journalists," the CIA's Public Affairs officers watched with relief as the largest newspapers in the country rescued the agency from disaster, and, in the process, destroyed the reputation of an aggressive, award-winning reporter.
It's as if Operation Mockingbird never ended.
AKA – Operation Mockingbird!
Richard Gage talked about his group, Architects and Engineers for 9/11 Truth, which claimed that the World Trade Center was brought down by explosive demolition on September 11, 2001. The group was founded in 2006 and said its mission was to "expose the official lies and cover-up surrounding the events of September 11, 2001 in a way that inspires the people to overcome denial and understand the truth." Mr. Gage spoke via video link from San Francisco, California.
RT has managed to re-establish contact with Graham Phillips, a news contributor who was captured at Donetsk airport on Tuesday night while covering the Ukrainian conflict. Philips shared firsthand details of his three days in captivity with RT.
"I am in Poland. I am not exactly sure where I am. I just got to the border by the SBU (Ukrainian Security Service) quite recently, so I am getting my bearings," Phillips told RT, which contacted the journalist via Skype after his release.
Phillips said he was deported from Ukraine and banned for three years on the grounds that he works for RT. "The reason they gave [me] that was simply that I work for RT, that was all it said in the form. They wouldn't let me take it or copy it. Just said that 'you work for RT, it's the enemy.' I wasn't given the chance to defend myself. I was just taken to the border."
The journalist said it all started three days ago when he was on his way to film fire exchanges between government forces and militants just a few hundred meters away from the airport in Donetsk. He was with Vadim Aksyonov, a stringer for ANNA News agency.
"RT told me not to go in strong terms, but I went anyway with the local journalist Vadim. And we were taken by Ukrainian soldiers and Vadim was pretty badly beaten right in front of me by Ukrainian soldiers. He was on the ground, his head in the ground, just a young guy punching him and kicking him," Phillips said.
Meanwhile, Cuomo's dad being investigated for political Corruption in NY! 
The gloves came off between CNN's Chris Cuomo and Russia Today's Peter Lavelle on Wednesday in a lengthy segment over the handling of the investigation and crash site of Malaysia Airlines Flight 17.
In a nearly 10-minute back and forth, the two hosts fought — and traded insults — over whether the U.S. has provided intelligence to support suspicions of Russia's involvement. Afterward, Cuomo apologized to viewers and said the segment "became a little bit too heated."
Read more: http://www.politico.com/story/2014/07/chris-cuomo-russia-today-peter-lavelle-argue-109275.html#ixzz38JozCX10
Cuomo opened the exchange by asking Lavelle why Russian President Vladimir Putin hasn't condemned the handling of the Flight 17 crash site.
(Also on POLITICO: W.H. official: Still looking for 'direct link' on MH17)
"Vladimir Putin doesn't control a crime scene in a foreign country. I think it's quite ludicrous for you to ask that question," Lavelle responded, adding that Putin has called for a complete investigation.
The Russia Today host instead pointed a finger at the State Department, which he said was relying on Twitter and YouTube for evidence.
"Maybe you haven't been following it, but the U.S. has actually [come] out with its own intelligence" connecting Russia to possibly assisting the separatists, Cuomo said.
(Also on POLITICO: Obama: No new world order yet)
"What forensic evidence are you referring to? Twitter?" Lavelle replied.
"I do not think, Peter, that this is something to be flip about—298 people lost their lives, let's not play politics here," Cuomo shot back.
The hosts continued talking over each other about the investigation and Russia's involvement.
"Peter, why are you afraid to hear what I'm saying? I'm not here to fight with you. I just left the crime scene; the last thing I want to see is more violence of any kind, verbal or otherwise," Cuomo said.
Lavelle said the U.S. should be releasing and comparing satellite data and when Cuomo said it has done so, Lavelle told the anchor, "You're living in a parallel universe!"
"Peter, calm down, take a breath. We've already had something bad happen, there's no reason to compound it," Cuomo said.
Lavelle snapped back, "Ask me an intelligent question."
"I think I've asked you several. Your answers, I don't know about the intelligence of, but the questions are pretty spot on. Let me ask you again because I'm not a representative of the U.S.; you seem to be acting like a representative of Russia," Cuomo said.
Lavelle interjected, "Great, character assassination. So you went to character assassination in what? Five minutes?"
"You sound like Jen Psaki at the U.S. State Department," Lavelle continued.
"No, what I sound like is a reporter who feels deeply for the 298 lives who were lost, who were not part of this conflict and don't need to be part of your discussion about whether Russia is being unfairly blamed," Cuomo replied.
The pair continued in a lengthy back and forth and speaking over one another, before Cuomo expressed exasperation.
"This is a joke. We gotta get out of this," Cuomo said.
After ending the segment, Cuomo told viewers, "The last thing I want to do is to stoke some type of useless conversation, the emotion sometimes gets the better of you, especially when you've been on the scene … I apologize for getting involved for what became more about emotion than reason there for a moment."
Read more: http://www.politico.com/story/2014/07/chris-cuomo-russia-today-peter-lavelle-argue-109275.html#ixzz38JotvV2p
In unprecedented criticism of the White House, 38 journalism groups have assailed the president's team for censoring media coverage, limiting access to top officials and overall "politically-driven suppression of the news."
In a letter to President Obama, the 38, led by the Society of Professional Journalists, said efforts by government officials to stifle or block coverage has grown for years and reached a high-point under his administration despite Obama's 2008 campaign promise to provide transparency.
Worse, they said: As access for reporters has been cut off, the administration has opened the door to lobbyists, special interests and "people with money."
And as a result, they wrote, Obama only has himself to blame for the current cynicism of his administration. "You need look no further than your own administration for a major source of that frustration – politically driven suppression of news and information about federal agencies. We call on you to take a stand to stop the spin and let the sunshine in," wrote David Cuillier, president of SPJ.
The administration has dismissed similar charges from other journalism groups, notably the White House Correspondents' Association, but the new letter sent Tuesday provided several examples of censorship and efforts to block reporter access. Among them:
• Officials blocking reporters' requests to talk to specific staff people.
• Excessive delays in answering interview requests that stretch past reporters' deadlines.
• Officials conveying information "on background" — refusing to give reporters what should be public information unless they agree not to say who is speaking.
• Federal agencies blackballing reporters who write critically of them.
"In many cases, this is clearly being done to control what information journalists — and the audience they serve — have access to. A survey found 40 percent of public affairs officers admitted they blocked certain reporters because they did not like what they wrote," added the letter.
In addition to asking for openness, the groups demanded Obama create an ombudsman position to help clear away barriers to news coverage.
"It has not always been this way," concluded the letter. "In prior years, reporters walked the halls of agencies and called staff people at will. Only in the past two administrations have media access controls been tightened at most agencies. Under this administration, even non-defense agencies have asserted in writing their power to prohibit contact with journalists without surveillance. Meanwhile, agency personnel are free speak to others — lobbyists, special-interest representatives, people with money — without these controls and without public oversight."
SPJ's Cuillier told Secrets, "I feel this excessive message management and information control are caused by the professionalization of PR in the bureaucracy — in all levels of government."
And, he added, "It is up to journalists — and citizens — to push back against this force. Hard!"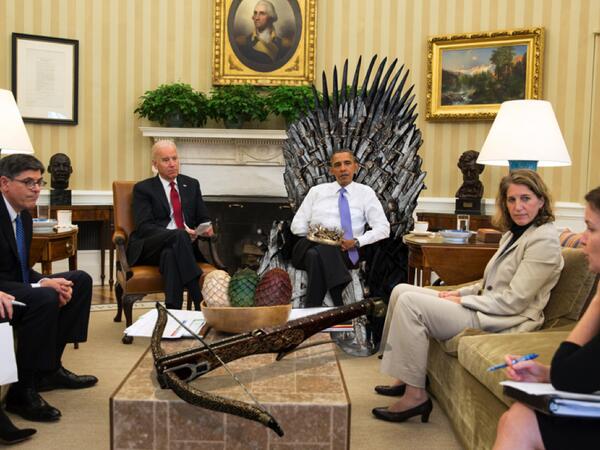 WASHINGTON– Last year, United States Senator Rand Paul (R-Ky.) criticized Obama for acting "like a king or monarch" as the administration threatened to unconstitutionally bypass Congress on gun control. It seems as though the administration felt the title should stick.
The picture depicts "King Obama" sitting upon the "Iron Throne" at Kings Landing in the ancient kingdom of Westeros from the HBO hit series Game of Thrones. The photo looks as if it was lifted straight from The Onion. However, it is not. The image is a result of Obama's speech at last week's White House Correspondents' Dinner where he joked about enacting more executive orders. The administration took it upon themselves to create the photo of King Obama, and the official White House Twitter account sent out the tweet before last week's episode aired.
Obama sits with the King's crown in his hands and former King Joeffrey's crossbow sitting on the coffee table. The tweet reads "The Westeros Wing."
Is it a joke? If you call making fun of your truth as a diversionary tactic a joke, then sure- we're all laughing. Regardless, Obama's countless dead, innocent drone victims are not laughing. Furthermore, those who take their oath to uphold the Constitution of the United States are not laughing either.
The image is disturbing for multiple reasons.
ALSO:
Rand Paul to President Obama: Show Us the Drone Memos (NYTimes op-ed)
Its been fun! Thanks for supporting DeadlineLive.info
Besides being quite dismissive of the problem, and American Patriots in general… FOX tosses in some unrelated footage (Ukraine?) without labeling or explaining it. Subliminal?
Check it out @ 2:40 mark
ALSO SEE:
Bundy Ranch – What You're Not Being Told