British rock scene old-timer Geoffrey "Jake" Commander, who has played for the likes of Elton John and ELO, has been sentenced to ten days in a US jail after taking part in a mass online hack with protest group Anonymous.
Commander was found guilty of taking part in a mass cybercrime after he joined an Anonymous chatroom.
The rocker found himself amongst 1,000 other activist who then clicked the "LOIC" tool, which sends a huge amount of traffic to servers, resulting in a system crash.
The attack, staged in 2010, was against US financial institutions.
Some 13 other Anonymous hackers were also prosecuted, though at the ripe old age of 66, Commander was by far the oldest of the offenders.
When first charged with the offence, Commander potentially faced up to 10 years in prison, but the prosecution eventually downgraded the crime to a "misdemeanor," which would only land the rock star 10 days in the cells.
The guitarist reportedly did not attempt to argue he didn't know what he was doing, though he did say his decision to participate in the hack was "impulsive, spurious and foolish."
He remained adamant, however, that the act itself was a form of "protest" against the banks which had "brought the country to its knees."
The "LOIC" code Commander used targeted MasterCard's website, and lost the company more than $1million.
Commander only participated in the attack for three hours, which features 2,000 activists and was codenamed "Operation Payback".
Following the criminal act in 2010, Commander was not arrested and moved back to England with his family. It was not until returning in 2013 that he was arrested, placed under pretrial release, and forced to surrender his British passport.
According to Commander's attorney, Drewry Hutcheson Jr. the guitarist was given the option of serving his 10 days at weekends, but opted to take the full amount at once.
The prosecution said such attacks on the banking system could "cause significant consequences, not only for victim companies, but also for consumers and the economy as a whole."
Commander apologized to the judge.
"I'm mortified to have upset the government of this country, which has been my host for many years," he said.
But given his star-studded background, some of the prosecution seemed sympathetic towards Commander.
When he appeared before US District Judge Liam O'Grady, the lawyer told him he always kept his car tuned in to Radio Classic Rock.
Bizarre row between news anchor Anderson Cooper and Smashing Pumpkins singer Billy Corgan escalates with rocker unveiling 'F*** You' cat-themed T-shirt
Feud started when Cooper ridiculed Corgan's PAWS Chicago mag cover
Corgan posed with two cats he adopted from organization's shelter
Cooper said perhaps Corgan is 'off his alternative rocker' and the singer responded by calling him a 'globalist shill'
Beef escalated as it appeared cat t-shirts with a clear message to Cooper were on sale at the band's show this week
The bizarre celebrity feud between news anchor Anderson Cooper and Smashing Pumpkins singer Billy Corgan just got stranger.
At the band's show on Wednesday night, a T-shirt on sale featured a picture of his pet cats, but also had a clear message to his unusual nemesis.
The organic cotton shirt, adorned with two cat picture, also said: 'F*** You Anderson Cooper.'
@ZuZusTeahouse posted a picture of the merchandise on Twitter with the message: 'Awesome tea and Merch at the @SmashingPumpkins concert tonight!! Limited quantity available so get them early!'
The row started this summer when Corgan appeared on the cover of PAWS Chicago, reports Gawker.
The organizations runs a pet adoption center and neuter clinic and Corgan posed on their magazine with two cats that he adopted called Sammi and Mr Thom.
The headline 'Billy Corgan's Siamese Dream' referred to the alternative band's second album released in 1993.
He has supported the organization in the past, raising $60,000 after auctioning off a private concert.
But when Cooper discovered the cover last month, he ridiculed it live on air.
He said: 'So perhaps Billy Corgan is, I don't know, off his alternative rocker.
'But I think maybe there's more to this, maybe he's being ironic, or maybe when the cool rock stars start doing less rock starry things, it kind of makes us face our own mortality.
'See I want REM to stay just the way I know and love them, I don't want 'Everybody Hurts' to suddenly be used in an Excedrin commercial.'
He added: 'Maybe the Internet is the real problem here. There was a time when nobody outside of Chicago would have ever seen the cover of PAWS Chicago magazine.'
Corgan responded with a tweet calling Cooper a 'globalist shill' and adding: 'Sorry to disappoint, but when I'm not raising cain for a great organization like @PAWSchicago, I'm still making REAL music.'
Oscar-nominated documentarian Amy Berg talks 'An Open Secret,' which targets underage abuse and names more names: "When you meet the victims … it's difficult to ignore"
A version of this story first appeared in the Nov. 21 issue of The Hollywood Reporter magazine.
The spotlight again will be trained on the alleged sexual abuse of minors by powerful Hollywood players when Amy Berg's disturbing new documentary, An Open Secret, debuts at the DOC NYC film festival in New York on Nov. 14.
The subject was forced out of the shadows earlier this year when Michael Egan III filed lawsuits against X-Men director Bryan Singer, veteran TV executive Garth Ancier, former Disney exec David Neuman and producer Gary Goddard; all four denied the allegations, and by August, Egan had dropped the suits after prior inconsistent statements emerged (he also was scolded by a judge for lying in court). But now Egan is reemerging in a prominent role in Berg's film, which focuses in part on the late 1990s Internet company Digital Entertainment Network headed by Marc Collins-Rector and Chad Shackley, who held alcohol- and drug-fueled parties attended by teen boys. "They would pull away the better-looking younger kids and keep them for their own afterparty," where skinny-dipping was mandatory, says Egan in the film, alleging that Singer was in attendance.
Read more Hollywood Sex Abuse Doc 'An Open Secret' Cancels First Screening
The documentary, which paints a broad picture of sexual exploitation in the entertainment industry, does not revisit the specific allegations in Egan's lawsuits, nor does it characterize the men Egan sued as predators. But in an interview with The Hollywood Reporter, Berg defends her choice to include them, saying, "The question is, if you are an adult at one of these parties where so much is going on out in the open, what is your responsibility?" She admits, "I don't know the ins and outs of the various suits," but she is convinced of Egan's general credibility.
"He's a straight man in his 30s," she continues. "For him to say he was sexually abused by men as a young teen all the way up to his late teens, that's kind of an unlikely thing to lie about. He was at those parties. His story was not unique. So many other kids had the exact same stories with the same details." Plus, she adds, Egan's account is "only one aspect of the story. It's a much greater issue. When you meet the victims and see how prevalent this problem is, it's difficult to ignore."
Singer's attorney Marty Singer (no relation) has not seen the film yet, but he quesitons why Egan's allegations were included. "It's disappointing and pathetic that Amy Berg would rely on the word of Michael Egan, a proven liar, who recently was admonished by a federal judge for lying in court," Singer tells THR. "Egan has no credibility at all and can hardly be considered a reliable source for her so-called documentary."
Read more SEAL Who Killed Bin Laden: I Thought It'd Be a "One-Way Mission"
An Open Secret also examines several other cases: Talent manager Marty Weiss — who pleaded no contest in 2012 to two counts of committing lewd acts on a child after he was charged with eight felony counts of molesting a young performer he represented — is seen in the film attending family gatherings with one of his victims, then is heard, on tape, admitting to the molestation. Bob Villard, a talent manager who at one time represented a young Leonardo DiCaprio and who pleaded no contest to a similar felony charge in 2005, is alleged to have sold pictures of boys (often pictured shirtless, in subservient poses) on eBay.
The film also claims that Michael Harrah, a talent manager who sat on SAG-AFTRA's Young Performers Committee, had young boys stay with him in his home and tried to take at least one of them to bed. "[Berg] quoted someone she had apparently talked to, and that information didn't seem to be correct," Harrah tells THR. "It's hard to respond to anything that is so nebulous." Adds a SAG-AFTRA rep, "We have not received complaints nor suggestions of any wrongdoing regarding the former committee member who resigned earlier this year."
Read more Hollywood Sex Abuse Accuser Apparently Seeks to Withdraw Case Against Bryan Singer
An Open Secret originated in 2011, when Berg, 44, who received an Oscar nomination for her 2006 documentary Deliver Us From Evil, which explored sexual abuse in the Catholic Church, was approached by Matthew Valentinas, a Boston entertainment attorney. He and hedge fund manager Alan Hoffman were looking to do something about victims of sexual exploitation, and, after listening to interviews in which actor Corey Feldman talked of encountering abuse, they decided to produce a documentary. "We chose Amy because we didn't want it to be exploitative or tabloid," says Valentinas. "We wanted it to be empowering for the victims."
At first, Berg says, she had no interest in re-entering the dark world of abuse that she had visited in her earlier film. "It's definitely not something I wanted to go back into," she says. "But even many years after the DEN story, what I found really disturbing was the number of convicted pedophiles who are still being hired on set, on kids' shows. These are people who technically should be nowhere near children. That was really upsetting."
Read more Haim Saban Raises $34M to Support Israeli Defense Forces
As she approached the filmmaking challenges involved, Berg discovered a wealth of visual material — 26 boxes worth — belonging to a collector on the East Coast who had bought up all of DEN's video archives. More importantly, she found victims of abuse, now young men, who were willing to go on camera and relate their experiences — and, in some cases, their parents also agreed to take part. The young men described the process of "grooming," by which the predators insinuated themselves into their lives, and they told of the often-difficult aftermath in which a number of them confronted depression, drugs and alcohol.
"They were all struggling with the same thing: trying to move on 10 years after the fact. I think this was healing for many of them," Berg says. "They also felt that there was a threat to other children, and that was another reason they wanted to speak." Valentinas adds, "The narrative really comes from the voices of the victims. The film relies on the courage of the victims coming forward. And for every person who did talk in the film, we talked to two or three who wanted to but couldn't make that jump yet."
Valentinas and Berg insist they didn't hit roadblocks from attorneys representing men named in the film. But when the DOC NYC festival canceled a critics' screening set for Nov. 4 at the producers' request, it raised the question of whether the filmmakers were at odds over the final cut. "There was no disagreement," says Valentinas. "There were a lot of legal complexities involved. We had to be sure we had all the documentation signed. That's what we did, and we're happy it's going to be screening."
Read more Leonardo DiCaprio's Convicted Ex-Money Manager Denies Link to Bryan Singer Case
While he had his fingers crossed, Thom Powers, artistic director of DOC NYC, says, "Certainly some moments were dicey, but I always believed in my heart that it was going to screen, because the whole film team was doing everything they could to make it happen." He adds, "I think it's an important film about an important topic, a topic that has, of course, been in the news this past year. But as many news reports as I've read about this story, the film gave me something that I hadn't had before, which is a depth of emotional understanding of what people involved in this have gone through. Anyone who has seen Amy's film Deliver Us From Evil understands the sensitivity she has around this subject and the depth of commitment she brings to it."
Will a distributor now step forward, or will the film, which cost about $1 million to make, prove too hot for Hollywood, forcing the filmmakers to take the self-distribution route? Several distributors have looked at it, and Valentinas says there is one, which he would not name, that has expressed definite interest. Says another distributor who passed, explaining there wasn't room for it on his release slate: "It's extremely compelling. How explosive it is remains to be seen. But I would not have any issue working on this film and think it would be a very interesting release." Valentinas adds, "I think it's going to come down to how courageous the executives are who look at this film. I think Hollywood is obviously nervous about the film, but I think once it is out there and everyone sees it, I'm sure we'll have a lot of suitors for the film. I'm glad it's premiering in New York, and I'm grateful for Thom Powers for giving us this venue to get the film out there."
Read more Bryan Singer Sex Abuse Case: The Troubling History Behind the Accusations
In conjunction with the film, Valentinas is in the process of setting up a foundation. "The profits from the film are going to the foundation," he says. "We are really hoping that more victims will feel they will have a place where they can come out and share their experience. It will also be a way for people to be more educated about how these pedophiles operate in Hollywood, because it's very specific. The people who are going to Hollywood every year to get into films might be a little more susceptible, and the people who are preying on them have more influence and more power to dangle over them. I hope this film will help the industry to police itself better."
Berg has already plunged into a number of new projects. Her first narrative film, Every Secret Thing, a drama about two young women, played by Dakota Fanning and Danielle Macdonald, convicted of killing a baby, debuted at this year's Tribeca Film Festival. and she is completing a documentary about Janis Joplin. But she's looking for more than just applause when An Open Secret finally screens. Say the director, "The goal is having public exposure that helps clean up the industry."
No Free speech in Hollywood. McCarthy would be proud!
This story first appeared in the Aug. 15 issue of The Hollywood Reporter  magazine.
When the latest battle in Gaza finally is over, as someday it will be, hard feelings could linger in the corner offices of Hollywood toward the stars who have voiced anti-Israel sentiments. But will the artists who criticize Israel military strikes — particularly married Spaniards Javier Bardem and Penelope Cruz, who accused the country of "genocide" in a widely circulated July 25 letter — suffer career backlash in a town whose power brokers tend to be strong supporters of Israel?
So far, Relativity Media CEO Ryan Kavanaugh is the only studio head willing to go public with his disgust. "As the grandson of Holocaust survivors, I know that anyone calling what's going on in Israel 'genocide' vs. self-defense is either ignorant and shouldn't be commenting or is truly anti-Semitic," Kavanaugh told THR on Aug. 2, saying the Spanish letter, signed by 100 filmmakers including Pedro Almodovar, "makes my blood boil." Kavanaugh says he received more than 500 calls, emails and texts of support in the 24 hours after his comments were published, including from high-ranking industry executives, suggesting the sentiment is widespread.
PHOTOS Politicians (and First Ladies) Who Have Guest-Starred on TV Shows
Indeed, though they decline to go on record, many top execs contacted by THR privately express similar feelings — one says he's "furious at Javier and Penelope" — and questioned whether they would want to work with the couple again. The stars' letter laid the blame for the conflict on Israel, which it said "keeps advancing on Palestinian territories instead of withdrawing to the 1967 borders." The actors' follow-up attempts to clarify their open letter and express support for the Jewish people were met with "a collective eye roll," according to one top exec. Some, like Kavanaugh, are taking the Israel statements personally. With the reports of Hamas' sophisticated tunnel network and its 3,000 missile attacks against Israeli citizens in 2014, many are convinced that the current crisis underscores a threat to the Jewish state itself. (Kelly Bush, a rep for Bardem, and Amanda Silverman, who reps Cruz, declined comment.)
Among Hollywood figures, the typically outspoken Howard Stern, Joan Rivers and Bill Maherhave expressed support for Israel in the conflict, which has killed more than 1,800 people, mostly Palestinians. And Ray Donovan actor Jon Voight penned an open letter Aug. 2 demanding that Cruz, 40, and Bardem, 45, "hang your heads in shame." Wrote Voight: "I am asking all my peers who signed that poison letter against Israel to examine their motives. Can you take back the fire of anti-Semitism that is raging all over the world now?"
PHOTOS Hillary Clinton's 2016 Supporters in Hollywood
But for the most part, Hollywood's power brokers — including those who have raised money for pro-Israel causes, such as Barbra Streisand, Jeffrey Katzenberg and Steven Spielberg — have avoided public comments on the conflict. Nor has there been criticism of other industry figures, including Jon Stewart, director Jonathan Demme and Mark Ruffalo, who have voiced nuanced concerns about Israel's military action in Gaza while supporting the nation in general. "I don't know why more prominent Hollywood people don't speak out about what's going on there," Stern said on his radio show July 28. "They're all afraid." Hollywood political donor Haim Saban, one of the industry's biggest Israel supporters, echoed those sentiments. "I don't understand this myself," Saban told theJewish Journal on Aug. 1. "But starting today, I will be working the phones to enlist the vocal support of people who I know have an interest in supporting our staunchest ally in the region — which also happens to be the only democracy in the region."
STORY Jon Voight Pens Letter to 'Ignorant' Javier Bardem, Penelope Cruz on Israel: 'Hang Your Heads in Shame'
Despite his strongly worded letter, Voight says he doesn't think Cruz and Bardem — who are currently in South Africa as Bardem shoots Sean Penn's The Last Face — should suffer career fallout. "Don't try to create a blacklist," says Voight. "That doesn't help you." And one industry executive says he doesn't believe the Israel comments reach the "Mel Gibson threshold." When the actor was caught making virulent anti-Semitic remarks in 2010, he was marginalized and eventually dropped by agency WME (which reps Bardem, ironically) and faced widespread backlash.
In fact, many throughout Hollywood believe the careers of celebrities — those such as Rihanna, who tweeted "#FreePalestine," or Piers Morgan, who tweeted "A WAR CRIME" in reaction to a news report of Palestinian children killed in an air strike — are unlikely to be impacted solely by political views that many executives oppose. During her best supporting actress acceptance speech at the 1977 Oscars, Vanessa Redgrave called out "a small bunch of Zionist hoodlums whose behavior is an insult to the stature of Jews all over the world" and was booed. Nonetheless, Redgrave continued to work in major studio films.
PHOTOS The Top Celebrity Political Twitter Commentators
One top producer who has worked with Cruz says he privately has vowed not to hire her again. Still, even Kavanaugh doesn't foresee the letter hurting either of their careers as long as the audience for their work doesn't turn. Or, as another producer points out: "I think the thing any executive or producer will try to calculate before working with Penelope Cruz or Javier Bardem in the near future is what their value is in the all-important international marketplace. And what territories they might have alienated people in by what they said. It might not be that many. But it's really all about business."
Remnants of the "rEVOLution" …. Still having an effect!

Krist Novoselic is best known as the co-founder and bassist of Nirvana, one of the most influential music groups of the past quarter century. The release of the band's albums Bleach, Nevermind, and In Utero in the late 1980s and early '90s not only mainstreamed what became known as grunge but helped to forever end what was once known as the mainstream. After Nirvana, it seems there is only alternative music and alternative culture, a transformation that is both liberating and anxiety-producing.
Born in 1965 in Compton, California, but raised in Aberdeen, Washington, Novoselic (pronounced know-voe-selitch) embodies the forces Nirvana helped to unleash. Since the 1994 suicide of band leader Kurt Cobain, Novoselic has continued to play with various groups, including a stint with the legendary post-punk band Flipper and sporadic collaborations with former Nirvana bandmate Dave Grohl of the Foo Fighters. But the bass player is also pushing to create an alternative approach to electoral politics.
In 2004, Novoselic published Of Grunge and Government: Let's Fix This Broken Democracy, and these days he's chairman of FairVote, a nonprofit that lobbies for electoral reform such as instant runoffs and proportional voting. After serving as chairman of his county Democratic committee for several years and supporting Barack Obama early on, he has broken with the Democratic Party, in part because "it's a top-down structure" impervious to change from the grassroots.
Like Nirvana's music, Novoselic's politics cannot be easily categorized: He has donated money to Ron Paul's campaign and he speaks in favor of the liberal-loathed Citizens United Supreme Court decision, which ended limits on non-coordinated political spending by corporations in federal elections. He's active in his local chapter of the fraternal farmer's organization, the National Grange of the Order of Patrons of Husbandry, proving you can go from grunge to Grange.
Novoselic recently sat down with Reason TV's Nick Gillespie to discuss FairVote (4:18), gerrymandering (8:34), how he self-describes politically (11:30), the Grange (12:23), decentralization in the punk rock world (14:43), his issues with Democrats (20:00), why Republicans should embrace anarchy (22:08), why he fled the anti-World Trade Organization demonstration in Seattle (27:51), living in Colorado in 1980 (30:33), the early days of Nirvana (34:32), playing Germany just days after the Berlin Wall fell (37:46), Kurt Cobain as an individual vs. as an icon (43:20), drug legalization (45:57), going to college online (47:50), why he owns guns (51:31), his musical guilty pleasure (55:34), and more.
Interview by Gillespie; produced by Meredith Bragg. About one hour.
Scroll down for downloadable versions and subscribe to Reason TV's YouTube channel for automatic notification when new material goes live.
Standard Podcast
[ 1:59:44 | 54.81 MB ]
Play Now
|
Play in Popup
|
Download
(1497)
Paul Topete is the Singer, Guitarist, for the BAND Pokerface.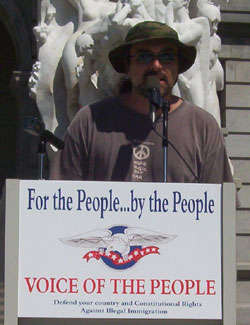 Paul talks about working with Alice N Chains Producer Toby Wright for the NEW Poker Face CD, and sets the stage for his yearly festival in PA – Freedom-Palooza July 4th – 7th.
(Caravan IN for this folks… Come out and meet Jack and Friends for a righteous camp out!)
Jack and Paul also discuss free speech in America, News Du Jour, and tell the truth about certain gate keepers in the American Patriot Movement.
Poker Face has been teaching through their music for the last 20 years. SUPPORT THEM! GET THEIR MERCH!
FREEDOM-PALOOZA 2014 INFO HERE AND here
Paul's FB here
Hey – At least he invented something…. (unlike Jay Z who is no doubt Jealous right now)
Dr. Dre leapfrogged Jay Z in FORBES' latest rankings of hip-hop's richest artists, claiming the number two position as his net worth soared to an estimated $550 million. Now it looks like the Beats cofounder could lay claim to the top spot in a matter of days.
Late Thursday night, the Financial Times reported that Apple AAPL -1.09% was in talks to buy Beats for $3.2 billion; the deal would be the computer giant's largest acquisition ever. Dre's stake in Beats currently stands at somewhere around 20-25%; we valued the company at $2 billion in our latest round of estimates.
A sale for $3.2 billion would nearly double the value of Dre's holdings, though capital gains taxes could take a bite out of his big payday, likely leaving him with a net worth in the neighborhood of $800 million. It's not quite enough to land on the Forbes 400, but it would easily make him hip-hop's richest man, topping current champion Diddy by $100 million.
"Beats has a unique brand—it speaks to a nice young demographic, which is really interesting to marketers," said Peter Csathy, former president of Musicmatch, an early digital music purveyor acquired by Yahoo YHOO -0.83% in 2004 for $160 million. "When I think about Beats, I think about it as a lifestyle, I think of it as a media company, not just a hardware and music-focused company."
The value of that brand would also make a handful of other wealthy entrepreneurs even wealthier if the Apple deal goes through. Beats recently raised $60 million in funding from current investors including Dre, cofounder Jimmy Iovine and billionaire Len Blavatnik, via his company Access Industries.
A sale would also nix the possibility of a Beats IPO, which some speculated could be in the offing after the company hired chief financial officer An De Vooght, who spent 16 years in a similar role at Red Bull after stints at Sony and Price Waterhouse, in March.
Apple's Beats buyout is still not official, and could certainly fall through. In the meantime, though, Dre appears set to break new ground in the business of music yet again.
Roger Waters, speaking on behalf of the Russell Tribunal, delivers a very nicely put speech in front of delegates on International Day of Solidarity with the Palestinian People. This day also marks an important development in the Palestinians' bid to statehood as they are now recognized as a non-member observer state.
Hopefully the world sees both sides of the story and that both conflicting parties go into negotiations towards a two-state peaceful solution and put an end this long and dragged out conflict. Enough is enough!
Standard Podcast
[ 57:13 | 26.19 MB ]
Play Now
|
Play in Popup
|
Download
(2311)
Tom 5 (Tom Guay) is a friend of the show. After months of Prodding… We finally got him on air. The catalyst?
April 19 th!
Tom 5 shares some pretty cool Rock n Roll stories, Goes deep into the Matrix with passion, and historical perspective….Over all – Kicks ass!
………………All the while getting his Motorcycle repaired for an all out ride at the Laughlin NV bike rally.
SIGHTS:
Also:
 Ratmouth, Drowning of the Colossus – Manic-Holy, Bugs Gotta Eat Something – Cold Wind, Clones, Never Had a Clue Triple T- Funko Punko, Lady Sasquatch.
The vinyl of the White Zombie EP (Psycho-Head Blowout) was released on White Zombie's own label Silent Explosion and limited to a pressing of one thousand copies.
Allmusic writer Bradley Torreano gave the album three out of five stars, saying, "young Rob Zombie sounded like Damaged-era Rollins, while the band crafted some of the gnarliest grunge on the East Coast" and that "any fans of the New York noise scene would do themselves a favor by hearing this album".
Kurt Cobain pointed to this record as being one of his favorite EPs, praising Tom Guay's (TOM 5) guitar playing style as being "fucked-up, bending strings, borderline in-tune–that type of chaos".
Figures…. Our big ally in the Mid East. If you are an artist – and want to take the big payoff to play in UAE – be prepared to bow sober.
DUBAI, United Arab Emirates (AP) – Newspapers in the United Arab Emirates are reporting that the American drummer for the rock band Scorpions has been sentenced to one month in jail after being convicted of offensive behavior in Dubai.
The government-backed National newspaper reported Tuesday that James Kottak was convicted of insulting Islam, raising his middle finger and being under the influence of alcohol while in transit at Dubai airport.
The Gulf News daily says he was arrested April 3 en route from Russia to Bahrain, where the German band was scheduled to perform at a Formula One race. Kottak was a no-show at the April 5 concert.
The newspapers say Kottak admitted to drinking but denied other charges.
The Scorpions' manager didn't respond to requests for comment. Kottak's local lawyer couldn't immediately be reached.