Tsarnaev Carjacking Victim's Escape Video a Microcosm of Why a Closer Look Is Warranted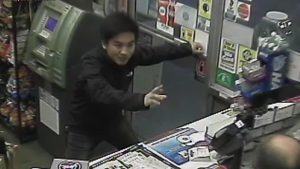 The video of Dun "Danny" Meng's escape is a perfect microcosm of what is frustrating about the Boston bombing trial: It features cherry-picked evidence by the prosecution, inconsistencies with information that has been uncovered pre-trial and a defense that is solely interested in trying to avoid the death penalty for Dzhokhar Tsarnaev.

As a result, the video ends up raising as many questions as it is supposed to answer and these questions are not being asked. What the jury saw is Meng's daring escape from his SUV at a gas station in Cambridge.
It is reasonable to assume that the video's main purpose is to show, indisputably, that the prosecution's version of events happened exactly as they say it did.
They should even be given some license for attempting to dramatize things a little, as long as that first condition is met as much as possible.
However, what is represented in the video does not necessarily jibe with what the prosecution says happened.
The editing choices that were made have unnecessarily obscured and confused key details about just exactly how Meng's escape played out (for a detailed discussion of the carjacking victim's conflicting accounts of how he escaped, see here and here).
Thanks to this video, we can add another question to the list of confusion: Who was sitting where in the SUV?
***
Officially, by the time the Mercedes SUV can be seen pulling into the Shell station on the video in question, Tamerlan was driving, Danny was in the passenger seat, and Dzhokhar was sitting in the backseat.
In the video, we see the SUV pull up to one of the gas pumps and stop. Strangely, we see Dzhokhar emerge from behind the gas pump, obscuring the front passenger door before he makes his way into the store.
Strange because we were told he was sitting in the backseat. Yet we don't see Dzhokhar get out of the rear door. Neither do we see him walk from the other side of the SUV.
Did they edit that out? Why?
Or did he climb over the carjacking victim's lap to exit the front passenger door?
It's of course possible that editing was done for the sake of time constraints, but if that's the case, then why so much video of Dzhokhar wandering around the convenient store scratching his chin. Why not edit some of that out?
And why all the "cut to" scene editing? Again, it certainly adds to the drama, but it doesn't give us an accurate portrayal of the most critical events and how they happened relative to time.
Why not let us see the camera trained on the SUV, for the entire time, so that we can see the whole sequence of events from one angle, uninterrupted? That particular portion could have been shown after all the cut and spliced scene changes.
And what happened to the timestamp? Was that edited out?
READ THE REST AT: WHO WHAT WHY
If its all a "HOAX" … why take a chance of legal discovery by suing?
Families of nine Sandy Hook victims sue estate of Adam Lanza's mother | 16 March 2015 | The families of nine people killed in the Newtown elementary school shooting have filed lawsuits against the estate of the [alleged] gunman's mother. The lawsuits allege that Nancy Lanza incorrectly secured her legally owned Bushmaster AR-15 rifle, which her troubled adult son, Adam Lanza, [allegedly] used to kill 20 children and six educators at Sandy Hook Elementary School in December 2012, the Connecticut Post reported Friday. The lawsuits seek to collect on Nancy Lanza's homeowner's insurance, the Connecticut Post reported.
The US State Department has been sued over its concealment of around 700 transcripts of former Secretary of State Henry Kissinger's phone conversations in the 1970s. The suit stems from an outstanding Freedom of Information request filed in 2001.
The National Security Archive filed suit on Wednesday, calling for the prompt declassification and processing of the 700 or so remaining telephone conversation (telcon) transcripts of Kissinger's official State Dept. business from 1973 to 1977, detailing foreign relations when he was the top diplomat for Presidents Richard Nixon and Gerald Ford.
"Notwithstanding the fact that plaintiff submitted its initial FOIA request for the Kissinger telcons more than thirteen years ago, to date, defendant State has not fully responded to plaintiff's FOIA requests and appeals, in which well over 600 Kissinger telephone conversation transcripts are at issue," according to the complaint, filed in US District Court in Washington.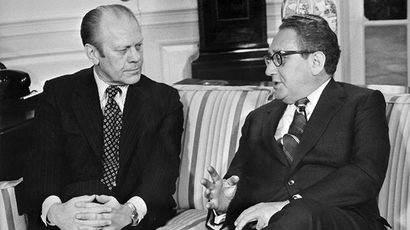 The era of American foreign policy in question included the CIA-fueled coup in Chile that brought Augusto Pinochet to power, the US blessing of Indonesian president Suharto's bloody invasion of East Timor, and the waning years of America's vast war in Indochina, not to mention domestic events such as the fallout from the Watergate scandal and President Nixon's subsequent resignation. Nixon was granted a presidential pardon by his predecessor, Ford, one month after stepping down.
The Kissinger-records flap comes amid a new controversy surrounding another former secretary of State, Hillary Clinton, President Barack Obama's original top diplomat who, according to reports, ran electronic correspondence through a personal email account administered from her family home while she served in the State Dept.
"There's a long track record of secretaries of state having real problems keeping records available for posterity," Tom Blanton, executive director of the National Security Archive, told Politico.
With its 2001 legal complaint based on the Federal Records Act, the National Security Archive, an organization that collects declassified government records, successfully compelled the State Dept. to advise Kissinger to release telcons and other records he had claimed as his own, removing them from his offices upon leaving his post as secretary of state. He had subsequently deposited them at the Library of Congress, seeking to shield them from disclosure.
READ MORE: Kissinger warns of West's 'fatal mistake' that may lead to new Cold War
Upon Kissinger's relent, the Archive then published 15,502 of those conversations in the Digital National Security Archive series.
Yet, beginning in 2007, the State Dept. withheld the 700 or so remaining telcons, stating they were "pre-decisional" or exempt from disclosure based on executive privilege, claims that by law cannot hold up after 40 years. Those exceptions were challenged by the Archive in an appeal filed in July 2007.
"The Archive's formal appeal of the withholding, along with repeated queries by the Archive to State and the White House Counsel's Office about the status of the telcons, have been met only with years of delay, thus making the lawsuit necessary," the organization said Wednesday.
Republican Sen. Rand Paul of Kentucky, and likely 2016 presidential candidate, joined Democratic Sens. Cory Booker and Kirsten Gillibrand to end the federal ban on medical marijuana, now legalized in 23 states.
The three senators issued a statement saying the bill would "allow patients, doctors and businesses in states that have already passed medical-marijuana laws to participate in those programs without fear of federal prosecution," Time reported.
Mr. Paul has spoken out about marijuana users in the past saying they should not be placed in jail, Reuters said.
He also said former Florida Gov. Jeb Bush, and a likely opponent for the 2016 Republican nomination, showed hypocrisy for his opposition to medical marijuana in Florida, yet admitted to using pot in college.
Mr. Bush, Sen. Marco Rubio, Gov. Rick Perry and Sen. Ted Cruz, all mentioned as possible 2016 presidential hopefuls, have said they believe states have the right to make their own marijuana laws.
Roughly 46 percent of Americans support legalizing marijuana, although most Republicans oppose legalization, a Reuters/Ipsos poll said.
More here
Last week's opening arguments in the Boston marathon bombing trial immediately veered away from facts and toward influencing the jury's willingness to impose the death penalty. That's even before any conviction had been secured.
The focus is already on the sentencing phase, when jurors will have to decide if Dzhokhar Tsarnaev merits the death penalty for his admitted role in the bombing. But while the defense's calculated opening argument admission—"It was him"—garnered headlines, the prosecution likewise labored to construct a subjective, sentence-focused narrative for the jury.
In search of as many aggravating aspects as possible, Assistant U.S. Attorney William Weinreb sought to make Tsarnaev culpable for both his brother Tamerlan's death in Watertown, and a nearly-fatal gunshot wound to a pursuing police officer. Yet those are very loaded interpretations of what happened that night.
In the courtroom, Weinreb told the jury that following a firefight with police, Tsarnaev killed his brother by running him over while trying to run down police officers: "The defendant ran right over his brother and dragged his body about 50 feet down the street."
But Watertown police officers on the scene said that Tamerlan was very much alive after being struck. "He was conscious. He was moaning and still moving," one officer said in July, 2013.
Indeed, Tamerlan's death certificate notes that he suffered multiple gunshot wounds before being struck and does not specify the vehicular injuries as the cause of death.
Making Friendly Fire Unfriendly
In addition, Weinreb sought to blame Tsarnaev for the wounding of transit police officer Richard Donohue, who nearly bled to death after taking a bullet in the thigh. Weinreb told the jury this was a "stray bullet," glossing over the fact it was fired by a fellow law enforcement officer in the hail of gunfire that failed to stop Tsarnaev's temporary escape that night.
Shading the evidence to bolster one's case is the essence of any criminal trial. But jumping to such advocacy so quickly in what is normally a simple narrative of the case highlights the unusual aspect of this trial.
It is not about guilt or innocence, much less what actually transpired, but is solely concerned with the sentencing phase and its balancing of mitigating and aggravating circumstances.
The goal, for the prosecution, is to convince the jury to apply the death penalty. For the defense, it is to portray Tsarnaev as a victim of his big brother's radicalism and not a willful, malicious agent of mayhem.
As such, jurors looking for objective facts in the courtroom may be disappointed.
READ MORE at Who What Why
Vaccine – Not Ebola – Made Doctor Sick, Study Finds
| 5 Mar 2015 | Just 12 hours after he got an experimental Ebola vaccine, and just two days after he stuck himself with a needle while caring for Ebola patients in September, Dr. Lewis Rubinson started getting sick. By then, Rubinson was aboard a jet, being evacuated from Sierra Leone to the United States. He wasn't sure if he was infected with Ebola or if the vaccine was causing a reaction. He was en route to strict isolation at the National Institutes of Health outside Washington D.C. Months later, it's fairly clear the vaccine caused the reaction…"The patient developed malaise, nausea and fever 12 hours after the vaccination while on the transport jet," Dr. Mark Mulligan of Emory University and colleagues
wrote in a study
published in the Journal of the American Medical Association Thursday. 
Number of the day: This year's flu vaccine 18% effective
Article below is full of Propaganda and disinfo, BUT we post it to show what WE can do when we join forces…And in fact our counter to the Pharma fear tactics is gaining momentum!
A wide majority of pediatricians and family physicians acquiesce to parents who wish to delay vaccinating their children, even though the doctors feel these decisions put children at risk for measles, whooping cough and other ailments, a new survey has found.
Physicians who reluctantly agreed said they did so to build trust with families and to avoid losing them as patients.
The survey, published Monday in the journal Pediatrics, asked a nationally representative sample of 534 primary care physicians in 2012 how often parents in their practices postponed one or more vaccinations for children younger than age 2.
The Centers for Disease Control and Prevention advises that children be vaccinated for 14 diseases before age 6 on a schedule, which entails roughly 29 shots, sometimes several at once.
Ninety-three percent of doctors reported that in any given month, they had been asked at least once to delay vaccines. A fifth said more than 10 percent of parents in their practices had asked them to delay vaccines.
One-third of doctors said they acquiesced "often" or "always"; another third gave in only "sometimes."
Such deference is in keeping with today's doctoring style, which values patients as partners, said Dr. Paul A. Offit, a pediatrician specializing in infectious diseases at the Children's Hospital of Philadelphia, who was not involved in the study.
"At some level, you're ceding your expertise, and you want the patient to participate and make the decision," he said. The downside is that "you have to be willing to stand back and watch them make a bad one."
Too many doctors compromise on vaccines, instead of mounting a passionate plea, Dr. Offit said.
"It is sad that we are willing to let children walk out of our offices vulnerable to potentially fatal infections," he said. "There's a fatigue here, and there's a kind of learned helplessness."
Part of the problem is the lack of a proven strategy to guide physicians in counseling parents.
"Unfortunately, we don't have a solid evidence base in terms of how to communicate to patients about vaccines," said Saad Omer, an epidemiologist at Emory University. "A lot of approaches are wisdom-based, not evidence-based."
Dr. Omer said that he did not sanction the use of alternative vaccine schedules, but that he understood why primary care physicians keep treating these patients — just as doctors do not kick smokers out of their practices when they fail to quit.
"Physicians recognize it's not ideal, but they're saying, 'Let's continue this relationship' to the family," he said.
The American Academy of Pediatrics advises doctors to keep skeptics in the fold, lest the doctors lose the opportunity to educate, cajole or persuade them.
Physicians in the survey reported trying various strategies, like telling skeptical parents that they had immunized their own children, or warning them that outbreaks will continue if too few people are fully vaccinated.
A disproportionate amount of time is spent discussing vaccines during doctor visits, the survey also found. For hesitant parents, counseling can take 10 to 14 minutes or longer — more than half of the average 18-minute visit.
Guidance on safe sleep or toilet training is being crowded out, the study authors said. Forty percent of the doctors reported that dealing with changes to vaccine schedules had decreased their job satisfaction.
In late February, Dr. Nivedita More, a pediatrician in Rancho Santa Margarita, Calif., sent letters ending her relationship to parents who refused all vaccinations.
"If they aren't getting their act together to even start the process, I'll discharge them within 30 days," said Dr. More, a board member of the Orange County chapter of the pediatrics academy.
By contrast, her stance on vaccine delays is much more flexible. "I do allow that most times," she said. "The reason is, ultimately they will get vaccinated."
Many of those parents are simply hoping to limit the number of shots their children receive at once, she added, and are willing to accept combination vaccines.
But "the people who didn't want to vaccinate at all — I had a really hard time converting them," she said. "They are never going to change."
In the midst of the current measles outbreak, which began nearby at Disney parks, Dr. More said she also felt the need to safeguard vulnerable patients in her waiting room from unvaccinated patients. Infants in particular do not get their first measles-mumps-rubella shot until age 1.
Dr. Allison Kempe, the study's lead author and a pediatrician at Children's Hospital Colorado, thinks the time has come to acknowledge that the idea that "vaccine education can be handled in a brief wellness visit is untenable."
Dr. Omer said doctors should be paid separately for vaccine counseling in cases where a "substantial proportion of time is being spent on vaccines."
In addition to compensation, Dr. Kempe said, vaccine counseling should begin during a woman's pregnancy, and pro-vaccine parents — perhaps even celebrities — should star in marketing campaigns to help "reinforce vaccination as a social norm."
ALSO:
Was watching C-Span Sunday AM …. 65% in favor of WAR with Imitation enemy? DOOM!
GOP…. Obama soft on War? MSM view below
On U.S. policy toward terrorists in Syria dubbed ISIS, President Obama is being handed rare American support for a military attack against the terrorists, according to a new poll.
In its latest survey, YouGov.com finds that the nation has done a 180 in just a year, and now supports military action by nearly four to one.
Some 63 percent of Americans back a Pentagon strike against the terrorists to 16 percent who don't. A year ago, those numbers were reversed when Americans were asked about striking Syrian troops commanded by President Bashar Assad, with 60 percent opposing military action and 20 percent supporting it.
The flip-flop comes as television news is filled with stories of horrific murders of those captured by ISIS, and reports of American airstrikes against the militants.
It also comes as Obama fights with his national security team and Hill Democrats calling for action. Sen. Dianne Feinstein, the California Democrat who heads the Senate Intelligence Committee, today backed military action while on "Meet the Press."
The YouGov poll revealed a rare change of heart for Americans, many war-weary with the U.S. actions in Iraq and Afghanistan.
What's more, the support for military action was spread among political opposites. Some 60 percent of Democrats, 60 percent of independents and 76 percent of Republicans support military action against the terrorists.
Said the poll analysis:
The latest research from YouGov shows that attitudes towards the use of military force in Syria have changed significantly over the past year. In September 2013, when a deal to disarm Syria's chemical weapons was agreed, 62% of Americans opposed the use of military force while only 20% supported it. Today when asked whether they support the use of military force against ISIS militants in Syria, the situation is reversed. 63% of Americans now support the use of military force in Syria, compared to only 16% who oppose it…
Support for military action has increased significantly despite the fact that expectations of deeper US involvement remain the same. In research conducted at the beginning of September 2013 when the US was considering launching air strikes against Syria, 45% of Americans said that strikes would be the first step towards having US troops in Syria. 31% expected any potential campaign to be limited to air strikes. Today Americans still tend to expect any air strikes in Syria to lead to a US military presence, with 40% saying it would be a first step and 31% saying that action would be limited to air strikes.
The BATFE is now about to prohibit ammunition for AR-15 rifles.
The fact that a new gun ban is being threatened is really the secondary story. The real story is that a government organization has the power to simply end practical gun ownership (by eliminating the ammunition) in this nation. The Second Amendment prohibits Congress from infringing on the right to bear arms, but the BATFE thinks they have the authority to do it!
According to the Daily Caller: "BATFE to Ban Common AR-15 Ammo."
In a move clearly intended by the Obama Administration to suppress the acquisition, ownership and use of AR-15s and other .223 caliber general purpose rifles, the Bureau of Alcohol, Tobacco, Firearms and Explosives unexpectedly announced today that it intends to ban commonplace M855 ball ammunition as "armor piercing ammunition." The decision continues Obama's use of his executive authority to impose gun control restrictions and bypass Congress.
It isn't even the third week of February, and the BATFE has already taken three major executive actions on gun control. First, it was a major change to what activities constitute regulated "manufacturing" of firearms. Next, BATFE reversed a less than year old position on firing a shouldered "pistol." Now, BATFE has released a "Framework for Determining Whether Certain Projectiles are 'Primarily Intended for Sporting Purposes' Within the Meaning of 18 U.S.C. 921(a)(17)(c)", which would eliminate M855's exemption to the armor piercing ammunition prohibition and make future exemptions nearly impossible.
So it seems that we are finally seeing the Obama Administration make good on a promise made by Eric Holder of a "strong and robust" BATFE. I would think that running guns to a Mexican drug cartel and getting away with it would be too robust, but that's not how the White House views the agency.
If you needed evidence that Barack Obama is doubling down on his agenda even after losing the Senate, here it is.
Read more at Political Outcast
February 12, 2015 by Joanne Potter via WHO WHAT WHY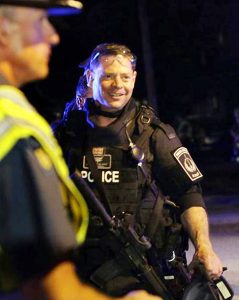 The story of the Boston Marathon Bombing is rife with contradictions, canards, misconceptions and blatant untruths. Boston Wronged is part of WhoWhatWhy's attempt to set the record straight. This is an occasional series of articles debunking the faulty stories and "facts" which persist, despite evidence to the contrary.
***
Want to see the made-for-TV movie about the capture of Boston Marathon Bombing suspect Dzhokhar Tsarnaev? No problem. Want that movie to be factually correct? Good luck.
A TV company founded by a retired Boston police officer is producing the story of the SWAT team credited with "slapping the cuffs" on Tsarnaev. Wren Productions is working with the SWAT team commander, Revere, Mass., police chief Joseph Cafarelli, to produce the "only official true life story" of the Tsarnaev takedown.
That's the second collaboration between former Boston officer Rick Rizzo, who founded Wren Productions, and Cafarelli. Their first project? "Taking Down Tsarnaev", an article published in Police Magazine on April 3, 2014.
But there's just one problem.
The piece contained several inaccuracies. One stands out in particular: the erroneous claim that Cafarelli and his North Metro SWAT team arrived at the boat moments after Tsarnaev began shooting at police on scene on April 20, 2013:
"Minutes later police were on the scene, and they were engaging Tsarnaev in a gunfight. More than 40 shots were fired," the article says.
Wait a second: engaged in a firefight with Tsarnaev? He was unarmed when he was found hiding in a dry-docked boat in a Watertown backyard, severely wounded. That's roughly 16 hours after he fled a shootout in which police shot and killed his elder brother, Tamerlan. 26.
Early reports suggesting Tsarnaev may have fired shots from the boat were refuted within days of his capture, but "Taking Down Tsarnaev" perpetuated the myth more than a year later.
The article also said the Tsarnaev brothers shot Massachusetts Bay Transportation Authority Officer Richard Donahue, who was in fact wounded by friendly fire during the Watertown shootout.
Wren Productions says Rick Rizzo's law enforcement background ensures his programs contain "added punch, true reality and honesty." Perhaps it will have the same kind of accuracy as the made-for-TV re-enactment of the bombing that prospective jurors in Tsarnaev's trial have confused with being the real thing.
But given the veracity of Rizzo's first story about the shootout, will the video sequel be more Hollywood fantasy than fact?
MORE:
Are Loose Lips Sinking Accused Boston Bomber's Right to a Fair Trial? May 15, 2014In "Boston Bombing Investigation"
A Don Quixote Defense: Latest from the Boston Marathon Bombing Trial January 29, 2015In "Boston Bombing Investigation"
WGBH-TV in Boston interviews Russ Baker on "Danny" March 24, 2014In "Boston Bombing Investigation"
Will the Boston Marathon Bombing's Original 'Star' Witness Testify?
Boston Marathon Bombing Suspect's Alleged Boat Confession May Not Float