Via Ben Swann
Glendora, CA – Citrus Community College is one of many universities in the nation that contains a "Free Speech Area." This area is a designated space on campus; where students can set up booths, hand out pamphlets, and host speeches concerning the things they are passionate about.
While expressing one's views may be encouraged inside a "Free Speech Area," it is not welcomed in the same way in other areas around campus. Vincenzo Sinapi-Riddle learned this lesson the hard way last year, when he started a petition against the National Security Agency's spying program. According to Sinapi-Riddle, he was approached by an administrator, who warned him that he was outside of the designated zone and could be removed from campus.
"It was shocking to me that there could be so much hostility about me talking to another student peacefully about government spying," Sinapi-Riddle told the Los Angeles Times. "My vision of college was to express what I think."
Sinapi-Riddle recently filed a lawsuit against the Citrus Community College District, with the intent to eliminate speech codes and any other policies that limit expression on campus. His lawsuit is sponsored by the Foundation for Individual Rights in Education, a group that promotes free speech and due process rights at colleges and universities.
In addition to contesting the concept of the "Free Speech Area," Sinapi-Riddle is also challenging the school's anti-harassment policy, calling it "overly broad." He added that although Citrus College eliminated all free speech zones after being sued in 2004, last year it "readopted in essence the unconstitutional policy it abandoned."
Sinapi-Riddle has the support of the First Amendment Center's President, and Middle Tennessee State University's Dean, Ken Paulson, who called the legal movement "right on the money and long overdue."
"Universities are scared of people who demand censorship – they're afraid of lawsuits and PR problems," said Robert Shibley, the Senior Vice President of the Foundation for Individual Rights in Education. "Unfortunately, they are more worried about that than about ignoring their First Amendment responsibilities."
Past reports include the addition of "Water Police"
(NaturalNews) As the water shortage crisis in California rises to a boil, desperate farmers are coming forward to bid on the remaining steam. The Central Valley in California is indeed drying up, but private landowners who still have leftover water reserves on their property are now looking to cash in.

A California water rush is on, as water is being auctioned for millions and aquifers are depleted.
According to state records, two water districts in California are beginning to auction off their private supplies of water. The two landowners in charge have reportedly made millions off their water stashes. The Buena Vista Water Storage District has already raked in about $13.5
million from the auction of 12,000 acre-feet of water this year.
Upon hearing the news, at least 40 other land owners have begun to prepare for a massive sell-off of their surplus water storage. Drilling for water has become more important than drilling for oil, as water banks are drained at an alarming rate.
The demand for California water is at an all-time high. In the past five years, the price of water has spiked tenfold. An acre-foot of water can now go for $2,200 in drought-stricken regions. As the aquifers are depleted to the highest bidder, it's only a matter of time before the less fortunate are put at the mercy of those who have a hand on the water tap.
Some are calling on new state regulations to ensure that the water distribution remains transparent. "If you have a really scarce natural resource that the state's economy depends on, it would be nice to have it run efficiently and transparently," said Richard Howitt, professor emeritus at the University of California, Davis.
Others believe that the free market is more capable of controlling the price of the important natural resource. "We think that buyers and sellers can negotiate their own deals better than the state," said Nancy Quan, a supervising engineer with the California Department of Water Resources
California water rush is on, extracted like gold from underwater caverns
Those auctioning off the high-demand water are private firms who hold claims on the underground commodity that date back a century. Underground caverns known as "water banks," where individuals store extra water for later use, are now being emptied as if water has become the new gold or oil.
"This year the market is unbelievable," said Thomas Greci, the general manager of the Madera Irrigation District, which recently made nearly $7 million from selling about 3,200 acre-feet. "And this is a way to pay our bills."
The water is quickly being bought up by the city of Santa Barbara, which has been struck hard by the water shortages. Other top bidders include almond farmers desperately needing some H2O for their crops.
Underground water banks aren't the only sources being extracted from. A water district northwest of Bakersfield, California, announced that it would sell off water from the Kern River. The district claims its right to the river due to a century-old right-to-use law.
The U.S. Bureau of Reclamation and the State Water Resources Control Board have documented at least 38 separate sales this year. The agency has set the maximum volume that can be sold, 730,323 acre-feet. This amount is about one-fourth of what the State Water Project has delivered to farms in previous years. There's obviously a more desperate demand than ever before.
Anthea Hansen, general manager of the arid Del Puerto Water District, estimates that farmers will realistically pay on average $775 to $980 for an acre-foot of water in the year ahead.
Sources for this article include:
http://science.naturalnews.com
A government scientist cleaning out an old storage room at a research center near Washington made a startling discovery last week — decades-old vials of smallpox packed away and forgotten in a cardboard box.
The six glass vials of freeze-dried virus were intact and sealed with melted glass, and the virus might have been dead, officials at the Centers for Disease Control and Prevention said Tuesday.
Still, the find was disturbing because for decades after smallpox was declared eradicated in the 1980s, world health authorities believed the only samples left were safely stored in super-secure laboratories in Atlanta and in Russia.
Officials said this is the first time in the U.S. that unaccounted-for smallpox has been discovered.
It was the second recent incident in which a government health agency appeared to have mishandled a highly dangerous germ. Last month, a laboratory safety lapse at the CDC in Atlanta led the agency to give scores of employees antibiotics as a precaution against anthrax.
The smallpox virus samples were found in a building at the National Institutes of Health in Bethesda, Maryland, that has been used by the Food and Drug Administration since 1972, according to the CDC.
The scientist was cleaning out a cold room between two laboratories on July 1 when he made the discovery, FDA officials said.
Officials said labeling indicated the smallpox had been put in the vials in the 1950s. But they said it's not clear how long the vials had been in the building, which did not open until the 1960s.
No one has been infected, and no smallpox contamination was found in the building.
Smallpox can be deadly even after it is freeze-dried, but the virus usually has to be kept cold to remain alive and dangerous.
In an interview Tuesday, a CDC official said he believed the vials were stored for many years at room temperature, which would suggest the samples are dead. But FDA officials said later in the day that the smallpox was in cold storage for decades.
Both FDA and CDC officials said more lab analysis will have to be done to say if the germ is dangerous.
"We don't yet know if it's live and infectious," said Stephan Monroe, deputy director of the CDC center that handles highly dangerous infectious agents.
The samples were rushed to the CDC in Atlanta for testing, after which they will be destroyed.
In at least one other such episode, vials of smallpox were found at the bottom of a freezer in an Eastern European country in the 1990s, according to Dr. David Heymann, a former World Health Organization official who is now a professor at the London School of Hygiene and Tropical Medicine.
Heymann said it is difficult to say whether there might be other forgotten vials of smallpox out there. He said that when smallpox samples were consolidated for destruction, requests were made to ministers of health to collect all vials.
"As far as I know, there was never a confirmation they had checked in with all groups who could have had the virus," he said.
Smallpox was one of the most lethal diseases in history. For centuries, it killed about one-third of the people it infected, including Queen Mary II of England, and left most survivors with deep scars on their faces from the pus-filled lesions.
The last known case was in Britain in 1978, when a university photographer who worked above a lab handling smallpox died after being accidentally exposed to it from the ventilation system.
Global vaccination campaigns finally brought smallpox under control. After it was declared eradicated, all known remaining samples of live virus were stored at a CDC lab in Atlanta and at a Russian lab in Novosibirsk, Siberia.
The labs take extreme precautions. Scientists who work with the virus must undergo fingerprint or retinal scans to get inside, they wear full-body suits including gloves and goggles, and they shower with strong disinfectant before leaving the labs.
The U.S. smallpox stockpile, which includes samples from Britain, Japan and the Netherlands, is stored in liquid nitrogen.
There has long been debate about whether to destroy the stockpile.
Many scientists argue the deadly virus should be definitively wiped off the planet and believe any remaining samples pose a threat. Others argue the samples are needed for research on better treatments and vaccines.
At its recent annual meeting in May, the member countries of the WHO decided once again to delay a decision.
FEMA will assess state and local emergency response capabilities within 10-mile emergency planning zone, nearby support areas. (Let's "hope" the dirt-bags don't *go live* during the drill, as they did on 9/11, 7/7 London Etc..)

MINERAL, Va. (AP) – Federal officials are planning to test Virginia's ability to respond to an emergency at Dominion's North Anna nuclear power station.
The Federal Emergency Management says the biennial emergency preparedness exercise at the plant about 40 miles northwest of Richmond will take place the week of July 7.
Officials say the drills are held every other year to evaluate government's ability to protect public health and safety.
FEMA will assess state and local emergency response capabilities within the 10-mile emergency planning zone as well as nearby support areas.
Preliminary findings will be presented at a public meeting on July 11 in Glen Allen.
FEMA will send its evaluation to the Nuclear Regulatory Commission within 90 days. The final report will be available to the public about 120 days after the exercise.
Ex-Internal Revenue Service (IRS) official Lois Lerner spoke at a 2010 government conference where Lerner's underling Nikole Flax announced the new IRS program scrutinizing groups applying for tax-exempt status.
Both Lerner and Flax experienced "computer crashes" that led to the permanent deletion of their emails
, according to the IRS, which said it cannot hand over their emails to congressional investigators on two House committees.
Both Lerner and Flax briefed fellow government bureaucrats on the new targeting at the conference, where Lerner appeared at a workshop called "Will the IRS Come Knocking?"
Flax announced the new program scrutinizing groups at the Washington Non-Profit Legal & Tax Conference at the Grand Hyatt in Washington, D.C. from February 18-19, 2010. At the time, Flax worked under Lerner in the Exempt Organizations office.
Lerner gave a luncheon speech at a morning session featuring workshops entitled "Current Developments Affecting Exempt Organizations" and "Will the IRS Come Knocking? What You Need To Know About IRS Audit Plans And Practices For Tax Exempts," which was moderated by Washington lawyer and former IRS exempt director Marcus S. Owens. Lerner served as "government faculty" for the conference, according to a program obtained by The Daily Caller.
Flax, a frequent White House
visitor, announced that 155 new employees were recently added to the Exempt Organizations office, and said that 100 of these employees would be working in the examinations office to audit nonprofit groups. Flax also announced the addition of new Washington-based "tax law specialists" to work on private-letter rulings for groups that would need renewal of their charitable tax-exempt status.
"They basically have to start over," Flax said about groups coming up on a newly imposed three-year deadline for charitable tax status. "In the interim period, there obviously will be tax issues."
The IRS began flagging tea party applications in February 2010, the month of the Washington conference.
"The Conference addresses all issues of relevance to non-profit organizations, including the latest developments. The focus is also on practical information that can be put to use with an immediate impact," according to a promotional description of the event. Rooms at the conference valued at $479 per night were available to government employees on a group plan at $239.
Flax went on to serve as chief of staff to IRS commissioner Steven T. Miller.
Say others are afraid to come forward
Via WIRED
Activist groups including the Electronic Frontier Foundation and Greenpeace launched the 135-foot thermal airship early Friday morning to protest the agency's mass surveillance programs and to announce the launch of Stand Against Spying, a website that rates members of Congress on their support or opposition to NSA reform. The full message on the blimp reads "NSA: Illegal Spying Below" along with an arrow pointing downward and the Stand Against Spying URL.
"We thought it would be fun to fly an airship around the Utah data center, which in many ways epitomizes the NSA's collect-it-all strategy," says Rainey Reitman, an activist at the Electronic Frontier Foundation. "We wanted to have a way to symbolize that our movement is getting quite confrontational with NSA surveillance in a visceral way."
The protestors launched the blimp, which is owned by Greenpeace and named the AE Bates after a longtime Greenpeace volunteer, at 6 a.m. to capitalize on calm weather. They flew it 1,000 feet over the Bluffdale facility.1
The stunt was timed, Reitman says, to approximately a year after the political debate on NSA spying began. "Many members of congress have acted as roadblocks or sat on the sidelines of this debate," she says. "The time had come for us to be very honest with the general public about those who have and haven't called for NSA reform."
Greenpeace became involved in the project as a plaintiff in a lawsuit the EFF filed against the NSA last year, which accused the agency of intimidating activists with its mass phone metadata collection programs. Their blimp has made earlier appearances to protest coal-fired power plants in North Carolina, overfishing in the pacific northwest, and the Koch brothers in Southern California.
At least some Utahns who spotted the airship didn't quite get the message. "There was an NSA blimp on my way to work this morning. #whydotheyneedablimp? #whatwasitdoing? #nsa," wrote one local on Twitter. "Wasn't a huge fan of the NSA blimp that saw me on the way to work this morning," added another.
Reitman says they can rest assured the blimp isn't a menacing new surveillance technique. "The only people we're surveilling with this airship is the NSA."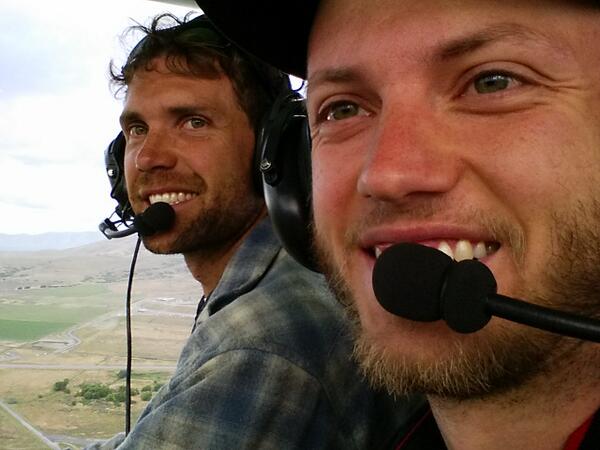 Having lived on Bourbon Street – I can tell you its a pretty violent place, with Street gangs just a few streets away from tourists. ~ JB
Police continued searching Monday for two men who exchanged gunfire on Bourbon Street in the French Quarter, leaving nine people shot in the crossfire, including two who were in critical condition.
Images captured from a surveillance camera above a bar showed people running down the street in the chaos of the shooting at 2:45 a.m. Sunday.
Police placed several views for the shootout online asking for the public's help in identifying the two shooters.
New Orleans Police Chief Ronal Serpas said six victims were hospitalized in stable condition. The other victim's condition was not available. Some of them were tourists. Their names were not immediately released.
Serpas said at a news conference in the French Quarter that the victims were shot "by two cowardly young men trying to hurt each other."
"What happened was two young men got angry at each other and shot at each other," he said.
Bourbon Street is a nightly swirl of bright neon and tourists, usually with beverages in hand. A blend of jazz joints, strip clubs, bars and restaurants, Bourbon Street has everything from four-star dining to sex shows.
New Orleans Mayor Mitch Landrieu pledged a swift response from law enforcement.
"Our No. 1 priority is to keep New Orleans safe," Landrieu said in a statement. "These kinds of incidents will not go unanswered … I am confident that between video evidence and eyewitness accounts, we will bring the perpetrators to justice."
Police have not determined whether the shootings might be gang-related, Serpas said. He called on residents, businesses and witnesses who may have video footage, including any from surveillance cameras, to contact police.
It was the third major shooting on Bourbon Street in the last three years.
On the Saturday before Mardi Gras, four people were treated at a hospital after a shooting. During Halloween in 2011, one person was killed and seven others were injured after gunmen opened fire on each other.
Militia members and other concerned U.S. citizens are converging on the border town of Laredo, Texas, on Friday to create a blockade against illegal immigrants crossing into the United States, the organizer of the human chain and protest said on Newsmax TV's "MidPoint."
"This will continue for days and weeks to come" and spread "to other points" along the U.S.-Mexico frontier, Barbie Rogers, founder of the Patriots Information Hotline, said in a telephone interview.