Say others are afraid to come forward
Via WIRED
Activist groups including the Electronic Frontier Foundation and Greenpeace launched the 135-foot thermal airship early Friday morning to protest the agency's mass surveillance programs and to announce the launch of Stand Against Spying, a website that rates members of Congress on their support or opposition to NSA reform. The full message on the blimp reads "NSA: Illegal Spying Below" along with an arrow pointing downward and the Stand Against Spying URL.
"We thought it would be fun to fly an airship around the Utah data center, which in many ways epitomizes the NSA's collect-it-all strategy," says Rainey Reitman, an activist at the Electronic Frontier Foundation. "We wanted to have a way to symbolize that our movement is getting quite confrontational with NSA surveillance in a visceral way."
The protestors launched the blimp, which is owned by Greenpeace and named the AE Bates after a longtime Greenpeace volunteer, at 6 a.m. to capitalize on calm weather. They flew it 1,000 feet over the Bluffdale facility.1
The stunt was timed, Reitman says, to approximately a year after the political debate on NSA spying began. "Many members of congress have acted as roadblocks or sat on the sidelines of this debate," she says. "The time had come for us to be very honest with the general public about those who have and haven't called for NSA reform."
Greenpeace became involved in the project as a plaintiff in a lawsuit the EFF filed against the NSA last year, which accused the agency of intimidating activists with its mass phone metadata collection programs. Their blimp has made earlier appearances to protest coal-fired power plants in North Carolina, overfishing in the pacific northwest, and the Koch brothers in Southern California.
At least some Utahns who spotted the airship didn't quite get the message. "There was an NSA blimp on my way to work this morning. #whydotheyneedablimp? #whatwasitdoing? #nsa," wrote one local on Twitter. "Wasn't a huge fan of the NSA blimp that saw me on the way to work this morning," added another.
Reitman says they can rest assured the blimp isn't a menacing new surveillance technique. "The only people we're surveilling with this airship is the NSA."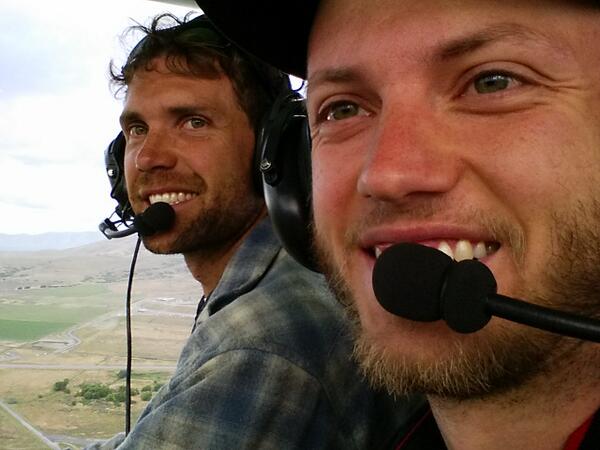 Having lived on Bourbon Street – I can tell you its a pretty violent place, with Street gangs just a few streets away from tourists. ~ JB
Police continued searching Monday for two men who exchanged gunfire on Bourbon Street in the French Quarter, leaving nine people shot in the crossfire, including two who were in critical condition.
Images captured from a surveillance camera above a bar showed people running down the street in the chaos of the shooting at 2:45 a.m. Sunday.
Police placed several views for the shootout online asking for the public's help in identifying the two shooters.
New Orleans Police Chief Ronal Serpas said six victims were hospitalized in stable condition. The other victim's condition was not available. Some of them were tourists. Their names were not immediately released.
Serpas said at a news conference in the French Quarter that the victims were shot "by two cowardly young men trying to hurt each other."
"What happened was two young men got angry at each other and shot at each other," he said.
Bourbon Street is a nightly swirl of bright neon and tourists, usually with beverages in hand. A blend of jazz joints, strip clubs, bars and restaurants, Bourbon Street has everything from four-star dining to sex shows.
New Orleans Mayor Mitch Landrieu pledged a swift response from law enforcement.
"Our No. 1 priority is to keep New Orleans safe," Landrieu said in a statement. "These kinds of incidents will not go unanswered … I am confident that between video evidence and eyewitness accounts, we will bring the perpetrators to justice."
Police have not determined whether the shootings might be gang-related, Serpas said. He called on residents, businesses and witnesses who may have video footage, including any from surveillance cameras, to contact police.
It was the third major shooting on Bourbon Street in the last three years.
On the Saturday before Mardi Gras, four people were treated at a hospital after a shooting. During Halloween in 2011, one person was killed and seven others were injured after gunmen opened fire on each other.
Militia members and other concerned U.S. citizens are converging on the border town of Laredo, Texas, on Friday to create a blockade against illegal immigrants crossing into the United States, the organizer of the human chain and protest said on Newsmax TV's "MidPoint."
"This will continue for days and weeks to come" and spread "to other points" along the U.S.-Mexico frontier, Barbie Rogers, founder of the Patriots Information Hotline, said in a telephone interview.
Via Ben Swann
TUCSON - News 4 is reporting that a Mexican military chopper crossed the United States border and opened fire on US Border Patrol agents.
The incident occurred early Thursday morning, west of the San Miguel Gate on the Tohono O'Odham Nation. There are no reports of injuries or deaths at this time.
Two statements have been released:
Art del Cueto, Border Patrol Tucson Sector union president:
The incident occurred after midnight and before 6 a.m. Helicopter flew into the U.S. and fired on two U.S. Border Patrol agents. The incident occurred west of the San Miguel Gate on the Tohono O'odham Indian Nation. The agents were unharmed. The helicopter went back into Mexico. Mexico then contacted U.S. authorities and apologized for the incident.
Andy Adame, U.S. Border Patrol Spokesperson:
Early this morning, a Mexican law enforcement helicopter crossed approximately 100 yards north into Arizona nearly 8 miles southwest of the Village of San Miguel on the Tohono O'odham Indian Nation while on a drug interdiction operation near the border. Two shots were fired from the helicopter but no injuries or damage to US property were reported. The incident is currently under investigation.
Also:
4000? And those are just the ones that were RESCUED.
When "Amnesty" comes… What will happen to all of the new DHS Detention Centers? Add to this concept the hoarding of Bullets and War games for American "Civil War" / Unrest / and civil disobedience… you have a Perfect Storm.
Obama administration acts to ease immigration legal crunch at border
Facing pressure to address a widening crisis on the Southwest border, the Obama administration announced new measures Friday to detain, process and ultimately deport the growing numbers of Central American children and families who already are overwhelming most existing federal detention facilities.
The Department of Homeland Security said it was rushing additional lawyers, asylum officers and immigration judges to the Texas border, where most of the new immigrants are arriving, to process cases more quickly and reduce the large numbers of those who must be released with promises to appear at later court hearings.
"We are surging resources to increase our capacity to detain individuals and adults with children, and to handle immigration court hearings," Deputy Homeland Security Secretary Alejandro Mayorkas said during a Friday briefing.
So far this fiscal year, more than 39,000 adults have been caught crossing the Southwest border with children. An additional 52,000 unaccompanied children had been detained as of last week, and by year's end officials expect that number to have increased to as many as 90,000.
With shelters and detention centers already overcrowded, many new immigrants have been released to sponsors and family members with orders to appear for hearings later, prompting critics to say that many will elect to quietly remain within the U.S. The Department of Justice reported that 33% of immigrants released in such cases in fiscal year 2013 failed to appear for subsequent hearings, up from 24% in 2009.
Texas Gov. Rick Perry on Friday called for deploying an additional 1,000 National Guard troops on the Texas-Mexico border, along with Lakota helicopters and Predator drones. "The safety and security of our border communities is being threatened by this flood of illegal immigration, and the crisis worsens by the day," the Republican said in a letter asking President Obama to travel to Texas to address the issue.
Vice President Joe Biden and other U.S. officials met Friday with Guatemalan President Otto Perez Molina and Vice President Roxana Baldetti in Guatemala City in the second prong of the administration's strategy, aimed at helping Central American nations alleviate the poverty and crime believed to have helped drive the exodus toward the United States. The plan calls for $40 million in U.S. aid to reduce youth involvement in gangs and promote other security improvements.
Similar programs are aimed at El Salvador and Honduras, which also are seeing expanded migrant outflows.
The number of Central American children caught crossing the border illegally last year surpassed the number from Mexico — 21,000 from Guatemala, El Salvador and Honduras, compared with about 17,000 from Mexico.
Under U.S. law, unaccompanied Mexican children can be returned to their homeland immediately, but children from other countries must first be taken into U.S. custody. By law, Customs and Border Protection can hold them for only 72 hours, after which they must be transferred to the Department of Health and Human Services, which finds beds for them in temporary shelters.
More than 90% of the children are later placed with a relative or sponsor, according to statistics provided by Kids in Need of Defense, a legal advocacy group.
Mayorkas could not say Friday how many released detainees were showing up for subsequent immigration court proceedings.
By law, those arriving now are interviewed to see whether they are eligible for asylum. They can claim they have a "credible fear" of returning home that immigration courts must address before they can be deported, posing a challenge to U.S. Customs and Border Protection and other agencies as the numbers increase.
Mayorkas said the government would be sending more officers to hear these asylum claims and screen out those ineligible.
"Many individuals from Central America are found to be ineligible for these forms of protections and are, in fact, promptly removed," he said.
But according to a recent report by the United Nations High Commissioner for Refugees, 58% of children arriving from Mexico and Central America are probably eligible for humanitarian protection under international conventions.
A similar study by the Vera Institute of Justice, a nonpartisan, nonprofit group, estimates that about 40% were eligible for some form of immigration relief — such as asylum, special immigrant juvenile status or visas for victims of crime or trafficking.
As security and gang truces deteriorate in Guatemala, Honduras or El Salvador, those fleeing may argue that they are afraid to return because they or their relatives were threatened for not joining a gang, said Stephen Legomsky, a law professor at Washington University in St. Louis.
"I could easily imagine a significant number of these people showing credible fear," Legomsky said, which could lead to added delays since federal immigration courts are already backlogged.
"The administration is in a tough spot," he said.
Though immigrant rights advocates oppose expanding family detentions, some also acknowledged Friday that the crisis had put the administration in a bind.
"We need to recognize that they have to take some action in either expediting cases or finding some resolution in who's coming and why," said Michelle Brane, director of detention and asylum at the Women'sÖ Refugee Commission.
Congress in 2005 directed Homeland Security officials to keep immigrant families together, either by releasing them or detaining them as a group in humane settings.
Two years later, the American Civil Liberties Union sued the department, saying it was for illegally imprisoning families with children younger than the age of 17 under inhumane conditions at the T. Don Hutto family detention center in Texas. The lawsuits were settled, and the center stopped housing families.
(BS): The government currently operates only one immigrant family detention center, in Berks County, Pa. Brane praised the facility, but said it can only house 96 people at most, and only for weeks or months at a time.
Officials plan to house more families at the Federal Law Enforcement Training Center in Artesia, N.M. The facility, which is used for training federal officers, is being outfitted to hold up to 700 parents with children who are in removal proceedings, officials said Friday.
Brane said immigrant rights advocates were concerned that at the new detention centers, immigrant families would not have adequate access to attorneys. They also worry that judges and government lawyers will be sent to hear families' cases there instead of at courthouses, where immigrants, apart from their children and guards, can speak more freely about sensitive subjects such as domestic and sexual abuse.
But she said the new facilities would be preferable to keeping immigrants in overcrowded Border Patrol stations, where officials this week lead reporters on a tour, displaying children corralled behind high chain-link fences and sleeping on concrete floors under grubby blankets.
"My hope would be …  that they use it to get families out of Border Patrol stations for processing people into alternatives to detention programs where they can file their claim and go through the process," she said of the new detention centers.
Advocates have also asked the administration to expand cheaper, less restrictive alternatives to detention, such as releasing immigrants and keeping tabs on them by telephone or electronic ankle monitors.
Mayorkas said alternative monitoring would be used, though it's not clear how extensively.
Administration officials said the effort to halt the immigration tide would deal not only with combating crime and poverty but also with working to halt widespread rumors among Central Americans that immigrants with families will be allowed to remain in the U.S.
"We're doing everything possible both to support countries in stemming the tide of this migration, but also to deal with the misinformation that is being deliberately planted by criminal organizations, by smuggling networks, about what people can expect if they come to the United States. That is misinformation that is being promulgated and put forward in a very deliberate way," said Cecilia Muñoz, director of the White House Domestic Policy Council.
The financial pledges also include $9.6 million to help Central American governments receive and integrate deported immigrants, $25 million in El Salvador to create 77 outreach centers to prevent at-risk youths from joining gangs or migrating to the U.S., and $18.5 million in Honduras to fight gangs and support community policing.
But Perez Molina took a view that seemed to undermine Biden's message. The Guatemalan president said via his Twitter account that Biden had promised a special program of legal assistance to Guatemalan families in the U.S. who are reunited with their children.
The Honduran president, Juan Orlando Hernandez, didn't attend the meeting because he is in Brazil for the World Cup, in which the Honduran national soccer team is competing. That drew a miffed rebuke from the U.S. ambassador.
Congressional officials greeted the new administration measures with a mix of skepticism and relief.
Rep. Henry Cuellar (D-Texas) has been calling for some of the same measures, and said he was pleased to see the administration moving to work with Central American leaders to deport families in a quick, humane way. Cuellar discussed the crisis with Homeland Security Secretary Jeh Johnson before Johnson traveled to Texas on Friday with senior administration officials to visit Border Patrol facilities and a new temporary shelter for immigrant youths here at Joint Base San Antonio-Lackland.
"I'm encouraged that the White House is now getting engaged on this humanitarian crisis," Cuellar said. "They're starting to move in the right direction."
Sen. Robert Menendez (D-N.J.) welcomed the administration taking a "hard look at addressing the root causes of this crisis" but expressed concern about opening new family detention facilities. "To say that a child who is apprehended at the border with their parent must remain locked up throughout their judicial proceeding is simply a step too far," he said.
Republicans, who have criticized Obama in recent days for stoking the influx, remained skeptical Friday that the administration would follow through on promises to more swiftly enforce immigration laws and curtail the flow of vulnerable migrants.
"This humanitarian crisis is one of the president's own making. After years of ignoring the law and sending a very dangerous message to Central American families, the administration is finally taking small steps to address this enormous problem," Texas Republican and Senate Minority Whip John Cornyn said. "It remains to be seen if the president will follow through."
AKA: "CAPSTONE PIPELINE"
Cost Benefit Analysis HERE…. "Never Let a good CRISIS go to waste"? (Especially if you initiated the Crisis!) —- Better "hope" that your land isn't in the way!

Oil production in Iraq is unaffected so far, but instability could raise the issue of oil supply security….
The crumbling security situation in Iraq and concerns that Sunni extremists continue to gain power in the oil-rich country may help out proponents of so-called ethical oil who argue that the U.S. should be turning more to Canada for its oil needs.
But whether the crisis will have any effect on projects such as the controversial Keystone XL pipeline seems unlikely.
"Most people, in fact this is true of politicians as well, they don't know where the oil comes from and what are the ethical implications," said Dr. Robert Mansell, academic director of the University of Calgary's School of Public Policy.
"If you were to ask people in the States how much of their oil comes from Canada versus Venezuela versus Nigeria, Angola, Iraq and Russia, they would have no clue. Would they really care? I suppose they might care in a general sort of way, but not enough to make a difference in terms of the politics of piece of infrastructure."
Supporters of ethical oil have repeatedly argued that the U.S. should be endorsing projects like Keystone, importing its oil from friendly liberal democratic countries like Canada, and reducing its reliance on "conflict oil" countries that are undemocratic, have poor human rights records and may support terrorism.
Environmental groups opposed to the Keystone XL pipeline — which would carry bitumen extracted from Alberta's oilsands to refineries along the U.S. Gulf Coast — have dismissed the ethical oil organization, accusing it of being a mouthpiece of the domestic oil industry with ties to the federal Conservative party.
In April, the U.S. State Department announced another delay in the final decision on the Keystone XL project. U.S. President Barack Obama is not expected to make a decision on such a politically charged issue until after the midterm elections.
"If he truly wanted Keystone to go, he certainly could use [Iraq] as an excuse," said Laura Lau, senior vice-president at the Brompton Group. "But I don't believe he truly wants Keystone to go."
Iraq not a large supplier to U.S.
So far though, the conflict in Iraq has not halted oil production, since a lot of the production is in the south and in Kurdistan, where fighters from the al-Qaeda-inspired Islamic State of Iraq have not advanced.
Iraq also provides a relatively small amount of oil to the U.S. compared with other countries including Canada, the biggest exporter of oil to U.S, followed by Saudi Arabia, Mexico, Venezuela and Russia.
For example, the U.S. imported just over nine million barrels of oil from Iraq in the month of March, compared with 44 million barrels from Saudi Arabia and 99 million barrels from Canada, according to the U.S. Energy Information Administration.
"I imagine if the situation in Iraq gets so out of hand that you see a shutdown in the oil production or a pretty significant cutback in exports, and a notable increase in the world price of oil, then yeah, that would become part of the conversation," said John Duffield, an energy expert and political science professor at Georgia State University.
"I don't think [the ethical oil issue] has penetrated the American debate, at least not substantially," he said.
But Mansell said that the issue of security of oil supply could begin to resonate with some Americans.
"In a world where the Middle East looks hotter rather than cooler these days, and you have events in Africa and similar things going on in Venezuela … and with energy prices going up, I think that will get attention among the general populace."
Mansell said the instability in Iraq certainly wouldn't hurt the case for Keystone
"Would it materially improve the case for it? I think what gets people's attention is what happens to the price of gasoline, and already there was a bit of a hit. I think it got some attention. I think it starts to have an impact on how people feel about reliance on some of their crude oil sources.
"Would it be enough to tip the balance on Obama's decision on Keystone, I don't know."