25 Oct 2014 The North American Aerospace Defense Command (NORAD) are holding their largest training exercise since the Cold War this week in Labrador. The military base in Happy-Valley-Goose Bay is hosting the annual NORAD operation, which involves American and Canadian air force troops training together to defend the north in the face of possible threats…This is the first time that the "Vigilant Shield" exercise has been hosted in Labrador, with over 550 troops participating at 5-Wing Goose bay.
25 Oct 2014 More than 500 Canadian and American forces personnel gathered this week at 5 Wing Goose Bay for training have been shaken by the killing of a comrade in Ottawa Wednesday, but it didn't deter them from their duty, says Lt.-Col. Mark Roberts. According to a news release, Vigilant Shield is a bi-national exercise which emphasizes an integrated American and Canadian program to support respective national strategies for North America's defence. It wraps up Sunday. 
CHICAGO (FOX) — Early voting in Illinois got off to a rocky start Monday, as votes being cast for Republican candidates were transformed into votes for Democrats.
Republican state representative candidate Jim Moynihan went to vote Monday at the Schaumburg Public Library.
"I tried to cast a vote for myself and instead it cast the vote for my opponent," Moynihan said. "You could imagine my surprise as the same thing happened with a number of races when I tried to vote for a Republican and the machine registered a vote for a Democrat."
The conservative website Illinois Review reported that "While using a touch screen voting machine in Schaumburg, Moynihan voted for several races on the ballot, only to find that whenever he voted for a Republican candidate, the machine registered the vote for a Democrat in the same race. He notified the election judge at his polling place and demonstrated that it continued to cast a vote for the opposing candidate's party. Moynihan was eventually allowed to vote for Republican candidates, including his own race.
Moynihan offered this gracious lesson to his followers on Twitter: "Be careful when you vote in Illinois. Make sure you take the time to check your votes before submitting."
Cook County Board of Elections Deputy Communications Director Jim Scalzitti, told Illinois Watchdog, the machine was taken out of service and tested.
"This was a calibration error of the touch-screen on the machine," Scalzitti said. "When Mr. Moynihan used the touch-screen, it improperly assigned his votes due to improper calibration."
Click for more from Watchdog.org
Mexico City (AFP) - Mexico on Wednesday ordered the arrest of the mayor of the city of Iguala, his wife and an aide, charging they masterminded last month's attack that left six students dead and 43 missing.
"We shall overcome," protesters shouted with clenched fists in the air. Marching were students, teachers, farmers and activists joining relatives of the missing students.
"They took them away alive. We want them back alive", ran another slogan.
The march was peaceful. Town hall gave the figure of participation at 45,000.
Protesters carried large black and white photos of the missing and called out their names, one by one, as if in a roll call in class, followed by the world "present."
Protesters banged drums, strummed guitars and blew whistles.
"I am indignant over what happened. They could have been my students, my brothers, my children," said Jorge de la Pena, a psychology professor at the National Autonomous University of Mexico.
Mexican authorities have searched in vain for any trace of the teachers college students who disappeared on September 26, in a case that has sparked national and international outrage, including mass demonstrations that saw the Iguala city hall torched Wednesday.
"Arrest warrants have been issued for Iguala mayor (Jose Luis Abarca)," as well as his wife and public safety chief, "as the individuals who likely organized the events that took place in Iguala," Attorney General Jesus Murillo Karam told reporters.
Abarca "gave police the order to confront" students, who were known for frequent protests, so that they would not derail a public event by his wife, the head of a local state children's protection charity.
Authorities say corrupt officials and police worked hand-in-hand with the Guerreros Unidos drug cartel in the attack, which could prove to be one of the worst slaughters that Mexico has witnessed since the drug war intensified in 2006.
The mayor's wife, Maria de los Angeles Pineda, is a sister of at least three known drug traffickers, and the couple has ties to Guerreros Unidos, authorities said.
Searchers are still desperately combing the area for the missing students by land and air, almost a month later.
- Protesters torch city hall -
Authorities say Iguala's police force shot at buses carrying the students and handed them over to officers in the neighboring town of Cocula, who then delivered them to the Guerreros Unidos drug gang.
Thousands of teachers and students demonstrated, an unspecified number of whom torched the building, which at the time had no workers inside, an AFP reporter said
It was the second incident in which demonstrators set fire to local buildings in Iguala in as many days.
On Tuesday, 500 teachers set fire to a political party office in the capital of Guerrero state, Chilpancingo.
Armed with pipes and sticks, the protesters burst into in the state headquarters of the Democratic Revolutionary Party demanding the resignation of state governor Angel Aguirre.
The protesters burned computers and documents, but no one was hurt.
Authorities have found several mass graves in Iguala but say 28 sets of remains examined so far do not correspond to the students.
This week, the government announced a $110,000 (87,000 euros) reward for information in the disappearance of the students.
A total of 36 municipal officers in Iguala have been arrested in the case, along with 17 Guerreros Unidos members and their boss.
Mexican authorities last week announced the arrest of the "maximum leader" of the Guerreros Unidos gang, Sidronio Casarrubias, at a police checkpoint on a highway between Mexico City and the nearby city of Toluca.
Related Stories
OTTAWA (Reuters) – Canadian Prime Minister Stephen Harper said on Thursday the government will expedite plans to give more powers of detention and surveillance to security agencies in the wake of an attack on Parliament.
"They need to be much strengthened, and I assure you, Mr. Speaker, that work which is already under way will be expedited," he told the House of Commons, one day after a gunman launched an attack on Parliament and was shot dead.
Related Stories
Now there's an Uber for flu shots. On Thursday the car-service at the tap of a smartphone announced a one-day UberHEALTH pilot program in partnership with Harvard Medical School's Vaccine Finder program to deliver free flu shots on-demand. From 10am-3pm E.T. Uber drivers will drive a registered nurse to deliver and inject the shot to customers anywhere within the three test cities of New York, Boston, and Washington.
The shots will not take place in the cars. Instead users will be asked to identify a place to meet up with the nurses from the Passport Health and Pager program. No insurance card is required. Harvard professor John Brownstein whose group pitched Uber the project over the summer said it has "huge potential" to "deliver more convenience into delivery of care." The test can also provide a precedent for crisis situations, he said, where you "don't necessarily want people crowding and traversing cities to get access to vaccines."
More HERE
The natives are restless – Launch "Ebola" Paradigm….
FOX Reporting multiple Shooters
A Canadian soldier was shot at the Ottawa National War Memorial Wednesday, and a gunman reportedly fled into the nation's Parliament building, raising fears the attacks could be part of "lone wolf" campaigns being carried out by Islamic extremists.
A member of the Canadian parliament, Bernard Trottier, tweeted that a gunman had been shot and killed. Witnesses reported hearing gunfire inside Parliament Hill, which is under lockdown.
SEE ALSO: Canadian MP: 'Gunman is deceased. We are OK'
Paramedics took the wounded Canadian soldier away in an ambulance, and the soldier's current condition is unknown.
U.S. Capitol Police spokesman Shennell Antrobus said Wednesday they were monitoring the situation in Canada, but declined to comment on what extra security measures might be taken in the U.S. Congress.
The incident comes just two days after two Canadian soldiers were hit by a car in Quebec driven by a man with jihadist sympathies. One of them was killed.
The office of the Canadian Prime Minister, Stephen Harper, said that he was safe, but so far has not issued any further statement. He was scheduled to speak at several public events in Toronto Wednesday, which will likely be cancelled in light of the shooting.
Security experts have increasingly become concerned about "lone wolf" attacks carried out by a single radicalized individual. Experts said that while the Islamic State, often known as ISIS or ISIL, likely does not currently have the ability to carry out large-scale attacks like al Qaeda, the radical group is encouraging single individuals to launch terror attacks in their own countries.
• This article is based in part on wire service reports.
Read more: Washington Times
Unless your name is Koch … this is perfectly OK? 
Kansas Senate hopeful Greg Orman insists that he is not beholden to the Democratic Party, but a major Democratic donor is hosting a fundraiser for his campaign to unseat Republican incumbent Sen. Pat Roberts.
Jonathan Soros, son of billionaire Democratic donor George Soros, will host a New York City fundraiser this week for Orman, who is running as an independent candidate, according to an invitation obtained by America Rising.
In addition to the $3.7 million the younger Soros has donated to Democratic candidates, committees, and interest groups, Jonathan is a highly active member of the secretive Democracy Alliance, a hub of Democratic fundraising.
The fundraising consultancy managing the event, the Katz Watson Group, represents a who's-who of Democratic organizations and individuals, including the Democratic Senatorial Campaign Committee and the Hillary Clinton for President Exploratory Committee.
more at free beacon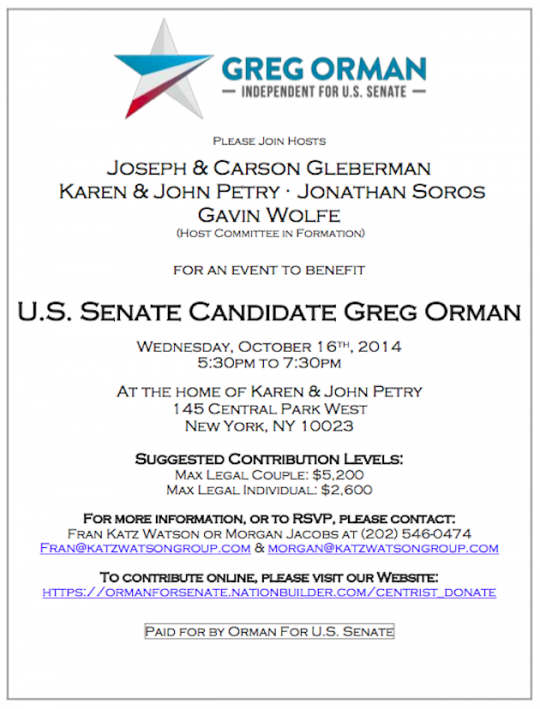 An effort to put a new investigation into the collapse of World Trade Center Building 7 up for vote in New York City won't be on the November ballot , after a New York State Supreme Court judge upheld a ruling dismissing the proposed referendum.
The High-Rise Safety Initiative, which raised $350,000 and collected about 100,000 signatures to support its effort, decided not to appeal the decision by Judge Paul Wooten . Why? To keep open an avenue to try again at the next election in 2016, according to Ted Walter, the group's executive director.
"We are going to take a little break, and try to evaluate whether we can redraft the petition to be successful in the future," he told WhoWhatWhy.
The chances of winning on appeal now are slim and a loss now would foreclose an opportunity to counter the City's use of a particular technicality to successfully scuttle this attempt, Walter said. That involved a finding that the High-Rise Safety Initiative's proposed ballot measure was "merely advisory" and therefore not allowed. A special referee assigned to oversee the case (whose findings Judge Wooten upheld) also ruled that the group's plan to finance the investigation wasn't legally permissible.
That the High-Rise Safety Initiative made it this far should be considered against this fact: only two proposed referenda have made it to the ballot in New York City in the last 50 years. And neither of those cost money to implement, as the High-Rise Safety Initiative would have. New York City electoral laws are written such that it's next to impossible to get any similar measures in front of voters.
In a few months, the High-Rise Safety Initiative will discuss whether to try again, considering three factors before proceeding, Walter said.
Those are: 1) Whether it can propose a plan to finance the investigation that can't be challenged 2) Whether it can surmount the City's legal argument that the proposed referendum is "merely advisory" and 3) If it can raise the minimum $300,000, especially now that this round in court has demonstrated just how long the odds against success are.
Until that happens, the question of how Building 7 collapsed so swiftly and uniformly will remain a baffling part of the story of 9/11 still unanswered by the official probe.
Read the rest HERE
And they would know — cause, er …. They hire them?
WASHINGTON — The Department of Homeland Security is trying to shoot down reports that terrorist fighters are operating in Mexico and that some already have been caught attempting to cross the United States' southern border.
Homeland Security officials said Wednesday that there was no truth to reports that fighters affiliated with the Islamic State, also known as ISIS or ISIL, have been apprehended on the border.
"The suggestion that individuals who have ties to ISIL have been apprehended at the southwest border is categorically false, and not supported by any credible intelligence or the facts on the ground," Marsha Catron, DHS press secretary, said in a statement.
But such assurances by the administration haven't satisfied several Republican members of Congress, who feel the border is so permeable that it's impossible for the government to say with any confidence who has entered the country or what their intentions are.
"Wake up, America," Rep. Jeff Duncan, R-S.C., pronounced at a recent congressional hearing on a possible border threat. "With a porous southern border, we have no idea who's in our country."
Similar claims have been made by other prominent Republicans, including Texas Gov. Rick Perry, Sen. Marco Rubio of Florida and Rep. Jason Chaffetz of Utah.
"My concern is that I have a reason to believe that on September 10th, there were actually four individuals trying to cross the Texas border who were apprehended at two different stations, that do have ties to known terrorist organizations in the Middle East," Chaffetz said at a recent hearing. Although Chaffetz didn't specifically mention the Islamic State in his comments, he told news media that asked about the hearing that he worried about the group coming into the U.S.
Homeland Security spokeswoman Catron also disputed reports that any terrorist groups are organizing in Mexico.
"DHS continues to have no credible intelligence to suggest terrorist organizations are actively plotting to cross the southwest border," she said.
This week, Rep. Duncan Hunter, R-Calif., told Fox News that at least 10 Islamic State fighters have been caught trying to cross the U.S.-Mexican border. A member of the House Armed Services Committee, Hunter said he got his information directly from U.S. Customs and Border Protection.
Sen. John McCain, R-Ariz., meanwhile, has raised concerns that the Canadian border is another vulnerability that terrorists could exploit.
Democrats charge that Republicans are trying to score political points by blaming President Barack Obama for failing to properly secure the country in light of a growing threat from the Islamic State.
A recent NBC News/Wall Street Journal poll found that nearly half of all Americans feel the United States is less safe now than before 9/11.
Read more here: http://www.mcclatchydc.com/2014/10/08/242646_no-islamic-state-fighters-coming.html?sp=/99/200/&rh=1#storylink=cpy
7 Oct 2014 – Missouri authorities are drawing up contingency plans and seeking intelligence from U.S. police departments on out-of-state agitators (protesters), fearing that fresh riots could erupt if a grand jury does not indict a white officer for killing a[n unarmed] black teen. The plans are being thrashed out in meetings being held two to three times a week, according to people who have attended them. The FBI said it was also involved in the discussions. Details of the meetings and intelligence sharing by Missouri police agencies and their counterparts around the country have not been reported before.
Missouri police plan for possible riots if Brown cop not charged
The grand jury is expected to decide next month whether to bring criminal charges against police officer Darren Wilson, who shot dead Michael Brown, 18, on Aug. 9 in Ferguson, Missouri.
In differing accounts, police have said Brown struggled with Wilson before the fatal shots were fired. But some witnesses say Brown held up his hands and was surrendering when he was shot multiple times in the head and chest.
If charges are not brought against Wilson, police fear an outbreak of violence not just in the St. Louis suburb of Ferguson, but across the greater metropolitan area and even in other U.S. cities, according to St. Louis County Police Chief Jon Belmar and others involved in the planning meetings.
James Knowles, the Ferguson mayor who has attended the meetings, told Reuters the concern is "the unrest is going to be far beyond the city of Ferguson."
Ferguson today is a city on the edge. While mostly black residents hold small protests outside the police station each night, gun store owners report a jump in sales to white residents. Local business owners in the area where Brown was shot complain about lost trade. Many storefronts remain boarded up with plywood.
A memorial to Brown on the spot where he died, and where his body lay uncollected for four hours, still stands, a crucifix surrounded by teddy bears, photographs, flowers and handwritten notes decrying his loss and the alleged brutality of police.
Brown's killing sparked days of protests in Ferguson in August and looting that caused millions of dollars of property damage. Police were sharply criticized for what was seen as a heavy handed response to the protests, firing tear gas and arresting hundreds of people.
Protestors and civil rights groups say Brown's death is part of a national epidemic in which a disproportionately high number of unarmed black men are fatally shot by white police officers, an allegation police deny.
Missouri law enforcement officials have been in contact with police chiefs in Los Angeles, New York, Florida and Cincinnati, Ohio and other jurisdictions as they prepare for the grand jury decision, Belmar said. Police in New York and Los Angeles did not return calls for comment.
Of the 227 people arrested between Aug. 10 and Sept. 9 in connection with protests over Brown's death, 36 were from outside Missouri, including seven from New York, 12 from Illinois and five from California, according to arrest records provided by the St. Louis county police.
"We know outside groups visited us in August. We are expecting that different people will come in from outside the St. Louis area," if the grand jury decides not to indict Wilson, Belmar said.
One focus of the meetings has been on how to respond in the event of riots, the police chief said. Police faced a public backlash when they initially deployed armored carriers and carried military-style assault rifles after Brown's shooting.
Representatives of the Missouri State Highway Patrol, St. Louis County Police, St. Louis city police and Ferguson police have been attending the meetings, Belmar said. The top FBI official in St. Louis, Agent William Woods, attended a strategy meeting last week, said St. Louis FBI spokeswoman Rebecca Wu.
Plans have not been finalized. It was announced last week that the St. Louis County Police will take the lead from the tiny Ferguson force in patrolling the city's streets.
SIMMERING ANGER
The contingency planning comes as black and white residents of Ferguson brace for the grand jury decision.
The nine white and three black jurors have heard evidence from dozens of witnesses, including Wilson, who has been under police protection at an undisclosed location since the shooting, said Bob McCulloch, the chief St. Louis county prosecutor overseeing the grand jury proceedings.
Police and elected officials are meeting regularly with multi-racial citizen groups in a bid to improve community relations, tackle concerns about police discrimination, and avoid the turmoil that followed Brown's shooting. Civil unrest is still the "worst case scenario", Knowles said.
Adam Weinstein, co-owner of County Guns, said sales were up 50 percent since Brown's shooting, mostly among white residents fearful of riots who are buying Glock, Springfield and Smith & Wesson handguns, and shotguns. "They are afraid the city is going to explode," Weinstein said, a former member of the U.S. Navy and St. Louis firefighter with heavily tattooed arms.
At Ferguson Market and Liquor, where Brown appears on a surveillance video pushing a store clerk before walking out with an unpaid box of cigarillos on the morning of his death, most of the storefront windows have been repaired after being shattered in looting.
In August, after Brown was shot, the mood inside the store was fearful. Today, it is one of defiance. One of the workers, who asked not to be named, said he had brought his handgun from home to keep in the store. "I'm ready to shoot anyone looking for trouble," he said.
 ( FAKE ) BLACK PANTHERS
Many African Americans in Ferguson seem to have little faith in the grand jury process and expect Wilson will not be charged. It is rare for a U.S. police officer to face criminal charges after shooting a citizen in the line of duty.
"I do believe if Darren Wilson is not indicted you will see a lot of carnage … There is a lot of explosive energy," said Tef Poe, one of the protest leaders, sitting in a makeshift office close to where Brown was shot. On a wall sits an array of "to do" notes, top of which reads: "Find Darren Wilson".
Poe, a rapper, was born and raised in St. Louis. His real name is Kareem Jackson.
At a rally held by Black Lawyers for Justice in a Ferguson church last week, eight members of the New Black Panther Party, a black political group, provided security. They were wearing battle fatigues and berets.
"We are tired of dead bodies in our community," Mauricelm-Lei Millere, an advisor to the New Black Panthers, shouted at the audience. "We are not going to take it anymore."