Most of the time, when a person kills an intruder who breaks into his home, dressed in all black and screaming, the homeowner will avoid jail time. But what happens when the break-in was a no-knock SWAT raid, the intruder was a police officer, and the homeowner has a record?
A recent pair of cases in Texas are an example of how wrong no-knock raids can go, for both police and civilians, and how dangerously subjective the SWAT raid process can be. In December 2013, Henry Magee shot and killed a police officer during a pre-dawn, no-knock drug raid on his home. He was initially charged with capital murder, but he argued that he shot the police officer, who he thought was an intruder, to protect his pregnant girlfriend. In February, a grand jury declined to indict him, and charges were dropped.
In May, a Texas man named Marvin Guy also killed a police officer during a pre-dawn, no-knock raid on his home. Guy, too, was charged with capital murder. Unlike Magee's grand jury, a grand jury in Septemberallowed the capital murder charge against Guy to stand. Guy, who is black, now faces the death penalty. Magee is white.
THERE ARE OVER 20,000 NO-KNOCK RAIDS IN AMERICA EVERY YEAR
Magee's case wasn't completely identical to Guy's — the latter had done prison time on robbery and weapons charges, while Magee's previous arrests were for marijuana possession and DUI. But the circumstances of the raids, if anything, made Guy's reaction more justifiable. Police were trying to enter McGee's house through the door when he shot at them, while, in Guy's case, they were trying to climb in through the window. And during the raid on McGee's house, the cops did in fact find a few pounds of marijuana plants. In the raid on Guy's house, they found nothing.
Advocates say these cases highlight racial bias in the criminal justice system, particularly when the victim is a police officer. But they also highlight the bizarre nature of no-knock raids, which have been criticized for causing unnecessary confusion and endangering innocent adults and children.
In theory, no-knock raids are supposed to be used in only the most dangerous situations. So what might be most surprising about them is how infrequently police officers get killed when they bust into suspected criminals' homes unannounced.
In reality, though, no-knock raids are a common tactic, even in less-than-dangerous circumstances. There are a staggering 20,000 or more estimated no-knock raids every year across America. By the numbers, it's clear that no-knock SWAT raids are far more dangerous to civilians than they are to police.
Here's what you need to know about why no-knock raids happen, why police think they're necessary, and what happens when things go wrong.
How did no-knock raids become a thing?
The Fourth Amendment protects citizens from "unreasonable search," meaning police can't bust into your home whenever they feel like it — they need a warrant, granted by a judge. Even a search warrant doesn't give police the right to enter your home by force — they're supposed to knock, announce themselves, and give you a chance to open the door.
But as the war on drugs ramped up in the 1970s and 1980s, police argued that criminals and drug dealers were too dangerous to be granted the typical courtesy of knocking first. In the early 1970s, the federal government made it legal for federal law enforcement agents to conduct no-knock raids — but the law was so widely abused that it was repealed a few years later.
Since then, though, a series of court decisions and state laws have carved out a set of circumstances that make it legal for police to raid a house without announcing their presence beforehand. This has happened at the same time that SWAT teams have proliferated around the country. (For more on the history behind SWAT teams and no-knock raids, check out Radley Balko's definitive book on the subject, Rise of the Warrior Cop.)
MOST SWAT TEAMS SPEND THEIR TIME CARRYING OUT HOME RAIDS
Most SWAT teams spend their time carrying out home raids. The ACLU analyzed 818 records of SWAT exercises from police departments around the country in 2011 and 2012. They found that 80 percent of the time, SWAT teams were deployed to execute a search warrant — instead of crises such as hostage situations or active shooters.
Not all SWAT raids are no-knock raids; police are supposed to jump through an extra set of legal hoops before they can raid someone's house without knocking. But the line between regular SWAT raids and no-knock raids can get a little blurry.
SWAT teams often use quick-knock raids during which they might not give the suspect a whole lot of time to answer the door after they announce their presence. The legal standards for no-knock and quick-knock raids are different, but to someone whose house is being raided, they can seem pretty similar.
Why do police use no-knock raids?
It's rare that police really need to raid a home in order to bust someone for drugs. They could always set up a drug buy on the street and surround the suspect there. But police have focused on drug busts in stash houses, or in dealer's homes, for a few reasons.
For one thing, busting the house where drugs are stored in bulk disrupts the drug supply chain, in theory. For another, if they can charge a dealer with not just the drugs he happens to have on him or in his car when he's arrested, but with anything he's keeping in his house, they can slap him with a longer prison sentence. And finally, thanks to civil asset forfeiture, raiding a home lets cops seize whatever drug money (or other illegal money) is being stored there — and perhaps even the home itself — and use it for their own departments.
Over the last few decades, police have also argued successfully that there are some circumstances in which a standard "knock and announce" raid would either jeopardize police safety or make it impossible for them to fight crime.
What are the rules for a no-knock raid?
To get a special no-knock warrant signed by a judge, police have to show that a standard "knock-and-announce" raid wouldn't work. There are two different arguments police can use for this:
The suspect is too dangerous. If police knocked and announced their presence, the suspect would have more time to get a weapon and fight.
If police knocked and announced their presence, the suspect would have time to destroy evidence of a crime before the cops got to him.
The first of those sounds pretty straightforward. The second is rather broad. If they think there are drugs in the house, and the drugs could get flushed down the toilet, police have a case for a no-knock raid. (It's been argued that this actually makes police more likely to use no-knock raids on small-time dealers rather than major ones, because major dealers would likely have too much product to flush down the toilet.)
For a more detailed, but easy-to-follow, explanation of the legal standards for raids, check out webcomic artist Nathan Burney's Illustrated Guide to Law.
Is it hard for police to meet those standards?
Nope. It's rare that judges deny warrants for no-knock raids.
READ THE REST @ vox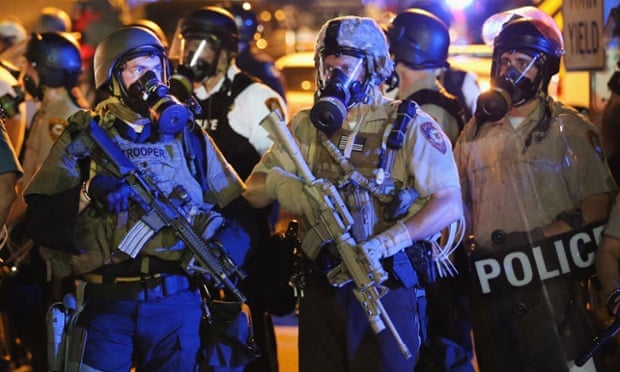 St Louis County police has spent $172,669 since August on teargas, grenades, pepper balls and other civil disobedience equipment
Ferguson police
London Guardian
Police in Ferguson use a variety of crowd-control equipment including teargas following the killing of teenager Michael Brown in
The police department overseeing the protests in Ferguson, Missouri, over the killing of an unarmed 18-year-old has spent tens of thousands of dollars replenishing their stocks of teargas, "less lethal" ammunition and riot gear in advance of a potential revival in demonstrations.
St Louis County police made the purchases amid concerns that hundreds of demonstrators will return to the streets if Darren Wilson, the officer who shot dead Michael Brown in August, is not indicted on criminal charges by a grand jury currently considering the case.
A breakdown of the department's spending since August on equipment intended for the policing of crowds and civil disobedience, which totals $172,669, was obtained by the Guardian from the county force.
Since the height of the protests, the department has spent almost $25,000 buying 650 teargas grenades, smoke-and-gas grenades, smoke canisters and "hornets nest" CS sting grenades, which shoot out dozens of rubber bullets and a powdered chemical agent upon detonation.
It has spent a further $18,000 on 1,500 "beanbag rounds" and 6,000 pepper balls, paintball-style projectiles that explode with a chemical irritant when they strike a protester. The department uses LiveX branded pepper balls, which are billed as ten times hotter than standard pepper rounds.
Another $77,500 has been spent on 235 riot gear helmets, 135 shields, 25 batons and 60 sets of shin guards, and other "uniform items". A further $2,300 was used to buy another 2,000 sets of the plastic handcuffs that have been used to detain dozens of demonstrators plucked from crowds on West Florissant Avenue.
In addition, an estimated $50,000 has been set aside by the department for repair work for damaged police vehicles. However, in a sign that further clashes are expected, they are in fact "not repairing any vehicles until unrest is over", a department inventory said.
"We purchase these items in hopes that we never have to use any of them," said Sergeant Brian Schellman, a spokesman for the county police department. "But it is our responsibility to have proper equipment to keep our police officers and all citizens safe should violence break out anywhere at any time."
In the event of further unrest, the new equipment is likely to be used alongside new purchases made by the city of St Louis's metropolitan police force and the Missouri state highway patrol, which was handed temporary control of policing the protests at the height of August's unrest, following criticism of the county force's tactics by regional and national leaders.
Captain Tim Hull of the state highway patrol confirmed to the Guardian that the force had bought new crowd control equipment since then. "However, the specific information is [a] closed record" under Missouri state law, Hull said in an email.
The Associated Press previously reported that Chief Sam Dotson of the St Louis metropolitan police said his force recently spent $325,000 on "civil disobedience equipment". Asked by the Guardian to confirm this total and to provide details of what was bought, a spokeswoman for the force said in an email that this would take several weeks.
The military-style police response to the demonstrations in August, which attracted intense global media coverage, led to calls for restraint from figures such as President Barack Obama and Claire McCaskill, Missouri's senior US senator.
Observers from Amnesty International said in a report earlier this month that an excessive police reaction to a small minority of violent protesters who threw bottles in Ferguson had run the risk of killing demonstrators and impinged on their human rights.
They noted that the so-called "less-lethal" ammunition shot at crowds in Ferguson – such as wooden bullets, beanbag rounds, and rubber bullets – "can result in serious injury and even death". The report found that "at least two children were treated for exposure to teargas" during the protests.
"Equipping officers in a manner more appropriate for a battlefield may put them in the mindset that confrontation and conflict is inevitable rather than possible, escalating tensions between protesters and police," said the report.
SEATTLE (CBS SEATTLE) – The Seattle Times said the paper is "outraged" to learn that the FBI created a fake news story on a "bogus" web page in order to plant tracking software in the computer of a bomb threat suspect.
The FBI fabricated a story to look like a news piece with an Associated Press byline about bomb threats against Lacey's Timberline High School in 2007, according to documents obtained by the Electronic Frontier Foundation (EFF) and revealed by the ACLU on Monday. The FBI also created a fake email link "in the style of the Seattle Times" including details about subscriber and advertiser information. This link was then sent to the suspect's MySpace account.
When the suspect clicked on the bogus link, the hidden FBI software forwarded his location and Internet Protocol information to bureau agents. The juvenile suspect was identified and arrested on June 14 of 2007.
But Times Editor Kathy Best ridiculed the FBI's investigative tactics, saying "not only does that cross a line, it erases it," in a statement.
"We are outraged that the FBI, with the apparent assistance of the U.S. Attorney's Office, misappropriated the name of The Seattle Times to secretly install spyware on the computer of a crime suspect," said Best.
She continued: "Our reputation and our ability to do our job as a government watchdog are based on trust. Nothing is more fundamental to that trust than our independence — from law enforcement, from government, from corporations and from all other special interests. The FBI's actions, taken without our knowledge, traded on our reputation and put it at peril."
The documents detailing the FBI's investigation to lure out the juvenile bomb threat suspect were obtained by the EFF in San Francisco and then publicized via Twitter on Monday by Christopher Soghoian, the principal technologist for the American Civil Liberties Union in Washington, D.C.
The 172 pages of documents released by the FBI show their software tool called a "Computer and Internet Protocol Address Verifier" (CIPAV) in two cases, with one being the Timberline High School bomb threats. The documents show how the FBI is able to "geophysically" locate a computer and track its Internet Protocal address.
According to Soghoian, the software was activated by the suspect when they clicked on the bogus link – a tactic similar to that used by hackers.
But Frank Montoya Jr., the special agent in charge of the FBI in Seattle during the case, defended the investigation techniques, which led to the arrest and conviction of a 15-year-old student.
"Every effort we made in this investigation had the goal of preventing a tragic event like what happened at Marysville and Seattle Pacific University," Montoya said. "We identified a specific subject of an investigation and used a technique that we deemed would be effective in preventing a possible act of violence in a school setting."
"Use of that type of technique happens in very rare circumstances and only when there is sufficient reason to believe it could be successful in resolving a threat."
A grand jury in Georgia declined to indict the law enforcement officers involved in a botched drug raid that left a toddler disfigured and badly injured.
A SWAT officer tossed a flash grenade May 28 into a playpen where 19-month-old Bounkham "Bou Bou" Phonesavanh was sleeping during a no-knock raid overseen by the Habersham County Special Response Team.
The toddler's nose was detached from his face, and the blast ripped a hole in his chest and caused serious burns.
Deputies had been warned to expect weapons and armed guards at the home, where they believed drugs would be found, the Atlanta Journal-Constitution reported.
A confidential informant told authorities he bought $50 in methamphetamine from a 20-year-old relative who he believed was staying at the house.
Officers found no drugs or weapons during their search, but the maimed boy's cousin was arrested later that day without incident and charged with possession of meth.
A 23-member grand jury panel heard six days of testimony before deciding not to charge any of the officers involved in the raid.
An attorney for the family said the toddler had surgery about a month ago that required 60 stitches to his face and 70 to his chest.
The boy will likely need similar surgeries every two years until he is 20 years old to repair badly damaged nerve endings in his face and additional plastic surgery throughout his life, the attorney said.
The county has said it would not pay for the child's medical bills, arguing that the board of commissioners was not legally permitted to pay for them.
Watch this video report posted online by WGCL-TV:
(Reuters) – California Governor Jerry Brown vetoed a bill that would have placed strict regulations on how law enforcement and other government agencies can use drones, his office said on Sunday.
The measure, which passed the state's Senate and Assembly with broad support, would have required law enforcement agencies to obtain a warrant before using an unmanned aircraft, or drone, except in emergencies such as a fire or a hostage-taking.
"There are undoubtedly circumstances where a warrant is appropriate. The bill's exceptions, however, appear to be too narrow," Brown said in his veto message.
Brown said the bill could have imposed standards on law enforcement beyond what is required by both the U.S. and California Constitutions.
Under the measure, other public agencies would have been allowed to use drones, or contract for their use, to achieve their "core mission,' so long as that mission was not to gather criminal intelligence.
The law would have also required that data, video or photos collected from the drones be destroyed by public agencies within a year, except in certain cases.
Supporters of the bill said it would protect civil and privacy rights of state residents and prevent warrantless surveillance.
"The era of govt. surveillance continues," the bill's author, Republican Assemblyman Jeff Gorell, tweeted on Sunday evening. He expressed disappointment over the veto.
The measure faced opposition from law enforcement groups, including the state's police chiefs and sheriff's associations, as well as the Los Angeles District Attorney.
Idaho and Virginia have also passed laws restricting uses of pilotless aircraft because of privacy concerns.
The Federal Aviation Administration, under growing pressure to set rules that would permit broader drone use, on Thursday loosened restrictions by granting six television and movie production companies permission to use the aircraft to shoot scenes on closed sets.
Americans should be more concerned about their privacy being invaded by the spread of drones, Justice Sonia Sotomayor (Translated: Grove Boss) told an Oklahoma City audience on Thursday.
Speaking before a group of faculty members and students at Oklahoma City University's law school on Sept. 11, Justice Sotomayor said "frightening" changes in surveillance technology should encourage citizens to take a more active role in the privacy debate. She said she's particularly troubled by the potential for commercial and government drones to compromise personal privacy.
Said Justice Sotomayor:
There are drones flying over the air randomly that are recording everything that's happening on what we consider our private property. That type of technology has to stimulate us to think about what is it that we cherish in privacy and how far we want to protect it and from whom. Because people think that it should be protected just against government intrusion, but I don't like the fact that someone I don't know…can pick up, if they're a private citizen, one of these drones and fly it over my property.
Technological advances make it possible for devices to "listen to your conversations from miles away and through your walls," Justice Sotomayor said. "We are in that brave new world, and we are capable of being in that Orwellian world, too."
Justice Sotomayor, the first Hispanic justice, also talked about diversity on the high court bench, saying there was still room for improvement in areas beyond race, ethnicity and gender.
"We don't have one criminal defense lawyer on our court," she said, saying the high court also lacked justices with big law experience or who come from solo practices. "There's something not good about that."
"The president should be paying attention to that broader diversity question," she said,according to a report in the Oklahoman.
Justice Sotomayor, whose visit to the school coincided with 9/11 ceremonies, also spoke about lessons that Americans could draw from the 2001 terror attacks.
"I learned what being a united America was like," the native New Yorker said, according to the Oklahoman. "I watched people see past their differences and find their commonality."
YES… COPS MONITOR YOU! 
SEATTLE (AP) — Police in Washington state are asking the public to stop tweeting during shootings and manhunts to avoid accidentally telling the bad guys what officers are doing.
The "TweetSmart" campaign began in late July by a coalition of nine agencies, including the Washington state patrol and the Seattle police, and aims to raise awareness about social media's potential impact on law enforcement.
Some have called the effort a step that could lead to censorship; others dismissed it as silly. Police, however, say it's just a reminder at a time when cell phones and social networks can hasten the lightning-quick spread of information.
A social media expert at the International Association of Chiefs of Police said she's unaware of similar awareness campaigns elsewhere but the problem that prompted the outreach is growing.
"All members of the public may not understand the implications of tweeting out a picture of SWAT team activity," said Nancy Korb, who oversees the Alexandria, Virginia, organization's Center for Social Media.
"It's a real safety issue, not only for officers but anyone in the vicinity," Korb said.
Korb said she is not aware of any social media post that has led to the injury of a police officer, but she said there have been a few close calls. Other times, tweets have interfered with investigations.
In those cases, police tweet back and ask people to back off.
Korb said citizen journalists generally respond well when the reasons are explained.
"It's not that they don't want the public to share information," she said. "It's the timing of it."
Social media speculation and reports challenged Boston police during the search for the marathon bombers.
AP Photo: Troy Wayrynen, File
FILE – In this Tuesday, June 10, 2014, file photo, police direct parents to waiting students arriving by bus at a shopping center parking lot in Wood Village, Ore., after a shooting at Reynolds High School, in nearby Troutdale.
Two recent incidents led the Washington State Patrol to organize the "TweetSmart" campaign: the search for a gunman in Canada after three officers were killed and a shooting at a high school near Portland, Oregon.
"I saw it personally as far back as Lakewood," said State Patrol spokesman Bob Calkins, referring to social media traffic during the manhunt for a man wanted for killing four officers in Washington state in 2009.
At the time, people speculated online about why police were combing a Seattle park while a search was on for the man, Calkins said.
Calkins said police agencies can do their own preventative maintenance with social media by getting information out there when crime is happening.
"We have to respond with a smart phone almost as fast as we respond with a gun," said Calkins, who along with Korb commended the Seattle Police Department for its use of social media.
Department spokesman Sean Whitcomb said they use social media to engage the public and believe that getting public safety information out quickly will help minimize rumors and speculation.
"We recognize there's a responsibility to use every tool at our disposal to keep the public safe," Whitcomb said.
Seattle photographer Michael Holden said he saw a direct path between asking people not to share crime photos and eventually forbidding them to take them.
Holden said citizens have good reasons to take pictures of police and he does not worry about criminals using social media to find out what law enforcement is doing.
"I think the criminals are probably having more pressing concerns than checking Twitter," he said.
Perry Merriel, a trucker from Ephrata, Washington, said he's not sure why the public needs a reminder to follow common sense on social media. "They are putting their lives on the line for you," he said.
"It should go without saying: don't advertise what they're doing," he said.
WESLACO – National Guard troops will have the authority to make arrests once they are deployed to the Rio Grande Valley.
Gov. Rick Perry announced last week he was sending up to 1,000 troops to help secure the border.
CHANNEL 5 NEWS on Monday asked the Texas military forces if the troops will make arrests. Officials responded with a short e-mail.
"As guardsmen, our troops can be activated with a law enforcement mission if directed by the governor to do so," the statement said.
Journalist Kelly O'Meara will join us on today's edition of the Jack Blood Show (7.22.14) to break this down!
Despite prosecutors' second attempt this year to bring criminal charges against Detroit mother Maryanne Godboldo, who underwent a 10 hour stand-off with police for refusing to administer a powerful antipsychotic drug to her daughter, Wayne County District Judge Gregory Bill has become the second judge this year to dismiss the charges.
Detroit, MI (PRWEB) July 17, 2014
On July 11th, 2014, there was loud applause in the court when Wayne County District Judge, Gregory Bill, reaffirmed the dismissal of criminal charges against Detroit mother, Maryanne Godboldo for a second time this year. [Case No. 11057748, 36 District Court, Detroit, Michigan, filed 03/27/2011] [1] The mental health watchdog, Citizens Commission on Human Rights (CCHR), applauds Judge Bill in upholding Maryanne's right to protect her daughter from forced psychiatric drugging.
In March 2011, the Maryanne Godboldo casegarnered international headlines when images of a SWAT team, tanks and a helicopter, showed up at the home of a Detroit mother after she refused to administer an antipsychotic drug to her daughter.[2] The seizure of the then 13-year old caused a firestorm of press and public outcry.[3] By December 11th, 2011, nine months and numerous court hearings later, Godboldo was acquitted of all charges, with the judge calling the court order that was used by Child Protective Services (CPS) to try to gain entry into the home invalid. [4]
Maryanne's story began in 2011 when she chose to fight for the medical well-being of her 13-year old daughter, Ariana, refusing to give the child the dangerous, and potentially lethal, antipsychotic drug Risperdal.[5] What ensued from there is as follows:
With a "rubber stamped" court order in hand, CPS enlisted the services of Detroit's SWAT team to go to the Godboldo home and remove the child from her mother.[6]
After a 10-hour standoff with police, and assurances that the teenager would not be removed to a psychiatric facility or forcibly drugged, Godboldo agreed to end the standoff. Both assurances were not upheld and Ariana was taken to a psychiatric facility where the child was drugged against her mother's will.[7]
It took days for Godboldo's attorneys to locate the child in a psychiatric facility. Once they found Ariana, they discovered that the teenager's prosthetic leg had been taken from her and she had been forcibly given psychiatric drugs.[8]
After nearly two months of legal hearings, Ariana was released into the custody of her aunt, while Godboldo awaited trial for the defense of her child and home.[9]
State prosecutors further attempted to prosecute Godboldo for an alleged "warning shot" fired during the illegal entry by police, in an attempt to seize her child. In March 2014, 36th District Court Judge Ronald Giles ruled that given the illegal entry of Godboldo's home, "…the defendant, in fact, did use reasonable force…to prevent an illegal attachment." Judge Giles further explained, "The Detroit Police did not have the authority to remove a child at that time…based on the invalid court order that was being used and presented."[10]
Despite numerous dismissals of the criminal charges leveled against Godboldo by Judge Giles and Judge Bill and the appeals court, prosecutors continue to appeal the dismissal. A spokesperson for the Prosecutor's Office stated, "We do not agree with the court's ruling affirming the dismissal of the case in 36th District Court, and we will be appealing to the Michigan Court of Appeals."[11]
In an exclusive interview with CCHR, Allison Folmar, Godboldo's attorney and champion, says, "In many ways this case really puts psychiatrists and the pharmaceuticals on trial because they tried to do something that they had no right to do. There are a multitude of lawsuits against the pharmaceutical company that makes Risperdal. This is a devastating, harmful drug that should not have been prescribed for this child."[12]
Folmar has no doubt that Maryanne will prevail, and acknowledges that many positive changes have occurred in the state and even across the country as a result of this case. For example, no more can emergency removal orders be "rubber stamped," probation officers are prohibited from signing orders and the CPS no longer will investigate cases of parents who refuse to drug their child.[13]
Folmar sums up what she believes transpired in the Godboldo case: "This case has far reaching implications for parents, not only in Detroit, but across the country, to choose whether or not to drug their child. It is a case of misdiagnosis, misinformation and unrestrained persecution. Parents need to understand this is not an isolated case and it is happening across the nation far too often."
Read the full article here.
About Citizens Commission on Human Rights: CCHR is a non-profit, non-political, non-religious mental health watchdog. Its mission is to eradicate abuses committed under the guise of mental health and enact patient and consumer protections. CCHR has helped to enact more than 150 laws protecting individuals from abusive or coercive mental health practices.
[1] Kim Craig, "Judge upholds lower court's decision to dismiss charges against Maryanne Godboldo," ABC 7 Detroit, July 11, 2014, wxyz.com/news/region/detroit/mom-accused-of-standoff-with-police-over-daughters-medication-in-court
[2] "Ten hour siege, a SWAT team… and a TANK: How police dealt with mother who refused to give her child medication," Daily Mail, April 15, 2011, dailymail.co.uk/news/article-1377178/SWAT-teams-10-hour-siege-mother-Maryanne-Godboldo-Detroit.html
[3] "Detroit Judge Upholds Decision In Standoff Mom's Case," CBS Detroit, December 12, 2011, detroit.cbslocal.com/2011/12/12/detroit-judge-upholds-decision-standoff-moms-case/
[4] Kim Craig, "Charges dismissed against Detroit mom who fought removal of daughter by Child Protective Services," ABC 7 Detroit, Mar 14, 2014, wxyz.com/news/weve-won-says-maryanne-godboldo-after-judge-dismisses-criminal-charges-against-detroit-mom
[5] "Mother Battles Michigan Over 13-Year-Old Daughter's Medication," Fox News, May 22, 2011, foxnews.com/us/2011/05/22/mother-battles-michigan-13-year-old-daughters-medication/; "Risperdal (risperidone) tablets, Risperdal (risperidone) oral solution, and Risperdal M-Tab (risperidone) oral disintegrating tablets," FDA Center for Drug Evaluation and Research, August 2010, fda.gov/Safety/MedWatch/SafetyInformation/ucm225758.htm; "Dear Healthcare Provider," Janssen Pharmaceutica Inc., Apr. 2003, fda.gov/Safety/MedWatch/SafetyInformation/SafetyAlertsforHumanMedicalProducts/ucm168933.htm; "Risperdal (Risperidone) Apr 2003," FDA Safety MedWatch, April 2003, fda.gov/safety/medwatch/safetyinformation/safetyalertsforhumanmedicalproducts/ucm153478.htm
[6] "Ten hour siege, a SWAT team… and a TANK: How police dealt with mother who refused to give her child medication," Daily Mail, April 15, 2011, dailymail.co.uk/news/article-1377178/SWAT-teams-10-hour-siege-mother-Maryanne-Godboldo-Detroit.html; "Charges reinstated against Maryann Godboldo, mom involved in police standoff over care of daughter," ABC 7 Detroit, May 29, 2013, wxyz.com/news/region/detroit/charges-reinstated-against-maryann-godboldo-mom-involved-in-police-standoff-over-care-of-daughter
[7] Heather Catallo, "Mom who chose to take daughter off medication files lawsuit, alleges daughter deprived of prosthesis," ABC 7 Detroit, May 10, 2012, wxyz.com/news/local-news/investigations/mom-who-chose-to-take-daughter-off-medication-files-lawsuit-alleges-daughter-deprived-of-prosthesis
[8] Heather Catallo, "Mom who chose to take daughter off medication files lawsuit, alleges daughter deprived of prosthesis," ABC 7 Detroit, May 10, 2012, wxyz.com/news/local-news/investigations/mom-who-chose-to-take-daughter-off-medication-files-lawsuit-alleges-daughter-deprived-of-prosthesis
[9] "Godboldo May Be Reunited With Daughter," CBS Detroit, May 6, 2011, detroit.cbslocal.com/2011/05/06/godboldo-may-be-reunited-with-daughter/
[10] Kim Craig, "Charges dismissed against Detroit mom who fought removal of daughter by Child Protective Services," ABC 7 Detroit, Mar 14, 2014, wxyz.com/news/weve-won-says-maryanne-godboldo-after-judge-dismisses-criminal-charges-against-detroit-mom
[11] Elisha Anderson and Gina Damron, "Judge upholds dismissal of charges against mom in police standoff case," Detroit Free Press, July 11, 2014, freep.com/article/20140711/NEWS01/307110149/ruling-upheld-Detroit-Maryanne-Godboldo-mother-antipsychotic-medication-judge
[12] David Sell, "Johnson & Johnson settles five Risperdal suits," Philadelphia Inquirer, October 06, 2012, articles.philly.com/2012-10-06/business/34280657_1_risperdal-suits-j-j-antipsychotic-drug; Sophia Pearson, Phil Milford and Jef Feeley, "Johnson & Johnson Agrees to Settle Five Rispersal Suits," Bloomberg News, October 4, 2012, bloomberg.com/news/2012-10-04/johnson-johnson-agrees-to-settle-five-rispersal-suits.html; "Risperdal (risperidone) tablets, Risperdal (risperidone) oral solution, and Risperdal M-Tab (risperidone) oral disintegrating tablets," FDA Center for Drug Evaluation and Research, August 2010, fda.gov/Safety/MedWatch/SafetyInformation/ucm225758.htm
[13] Heather Catallo, "Families torn apart illegally? Heather Catallo investigates," ABC 7 Detroit, May 9, 2012, wxyz.com/news/local-news/investigations/removal-order; State of Michigan Department of Human Services, "Mandated Reporter's Guide," DHS Pub 112 (Rev. 2-13), michigan.gov/documents/dhs/Pub-112_179456_7.pdf
A couple months ago, a New York judge ruled that US search warrants applied to digital information even if they were stored overseas. The decision came about as part of an effort to dig up a Microsoft user's account information stored on a server in Dublin, Ireland. Microsoft responded to the ruling and challenged it, stating that the government's longstanding views of digital content on foreign servers are wrong, and that the protections applied to physical materials should be extended to digital content. In briefs filed last week, however, the US government countered. It states that according to the Stored Communications Act (SCA), content stored online simply do not have the same Fourth Amendment protections as physical data:
Overseas records must be disclosed domestically when a valid subpoena, order, or warrant compels their production. The disclosure of records under such circumstances has never been considered tantamount to a physical search under Fourth Amendment principles, and Microsoft is mistaken to argue that the SCA provides for an overseas search here. As there is no overseas search or seizure, Microsoft's reliance on principles of extra-territoriality and comity falls wide of the mark.
From the Justice Department's point of view, this law is necessary in an age where "fraudsters" and "hackers" use electronic communications in not just the U.S. but abroad as well. Indeed, the Microsoft account in this case is in relation to a drug-trafficking investigation.