Company aims to alert prisons of incoming threats
MOUNDSVILLE – Sometimes described as an "angry beehive," the unmistakable sound of drones whizzing through the sky will be heard at the 2014 Mock Prison Riot from May 4-7 at the former West Virginia Penitentiary.
DroneShield LLC, a Virginia-based company that specializes in drone detection systems, will deploy drones and its drone detection technology during training scenarios at the four-day riot. Special operations teams will practice scenarios, in which drones will be flown over the prison walls to drop off contraband to "prisoners."
According to Brian Hearing, co-founder of DroneShield, drones have become a growing concern with prison wardens as improved technology continues to make drones more widely available and inexpensive.
We are FOR smarter construction and "green" technology… this however isn't it.
Washington, D.C. may have the highest number of certified green buildings in the country, but research by  Environmental Policy
Alliance suggests it might not be doing much good.
The free-market group analyzed the first round of energy usage data released by city officials Friday and found that large, privately-owned buildings that received the green energy certification Leadership
in Energy Design (LEED) actually use more energy than buildings that didn't receive this green stamp of approval.
LEED is the brainchild of the U.S. Green Building Council (USGBC), a private environmental group.
Washington, D.C.'s Department of Environment made the capital the first city in the nation to mandate LEED certifications in the construction of public buildings. The standards are now being phased in.
The results are measured in EUI's, a unit that relates a building's energy consumption to its size; the higher the number, the more energy is expended by a smaller building.
Take the Green Building Council's Washington headquarters. Replete with the group's top green-energy accolade, the platinum LEED certification
, the USGBC's main base comes in at 236 EUI. The average EUI for uncertified buildings in the capital? Just 199.
Certified buildings' average comes in at 205 EUI, still less efficient than that didn't take home
the ultimate green trophy.
"LEED certification is little more than a fancy plaque displayed by these 'green' buildings," charged Anastasia Swearingen, LEED Exposed's lead researcher on the project. "Previous analyses of energy use by LEED-certified buildings have consistently shown that LEED ratings have no bearing on actual energy efficiency
."
Swearingen told The Daily Caller News Foundation the system doesn't take into account
any proof of energy efficiency. The LEED model grades buildings on ideal conditions — the certification is based on "if everyone shuts their blinds, turns off their computers at the end of the day, makes sure the lights are off — but it doesn't factor in how much energy is really used after it's actually occupied," Swearingen contended.
In its own report released with the data, even the city's Department of Environment acknowledged the concerns raised by the "dependence on a third-party organization
, over which the government has no oversight, to set the District's green building standards." But while it understands the risks, the D.C. government continues to mandate the ratings for public buildings — and get cash from the program.
The city has collected $5.2 million in permit fees from the program since 2010.
by Sayer Ji
The mystery of what is causing thousands to die each year from a fatal kidney disease may now be solved, with evidence pointing to the world's most heavily used herbicide Roundup (glyphosate) as the primary culprit. 
A new study published in the International Journal of Environmental Research and Public Health proposes a link between the herbicide known as Roundup (aka glyphosate) and a series of mysterious epidemics of fatal chronic kidney disease of unknown origin (CKDu) affecting several poor farming regions around the world.
The extent of the health problem is so massive that the Center for Public Integrity found that CKDu has killed more people in El Salvador and Nicaragua than diabetes, AIDS and leukemia combined, over the past 5 years on record.
Titled, "Glyphosate, Hard Water and Nephrotoxic Metals: Are They the Culprits Behind the Epidemic of Chronic Kidney Disease of Unknown Etiology in Sri Lanka?" researchers hypothesized that while glyphosate is toxic, it alone is not capable of destroying kidney tissue on the scale recently observed in rice paddy regions of Northern Sri Lanka, or in El Salvador where it is the second leading cause of death among men. They propose glyphosate becomes extremely toxic to the kidney when it mixes with 'hard' water or heavy metals like arsenic and cadmium, either naturally present in the soil or added externally through fertilizer inputs. Hard water contains 'metals,' such as calcium, magnesium, strontium and iron, along with carbonate, bicarbonate, sulphate and chlorides.
The new hypothesis explains a number of observations connected with the disease, including why in afflicted regions like Sri Lanka there has been a strong association between the consumption of hard water and the occurrence of this special kidney disease, with 96% of CKDu patients having consumed hard or very hard water for at least five years.
The image below shows how closely water hardness and the prevalence of CKDu overlap:
The discovery of a 'new disease'
According to the study, a "Chronic Kidney Disease of Unknown etiology (CKDu)" was discovered among the rice paddy farms in Northern Central Province of Sri Lanka in the mid-1990s.  The condition spread quickly to other farming areas, and now afflicts 15% of working age people in the northern part of the country, or a total population of 400,000 patients with an estimated death toll of around 20,000. Watch the videos "Mystery in the Fields" and "Cycle of Death" for 5-minute documentaries providing additional background information on afflicted areas around the world.
CKDu does not carry the same known risk factors as chronic kidney disease, which include diabetes, high blood pressure and glomerular nephritis, an inflammatory kidney condition. The Sri Lankan Ministry of Health introduced criteria for CKDu in 2009, including:
No past history of, or current treatment for diabetes mellitus or chronic and/or severe hypertension, snake bites, urological disease of known etiology or glomerulonephritis.
Normal glycosylated hemoglobin levels (HbA1C ˂ 6.5%).
Blood pressure ˂160/100 mmHg untreated or ˂140/90 mmHg on up to two 
antihypertensive agents.
Owing to the fact that geographical and socioeconomical factors play such a central role in determining risk, it has been assumed that environmental and occupational factors are the main causative agents and therefore that CKDu is a form of toxic nephropathy, i.e. chemically-induced damage. The authors point out that even the World Health Organization conducted studies to determine  the origin of CKDu, and that the general consensus is the disease as multiple causes, including:
Exposure to arsenic
Exposure to cadmium
Exposure to pesticides
Consumption of hard water
Low water intake
Exposure to high temperatures (and resultant dehydration)
The authors, however, propose: "Whatever hypothesis that is propounded should be able to answer the questions as to why CKDu is confined to certain geographical areas of Sri Lanka and why there was no CKDu in Sri Lanka prior to the 1990s."

Roundup Weedkiller (Glyphosate) The Likely Culprit
The study goes on to detail how since 1977 political changes in Sri Lanka lead to large-scale importation and application of agrochemicals, especially for rice paddy farming. They propose that 12-15 years of cumulative exposure to low concentration kidney-damaging compounds, along with their increasing bioaccumulation within the environment and human body, could explain the sudden appearance in the 1990s of clinically identifiable CKDu.  They hypothesized the existence of a so-called Compound "X" as the incriminating agent, which they determined would have to have the following characteristics:
A compound made of recently (2–3 decades) introduced chemicals to the CKDu endemic area.
Ability to form stable complexes with hard water.
Ability to capture and retain arsenic and nephrotoxic metals and act as a "carrier" 
in delivering these toxins to the kidney.
Possible multiple routes of exposure: ingestion, dermal and respiratory absorption.
Not having a significant first pass effect when complexed with hard water.
Presenting difficulties in identification when using conventional analytical methods.
Following an extensive search they arrived at glyphosate, which is the most widely used herbicide in Sri Lanka, as the likely culprit. They describe how glyphosate's half-life can increase from several weeks in normal water to many years in hard water, as it forms hard to biodegrade glyphosate-metal complexes (GMCs).  GMC exposure can happen in two ways: consumption of contaminated hard water, or it can form within the human body following glyphosate's entry into circulation. Farmers (and their families) are at constant risk of exposure through skin or inhalation, in addition to untreated drinking water.
The study describes in depth the way in which GMCs may evade the liver's detoxification mechanisms and damage the kidneys. This is in addition to the over 20 distinct modes of toxicity we have indexed on the GreenMedInfo.com database on glyphosate harms.
Finally, the authors discuss evidence that glyphosate may be behind similar epidemics of chronic kidney disease of unknown cause in Central American countries of El Salvador, Nicaragua and Costa Rica, as well as India.
To read the entire open access study visit this link: www.mdpi.com/1660-4601/11/2/2125
This article first appeared at GreenMedInfo.  Please visit to access their vast database of articles and the latest information in natural health.
Beginning Saturday, March 1, students and staff at Tennessee State University will be required to present identification badges at any time that can also track their movements in and out of buildings, according to a local-news report.
After a spate of break-ins and vandalism, officials at the university instituted the new ID requirement as a way to ensure safety on campus, a TSU release said.
"Our primary concern is always to provide a safe and healthy environment for all of our students, employees and visitors," said Dr. Curtis Johnson, associate vice president for administration, who is in charge of Emergency Management. "Safety on our campus is priority number one, and with the new policy we want to ensure that our students, faculty, and staff are safe at all times."
"Failure to comply with the new policy," the school said, "may result in employee disciplinary action, student judicial action, or removal from University property."
Besides being used to access buildings, the IDs can be used as meal cards, to check out library materials, to access computer labs and athletic events, and more.
Via Campus Reform.
There is no scientific evidence that human activity is causing the planet to warm, according to Greenpeace co-founder Patrick Moore, who testified in front of a Senate committee on Tuesday.
Moore argued that the current argument that the burning of fossil fuels is driving global warming over the past century lacks scientific evidence. He added that the Earth is in an unusually cold period and some warming would be a good thing.
"There is no scientific proof that human emissions of carbon dioxide (CO2) are the dominant cause of the minor warming of the Earth's atmosphere over the past 100 years," according to Moore's prepared testimony. "Today, we live in an unusually cold period in the history of life on earth and there is no reason to believe that a warmer climate would be anything but beneficial for humans and the majority of other species."
"It is important to recognize, in the face of dire predictions about a [two degrees Celsius] rise in global average temperature, that humans are a tropical species," Moore said. "We evolved at the equator in a climate where freezing weather did not exist. The only reasons we can survive these cold climates are fire, clothing, and housing."
"It could be said that frost and ice are the enemies of life, except for those relatively few species that have evolved to adapt to freezing temperatures during this Pleistocene Ice Age," he added. "It is 'extremely likely' that a warmer temperature than today's would be far better than a cooler one."
Indeed, cold weather is more likely to cause death than warm weather. RealClearScience reported that from "1999 to 2010, a total of 4,563 individuals died from heat, but 7,778 individuals died from the cold." Only in 2006 did heat-related deaths outnumber cold deaths.
In Britain, 24,000 people are projected to die this winter because they cannot afford to pay their energy bills. Roughly 4.5 million British families are facing "fuel poverty."
"The fact that we had both higher temperatures and an ice age at a time when CO2 emissions were 10 times higher than they are today fundamentally contradicts the certainty that human-caused CO2 emissions are the main cause of global warming," Moore said.
Make sure to listen to our interview on THE JACK BLOOD SHOW W/ Author Daniel Estulin – (to be posted later today) His book: TransEvolution has the best research on 'Designer babies'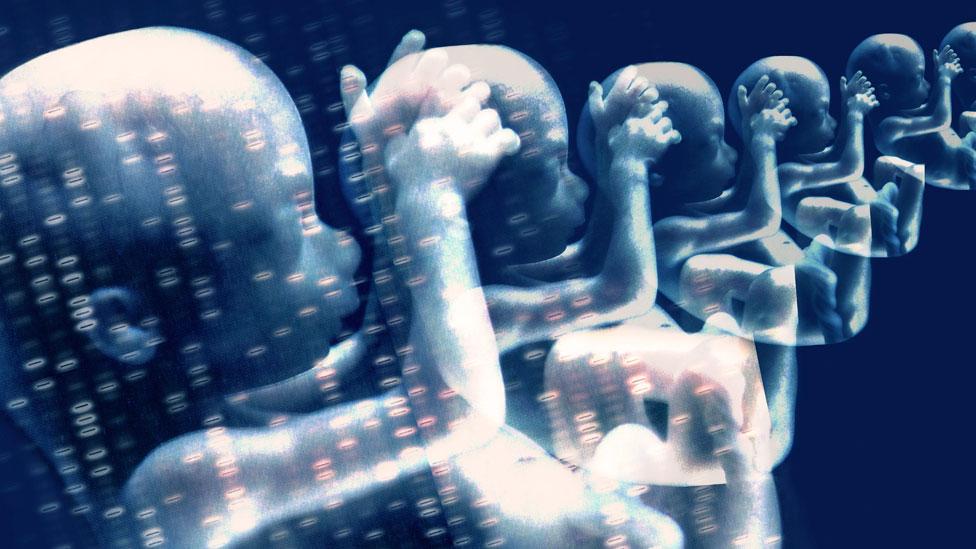 A new technology aimed at eliminating genetic disease in newborns would combine the DNA of three people, instead of just two, to create a child, potentially redrawing ethical lines for designer babies.
The process works by replacing potentially variant DNA in the unfertilized eggs of a hopeful mother with disease-free genes from a donor. U.S. regulators today will begin weighing whether the procedure, used only in monkeys so far, is safe enough to be tested in humans.
Because the process would change only a small, specific part of genetic code, scientists say a baby would largely retain the physical characteristics of the parents. Still, DNA from all three — mother, father and donor — would remain with the child throughout a lifetime, opening questions about long-term effects for this generation, and potentially the next. Ethicists worry that allowing pre-birth gene manipulation may one day lead to build-to-order designer babies.
"Once you make this change, if a female arises from the process and goes on to have children, that change is passed on, so it's forever," Phil Yeske, chief science officer of the United Mitochondrial Disease Foundation, said by telephone. "That's uncharted territory; we just don't know what it means. Permanent change of the human germline has never been done before, and we don't know what will happen in future generations."
FDA Hearing
The Food and Drug Administration is scheduled today and tomorrow to explore the issue at a meeting, with doctors and researchers scheduled to talk. The FDA will then decide whether to allow scientists at Oregon Health & Science University in Portland, who engineered the approach, to move their testing program from macaque monkeys to woman.
Potentially, the procedure may cut off mitochondrial diseases that are passed down through females and occur in about 1 in 4,000 people. One example is Melas syndrome, which causes a person to have continuing small strokes that damage their brains, leading to vision loss, problems with movement, dementia and death, according to the National Institutes of Health.
"What the FDA needs to think about is that this isn't a procedure to repair mitochondrial disease," said Vamsi Mootha, a professor of systems biology and medicine at Harvard Medical School in Boston who studies mitochondrial disorders. "It's designed to prevent disease. It's designed to offer a woman who's a carrier for disease more options."
Shoukhrat Mitalipov, the researcher heading the Oregon team's work, declined to comment before the FDA meeting.
Monkey Research
In early research, four macaque monkeys were born from the procedure, according to a 2009 report by the Oregon researchers in the journal Nature. They were reported as healthy at age 3.
In October 2012, Nature published reports that the technique had also been used in human egg cells. The resulting embryos were allowed to develop to the blastocyst stage, which usually occurs about five days after fertilization.
About half of the egg cells displayed normal development, the scientists found. Though the procedure is legal in the laboratory, the embryos that result from it can't be implanted in women without the FDA's consent, leading to today's session.
There are two types of DNA: nuclear, which is handed down by both parents, and mitochondria, which only comes from the mother. The technology replaces a donor's nuclear DNA, which determines things like hair color and intelligence, with the same material from the prospective mother, leaving the healthy mitochondria from the donor in place.
The new lab-made egg is then fertilized with the father's sperm in vitro and implanted in the mother's womb.
This isn't the first time that scientists have attempted to disrupt the actions of mitochondria DNA to help fight disease, or the first time the FDA has considered the issue.
Earlier Method
From 1997 to 2003, about 30 children worldwide were born using a method that injected donor mitochondria DNA into eggs after they were fertilized. The first baby born with this technique was reported in 1997. In 2003, though, the FDA told fertility clinics that genetically manipulated embryos were considered a biological product, and subject to regulation, essentially halting the technique in humans.
The lives of those children should be thoroughly investigated before the new procedure is cleared for use in a human trial, said Sheldon Krimsky, a professor of Urban & Environmental Policy & Planning at Tufts University in Boston.
Ethical Issues
In the 1982 position paper, "Splicing Life," the President's Commission for the Study of Ethical Problems in Medicine and Biomedical and Behavioral Research made a distinction between gene therapy that takes place after someone is born compared with manipulation that occurs before, altering the body's genome.
There was broad consensus that the latter, called germ-line engineering, shouldn't be pursued, said Krimsky, who was one of the consultants for the paper. That changed "starting in the late 1990s, when people started whittling away at that distinction," he said in a telephone interview.
"You're altering the genome of an unborn child, someone who can't make a judgment about whether they want to be genetically modified," Krimsky said by telephone. "What will be next, once you allow this?"
Scientists also are concerned that the procedure may not be safe, according to a paper in September 2013 in the journal Science, whose lead author was evolutionary biologist Klaus Reinhardt at the University of Tuebingen in Germany.
Reinhardt's paper noted that male mice bred from this technique sometimes had altered breathing, as well as reduced learning and exploring capabilities, according to earlier research. Female mice weren't tested.
The research in mice suggests that the replacement technique may destroy some lines of communication between mitochondria and the cell's transplanted nucleus, Reinhardt's editorial said. Though the macaque monkeys don't show the same problems, there may be long-term issues from the DNA replacement, he wrote.
Read More: Bloomberg News
Tesla LIVES! When we will be allowed FREE electricity (as a human right)
An ambitious project known as Outernet is aiming to launch hundreds of miniature satellites into low Earth orbit by June 2015

Each satellite will broadcast the Internet to phones and computers giving billions of people across the globe free online access
Citizens of countries like China and North Korea that have censored online activity could be given free and unrestricted cyberspace
'There's really nothing that is technically impossible to this'
You might think you have to pay through the nose at the moment to access the Internet.
But one ambitious organisation called the Media Development Investment Fund (MDIF) is planning to turn the age of online computing on its head by giving free web access to every person on Earth.
Known as Outernet, MDIF plans to launch hundreds of satellites into orbit by 2015.
And they say the project could provide unrestricted Internet access to countries where their web access is censored, including China and North Korea.
Using something known as datacasting technology, which involves sending data over wide radio waves, the New York-based company says they'll be able to broadcast the Internet around the world.
The group is hoping to raise tens of millions of dollars in donations to get the project on the road.
 The Outernet team claim that only 60% of the world's population currently have access to the wealth of knowledge that can be found on the Internet.
This is because, despite a wide spread of Wi-FI devices across the globe, many countries are unable or unwilling to provide people with the infrastructure needed to access the web.
The Outernet project is aiming to raise tens of millions of dollars to launch hundreds of miniature satellites known as cubesats to make their dream a reality
The company's plan is to launch hundreds of low-cost miniature satellites, known as cubesats, into low Earth orbit.
Here, each satellite will receive data from a network of ground stations across the globe.
Using a technique known as User Datagram Protocol (UDP) multitasking, which is the sharing of data between users on a network, Outernet will beam information to users.
Much like how you receive a signal on your television and flick through channels, Outernet will broadcast the Internet to you and allow you to flick through certain websites.
THE OUTERNET PROJECT TIMELINE
By June of this year the Outernet project aims to begin deploying prototype satellites to test their technology
In September 2014 they will make a request to NASA to test their technology on the International Space Station
By early 2015 they intend to begin manufacturing and launching their satellites
And in June 2015 the company says they will begin broadcasting the Outernet from space
'We have a very solid understand of the costs involved, as well as experience working on numerous spacecraft,' said Project Lead of Outernet Syed Karim, who fielded some questions on Reddit.
'There isn't a lot of raw research that is being done here; much of what is being described has already been proven by other small satellite programs and experiments.
There's really nothing that is technically impossible to this'
But at the prospect of telecoms operators trying to shut the project down before it gets off the ground, Karim said: 'We will fight… and win.'
If everything goes to plan, the Outernet project aims to ask NASA for permission to test the technology on the International Space Station.
And their ultimate goal will be to beginning deploying the Outernet satellites into Earth orbit, which they say can begin in June 2015.
Read more:
More…
Also See: United States of Paranoia: How the FBI Spied and Lied – So Conspiracy Theorists would sound Crazy
Britain's GCHQ has a covert unit which uses dirty tricks from "honey trap" sexual liaisons to texting anonymous messages to friends and neighbours to discredit targets from hackers to governments, according to the latest leaks from (alleged) whistleblower Edward Snowden.
Documents released by the American former CIA employee claim that the Cheltenham-based intelligence agency is at the forefront of efforts to develop "offensive" online techniques for use against criminals, and individuals and regimes considered to pose a threat to national security.
The revelations on Sunday sparked criticism that GCHQ is adopting tactics used by illegal hackers, such as so-called denial of service (DoS) attacks to disable chatrooms, which have no clear authority under British law and may have infringed the rights of other internet users.
The Snowden documents, obtained by American broadcaster NBC, also provide evidence that GCHQ has moved beyond its role as a surveillance agency and now occupies operational territory more traditionally associated with its confreres, MI6 and MI5.
The covert GCHQ unit – the Joint Intelligence Threat Research Group (JTRIG) – runs what it terms an "Effects" programme against Britain's enemies under what it calls the four Ds: "Deny/ Disrupt/ Degrade/ Deceive." The mission of the unit is: "Using online techniques to make something happen in the real or cyber world."
Slides from a 2012 presentation, marked Top Secret, outline JTRIG's role in discrediting targets using both online techniques, such as using blogs to leak confidential information to companies or journalists, and "real life" methods like the honey trap – a time-honoured intelligence trick of luring an individual into a sexual encounter to gain information and leverage, potentially for blackmail.
Under the heading "Discredit a target", one slide notes: "Honey trap; a great option. Very successful when it works. Get someone to go somewhere on the internet, or a physical location to be met by a 'friendly face'."
The agency also suggests accessing a target's social networking accounts to replace their photograph, adding approvingly: "Photo change; you have been warned, 'JTRIG is about!!' Can take 'paranoia' to a whole new level."
As well as sending emails and texts to colleagues and friends of an individual as part of "infiltration work", the GCHQ unit details how it can discredit companies and "get another country to believe a 'secret'" by passing off disinformation via computers.
The file also reveals that the agency has perfected software, codenamed Ambassadors Reception, which will "encrypt itself, delete all emails, encrypt all files, make screen shake, no more log on".
The virus, which is used alongside DoS attacks, appears to have been widely deployed with considerable success. The document adds: "Has been used in a variety of different areas, very effective."
Civil liberties campaigners said the revelations, which follow the release of documents last week showing that DoS attacks were used by GCHQ to target so-called hacktivist groups such as Anonymous, added weight to calls for closer control of intelligence agencies.
A Privacy International spokesman said: "Whether it's mass interception of data through undersea cable tapping or cyber attacks, it has become clear that the current legal framework governing intelligence activities in the UK is unfit for purpose in the modern digital era, and reform is urgently needed.  Given the deeply flawed nature of this present investigation by the ISC, we hope that a full and independent inquiry is called. Without explaining the application and interpretation of the current legal framework, the ISC cannot properly reassure the public that UK intelligence agencies have not acted beyond the law or undermined cyber security."
Jake Davis, a former computer hacker who was targeted by GCHQ and jailed last year for attacks on several websites, said: "When we look at what Western governments are doing  - snooping on our emails, infecting our computers, intercepting our phone communications, following our avatars around in online games, encouraging illicit activity and even engaging in their own illicit activity – we have to ask ourselves: who are the real criminals here?
"Throughout the Snowden revelations, GCHQ has insisted its activities are within the law and the subject of ministerial and parliamentary scrutiny.The documents show the techniques developed by JTRIG to block a target's communications have been used in Afghanistan against the Taliban, sending text messages and calls to enemy fighters at a rate of one per minute. The unit has also been active in preventing the spread of nuclear weapons technology. NBC claimed that British intelligence agencies were involved in the attack in 2010 on Iran's atomic facilities using the Stuxnet virus. (Most have attributed this to Israel)
GCHQ did not comment on the latest documents. In a statement, the agency said: "All of GCHQ's work is carried out in accordance with a strict legal and policy framework which ensures that our activities are authorised, necessary and proportionate."
Powerful Nations and Companies Fight Back Against NSA Spying
New Telecommunications Infrastructure Is Being Built to Avoid American Spying
One of India's largest newspapers – The Hindu – reports:
Most of Brazil's global internet traffic passes through the United States, so [the Brazilian] government plans to lay underwater fiber optic cable directly to Europe and also link to all South American nations to create what it hopes will be a network free of US eavesdropping.
A consortium of telecom and undersea cable companies competing for the contracts for the proposed BRICS cable show what they think the project should look like:

(BRICS stands for Brazil, Russia, India, China and South Africa.)
The BRICS countries have the muscle to pull this off.  Each of the BRICS countries are in the top 25 largest economies in the world. China has the world's 2nd largest economy, India is 3rd, Russia 6th, Brazil 7th, and South Africa 25th.
As Reuters notes:
* The BRICS countries make up 21 percent of global GDP. They have increased their share of global GDP threefold in the past 15 years.

* The BRICS are home to 43 percent of the world's population.

* The BRICS countries have combined foreign reserves of an estimated $4.4 trillion.

* Intra-BRICS trade flows reached $282 billion in 2012 and are estimated to reach $500 billion by 2015. In 2002, it was $27.3 billion.

* IMF estimates of GDP per member in 2012, China $8.25 trillion, Brazil $2.43 trillion, Russia and India at $1.95 trillion each, South Africa $390.9 billion.
China is also dropping IBM hardware like a hot potato due to security concerns.  Intel and AMD may not be far behind.
Economic powerhouse Germany is also rolling out a system that would keep all data within Germany's national borders.
New Hardware Is Being Built to Thwart Spying
Anti-virus legend and wild man John McAffee claims that he has created a $100 hardware router which will block NSA snooping:
There will be no way (for the government) to tell who you are or where you are ….
FreedomBox has been developing a similar concept for years:
And numerous other competitors will soon jump into the fray.
Of course, one of the simplest hardware solutions is to unplug.  For example, by using an air gap, duct tape or a typewriter.
New Internet Architecture Is Being Developed to Minimize  American Spying
ICANN (the Internet Corporation for Assigned Names and Numbers) is the organization which controls domain names and internet addresses.
ICANN has long been a U.S.-controlled organization. Even after ICANN become more international on paper, it has still been dominated by America.
The World Wide Web Consortium (W3C) is the main international standards organization for the Web.   For example:
W3C tries to enforce compatibility and agreement among industry members in the adoption of new standards defined by the W3C. Incompatible versions of HTML are offered by different vendors, causing inconsistency in how Web pages are displayed. The consortium tries to get all those vendors to implement a set of core principles and components which are chosen by the consortium.
Together, ICANN and W3C – along with groups like the Internet Society and the Internet Engineering Task Force – are largely responsible for administering the electronic "plumbing" of the Web.
In response to NSA spying revelations, all of these groups just told the U.S. to pound sand.  As Tech Crunch notes:
Key Internet stakeholders, including [ICANN, W3C , Internet Society, Internet Engineering Task Force and others] have released a statement condemning pervasive government surveillance and calling for an internationalization of the Internet's underlying framework.

***

Post-NSA revelations, the United States has lost its standing as the Internet's defender. Instead, it has been revealed that as a country we have systematically worked to undermine its encryption, and the inherent privacy that it grants users.

Instead of keeping the Internet safe, we have built an industry designed on its subversion. And now the Internet is ready to break up with us. From the joint statement:

[The parties] expressed strong concern over the undermining of the trust and confidence of Internet users globally due to recent revelations of pervasive monitoring and surveillance. [...] They called for accelerating the globalization of ICANN and IANA functions, towards an environment in which all stakeholders, including all governments, participate on an equal footing.
Indeed, the head of ICANN has thumbed his nose at the U.S. and expressed support for Brazil's fight against American spying.  As Agence France-Presse reports:
Brazil, which has slammed massive US electronic spying on its territory, said on Wednesday it would host a global summit on internet governance in April.

President Dilma Rousseff made the announcement after conferring in Brasilia with Fadi Chehade, chief executive of the Internet Corporation for Assigned Names and Numbers (Icann).

"We have decided that Brazil will host in April 2014 an international summit of governments, industry, civil society and academia" to discuss Brazil's suggestions for upgrading Internet security, Rousseff said on Twitter.

***

Chehade heaped praise on Rousseff for using her UN General Assembly speech in September to demand measures to thwart the massive US cyber spying operation revealed by US intelligence leaker Edward Snowden.

***

"She spoke for all of us on that day. She expressed the world's interest to actually find out how we are going to all live together in this new digital age," said Chehade.

"The trust in the global internet has been punctured and now it's time to restore this trust through leadership and institutions that can make that happen."
New Software Is Being Developed to Help Protect Against Spying
Google has just rolled out the beta version of an anonymizing proxy service, called uProxy.  I'm not sure I trust Google – a PRISM partner to the NSA – to protect me from government snoops. But there are many other proxy services which claim that they can help protect you from the prying eyes of the NSA.
SecureDrop is an open-source whistleblower submission system that media organizations can install to accept documents from anonymous sources.  It was created by privacy activist and Reddit founder Aaron Swartz, with assistance from Wired editor Kevin Poulsen and security expert James Dolan (a major security audit of SecureDrop has been conducted by security expert Bruce Schneier and a team of University of Washington researchers.)
AP notes:
From Silicon Valley to the South Pacific, counterattacks to revelations of widespread National Security Agency surveillance are taking shape, from a surge of new encrypted email programs to technology that sprinkles the Internet with red flag terms to confuse would-be snoops.

***

Developer Jeff Lyon in Santa Clara, Calif., said he's delighted if it generates social awareness, and that 2,000 users have installed it to date. He said, "The goal here is to get a critical mass of people flooding the Internet with noise and make a statement of civil disobedience."

University of Auckland associate professor Gehan Gunasekara said he's received "overwhelming support" for his proposal to "lead the spooks in a merry dance," visiting radical websites, setting up multiple online identities and making up hypothetical "friends."

And "pretty soon everyone in New Zealand will have to be under surveillance," he said.

Electronic Frontier Foundation activist Parker Higgens in San Francisco has a more direct strategy: by using encrypted email and browsers, he creates more smoke screens for the NSA. "Encryption loses its value as an indicator of possible malfeasance if everyone is using it," he said.

***

This week, researchers at Carnegie Mellon University released a smartphone app called SafeSlinger they say encrypts text messages so they cannot be read by cell carriers, Internet providers, employers "or anyone else."
Privacy companies are changing their encryption standards to try to get around the fact that NSA has been pushing compromised encryption standards as a way to break into encrypted communications.  For example, PC World reports:
The U.S. National Security Agency's reported efforts to weaken encryption standards have prompted an encrypted communications company [Silent Circle] to move away from cryptographic algorithms sanctioned by the U.S. National Institute of Standards and Technology (NIST).
New Legal and Social Norms Are Being Implemented to Rein In Spying
Germany and Brazil are pressing for the adoption of a United Nations General Resolution protecting internet privacy. Other European and Latin American countries are thinking of joining the effort.
European lawmakers on Monday voted to approve new data protections aimed at shielding citizens' private communications from the NSA. The new law will target companies that pass on personal details of Europeans to U.S. law enforcement and intelligence without proper legal documentation showing that the NSA needs the information on national security grounds.
The EU is considering pulling out of the SWIFT financial transfer system.
Foreign companies are using their non-American status as a competitive advantage in competing for cloud storage customers and web users. And see this.
Read MORE here: Washington's Blog
So there IS intelligent life on this planet? Let's control that then….
Is intelligence written in the genes?
Scientists at Kings College, London, have found the first gene which appears to be directly linked to intelligence
A gene which may make people more intelligent has been discovered by scientists.
Researchers have found that teenagers who had a highly functioning NPTN gene performed better in intelligence tests.
It is thought the NPTN gene indirectly affects how the brain cells communicate and may control the formation of the cerebral cortex, the outermost layer of the human brain, also known as 'grey matter.'
Previously it has been shown that grey matter plays a key role in memory, attention, perceptual awareness, thought and language.
Studies have also proved that the thickness of the cerebral cortex correlates with intellectual ability. However, until now no genes had been identified.
Teens with an underperforming NPTN gene did less well in intelligence tests.
Dr Sylvane Desrivières, from King's College London's Institute of Psychiatry and lead author of the study, said: "We wanted to find out how structural differences in the brain relate to differences in intellectual ability.
"It's important to point out that intelligence is influenced by many genetic and environmental factors.
"The gene we identified only explains a tiny proportion of the differences in intellectual ability."
An international team of scientists, led by King's, analysed DNA samples and MRI scans from 1,583 healthy 14 year old teenagers.
The teenagers also underwent a series of tests to determine their verbal and non-verbal intelligence.
The researchers looked at over 54,000 genetic variants possibly involved in brain development.
They found that, on average, teenagers carrying a particular gene variant had a thinner cortex in the left cerebral hemisphere, particularly in the frontal and temporal lobes, and performed less well on tests for intellectual ability.
The genetic variation affects the expression of the NPTN gene, which encodes a protein acting at neuronal synapses and therefore affects how brain cells communicate.
Their findings suggest that some differences in intellectual abilities can result from the decreased function of the NPTN gene in particular regions of the left brain hemisphere.
Although the genetic variation identified in this study only accounts for an estimated 0.5 per cent of the total variation in intelligence.
However, the findings may have important implications for the understanding of biological mechanisms underlying several psychiatric disorders, such as schizophrenia, autism, where impaired cognitive ability is a key feature of the disorder.
The study was published in Molecular Psychiatry.