Excerpt :
The Plain Dealer reports that court documents filed this week by the U.S. Justice Department allege executive and company employees from Diebold's Asia Pacific region paid "$1.75 million in bribes, gifts and trips to dozens of employees of banks in China and Indonesia"… The bribes were paid in order to secure and retain business with bank customers, including state-owned and state-controlled banks.
Diebold attempted to disguise the payments and benefits in various ways, including by making payments through third parties designated by the banks, and by inaccurately recording leisure trips for bank employees as "training."
The court documents also accuse Diebold employees, over a four-year period, of creating and entering into false contracts with a distributor in Russia for services that the distributor was not performing. The distributor, in turn, used the Diebold funds to pay bribes to employees of Diebold's privately-owned bank customers in Russia in order to obtain and retain ATM-related contracts with those customers.
Despite their years-long global crime spree, it seems Diebold will receive yet another slap on the wrist, and another polite request to please not to do that again. You and I should be so lucky next time we run into repeated trouble with the law.
read the rest HERE
This doesn't just happen to "Muslims"! Here is our advice:  Either do not watch Porn on your Computer, TV, I-phone, or with Credit Cards…. OR, be ready to cop to it and say "so what". Also: If you are a leader in the revolution, you may be targeted with Porn (or worse) being sent and installed on your computers… (This happened to us at Deadline Live. We immediately killed it before it could load, and then traced the package back to Halliburton and Chinese IPs) Be aware of this tactic. Make sure you are able to catch it, and do not download anything you are not sure of.
WASHINGTON — The National Security Agency has been gathering records of online sexual activity and evidence of visits to pornographic websites as part of a proposed plan to harm the reputations of those whom the agency believes are radicalizing others through incendiary speeches, according to a top-secret NSA document. The document, provided by NSA whistleblower Edward Snowden, identifies six targets, all Muslims, as "exemplars" of how "personal vulnerabilities" can be learned through electronic surveillance, and then exploited to undermine a target's credibility, reputation and authority.
The NSA document, dated Oct. 3, 2012, repeatedly refers to the power of charges of hypocrisy to undermine such a messenger. "A previous SIGINT" — or signals intelligence, the interception of communications — "assessment report on radicalization indicated that radicalizers appear to be particularly vulnerable in the area of authority when their private and public behaviors are not consistent," the document argues.
Among the vulnerabilities listed by the NSA that can be effectively exploited are "viewing sexually explicit material online" and "using sexually explicit persuasive language when communicating with inexperienced young girls."

The Director of the National Security Agency — described as "DIRNSA" — is listed as the "originator" of the document. Beyond the NSA itself, the listed recipients include officials with the Departments of Justice and Commerce and the Drug Enforcement Administration.
"Without discussing specific individuals, it should not be surprising that the US Government uses all of the lawful tools at our disposal to impede the efforts of valid terrorist targets who seek to harm the nation and radicalize others to violence," Shawn Turner, director of public affairs for National Intelligence, told The Huffington Post in an email Tuesday.
Yet Jameel Jaffer, deputy legal director of the American Civil Liberties Union, said these revelations give rise to serious concerns about abuse. "It's important to remember that the NSA's surveillance activities are anything but narrowly focused — the agency is collecting massive amounts of sensitive information about virtually everyone," he said.
"Wherever you are, the NSA's databases store information about your political views, your medical history, your intimate relationships and your activities online," he added. "The NSA says this personal information won't be abused, but these documents show that the NSA probably defines 'abuse' very narrowly."
None of the six individuals targeted by the NSA is accused in the document of being involved in terror plots. The agency believes they all currently reside outside the United States. It identifies one of them, however, as a "U.S. person," which means he is either a U.S. citizen or a permanent resident. A U.S. person is entitled to greater legal protections against NSA surveillance than foreigners are.
Stewart Baker, a one-time general counsel for the NSA and a top Homeland Security official in the Bush administration, said that the idea of using potentially embarrassing information to undermine targets is a sound one. "If people are engaged in trying to recruit folks to kill Americans and we can discredit them, we ought to," said Baker. "On the whole, it's fairer and maybe more humane" than bombing a target, he said, describing the tactic as "dropping the truth on them."
Any system can be abused, Baker allowed, but he said fears of the policy drifting to domestic political opponents don't justify rejecting it. "On that ground you could question almost any tactic we use in a war, and at some point you have to say we're counting on our officials to know the difference," he said.
In addition to analyzing the content of their internet activities, the NSA also examined the targets' contact lists. The NSA accuses two of the targets of promoting al Qaeda propaganda, but states that surveillance of the three English-speakers' communications revealed that they have "minimal terrorist contacts."
In particular, "only seven (1 percent) of the contacts in the study of the three English-speaking radicalizers were characterized in SIGINT as affiliated with an extremist group or a Pakistani militant group. An earlier communications profile of [one of the targets] reveals that 3 of the 213 distinct individuals he was in contact with between 4 August and 2 November 2010 were known or suspected of being associated with terrorism," the document reads.
The document contends that the three Arabic-speaking targets have more contacts with affiliates of extremist groups, but does not suggest they themselves are involved in any terror plots.
Instead, the NSA believes the targeted individuals radicalize people through the expression of controversial ideas via YouTube, Facebook and other social media websites. Their audience, both English and Arabic speakers, "includes individuals who do not yet hold extremist views but who are susceptible to the extremist message," the document states. The NSA says the speeches and writings of the six individuals resonate most in countries including the United Kingdom, Germany, Sweden, Kenya, Pakistan, India and Saudi Arabia.
The NSA possesses embarrassing sexually explicit information about at least two of the targets by virtue of electronic surveillance of their online activity. The report states that some of the data was gleaned through FBI surveillance programs carried out under the Foreign Intelligence and Surveillance Act. The document adds, "Information herein is based largely on Sunni extremist communications." It further states that "the SIGINT information is from primary sources with direct access and is generally considered reliable."
According to the document, the NSA believes that exploiting electronic surveillance to publicly reveal online sexual activities can make it harder for these "radicalizers" to maintain their credibility. "Focusing on access reveals potential vulnerabilities that could be even more effectively exploited when used in combination with vulnerabilities of character or credibility, or both, of the message in order to shape the perception of the messenger as well as that of his followers," the document argues.
An attached appendix lists the "argument" each surveillance target has made that the NSA says constitutes radicalism, as well the personal "vulnerabilities" the agency believes would leave the targets "open to credibility challenges" if exposed.
One target's offending argument is that "Non-Muslims are a threat to Islam," and a vulnerability listed against him is "online promiscuity." Another target, a foreign citizen the NSA describes as a "respected academic," holds the offending view that "offensive jihad is justified," and his vulnerabilities are listed as "online promiscuity" and "publishes articles without checking facts." A third targeted radical is described as a "well-known media celebrity" based in the Middle East who argues that "the U.S perpetrated the 9/11 attack." Under vulnerabilities, he is said to lead "a glamorous lifestyle." A fourth target, who argues that "the U.S. brought the 9/11 attacks on itself" is said to be vulnerable to accusations of "deceitful use of funds." The document expresses the hope that revealing damaging information about the individuals could undermine their perceived "devotion to the jihadist cause."
The Huffington Post is withholding the names and locations of the six targeted individuals; the allegations made by the NSA about their online activities in this document cannot be verified.
The document does not indicate whether the NSA carried out its plan to discredit these six individuals, either by communicating with them privately about the acquired information or leaking it publicly. There is also no discussion in the document of any legal or ethical constraints on exploiting electronic surveillance in this manner.
While Baker and others support using surveillance to tarnish the reputation of people the NSA considers "radicalizers," U.S. officials have in the past used similar tactics against civil rights leaders, labor movement activists and others.
Under J. Edgar Hoover, the FBI harassed activists and compiled secret files on political leaders, most notably Martin Luther King, Jr. The extent of the FBI's surveillance of political figures is still being revealed to this day, as the bureau releases the long dossiers it compiled on certain people in response to Freedom of Information Act requests following their deaths. The information collected by the FBI often centered on sex — homosexuality was an ongoing obsession on Hoover's watch — and information about extramarital affairs was reportedly used to blackmail politicians into fulfilling the bureau's needs.
Current FBI Director James Comey recently ordered new FBI agents to visit the Martin Luther King, Jr. Memorial in Washington to understand "the dangers in becoming untethered to oversight and accountability."
James Bamford, a journalist who has been covering the NSA since the early 1980s, said the use of surveillance to exploit embarrassing private behavior is precisely what led to past U.S. surveillance scandals. "The NSA's operation is eerily similar to the FBI's operations under J. Edgar Hoover in the 1960s where the bureau used wiretapping to discover vulnerabilities, such as sexual activity, to 'neutralize' their targets," he said. "Back then, the idea was developed by the longest serving FBI chief in U.S. history, today it was suggested by the longest serving NSA chief in U.S. history."
That controversy, Bamford said, also involved the NSA. "And back then, the NSA was also used to do the eavesdropping on King and others through its Operation Minaret. A later review declared the NSA's program 'disreputable if not outright illegal,'" he said.
Baker said that until there is evidence the tactic is being abused, the NSA should be trusted to use its discretion. "The abuses that involved Martin Luther King occurred before Edward Snowden was born," he said. "I think we can describe them as historical rather than current scandals. Before I say, 'Yeah, we've gotta worry about that,' I'd like to see evidence of that happening, or is even contemplated today, and I don't see it."
Jaffer, however, warned that the lessons of history ought to compel serious concern that a "president will ask the NSA to use the fruits of surveillance to discredit a political opponent, journalist or human rights activist."
"The NSA has used its power that way in the past and it would be naïve to think it couldn't use its power that way in the future," he said.
Adriana Usero and Ryan J. Reilly contributed reporting
Arguments for which radicalizers are being targeted: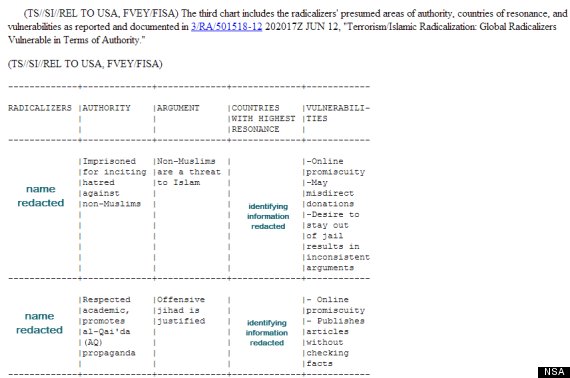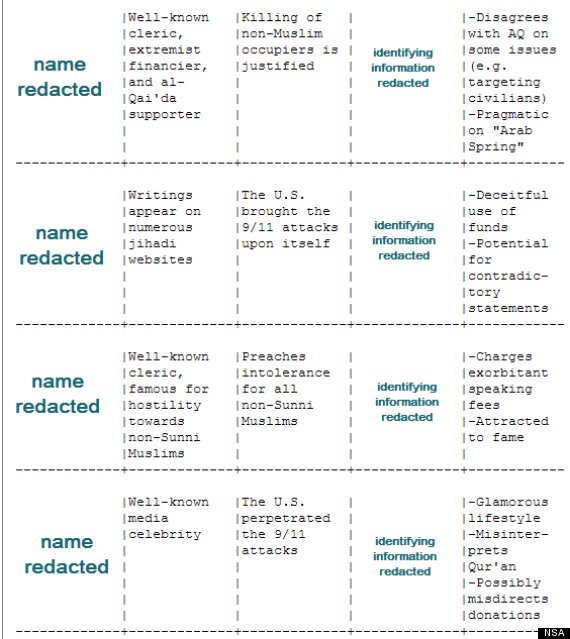 Where the report was sent: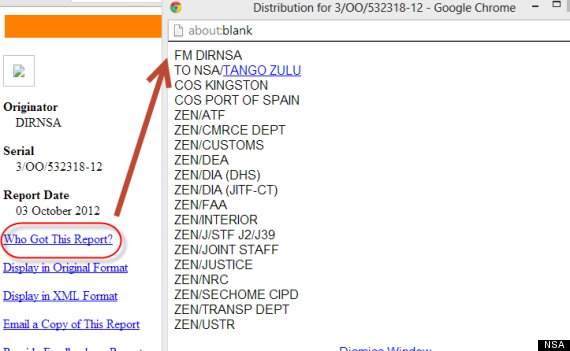 Intelligence gleaned from electronic surveillance:
DHS protocol governs shutting down wireless networks to prevent bomb detonation
The Department of Homeland Security (DHS) must disclose its plans for a so-called Internet "kill switch," a federal court ruled on Tuesday.
The United States District Court for the District of Columbia rejected the agency's arguments that its protocols surrounding an Internet kill switch were exempt from public disclosure and ordered the agency to release the records in 30 days. However, the court left the door open for the agency to appeal the ruling.
The Electronic Privacy Information Center (EPIC) is seeking "Standard Operating Procedure 303," also known as the "Internet kill switch" from Homeland Security. The protocols govern shutting down wireless networks to prevent the remote detonation of bombs.
The broad government power to shut down communications networks worries civil libertarians. However, the agency argues the protocols must be kept secret to protect national interests and the safety of individuals.
EPIC filed a FOIA request for the protocols in July 2012. The Department of Homeland Security originally said it could not find any records on the kill switch.
After EPIC appealed, the agency located the protocol, but redacted nearly all of the information. The agency cited exemptions that allow the withholding of information that could "disclose techniques and procedures for law enforcement investigations or prosecutions" or "could reasonably be expected to endanger the life or physical safety of any individual."
The court said Homeland Security wrongly claimed that it could withhold Standard Operating Procedure 303 as a "technique for law enforcement investigations or prosecutions."
The court also found that interpreting a safety exemption to "encompass possible harm to anyone anywhere in the United States within the blast radius of a hypothetical unexploded bomb also flies in the face of repeated Supreme Court direction to read FOIA exemptions narrowly."
While the court rejected the agency's broad interpretation of FOIA exemptions, it left the door open for further appeals by Homeland Security. The agency has 30 days to release the protocols to EPIC, but the court issued a 30-day additional stay on its opinion to allow the agency time to appeal.
PITTSBURGH (KDKA) – Much like fingerprints, our faces are unique – no two exactly alike.
As human beings, we see the differences, but what can a computer see?
In the movie "Minority Report," cameras in a shopping mall recognize Tom Cruise's character and ads speak directly to him.
While that's fiction, new technology at Carnegie Mellon University is not.
Inside the CyLab Biometrics Center at CMU, is a drone that's programmed to seek out faces.
It wants to take your picture.
And in the next room, is something they're working on for the Department of Defense.
The camera the drone uses can see someone's eye from a distance and then the system checks to see if that person has been entered into its database – or is a possible security risk.
But the center's director Mario Savvides showed us something remarkable. They started by taking a picture of KDKA's David Highfield and adding it to their computer.
"First step, we analyze the face to extract 79 landmarks," said Savvides.
It mapped out his face and then determined that he's male and Caucasian.
It's similar to the fictional mapping seen on many TV shows, where detectives compare faces.
But at CMU, from a single picture of Highfield looking straight forward, "We are able to show if we can generate a 3-D model of your face from that single 2-D photo," Savvides said.
The computer is able to figure out what he looks like form a variety of different angles.
"This is wild, it's pretty awesome," Highfield said.
When the image is frozen and Highfield stands next to it, it's pretty clear that "Cyber David" is almost spot on.
That's useful, because in surveillance videos, criminals rarely pose staring straight into the camera. So being able to calculate different angles is a real benefit – and so is being able to remove something blocking a face.
Highfield also posed with his hand covering part of his face and the computer was able to take the hand away, displaying what he would look like underneath.
A real life test for their advancements came with the Boston Marathon Bombing. The FBI released fuzzy surveillance photos of the suspects.
"Facial recognition systems couldn't do anything with that … that's when we actually sprang into action," Savvides said.
They began plotting what the suspect might look like, hours later in the middle of the night, they sent what they came up with to investigators.
Dzhokhar Tsarnaev was later identified another way, but once his actual picture was released, the Cylab compared it to what they came up with.
OF COURSE THE FBI COULD HAVE ALSO ID'd the ALLEGED BOMBERS FROM THE PRIOR "INTERVIEWS" THEY HAD WITH THEM… (COUGH)
Then they took steps further. They put Tsarnaev's photo into a database with 1 million mug shots. Using the image they constructed from surveillance and by supplying information such as his gender, his ethnicity and his likely age range, the computer picked him as No. 20 out of 1 million. The 20th most likely match to the fuzzy, out-of-focus surveillance photo that was released.
Savvides thinks that shows the potential of whey they do at the CyLab.
"That's huge," he said. "It could be a game changer for law enforcement."
'Killer Robots' could be made illegal if campaigners in Geneva succeed in persuading a UN committee, meeting on Thursday and Friday, to open an investigation into their development
* Keep in mind – What you see below is just what is admitted. We can only guess what's in design or hidden away.
"Slight" conflict of interest huh?
This is – of course – the TIP of the iceberg! Who else is monitoring you? You may be a "law abiding citizen" but do you really want all that weirdness you hide documented by strangers?  Do you want that info used against you in a divorce / custody trial? Could this info be used against you when applying for your next job? Or… Could that info be used to convict you of a crime as circumstantial evidence (see the Memphis 3 trial) There is no doubt this should be illegal! BOYCOTT corporations who engage in this style of behavior! Trust no one. (See our past stories on "security systems") ~ JB
It's not just giant internet companies and the world's spy agencies that those concerned about their privacy need to be worried about — unwelcome intrusions can come from much less obvious places.
From an FTC announcement today:
Aaron'sAAN +0.79%, Inc., a national, Atlanta-based rent-to-own retailer, has agreed to settle FTC charges that it knowingly played a direct and vital role in its franchisees' installation and use of software on rental computers that secretly monitored consumers including by taking webcam pictures of them in their homes.

According to the FTC's complaint, Aaron's franchisees used the software, which surreptitiously tracked consumers' locations, captured images through the computers' webcams – including those of adults engaged in intimate activities – and activated keyloggers that captured users' login credentials for email accounts and financial and social media sites.

"Consumers have a right to rent computers free of cyberspying and to know when and how they are being tracked by a company," said Jessica Rich, director of the FTC's Bureau of Consumer Protection. "By enabling their franchisees to use this invasive software, Aaron's facilitated a violation of many consumers' privacy."
Intimate activities!
A spokesperson for Aaron's declined to comment on the announcement.
The FTC said the proposed settlement includes a prohibition against the company "using monitoring technology that captures keystrokes or screenshots, or activates the camera or microphone on a consumer's computer," for anything other than customer support. It will also have to notify customers — and get their consent — if the products they are renting contain location-tracking technology.
Today's announcement follows a series of prior FTC moves looking into tracking software installed on computers by rental companies. In September 2012, the regulator called out seven rental companies, and the designer of the software, announcing a settlement that was finally approved this April.
The software included legitimate features that the regulator did not object to, including a remote "kill switch" letting the rental company disable a computer if it was stolen of if the customer stopped making payments.  But it also included a so-called "detective mode" allowing more problematic features, including capturing a stream of images from the computer's camera.
See also:
Aaron's Rent-To-Own Chain Settles FTC Charges That it Enabled Computer Spying by Franchisees – FTC
Also:
DOE!
WASHINGTON — Former Vice President Dick Cheney says he once feared that terrorists could use the electrical device that had been implanted near his heart to kill him and had his doctor disable its wireless function.
Cheney has a history of heart trouble, suffering the first of five heart attacks at age 37. He underwent a heart transplant last year at age 71.
In an interview with CBS' "60 Minutes," Cheney says doctors replaced an implanted defibrillator near his heart in 2007. The device can detect irregular heartbeats and control them with electrical jolts.
Cheney says that he and his doctor, cardiologist Jonathan Reiner, turned off the device's wireless function in case a terrorist tried to send his heart a fatal shock.
Years later, Cheney watched an episode of the Showtime series "Homeland" in which such a scenario was part of the plot.
"I was aware of the danger, if you will, that existed, but I found it credible," Cheney tells "60 Minutes" in a segment to be aired Sunday. "Because I know from the experience we had and the necessity for adjusting my own device that it was an accurate portrayal of what was possible."
Cheney and Reiner are promoting a book they co-authored, "Heart: An American Medical Odyssey."
In the "60 Minutes" interview, Reiner says he worried that Cheney couldn't stand the pressure that came on Sept. 11, 2001, the day terrorists attacked the U.S. Medical tests seen that morning showed Cheney had elevated levels of potassium in his blood, a condition called hyperkalemia, which could lead to abnormal heart rhythms and cardiac arrest.
Reiner says he watched news coverage of the day's events on television and thought, "Oh, great, the vice president is going to die tonight from hyperkalemia."
Cheney underwent numerous heart-related procedures over the years, including angioplasties, catheterizations and a quadruple bypass operation. However, he says the health problems never affected his job performance during his eight years as vice president in George W. Bush's administration.
Asked on "60 Minutes" if worried about his physical health impacting his judgment and cognition, Cheney replies, "No." He says he was aware of potential side effects from limited blood flow to the brain and effects on cognition and judgment but didn't worry about it.
"You know, I was as good as I could be, you know," Cheney says, "given the fact I was 60-some years old at that point and a heart patient."
Cheney also dismisses stress as having had an impact on his heart disease. "I simply don't buy the notion that it contributed to my heart disease," he says. "I always did what I needed to do in order to deal with the health crisis in the moment."
We have been tracking this story for years here in the USA, and have personally interviewed at least one man who was arrested for a Pre crime using psychics! If you think about it, DUIs,  jaywalking,  seat-belt violations, Gun ownership violations, Facebook threats, etc etc… Are all examples of pre-crime laws in full effect, and ruining people's lives daily.
With an adequate (honest) justice system in place, we would have no problem punishing people for what they have DONE, if indeed the crime can produce a victim who's life, liberty, or property has been damaged. We will NEVER go along with a program such as this! Thought crimes have no victims, and face it….. y'all have some pretty F'd up thoughts sometimes. We would dare to say; that the very people using programs such as this have the WORST thoughts among us!
Computer algorithms generate future crime maps that lead police to where incidents are likely to occur

So far been shown to make policing up to seven times more successful
All police forces are now being encouraged to adopt the system because 'it's no longer possible to throw overtime at problems'
In the Tom Cruise movie Minority Report, the year was 2054 – but it seems the reality of police predicting crimes before they happen isn't so far away.
The Metropolitan Police is investing in technology to forecast where offenders will strike next.
In an initiative that echoes the hit film in which a 'precrime' department detains murderers before they kill, the force is using computers to map out where future burglaries are likely to take place.
Computer algorithms combine crime statistics and criminal behaviour models to produce 'predictive areas' where burglars and muggers are likely to target.
'We produce daily maps based on the most recent recorded crime information.'
Evaluation of the system so far indicates that the information in the maps give police a seven times better chance of being able to catch criminals and some London boroughs showing significant reductions in burglaries.
Initially the system, known as PredPol, was received sceptically by some senior police officers who were uncertain of how academic research and data might work in real-life crime fighting.

But similar schemes have also been piloted in Kent, Great Manchester , West Yorkshire and the West Midlands with promising results.
In Medway, Kent, the scheme was credited with causing a six per cent fall in street violence over a four-month trial last winter.
Meanwhile in Manchester, burglary fell nine per cent between May 2010 and May 2011 but in Trafford, where predictive policing was used, the drop was nearly three times that at 26 per cent.
And results from Leeds and showed similarly impressive results.
Professor Shane Johnson of UCL's department for security and crime science said the most important element in the system was the fact the crime hotspots constantly change.

He said: 'The risk of crime is higher in some places than others but does not occur in even the riskiest places all the time, and sometimes occurs in low-risk neighbourhoods.
'The challenge of pinpointing when crimes will occur at particular locations is the aim of predicting policing – it's no longer possible to throw overtime at problems.

'The police have got to work a bit smarter.'

Predictive policing originated in America and is based on the principle of drawing conclusions based on the large scale analysis of criminal behaviour.

All 43 forces in England and Wales are now being encouraged to adopt this approach to allocating their resources by the College of Policing, the new professional body that sets police standards.
Rachel Tuffing, the college's head of research, said she expected most forces to be using such schemes within five years.

She said: 'The maps alone cannot reduce crime but they can be used to allocate resources to the areas with the greatest risk of future crime.
'It's the classic Minority Report,trying to prevent "crime" before it happens.'

In Minority report Cruise plays a police captain who heads up a 'pre-crime' department which stops criminals based on the information provided by three psychics called 'precogs.'