(NaturalNews – Phil Pepin) A shocking statistic was found in a report from the U.S. Geological Survey, a study of pesticide and herbicide use from 1992 to 2012. During the two decades, an estimated 2.6 billion pounds of Monsanto's glyphosate-based herbicide was used on America's agricultural land. It's been the primary herbicide used with genetically engineered crops since mid-1990s when Monsanto introduced their "Roundup Ready" corn and soybeans.
A time-lapse video with a map of United States, used in the Environmental Working Group (EWG) article "2.6 Billion Pounds of Monsanto's Glyphosate Sprayed on U.S. Farmland in Past Two Decades," shows the dramatic spread of the use of Roundup.
This is very troubling considering the mounting evidence of serious health risks associated with exposure to glyphosate. A Huffington Post article from April 2013 covered a study that showed a wide range of health risks possibly linked to Roundup. The list included various cancers, Parkinson's and infertility.
The EWG time-lapse video shows that Roundup use is especially heavy in the Midwest. I checked to see if there was any evidence of higher rates of cancer in that region. According to the Dana-Farber Cancer Institute, "breast cancer incidence rates are highest in the Northeast, followed by the Midwest and the South. But death rates from breast cancer are highest in the Midwest."
A June 2015 Reuters article stated that "personal injury law firms around the United States are lining up plaintiffs for what they say could be 'mass tort' actions against agrichemical giant Monsanto Co that claim the company's Roundup herbicide has caused cancer in farm workers and others exposed to the chemical."
Though glyphosate use in America is massive, other parts of the world are banning it.
An August 2015 article in The Guardian stated, "Retail outlets across Europe are taking glyphosate – the main ingredient of Monsanto's Roundup – off their shelves, despite government officials declaring it safe to use."
In June 2015, a Natural News article reported that France banned the sale of glyphosate.
As independent news sources have widely reported, our federal government has an incestuous relationship with Monsanto, so I don't expect any legislation restricting glyphosate use in the near future.
Sources:
Phil Pepin
Host of Pursuit of Freedom
Airs Wednesdays 12:00pm EST
Radio.NaturalNews.com
PursuitofFreedomShow.com
Learn more: http://www.naturalnews.com/051679_Roundup_Monsanto_glyphosate.html#ixzz3qYLZ3Nc0
Does this cast some doubt on MSM "Suicide pilot" stories? What about 911???
A US man has admitted to hacking a plane's computer systems and slightly altering its course.
The FBI has confirmed that in February Chris Roberts, a US security researcher, (Alleged "white Hat Hacker") hacked the in-flight entertainment systems on several flights and on one flight gained access to the plane's thrust management computer and briefly changed its course.
In a warrant application filed in April, FBI agent Mark Hurley said that Mr Roberts made noticeable changes to the aircraft.
"(Roberts) stated that he thereby caused on of the airplane engines to climb resulting in a lateral or sideways movement of the plan during one of these flights," he wrote.
The document states that Roberts claimed to have compromised the in-flight entertainment systems of around 20 flights in the past four years. He achieved this connecting his laptop to the electronics box under his seat after prying it open.
He claimed to have scanned the planes networks for flaws in its security and monitoring communications in and out of the cockpit.
Last month Roberts was escorted off a United Airlines flight after posting a tweet saying that he could hack into the alert system and make the planes oxygen masks drop down. This was not enough to stop him using Twitter to make fun of the incident.
Activities today involve a cup of tea and driving in the hills, no planes, trains, boats, missiles, satellites OR investors.. 'all for now View on Twitter
Although Roberts is a US security researcher, his activities were not official or approved by authorities.
Roberts told Wired that the information released has been taken out of context.
"That paragraph that's in there is one paragraph out of a lot of discussions, so there is context that is obviously missing which obviously I can't say anything about," he said.
United Airlines has launched a program that provides rewards to people who report security flaws in their apps, websites and portal but have strictly outlawed any testing on their aircraft systems.
Read more at http://www.9news.com.au/world/2015/05/17/14/04/us-man-claims-to-have-hacked-into-plane-and-altered-its-flight-path#yCsyU7o0Qo8bhTVy.99
Most people realize that emails and other digital communications they once considered private can now become part of their permanent record.
But even as they increasingly use apps that understand what they say, most people don't realize that the words they speak are not so private anymore, either.
Top-secret documents from the archive of former NSA contractor Edward Snowden show the National Security Agency can now automatically recognize the content within phone calls by creating rough transcripts and phonetic representations that can be easily searched and stored.
The documents show NSA analysts celebrating the development of what they called "Google for Voice" nearly a decade ago.
Though perfect transcription of natural conversation apparently remains the Intelligence Community's "holy grail," the Snowden documents describe extensive use of keyword searching as well as computer programs designed to analyze and "extract" the content of voice conversations, and even use sophisticated algorithms to flag conversations of interest.
The documents include vivid examples of the use of speech recognition in war zones like Iraq and Afghanistan, as well as in Latin America. But they leave unclear exactly how widely the spy agency uses this ability, particularly in programs that pick up considerable amounts of conversations that include people who live in or are citizens of the United States.
Spying on international telephone calls has always been a staple of NSA surveillance, but the requirement that an actual person do the listening meant it was effectively limited to a tiny percentage of the total traffic. By leveraging advances in automated speech recognition, the NSA has entered the era of bulk listening.
And this has happened with no apparent public oversight, hearings or legislative action. Congress hasn't shown signs of even knowing that it's going on.
The USA Freedom Act — the surveillance reform bill that Congress is currently debating — doesn't address the topic at all. The bill would end an NSA program that does not collect voice content: the government's bulk collection of domestic calling data, showing who called who and for how long.
Even if becomes law, the bill would leave in place a multitude of mechanisms exposed by Snowden that scoop up vast amounts of innocent people's text and voice communications in the U.S. and across the globe.
Civil liberty experts contacted by The Intercept said the NSA's speech-to-text capabilities are a disturbing example of the privacy invasions that are becoming possible as our analog world transitions to a digital one.
"I think people don't understand that the economics of surveillance have totally changed," Jennifer Granick, civil liberties director at the Stanford Center for Internet and Society, told The Intercept.
"Once you have this capability, then the question is: How will it be deployed? Can you temporarily cache all American phone calls, transcribe all the phone calls, and do text searching of the content of the calls?" she said. "It may not be what they are doing right now, but they'll be able to do it."
And, she asked: "How would we ever know if they change the policy?"
Indeed, NSA officials have been secretive about their ability to convert speech to text, and how widely they use it, leaving open any number of possibilities.
That secrecy is the key, Granick said. "We don't have any idea how many innocent people are being affected, or how many of those innocent people are also Americans."
I Can Search Against It
NSA whistleblower Thomas Drake, who was trained as a voice processing crypto-linguist and worked at the agency until 2008, told The Intercept that he saw a huge push after the September 11, 2001 terror attacks to turn the massive amounts of voice communications being collected into something more useful.
Human listening was clearly not going to be the solution. "There weren't enough ears," he said.
The transcripts that emerged from the new systems weren't perfect, he said. "But even if it's not 100 percent, I can still get a lot more information. It's far more accessible. I can search against it."
Converting speech to text makes it easier for the NSA to see what it has collected and stored, according to Drake. "The breakthrough was being able to do it on a vast scale," he said.
More Data, More Power, Better Performance
The Defense Department, through its Defense Advanced Research Projects Agency (DARPA), started funding academic and commercial research into speech recognition in the early 1970s.
What emerged were several systems to turn speech into text, all of which slowly but gradually improved as they were able to work with more data and at faster speeds.
In a brief interview, Dan Kaufman, director of DARPA's Information Innovation Office, indicated that the government's ability to automate transcription is still limited.
Kaufman says that automated transcription of phone conversation is "super hard," because "there's a lot of noise on the signal" and "it's informal as hell."
"I would tell you we are not very good at that," he said.
In an ideal environment like a news broadcast, he said, "we're getting pretty good at being able to do these types of translations."
A 2008 document from the Snowden archive shows that  transcribing news broadcasts was already working well seven years ago, using a program called Enhanced Video Text and Audio Processing:
(U//FOUO) EViTAP is a fully-automated news monitoring tool. The key feature of this Intelink-SBU-hosted tool is that it analyzes news in six languages, including Arabic, Mandarin Chinese, Russian, Spanish, English, and Farsi/Persian. "How does it work?" you may ask. It integrates Automatic Speech Recognition (ASR) which provides transcripts of the spoken audio. Next, machine translation of the ASR transcript translates the native language transcript to English. Voila! Technology is amazing.
A version of the system the NSA uses is now even available commercially.
Experts in speech recognition say that in the last decade or so, the pace of technological improvement has been explosive. As information storage became cheaper and more efficient, technology companies were able to store massive amounts of voice data on their servers, allowing them to continually update and improve the models. Enormous processors, tuned as "deep neural networks" that detect patterns like human brains do, produce much cleaner transcripts.
And the Snowden documents show that the same kinds of leaps forward seen in commercial speech-to-text products have also been happening in secret at the NSA, fueled by the agency's singular access to astronomical processing power and its own vast data archives.
In fact, the NSA has been repeatedly releasing new and improved speech recognition systems for more than a decade.
The first-generation tool, which made keyword-searching of vast amounts of voice content possible, was rolled out in 2004 and code-named RHINEHART.
"Voice word search technology allows analysts to find and prioritize intercept based on its intelligence content," says an internal 2006 NSA memo entitled "For Media Mining, the Future Is Now!"
The memo says that intelligence analysts involved in counterterrorism were able to identify terms related to bomb-making materials, like "detonator" and "hydrogen peroxide," as well as place names like "Baghdad" or people like "Musharaf."
RHINEHART was "designed to support both real-time searches, in which incoming data is automatically searched by a designated set of dictionaries, and retrospective searches, in which analysts can repeatedly search over months of past traffic," the memo explains (emphasis in original).
As of 2006, RHINEHART was operating "across a wide variety of missions and languages" and was "used throughout the NSA/CSS [Central Security Service] Enterprise."
But even then, a newer, more sophisticated product was already being rolled out by the NSA's Human Language Technology (HLT) program office. The new system, called VoiceRT, was first introduced in Baghdad, and "designed to index and tag 1 million cuts per day."
The goal, according to another 2006 memo, was to use voice processing technology to be able "index, tag and graph," all intercepted communications. "Using HLT services, a single analyst will be able to sort through millions of cuts per day and focus on only the small percentage that is relevant," the memo states.
A 2009 memo from the NSA's British partner, GCHQ, describes how "NSA have had the BBN speech-to-text system Byblos running at Fort Meade for at least 10 years. (Initially they also had Dragon.) During this period they have invested heavily in producing their own corpora of transcribed Sigint in both American English and an increasing range of other languages." (GCHQ also noted that it had its own small corpora of transcribed voice communications, most of which happened to be "Northern Irish accented speech.")
VoiceRT, in turn, was surpassed a few years after its launch. According to the intelligence community's "Black Budget" for fiscal year 2013, VoiceRT was decommissioned and replaced in 2011 and 2012, so that by 2013, NSA could operationalize a new system. This system, apparently called SPIRITFIRE, could handle more data, faster. SPIRITFIRE would be "a more robust voice processing capability based on speech-to-text keyword search and paired dialogue transcription."
Extensive Use Abroad
Voice communications can be collected by the NSA whether they are being sent by regular phone lines, over cellular networks, or through voice-over-internet services. Previously released documents from the Snowden archive describe enormous efforts by the NSA during the last decade to get access to voice-over-internet content like Skype calls, for instance. And other documents in the archive chronicle the agency's adjustment to the fact that an increasingly large percentage of conversations, even those that start as landline or mobile calls, end up as digitized packets flying through the same fiber-optic cables that the NSA taps so effectively for other data and voice communications.
The Snowden archive, as searched and analyzed by The Intercept, documents extensive use of speech-to-text by the NSA to search through international voice intercepts — particularly in Iraq and Afghanistan, as well as Mexico and Latin America.
For example, speech-to-text was a key but previously unheralded element of the sophisticated analytical program known as the Real Time Regional Gateway (RTRG), which started in 2005 when newly appointed NSA chief Keith B. Alexander, according to the Washington Post, "wanted everything: Every Iraqi text message, phone call and e-mail that could be vacuumed up by the agency's powerful computers."
The Real Time Regional Gateway was credited with playing a role in "breaking up Iraqi insurgent networks and significantly reducing the monthly death toll from improvised explosive devices." The indexing and searching of "voice cuts" was deployed to Iraq in 2006. By 2008, RTRG was operational in Afghanistan as well.
A slide from a June 2006 NSA powerpoint presentation described the role of VoiceRT:
Keyword spotting extended to Iranian intercepts as well. A 2006 memo reported that RHINEHART had been used successfully by Persian-speaking analysts who "searched for the words 'negotiations' or 'America' in their traffic, and RHINEHART located a very important call that was transcribed verbatim providing information on an important Iranian target's discussion of the formation of a the new Iraqi government."
According to a 2011 memo, "How is Human Language Technology (HLT) Progressing?", NSA that year deployed "HLT Labs" to Afghanistan, NSA facilities in Texas and Georgia, and listening posts in Latin America run by the Special Collection Service, a joint NSA/CIA unit that operates out of embassies and other locations.
"Spanish is the most mature of our speech-to-text analytics," the memo says, noting that the NSA and its Special Collections Service sites in Latin America, have had "great success searching for Spanish keywords."
The memo offers an example from NSA Texas, where an analyst newly trained on the system used a keyword search to find previously unreported information on a target involved in drug-trafficking. In another case, an official at a Special Collection Service site in Latin America "was able to find foreign intelligence regarding a Cuban official in a fraction of the usual time."
In a 2011 article, "Finding Nuggets — Quickly — in a Heap of Voice Collection, From Mexico to Afghanistan," an intelligence analysis technical director from NSA Texas described the "rare life-changing instance" when he learned about human language technology, and its ability to "find the exact traffic of interest within a mass of collection."
Analysts in Texas found the new technology a boon for spying. "From finding tunnels in Tijuana, identifying bomb threats in the streets of Mexico City, or shedding light on the shooting of US Customs officials in Potosi, Mexico, the technology did what it advertised: It accelerated the process of finding relevant intelligence when time was of the essence," he wrote. (Emphasis in original.)
The author of the memo was also part of a team that introduced the technology to military leaders in Afghanistan. "From Kandahar to Kabul, we have traveled the country explaining NSA leaders' vision and introducing SIGINT teams to what HLT analytics can do today and to what is still needed to make this technology a game-changing success," the memo reads.
Extent of Domestic Use Remains Unknown
What's less clear from the archive is how extensively this capability is used to transcribe or otherwise index and search voice conversations that primarily involve what the NSA terms "U.S. persons."
The NSA did not answer a series of detailed questions about automated speech recognition, even though an NSA "classification guide" that is part of the Snowden archive explicitly states that "The fact that NSA/CSS has created HLT models" for speech-to-text processing as well as gender, language and voice recognition, is "UNCLASSIFIED."
MORE AT First Look (yeah we know…)
Strikes Often Carried Out With Little or No Intelligence
by Jason Ditz, April 24, 2015
vai Ben Swann
Despite President Obama's outspoken praise for the intelligence community in the wake of revealing a pair of Western hostages killed in January, the drone war which has become a centerpiece of his foreign policy is often carried out in an intense fog.
There have been occasional inquiries in the past about "signature strikes," the administration's policy of carrying out strikes on totally unidentified people they think are acting like terrorists might act.
All this language really means, however, and it's something that's becoming increasingly apparent, is that when President Obama signs off on a strike and some CIA agent pushes a button, the US often has no real idea who they're about to kill.
The January hostage killings reveal this in more ways than one, as the US struck what it figured was an "al-Qaeda compound," which is the official way of saying they blew up a house. They had no idea who was inside, except that there might be al-Qaeda.
And in this case there were. The strike killed six people, including the two hostages. Also killed were a pair of American al-Qaeda members, neither of whom had been put on the president's already legally dubious kill list, meaning they were likewise extrajudicial killings of American citizens.
Indeed, after all this we still don't know who the other two out of the six were, though the fact that the administration isn't presenting this as an "all's well that ends well" situation indicates they, like most of the victims of US drone strikes, were nobody of any consequence.
That's the US drone war all over. A lot of people are killed, only a handful are ever identified at all, and when the US does happen to kill some real al-Qaeda leader, they seem as surprised as anybody, because they sure didn't know they were aiming at him.
By John Lavitt 04/14/14
Via THE FIX
Shutterstock
 According to a
study
reported by the American College Of Neuropsychopharmacology, long-term use of the popular ADHD drug Ritalin can potentially result in serious brain injury.
Chemically similar to cocaine, the short-term side effects of Ritalin include "nervousness, agitation, anxiety, insomnia, loss of appetite, nausea, vomiting, dizziness, palpitations, headache, increased heart rate, increased blood pressure, and psychosis." It was thought that Ritalin had limited long-term effects, but a past study recorded in the Journal of the American Medical Association showed this not to be the case.
Lead researcher, Prof. Joan Baizer of the University of Buffalo explained how "clinicians consider Ritalin to be short-acting. When the active dose has worked its way through the system, they consider it all gone." What proved problematic to Baizer was that the research conducted "suggests that [Ritalin] has the potential for causing long-lasting changes in brain cell structure and function."
Another study funded by the National Institute on Drug Abuse revealed that Ritalin causes physical changes in neurons in reward regions of mouse brains and these effects were similar to the long-term side effects of cocaine. When placed together, the three studies implied that the long-term side effects of Ritalin include both the onset of clinical depression and potential brain injury to the frontal lobes.
As reported in The New York Times, three million children in this country take drugs for ADHD. In the past 30 years, there has been a 2,000 percent increase in the consumption of drugs for attention-deficit disorder. Among many children, the abuse of Ritalin has become commonplace. When their peers are prescribed these drugs, peer pressure leads to abuse.
The result of the damage done by Ritalin in the brain is similar to frontal lobe syndrome. Over time, frontal lobe syndrome can render a person increasingly incapable of inhibiting impulsive behaviors. In addition, such damage contributes to the onset of clinical depression.
Young people are more vulnerable than adults to the negative side effects of Ritalin because their brains are still actively forming and are becoming delineated. It would seem that any battle against drugs needs to begin by eliminating the all-too-common thread of prescribing ADHD drugs like Ritalin to children in the United States.
In Case you didn't know….. Overthrow Facebook!
A new report claims that Facebook secretly installs tracking cookies on users' computers, allowing them to follow users around the internet even after they've left the website, deleted their account and requested to be no longer followed.
Not to say that Federal ID isn't used now, as is "E – Verify" … This is what we call the "Immigration Dialectic"
After largely failing to prod state governments into developing a national identification system known as "REAL ID," Republican lawmakers in Congress are once again pushing an Obama-backed scheme that would force every American to have a national ID card containing sensitive biometric data. The controversial plan, embedded in an immigration-enforcement bill, has been in the works for years, but has consistently been met with stiff opposition from liberty-minded grassroots organizations and activists. While the plan has failed in previous Congresses thanks to a groundswell of opposition, critics of the measure say that without prompt action, the unconstitutional scheme could soon become a reality.
The legislation, officially dubbed the "Legal Workforce Act" (H.R. 1147), is ostensibly aimed at preventing illegal immigrants from obtaining jobs in the United States. Among the most troubling elements highlighted by critics, though, is that the bill would purport to mandate a national ID card for every American as a condition of working. It would also force every employer in America to purchase and use so-called "E-Verify technology" to check with Washington, D.C., as to whether potential employees have government permission to work. Finally, it would create a massive federal database containing sensitive data on virtually every person in the country — a database that could easily be expanded to include even more information.
While establishment lawmakers on both sides of the aisle seem fond of the measure, critics are sounding the alarm about the bill and its implications for liberty. In an e-mail to supporters urging them to help crush the unconstitutional legislation, for example, former Congressman Ron Paul (R-Texas), in his capacity as chairman of Campaign for Liberty, warned that the national ID scheme would be a nightmare. Among other concerns, the two-time GOP presidential contender noted that it would allow federal bureaucrats to include biometric information — potentially including fingerprints, retinal scans, and more — that could and likely would be eventually used as a tracking device. It would also make it illegal for anyone to work in the United States without obtaining the national ID.
"Every time any citizen applies for a job, the government would know — and you can bet its only a matter of time until 'ID scans' will be required to make even routine purchases, as well," Dr. Paul warned, adding that "statists in both parties have been fighting to ram their radical national ID-database scheme into law" for years. "In fact, this scheme was a key portion of the infamous so-called 'Comprehensive Immigration Reform' bills both parties have tried to ram through." Now, Paul said, the statists believe they have found a way to impose their national ID: Drop the amnesty provisions and focus on immigration "security."
According to Dr. Paul, a constitutionalist who served in Congress for more than 20 years, the term "security" is being used as "nothing more than a buzzword meant to trick Americans from all over the country into thinking that Congress is finally going to seal our southern border." In reality, though, it means something much different. "The 'security' members of both parties in the U.S. House want doesn't target any U.S. border," Paul added. "Instead, it's meant to create an all-out police state within them."
Paul also warned that the national database required for the ID regime could easily expand to include information on gun ownership, medical records, political affiliation, and "virtually anything else at the stroke of a President's pen." In fact, the stakes are so high, he said, that this type of battle is often decisive in "whether a country remains free or continues sliding toward tyranny." Existing abuses such as lawless NSA spying, IRS harassment, and more offer further evidence that the feds cannot be trusted with such Orwellian tools to track, monitor, and ultimately control Americans.
Despite the dangers, the legislation has already been passed out of the House Judiciary Committee, getting a vote just three days after it was introduced — and the markup took place before the text of the bill was even available online. "The speed with which this bill was rushed through Committee means the House leadership is very serious about passing this bill into law as soon as possible," warned Paul, urging Americans to fight back immediately to prevent the bill from passing. He also warned about potential "bipartisan compromises" that could be even worse than the original.
The legislation was introduced by Rep. Lamar Smith (R-Texas), who has a dismal 54 percent in the Freedom Index, a tool provided by this magazine that scores lawmakers' votes based on adherence to the U.S. Constitution they all swore to uphold. The controversial bill already has dozens of co-sponsors in the House, too. It is being publicly touted by Judiciary Committee Chairman Bob Goodlatte (R-Va.), who claimed it would bring the "nation's employment eligibility system into the 21st century," as well as chief sponsor Smith.
"The Legal Workforce Act turns off the jobs magnet that attracts so many illegal immigrants to the United States," Rep. Smith said in a statement promoting the measure, ignoring the fact that amnesty and the porous borders have been crucial in encouraging illegal immigration. "The bill expands the E-Verify system and applies it to all U.S. employers. Equally important, the American people support E-Verify," Smith argued, citing polls showing that Americans overwhelmingly support stronger laws to stop businesses from hiring illegal immigrants. "This bill is a common-sense approach that will reduce illegal immigration and save jobs for legal workers. It deserves the support of everyone who wants to put the interests of American workers first."
The bill also has the support of several major lobbying powerhouses — including some, such as the U.S. Chamber of Commerce, that are infamous for their support of granting amnesty to illegal immigrants. Other organizations backing the bill include immigration enforcement-focused Numbers USA, the National Restaurant Association, the National Association of Homebuilders, and several others. However, in the past, similar national-ID schemes have met with major opposition from groups including Downsize DC, the Rutherford Institute, the American Policy Center, the Taxpayers Protection Alliance, the Republican Liberty Caucus, the U.S. Bill of Rights Foundation, Conservative Republican Women, and many more.
In a letter to lawmakers about the same legislation in the 112th Congress (2011-2012), that broad coalition of organizations blasted the bill as an affront to freedom and the Constitution. Among other concerns, they said it "violates individual civil liberties such as the right to work and free speech; mandates a costly job-killing regulatory burden that cripples small business; requires employers to become enforcement agents of the federal government; and encourages identify theft of law-abiding citizens." The bill should never have even left committee, according to opponents.
"It is anathema to limited government, the right to privacy, free enterprise and prosperity," the coalition said in the letter to members of Congress. "It violates the philosophy of the Constitution and intent of the Framers by subordinating the liberty of citizens to the administrative convenience of government. And the Founding Fathers would have rebelled against such a staggering Federal intrusion into every workplace in the nation and our personal civil liberties."
As The New American reported as far back as 2010, the same plot to impose a national ID on America has been pushed before by some of the leading Big Government-mongers in Congress. The "bipartisan" amnesty-national ID legislation pushed by Sen. Lindsey Graham (R-S.C.) and Sen. Chuck Schumer (D-N.Y.) and backed by Obama in 2010 eventually failed due to a massive uprising against legalizing illegal immigrants. Back then, though, promoters of the biometric national ID scheme were boasting about their machinations.
"Our plan has four pillars: requiring biometric Social Security cards to ensure that illegal workers cannot get jobs; fulfilling and strengthening our commitments on border security and interior enforcement; creating a process for admitting temporary workers; and implementing a tough but fair path to legalization for those already here," wrote Graham and Schumer in a joint op-ed promoting their legislation. "We would require all U.S. citizens and legal immigrants who want jobs to obtain a high-tech, fraud-proof Social Security card." At the time, Obama called the proposal "a promising, bipartisan framework which can and should be the basis for moving forward."
With the amnesty provision now out of the more recent bill — Obama is using executive decrees funded by the GOP Congress in a bid to provide amnesty anyway — analysts say the national ID plot stands a much greater chance of coming to fruition. In addition to being unconstitutional by virtue of the fact that the Constitution grants no power over identification systems to the federal government, history shows that national ID schemes are dangerous and very often abused by authorities. Considering the U.S. government's track record, Americans can be sure that, if the plot becomes law, the ID regime will be eventually be abused as well.
If solving the illegal immigration crisis is truly the goal, there is a much simpler solution. Rather than foisting an unconstitutional national ID scheme on Americans and building a massive database, Congress could stop funding Obama's amnesty decrees and ensure that the borders are secure. For that to happen, though, Americans who value liberty and the Constitution must get involved.
Alex Newman is a correspondent for The New American, covering economics, education, politics, and more. Follow him on Twitter @ALEXNEWMAN_JOU. He can be reached at anewman@thenewamerican.com
Related articles:
Obama & Co. Want National Biometric ID
Obama's Internet ID Plot Being Tested in Two States
Candidate for Fla. Governor Gets Self Arrested to Fight REAL ID
Ohio Refuses to Enforce REAL ID Standards
State vs. Federal: The Nullification Movement
Oklahoma Woman's Fight Against Real ID Moves Forward
We have them here in the USA… They are called I phones, security systems, and Computers. In every home …..
Bernard Hogan Howe said people installed their CCTV cameras too high
This meant only the tops of the criminals' heads were caught on film
Families should install their own cameras to help catch burglars, he said
The Met chief said Britain needed more cameras to help fight crime
Homeowners should consider fitting CCTV to trap burglars, the country's most senior police officer declared yesterday.
Sir Bernard Hogan-Howe said police forces needed more crime scene footage to match against their 12million images of suspects and offenders.
And he called on families and businesses to install cameras at eye level – to exploit advances in facial recognition technology.
But privacy campaigners condemned the Metropolitan Police Commissioner's suggestion.
'The proposals on increasing the amount of privately owned CCTV cameras are quite frankly Orwellian and risk turning members of the public into an extension of the police,' said Renate Samson of Big Brother Watch.
'Private CCTV is completely unregulated. Recommending greater use of CCTV to gather more images of people's faces – often innocent people's faces – undermines the security of each and every one of us.'
She pointed out that a House of Commons committee had on Saturday released a report on the problems with facial recognition.
Labour MP Andrew Miller said: 'We were alarmed to discover that the police have begun uploading custody photographs of people to the police national database and using facial recognition software without any regulatory oversight. Some of the people had not even been charged.'
Sir Bernard said most cameras were mounted high to keep them out of harm's way and to give an overview of a crime area.
He was speaking after Beverley Turner, wife of Olympic rower James Cracknell, challenged him on LBC Radio on whether CCTV could be used to catch burglars.
Her house was burgled while she and her children were sleeping and footage from a neighbour's CCTV camera was too grainy to identify the thieves.
When Miss Turner asked if more cameras were needed in homes and businesses, Sir Bernard replied: 'Yes. We've got a strategy to encourage people to move their cameras down to eye level.
'Facial recognition software has got better, and we can now apply it to images of burglaries, and then compare them with images we take when we arrest people.
'What we need to be able to do is to be able to compare that photograph with the images we have of people committing a crime.
'Taking the tops of their heads is not that helpful for facial recognition which relies on the eyes and the configuration of the area around the nose and the mouth. So we're trying to get people to, ideally, add a camera at face level.
'If anyone listening has a business, think about installing a new one – they're relatively cheap. If you can't buy one, could you think about moving it?' Covert cameras disguised as clocks, clothes hooks, mirrors and even thermometers can be bought for as little as £40.
They have been responsible for an avalanche of 'peeping Tom' prosecutions involving footage taken in changing rooms, offices and toilets.
Many bookmakers use them to identify robbers or fraudsters.The Green peer Baroness Jones said it was wrong to encourage householders to follow suit. 'It threatens to undermine people's confidence and inject fear in the place where they should feel most secure,' she said.
'I'm not sure it will make anyone feel any safer and the use of facial recognition technology remains largely untested and unproven.'
Research from the College of Policing last week revealed CCTV only modestly cuts crimes such as vandalism and car theft and is useless in stopping violence.
Experts said better street lighting and neighbourhood watch schemes were more valuable.
Aaron Bradford, 18, broke into Rosalinde Potter's house in Yelverton, Devon, for a third time in the middle of the afternoon but was disturbed when she returned at 2.40pm.
She saw the house had been ransacked and called police unaware that Bradford was still in her home and when police arrived he stayed quiet in his hiding place.
But what he did not know is that Ms Potter had installed CCTV cameras after being victim to burglaries in the past.
Armed with a poker, Aaron Bradford, 18, looks around one of the rooms of after hiding for 13 hours
She said: 'We were all in the room while he was there – me, a police officer, another officer taking fingerprints, my partner. He was within arms reach of all of us.
'There's a shelf inside and I assume he was sitting there like a gnome holding a fishing rod. He's slim but 6ft tall so I think that's the only way he could have done it.
'We went into the spare room with the police three times while he was sat inside there. I went back into the room myself later too. It's very disturbing to think that someone might actually want to hit me with a poker.
'It took me three weeks before I could even sleep at night just thinking someone could be in the house.'
The cameras filmed him as he tried to make a getaway with a laptop and camera, brandishing a poker at 4am once his victim had gone to bed.
In one clip that Ms Potter released, Bradford can be seen going into a room where he stands for a short while before turning a light on.
He surveys the room, turns the light off and then using the glow from his mobile phone he carefully tiptoes around.
He was arrested nearby and identified by the CCTV footage, which showed him entering the house on one day – and then leaving it on the next.
After his arrest police found the stolen laptop in a bag that Bradford had with him.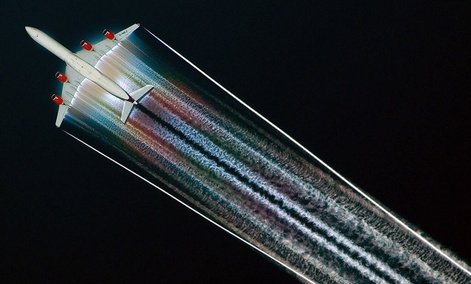 It hasn't been an enjoyable winter for much of the United States. Record snowfall has blanketed cities like Boston, while below-freezing temperatures and relentless wind chills have sent shivers all the way from Chicago to Atlanta.
At times like these, some people start wondering whether humans can combat the cold in ways other than by wearing layers and cranking up the heat. What if, one daydreams, we could break apart the clouds that produce rain and snow and wintry mixes? What if we could control the weather for once?
It's possible—sort of. The process of weather modification comes up in conversation again and again, often in debate (over who—governments or private companies—should do the modifying, what the health effects might be, etc.). Usually, it comes up simply when we're in need of better weather.
Like on wedding days, for example. The U.K.-based luxury company Oliver's Travels has announced a weather-modification service that would burst clouds and guarantee clear skies by using cloud seeding, a process that encourages precipitation, before their clients' big days. The company only requires three weeks to study and alter the weather at the wedding site—and $150,000 in payment.
The announcement baffled Bruce Boe, the vice president of meteorology at Weather Modification, Inc., a North Dakota-based company that researches and carries out cloud seeding for farms in need of rainfall. I reached out to Boe, who has studied storms and flown aircrafts since 1974, to find out whether cloud seeding could in fact create sunny skies—and by extension, reverse winter freezes in the future.
Looking over the Oliver's Travels package, Boe told me it's impossible to guarantee perfect weather. "We don't believe there's a way to reliably prevent precipitation," he said. "We're a little surprised someone else thinks they can."
There are too many obstacles to controlling the weather, he explained. Only some clouds allow for successful seeding, and weather patterns have remained difficult to predict, even with the help of our best forecasting instruments. The scale of the Earth's atmosphere is far too great to tamper with—at least for now. (Oliver's Travels didn't respond to an interview request, but the company says in a blog post that "new technology and research have produced reliable results that make cloud seeding a dependable activity.")
Most important, cloud seeding can only produce so many forms of precipitation: Glaciogenic seeding creates ice by using a nucleating agent (silver iodide, which attracts water) to accelerate a cloud's development. Hydroscopic seeding involves jumpstarting droplet formation and making droplets bigger, leading to rainfall.
"Think of it as applied cloud physics," Boe said. "It's not really modifying the weather, but modifying the precipitation processes in clouds."
In fact, even the scientists who invented cloud seeding quickly realized total weather modification would be too far-fetched a goal. In 1946, the General Electric chemist Vincent Schaefer experimented with creating precipitation, using dry ice to form crystals. He then worked with Bernard Vonnegut—yes, Kurt's brother—to develop silver iodide, that compound that increased the size of water droplets and induced rain and snow indoors. They were excited enough at the start: In a 1993 interview with the American Meteorological Society, Schaefer recalled how he felt during his successful dry ice experiment:
It was a very warm, humid day and I was using my chamber very actively… I decided to cool it down by putting some dry ice in it. And the instant the dry ice got into the supercooled cloud, everything was ice crystals. So I could see I had the answer. It was a serendipitous event… I knew I had something pretty important.

I demonstrated this at a number of scientific meetings, and everybody got quite excited about it. Harry Wexler [the then-chief scientist for the U.S. Weather Bureau] came up to me, and said, 'You know, about 10 years ago I was calibrating thermometers in a cold chamber using dry ice, and I wasn't smart enough to realize I had something important.' Because he had everything I had, but he just didn't observe.
As research moved forward, however, Schaefer and Vonnegut saw weather modification become less about modifying weather and more about enhancing it. "At first, they thought, 'Ah, we're going to be able to control the weather,'" Boe said. "We've learned since then that, well, it's not as possible as we thought."
Even so, because of its science-fiction-like possibilities (controlling the weather is a superpower, after all), weather modification has always led to aspirational inventions and promises of clear skies. Boe cited hail cannons, which claim to stop hailstorms by generating shockwaves. They've been used often throughout Europe since the early 20th century, but have no evidence of actually suppressing hail.
That's not to say the decades since Schaefer and Vonnegut's dry-ice experiments have been for naught. Though complete weather modification may never be possible, Boe explained the technology involved has leapt forward. In 1978, for example, he navigated planes through clouds without GPS and used carbon-dioxide pistols to catch cloud droplets on glass slides. He had to later bring those slides to a lab, where he could examine them under microscopes.
Today, he uses optical array probes, diodes, and lasers that show in real time the size, shape, and number of particles in a cloud while he flies. And before taking off, he can simulate the cloud seeding to select the right clouds. It's not only more efficient, but more accurate as well. Which, as Boe put it, helps him and his team understand weather patterns and cloud science first, before they can tackle the possibilities of complete weather modification.
"We're pushing ahead on all these fronts, and it's an exciting time to be in the field," he said. "I'm just still waiting for the day when we quit calling it 'weather modification,' and start calling it what it is: cloud modification."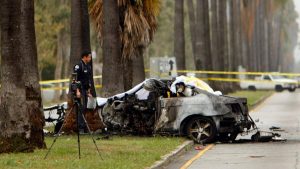 Those still wondering what really happened in gonzo journalist Michael Hastings' fiery demise likely sat up straight during 60 Minutes' recent piece on how hackers can hijack the controls of a car.
After Hastings died in a bizarre one-car crash along a straight Los Angeles street, former counterterrorism adviser Richard Clarke noted the accident was "consistent with a car cyber attack" and that it was easy to hack cars. It seems he was right, as 60 Minutes demonstrated in a chilling fashion.
In the segment, a nervous Lesley Stahl smashed into safety cones on a driving course after two men using a laptop computer remotely commandeered her brakes. Former video game developer Dan Kaufman, who's now working for the Defense Advanced Research Projects Agency, set up the demonstration.
In trying to figure out what kinds of attacks enemies might be plotting on American soil, government agencies are learning the same techniques. To wrest the controls from Stahl, a hacker dialed in through the vehicle's OnStar system to first busy up the computer, then planted code that allowed it to reprogram the control systems. Kaufman stood by giving driving orders to the hackers.
The demonstration underscored what Clarke, counterterrorism chief under both Bill Clinton and George W. Bush, said after Hastings' crash. "You can do some really highly destructive things now, through hacking a car, and it's not that hard," he said. "So if there were a cyber attack on the car—and I'm not saying there was—I think whoever did it would probably get away with it." Clarke added that the LAPD was unlikely to have the tools necessary to detect such an attack, particularly after a fire.
No Crowbar Needed, Just an iPad
One thing is clear: Drivers are at risk.
In a stinging report released this week, Massachusetts Democratic Sen. Edward Markey slammed car companies for their failure to protect car owners  from hackers and intrusive data collectors who might seize control of increasingly computerized vehicles. "Automakers haven't done their part to protect us from cyber-attacks or privacy invasions," he said.
Much of the report focuses on how car computers can be used to collect driving history, from where a car is parked to where it traveled. But it also reveals hackers' ability to remotely turn, stop and accelerate cars. Markey's report notes that car companies can now disable vehicles if owners fall behind on their payments. Burglars can exploit the same vulnerabilities.
WHY? Cui Bono?
Hastings' work as a thorn in the side of government and the 33-year-old journalist's death in an unusual crash in June 2013 immediately triggered speculation. A witness reported seeing Hastings' new silver Mercedes C250 coupe speeding down a Hollywood street before dawn when it bounced, slammed into a tree and burst into flames.
Shortly before Hastings' death, he sent what was described as a "panicky" email to friends expressing concern that associates were being interviewed by "the Feds." He also wrote that he was onto a big story and needed to "get off the radar for a bit." His 2010 story for Rolling Stone in which Stanley McChrystal skewered the White House and its strategy in Afghanistan led to the general's resignation.
The FBI denied Hastings was the target of any investigation, yet a Freedom of Information Act request later unearthed an FBI file on Hastings. Hastings also told a neighbor he thought someone had been tampering with his car. At the time of his death he was working on an article about CIA director John Brennan.
The Los Angeles Police Department concluded that the crash was an accident and did not involve foul play. The coroner's report also declared Hastings' death, ascribed to "massive blunt force trauma," as accidental, and revealed that there were trace amounts of marijuana and amphetamine in his system, though neither was considered a factor in the crash. The report noted that Hastings' family had been trying to convince him to go into detox.
Just an Accident?
Hastings' widow, who hired a private investigator to examine all the evidence, at least publicly labeled the crash an accident. "You know, my gut here, was that it was just a really tragic accident," Elise Jordan said in an interview two months after Hastings' death.
"I'm definitely suspicious about the crash," Montana state Rep. Daniel Zolnikov told WhoWhatWhy. The Republican legislator has introduced a bill, which he says was inspired in part by Hastings' work, to bar state government agencies from accessing servers to get reporters' notes.
Like Markey, Zolnikov is also concerned about risks posed by increasingly high-tech cars, which he described as "computers without protections."
If that's the case, then the information superhighway and highways have merged dangerously.
Read the Entire story @ Who What Why