2014.7.4 (AE) – The Connecticut State Police (CSP) registered a Confidential Informant (CI) in January 2013.  CSP Spokesman Paul Vance Sr. claimed investigators solved the crime within 24 hours, so exactly who needed to be "informed on"???… or was the CI hired to perform other tasks.
Also explored is the relationship of Yale University, Fairfield State Mental Hospital (located in Newtown), and Jose Delgado's experiments with brain implants to produce "Mind Control Assassins" for the CIA under their top secret "Operation MK-ULTRA" project.
2014.6.1 (AE) – The mystery of why no lawsuits have been filed by the parents of the Sandy Hook Massacre is because the only known attempt was met by death threats… yes, death threats to the parents via their lawyer.
The Connecticut state "Gatekeeper", Claims Commissioner Paul Vance Jr., could not allow ANY lawsuits whatsoever to be brought forth… lawsuits allow discovery, the collection and freezing of the evidence, and this would expose the tremendous number of problems with the official Sandy Hook narrative.
The following video reviews the only attempt at launching a legal case, the immediate attacks on the lawyer, who would not disclose his client's name, and the clear warning sent out to all lawyers by the Connecticut Trial Lawyers Association (CTLA).
PREVIEW:
**WATCH AT 720P HD**
2014.5.6 (AE) – There are many uncanny similarities between the Virginia Tech Massacre (2007.4.16), allegedly done by Seung Hui Cho, and the Sandy Hook Massacre (2012.12.14), allegedly done by Adam Lanza.
The following video is just an introduction… more to come…
2014.4.14 (AE) – The Sandy Hook parents claimed there was "nothing to be learned" from listening to the 911 calls, before ever hearing the recordings…
The following video reviews eighteen of the audio files released as part of the 'Sandy Hook Final Reports'… these communications show various problems relating to the timely arrival of ambulances and EMS personnel, their ability to access the injured, the EMS staging area, the VERY LATE calls for additional ambulances, and finally, road clearance considerations for proper entrance and exit from the scene.
2014.4.1 (AE) – Why is the media continuing to project many Sandy Hook "Myths" when evidence released proves them to be untrue?… after all, aren't they desperately seeking "The Truth" in order to prevent another massacre of the children???
2014.3.22 (AE) – Robbie Parker claims to be IN TWO PLACES AT EXACTLY THE SAME TIME on the morning of the Sandy Hook Massacre…
The following video shows irrefutable evidence, based on official documents, like the "Sandy Hook Final Reports", proving beyond any doubt whatsoever, that Robbie Parker was standing "OUTSIDE THE SCHOOL" at exactly 9:36:48AM and speaking to 911 operators… DURING THE SHOOTINGS!!!
But somehow Robbie has repeatedly made statements claiming he was, at the very same time, "IN LOCKDOWN" at Danbury Hospital… "talking to his wife on the phone" and "watching the events unfold on TV"…
*******************GAME OVER********************
**WATCH AT 720P HD**
CAST OF CHARACTERS & TOPICS (IN ALPHABETICAL ORDER):
Adam Lanza
Alissa Parker
Danbury Hospital
Doppelganger
Mormons
Newtown Connecticut
Operator Jen
Rick Thorne
Robbie Parker
Sandy Hook 911 Transcript
Sandy Hook Final Reports
Sandy Hook Hoax
Sandy Hook Massacre
March 15, 2014 (AE) – The entire media, including a very special journalist commissioned to interview and then represent Peter Lanza to the media, have all repeatedly stated a Sandy Hook "myth", which has no basis in fact… this would be the charge that "Adam Lanza was carrying Ryan Lanza's identification (ID)"… there is no evidence of this, in fact, the origins of this rumor can be traced back to Ryan Lanza himself.
All details are in the video below…
**WATCH AT 720P HD**
CAST OF CHARACTERS & TOPICS (IN ALPHABETICAL ORDER):
Adam Lanza
Andrew Solomon
CBS News
FOX News
Identification (ID)
Nancy Lanza
Newtown Connecticut
New Yorker Magazine
Peter Lanza
Ryan Lanza
Sandy Hook Hoax
Sandy Hook Massacre
St. Rose Of Lima School
Transposing
March 9, 2014 (AE) – Coming soon… "Sandy Hook Covenant"… but until then, a few short videos.
This is dedicated to "the crazy ones", who are just asking questions:
HistoricalRecordsVLT
hollywoodpastels
IC WhatsGoingOn
KateSlate11
Namesnot Mary
odinrok
ReviewManify
CAST OF CHARACTERS & TOPICS (IN ALPHABETICAL ORDER):
Adam Lanza
Agenda 21
Child Abuse
Child Sacrifice
Covens
Cults
Gaia Worship
Gun Control
Magic
Mental Health
Mind Control
Newtown Connecticut
New World Religion
Obama
Paganism
Sacrifice
Sandy Hook Hoax
Sandy Hook Massacre
Sandy Hook Promise
Satanism
Stepford Wives
Transition Movement
Transition Newtown
Wicca
Witchcraft
Morbid find suggests murder-obsessed gunman Adam Lanza plotted Newtown, Conn.'s Sandy Hook massacre for years –Law enforcement reportedly discovers a sickeningly thorough 7-foot-long, 4-foot-wide spreadsheet with names, body counts and weapons from previous mass murders and even attempted killings. 'It sounded like a doctoral thesis, that was the quality of the research,' an anonymous law enforcement veteran said. [Oh. I thought Adam Lanza 'erased his online footprint.'] 18 Mar 2013 …"We were told (Lanza) had around 500 people on this sheet," a law enforcement veteran told me [Mike Lupica] Saturday night. "Names and the number of people killed and the weapons that were used, even the precise make and model of the weapons. It had to have taken years. It sounded like a doctoral thesis, that was the quality of the research." The law enforcement vet attended the International Association of Police Chiefs and Colonels mid-year meeting in New Orleans last week, a conference where state police colonels share information with each other, and learn from each other. The man to whom I spoke, a tough career cop who did not wish to see his name in the newspaper, was in the room when the state cop from Connecticut spoke, said the man was well into his presentation when he began to talk of the spreadsheets that had been found at "the shooter's" home. [See: Riddle me this: Adam Lanza, 'computer genius,' left no online footprint by Lori Price 16 Dec 2012 According to numerous media reports and witnesses, alleged Newtown, Connecticut shooter Adam Lanza was a 'genius' with computers. And yet, we are told that Lanza apparently left no online footprint. The question must be asked: Was the electronic history of Adam Lanza scrubbed? And, see: Sandy Hook Shooting 'Oddities'.]
Thanks to Legit Gov for links…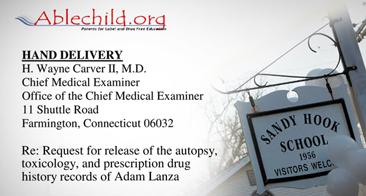 Click image to read the official toxicology records request to Connecticut Medical Examiner, H. Wayne Carver II, M.D.
While state and federal lawmakers frantically push for massive mental health reform and sweeping gun control  laws, two Connecticut mothers recently took to the streets of Newtown, connecting with local residents and gathering signatures on a petition that asks a simple but essential question—did prescription psychiatric drugs play a role in the Sandy Hook Elementary shooting?
Seems like an easy and obvious question that, remarkably, has escaped the consideration of legislators who seem hell-bent on legislating increased mental health services without first having all the necessary information to make thoughtful, fact-based decisions.
Sheila Matthews, co-founder of AbleChild, a national parents' rights organization, and Newtown resident, Patricia Sabato, went one-on-one with local residents to collect hundreds of signatures requesting the release of the complete autopsy/toxicology results and medical/psychiatric records of alleged shooter, Adam Lanza.
To back up the need for full disclosure of Lanza's records, the petition points out certain undisputed facts, such as, at least 31 school shootings and/or school-related acts of violence have been committed by those taking or withdrawing from psychiatric drugs resulting in 162 wounded and 72 killed.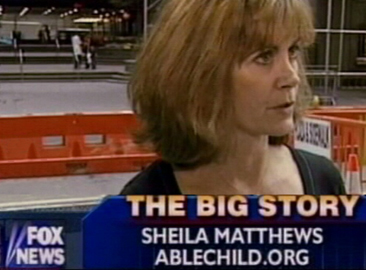 Sheila Matthews has appeared on TV numerous times, including on CNN, NBC and Fox. She has been interviewed on many talk radio programs and has been featured in major newspapers and magazines.
The Petition further points out that 22 international drug regulatory warnings have been issued on psychiatric drugs causing violent behavior, including mania, psychosis and homicidal ideation.  Additionally, between 2004-2011, there were nearly 13,000 reports to the FDA's MedWatch system of psychiatric drugs causing violent side effects, including homicide, mania and aggressive behavior.
Both Matthews and Sabato were gratified by the community's support. "The vast majority of the people were really supportive of our efforts," says Matthews. "They were really engaged," continued Matthews, "and they wanted, and felt like, they had a right to know if Lanza was on drugs."
Sabato mimics Matthews' sentiments. "A lot of people," says Sabato, "actually congratulated us for doing the petition." "The people of Newtown," explains Sabato, "know there is more to this story and, though they are tired of hearing Lanza's name, they still want to know everything that may have played a part in his actions."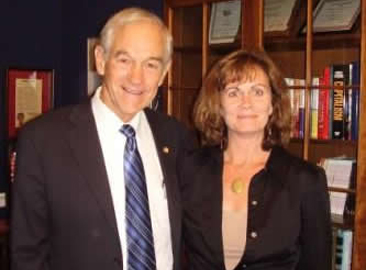 Sheila Matthews with former Congressman Ron Paul, who stated, "Too many children are suffering from being prescribed psychotropic drugs for nothing more than children's typical rambunctious behavior."
The mothers sent the petition to lawmakers and hand-delivered a letter to the State's Medical Examiner, H. Wayne Carver II, M.D., requesting that Lanza's autopsy/toxicology and medical/psychiatric history be publicly released.  The request literally cites two full pages of federal and state law supporting the request.
Despite the fact that, under Connecticut law, Carver is statutorily required to respond to the request, to date, the Medical Examiner has refused to even acknowledge receipt of the request, let alone release the requested information.
Certainly there are a number of questions that come to mind as to why the Coroner would refuse to release the information, but interfering with the on-going criminal investigation is not one of them.
In fact, Carver already has released selective information about Lanza's autopsy, which begs the question – what is in the autopsy that obviously has put the Medical Examiner on the wrong side of Connecticut law and the wishes of Newtown residents?
In the end, it's a simple question posed by those who lived through the nightmare. Was Adam Lanza on or withdrawing from psychiatric drugs at the time of the shooting?  The information is available. What's the secret?
–
Kelly Patricia O'Meara is an award winning investigative reporter for the Washington Times, Insight Magazine, penning dozens of articles exposing the fraud of psychiatric diagnosis and the dangers of the psychiatric drugs – including her ground-breaking 1999 cover story, Guns & Doses, exposing the link between psychiatric drugs and acts of senseless violence.  She is also the author of the highly acclaimed book, Psyched Out: How Psychiatry Sells Mental Illness and Pushes Pills that Kill.  Prior to working as an investigative journalist, O'Meara spent sixteen years on Capitol Hill as a congressional staffer to four Members of Congress. She holds a B.S. in Political Science from the University of Maryland.