HAVANA — Cuba says it will turn over to the United States a Florida couple who allegedly kidnapped their own children from the mother's parents and fled by boat to Havana.
Foreign Ministry official Johana Tablada told The Associated Press in a written statement Tuesday that Cuba had informed U.S. authorities of the country's decision to turn over Joshua Michael Hakken, his wife Sharyn and their two young boys. She did not say when the handover would occur.
Dear Friends, Brothers and Sisters of 'Splitting the Sky', it is with great sadness and a very heavy heart that I bring you this news. Our beloved brother; the tireless and fearless warrior / activist Dacajeweiah has passed away:
"Mohawk Warrior and Champion of the People Dies – March 13, 2013. A great loss to the people, to the nation, to the resistance, anti-imperialist movement right across Great Turtle Island.
JOHN HILL on March 13th, Dacajeweiah, Splitting-the-Sky, 61, left us forever when he passed away in his home in Adams Lake, British Columbia. Dac's colonial name was John Boncore Hill, from Six Nations. "From Attica to Gustafsen Lake," and thereafter, he was a warrior, a comrade, a brother, a father, a grandfather, a friend.
We deeply mourn his loss.
The family will release a biographical statement and details of memorial arrangements in due course. With deepest love to his wife, She-Keeps-the-Door, and children. We stand with Dac's many many co-fighters and friends. He loved the People. The AIM song is dedicated to the continuance of the resistance after a warrior has fallen A.I.M. song"
MNN Mohawk Nation News
http://mohawknationnews.com/blog/2013/03/15/splitting-the-sky/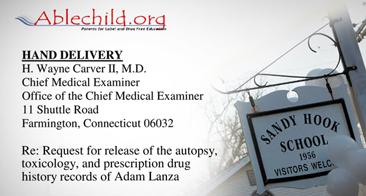 Click image to read the official toxicology records request to Connecticut Medical Examiner, H. Wayne Carver II, M.D.
While state and federal lawmakers frantically push for massive mental health reform and sweeping gun control  laws, two Connecticut mothers recently took to the streets of Newtown, connecting with local residents and gathering signatures on a petition that asks a simple but essential question—did prescription psychiatric drugs play a role in the Sandy Hook Elementary shooting?
Seems like an easy and obvious question that, remarkably, has escaped the consideration of legislators who seem hell-bent on legislating increased mental health services without first having all the necessary information to make thoughtful, fact-based decisions.
Sheila Matthews, co-founder of AbleChild, a national parents' rights organization, and Newtown resident, Patricia Sabato, went one-on-one with local residents to collect hundreds of signatures requesting the release of the complete autopsy/toxicology results and medical/psychiatric records of alleged shooter, Adam Lanza.
To back up the need for full disclosure of Lanza's records, the petition points out certain undisputed facts, such as, at least 31 school shootings and/or school-related acts of violence have been committed by those taking or withdrawing from psychiatric drugs resulting in 162 wounded and 72 killed.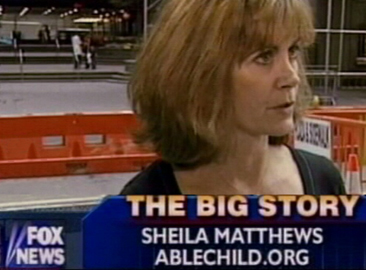 Sheila Matthews has appeared on TV numerous times, including on CNN, NBC and Fox. She has been interviewed on many talk radio programs and has been featured in major newspapers and magazines.
The Petition further points out that 22 international drug regulatory warnings have been issued on psychiatric drugs causing violent behavior, including mania, psychosis and homicidal ideation.  Additionally, between 2004-2011, there were nearly 13,000 reports to the FDA's MedWatch system of psychiatric drugs causing violent side effects, including homicide, mania and aggressive behavior.
Both Matthews and Sabato were gratified by the community's support. "The vast majority of the people were really supportive of our efforts," says Matthews. "They were really engaged," continued Matthews, "and they wanted, and felt like, they had a right to know if Lanza was on drugs."
Sabato mimics Matthews' sentiments. "A lot of people," says Sabato, "actually congratulated us for doing the petition." "The people of Newtown," explains Sabato, "know there is more to this story and, though they are tired of hearing Lanza's name, they still want to know everything that may have played a part in his actions."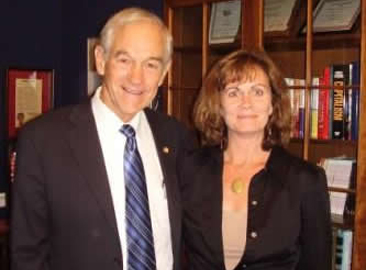 Sheila Matthews with former Congressman Ron Paul, who stated, "Too many children are suffering from being prescribed psychotropic drugs for nothing more than children's typical rambunctious behavior."
The mothers sent the petition to lawmakers and hand-delivered a letter to the State's Medical Examiner, H. Wayne Carver II, M.D., requesting that Lanza's autopsy/toxicology and medical/psychiatric history be publicly released.  The request literally cites two full pages of federal and state law supporting the request.
Despite the fact that, under Connecticut law, Carver is statutorily required to respond to the request, to date, the Medical Examiner has refused to even acknowledge receipt of the request, let alone release the requested information.
Certainly there are a number of questions that come to mind as to why the Coroner would refuse to release the information, but interfering with the on-going criminal investigation is not one of them.
In fact, Carver already has released selective information about Lanza's autopsy, which begs the question – what is in the autopsy that obviously has put the Medical Examiner on the wrong side of Connecticut law and the wishes of Newtown residents?
In the end, it's a simple question posed by those who lived through the nightmare. Was Adam Lanza on or withdrawing from psychiatric drugs at the time of the shooting?  The information is available. What's the secret?
–
Kelly Patricia O'Meara is an award winning investigative reporter for the Washington Times, Insight Magazine, penning dozens of articles exposing the fraud of psychiatric diagnosis and the dangers of the psychiatric drugs – including her ground-breaking 1999 cover story, Guns & Doses, exposing the link between psychiatric drugs and acts of senseless violence.  She is also the author of the highly acclaimed book, Psyched Out: How Psychiatry Sells Mental Illness and Pushes Pills that Kill.  Prior to working as an investigative journalist, O'Meara spent sixteen years on Capitol Hill as a congressional staffer to four Members of Congress. She holds a B.S. in Political Science from the University of Maryland.
Asylum seekers: the term conjures up images of desperate families fleeing impoverished, war-torn countries.
But the Romeike family, who live in the US state of Tennessee, are not ordinary asylum seekers. Devout Christians from southwestern Germany, the Romeikes say they will be persecuted if they are made to return because their five children are homeschooled – which is forbidden in the European Union's most populous country.
Next month, an American appeals court will hear oral arguments on whether they should be allowed to stay, in a case legal experts say will help clarify the scope of US asylum law.
Uwe and Hannelore Romeike, both music teachers, decided to take their children out of the public school system in 2006, claiming they were "bombarded with negative influences" and taught disrespect for authority.
As a result, the parents were slapped with thousands of euros in fines, and one day, Uwe alleged, police came to their home to take the crying children to school in a police van.
Worried the German government might eventually take custody of their children, the Romeikes moved to the United States in 2008, where an estimated 1.5 to 2 million children are legally homeschooled.
"They have a well-founded fear of persecution if they return home," said their lawyer, Michael Donnelly, who works for the US-based Home School Legal Defense Association. Citing documents like the UN Declaration on Human Rights, Donnelly told Al Jazeera he believes Germany's laws against homeschooling violate its international legal obligations.
In 2010, the Romeikes were granted asylum in the US by a judge who agreed with their argument that the German government was "attempting to circumscribe their religious beliefs". But the ruling was overturned, and the case is now before the US' Sixth Circuit Court of Appeals.
An Arizona couple falsely accused of taking pornographic pictures of their three young daughters are suing Walmart in a bid to win damages after an horrific ordeal which they claim robbed them of precious time with their kids and cost them $75,000 in legal fees.
In 2008, Lisa and Anthony 'A.J.' Demaree took their three young daughters – then aged five, four and 18 months – on a trip to San Diego.
On returning home they took 144 photographs, mostly from their recent trip, to their local Walmart in Peoria, Arizona to have them developed.
What happened next was the start of a nightmare for the Demarees.
A Walmart employee, unhappy over the content of several bath time pictures, contacted bosses with concerns that they may have been images of child pornography.
Low-income parents seeking federal assistance would be forced to sign away their Fourth Amendment rights under a bill proposed last week by Republican Rep. Stephen Fincher of Tennessee.
The Welfare Integrity Act of 2013 would require applicants for and recipients of assistance under the Temporary Assistance for Needy Families (TANF) program to sign a waiver of their constitutional rights and submit to random drug tests. The program helps poor families with children pay for living expenses such as rent, heat, utilities and personal care items.
"Currently the federal government enables drug abusers a safety-net by allowing them to participate in the TANF program," Fincher said Monday in a statement. "Instead of having to make the hard-choice between drugs and other essential needs, abusers are able to rely on their monthly check to help them pay their bills."
For years, almost no one at the Dozier School even knew about the burial ground in a clearing in the woods on the edge of campus. It was forbidden territory. The soil here, churned in places by tiny ants, holds more than the remains of little boys. Only now is it starting to give up its dark secrets: horror stories of state-sanctioned barbarism, including flogging, sexual assault and, possibly, murder.
That the Arthur G Dozier School – a borstal for delinquent boys founded in 1900 – was not a gentle place was well-established. Boys as young as six were chained to walls, lashings with a leather strap were frequent and, in the early decades, children endured enforced labour, making bricks and working printing presses. When it was closed in 2011, it had already been the subject of separate federal and state investigations.
But, as suspicions deepen about how the boys in the burial ground died, pressure is growing again on the state to shine new light into the darkest days of the school in Marianna, a Florida Panhandle town that once was a bastion of the KKK and the site of the 1934 lynching of Claude Neal. The pressure is coming from some of the school's survivors, from relatives of boys who died here, and from Florida's top US Senator, Bill Nelson.
"Where there is smoke, there is fire," Senator Nelson declared last month, calling on the state to delay plans to sell off the 1,400 acres occupied by the old school so that a team of forensic anthropologists from the University of South Florida can complete a project begun last year to comb the campus for more graves. He wants any bodies found exhumed, identified and returned to the families they came from.
So far, the team, led by Erin Kimmerle, has focused its work around the once-secret cemetery. It knows that as many as 98 boys died at the school between 1914 and 1973. Since starting last year, Professor Kimmerle has found 19 previously undiscovered graves in addition to the 31 marked by steel-pipe crosses. That means 50 graves so far. Forty-eight have yet to be located, assuming graves were dug for each body.
A local politician in Britain has found himself at the center of an angry controversy in his district, after inflammatory comments he made about disabled children were widely circulated.
In 2011, Cornwall Council member Collin Brewer told a member of the charity Disability Cornwall that, "Disabled children cost the council too much money and should be put down," reports This Is Cornwall. The Disability Cornwall member was taking part in "an event to allow councillors to meet equalities organisations," according to the site.
At the time, the organization made a formal complaint against the Councillor's "depraved comment," a move that led to an investigation by the council's Standards Committee, according to This Is Cornwall.
The BBC reports that Brewer was forced to apologize when the investigation concluded recently. Brewer told the BBC that, while he had meant the comment to spark debate about budget issues, he didn't mean his words to come out the way they did.
AFP – A study in England has strengthened evidence from Scandinavia that a vaccine used to prevent pandemic flu boosted the risk of sleep disorder among teens and children, doctors said on Tuesday.
Using the Pandemrix vaccine increased the risk of narcolepsy among people aged four to 18 by a factor of 14 compared to those who did not get the jab, they said.
The risk in absolute terms was between one in 52,000 people and one in 57,000, but this figure may be an over-estimate, according to the study published by the British Medical Journal (BMJ).
Narcolepsy is a chronic disorder of the nervous system that causes excessive drowsiness, often causing people to fall asleep uncontrollably.
It normally occurs among 25-50 of every 100,000 people, although figures are sketchy, the study said.
Pandemrix was the main vaccine used to fight the 2009-2010 outbreak of H1N1 "swine" flu, a much-feared pandemic involving a novel strain influenza virus.
The bug turned out to be as dangerous as normal "seasonal" flu, a discovery prompting some accusations that health watchdogs had over-reacted.
Last September, the European Centre for Disease Prevention and Control (ECDC) said that, on the basis of evidence from sleep centres in Finland and Sweden, vaccination for H1N1 among teenagers and children had led to a narcolepsy risk of one in 20,000.
The new research conducted in England suggests that data from the two Scandinavian countries were not a freak result, the study said.
Pandemrix uses an adjuvant, or booster, called AS03, which aims to strengthen the immune response to the H1N1 virus.
As H1N1 has largely run its course, further need of the AS03 adjuvant to fight this strain "seems unlikely," the new study said. An alternative vaccine, Celvepan, exists.
But the findings raise questions as to whether AS03 vaccines should be used against other flu strains, such as H5 and H9 types, it added.
Asked to comment on the study, John McCauley at Britain's National Institute for Medical Research said the increased risk in narcolepsy "is possibly a one-off" as vaccines today had a different formula from Pandemrix.
Even so, "surveillance needs to be continued," he said.
The research did not compare the risk of narcolepsy with the risk from contracting H1N1 if unvaccinated.
More than a fifth of the world's population was infected with the H1N1 virus in the 2009-2010 pandemic, according to estimates published last month.
Children aged five to 19 had the highest rates of infection, accounting for 47 percent of the total. Older people aged 65 and over accounted for 11 percent.
By the time the pandemic was officially over in August 2010, countries had notified the UN's World Health Organisation (WHO) of less than a million infections and around 18,500 deaths, but this has always been known to be a fraction of the toll.
Read More – France24.com
It's no use hoping a chilling video of drones being developed by the US is a hoax, as made-up tech tends to come true anyway…
all me a pessimist, but every now and then I see something and think: "Yes, well, there's something that's inexorably destined to kill me and my family and everyone I've ever met or glimpsed or thought about, in wretched, shrieking, unimaginable and horrendously protracted agony."
Don't get me wrong. It doesn't happen that often: every few days at the most. But it happened this afternoon when I clicked "play" on a CGI demonstration of some new technology the US air force is reportedly working on right now. Before anyone tries to deport me, I hadn't hacked into some Pentagon server to see it; I was reading an article on the Atlantic. Lower those stun pistols.
The video depicted the future of UAVs: unmanned aerial vehicles, or computer-controlled drones to you and me. Drones are already used to kill people in industrial quantities in Pakistan of course. For a sobering assessment of just how far advanced the war of the machines is getting, check out the Wikipedia page called "List of drone strikes in Pakistan". It's a directory of robot attacks with a lot of dead children in it. Accurate or not, it's much harder to chortle about the rise of the Terminators after you've scrolled through it.
A fairly desperate list of al-Qaida's drone defence measures was uncovered last week: evasion techniques mainly included running in and out of doors and spreading broken glass on the roof so the glint would confuse its sensors. This already has the feel of a desperate human fightback against a merciless robot army, like the sort of methods an Amazonian tribe might resort to when battling Cybermen in an as-yet unwritten episode of Doctor Who.
Most of the flying robots carrying out those kill missions are eerie, windowless airborne hulks bristling with Hellfire missiles. Enormous winged battledicks. They're frightening, but visually silly somehow, which adds to the obscenity of it all. The smaller drones in the video I watched look sillier still, but potentially more deadly. Compared with the current models flying over Pakistan, they have fearsome advantages of stealth, agility – and sheer number. Because there were swarms of the things.
Some were the size of pigeons. In fact, they actively disguised themselves as pigeons: they landed on overhead phonelines and folded their wings around themselves so the folk down below wouldn't get too suspicious. Then they hovered around gathering surveillance information. At one point the video shows a company of multiple "bugbots", each the size of a Milky Way bar, spreading out to wirelessly compile a good overall view of an apparently hostile city. Then one of them sneaks past a guard, swoops down a corridor, flies through a doorway and shoots a bad guy in the head.
The only thing currently holding this stuff back is battery technology, although they're reportedly already working on ways to let the flying deathbots leach power from electricity cables to recharge themselves mid-mission.
See? Precisely the sort of thing that'll definitely kill us all. Never mind North Korean nuclear tests: what happens when they launch a billion-strong regiment of robotic sparrows with buzzsaws for beaks in our direction? I know, I know, it's not how you pictured yourself dying – but that's what's going to happen. Sorry to break it to you on a cold Sunday night, but forewarned is forearmed. Not that you're actually forearmed in any real sense. No. You're helpless to stop it. Sorry about that, too.
Because the video was accompanying a new story, I assumed it was new. But a few hours later, while trying to show it to someone I wanted to profoundly depress for a laugh, I discovered the same footage had also been uploaded to YouTube in 2009, prompting me to wonder if it was a hoax, or perhaps just a cutscene from a video game lifted out of context. That gave me a glimmer of hope, which was immediately extinguished when I recalled my own experiences with making up things of a technological nature: they almost invariably come true, quicker than you think. A fortnight ago, Channel 4 broadcast a fanciful drama I'd written in which a young widow communicates with a piece of AI software that mimics her dead husband by trawling his social networking past and emulating his personality. No sooner had the credits rolled than people were pointing me in the direction of a company claiming to offer that very service. Turns out I needn't have bothered writing a script. I could've just typed out the URL and asked them to televise that instead.
With that in mind, my new rule is that if you can picture something on the cusp of plausibility, it'll definitely be real by Christmas. Given that the bugbot video is at least three years old, I'd be flabbergasted if there isn't a production line silently screwing the wings on to a miniature death squadron in some Nevadan hangar right now. A tit-for-tat war of the minibots will unfold and come 2036 or so, it's death by buzzbird for the lot of us. Now if you'll excuse me, I'm off to spread broken glass on the roof and run in and out of some doors.