"We should also remember, when Fascism came to Europe, between the two world wars, it starts locally and regionally…" – Webster Tarpley
Just as "Emergency Powers" and "War Powers" are used by the Federal government to keep the US in a continuous state of emergency, thus giving the President near dictatorial powers, the same strategy can be used on the State level.   The declared "Emergency" allows the imposition of an unelected dictator, then justifies the selling off of public assets at bargain basement prices to the wealthy cronies of those in charge.
This is similar to the way Greece had an unelected "Emergency" President installed by the EU bankers, then the asset stripping began.  They've even had to sell off some of the Greek islands, and the crisis is still far from over.  It makes one wonder if this has not been done intentionally, since the case of Greece was most definitely done intentionally.
There is hardly a better example of Fascism than these types of wealth transfers.
2013.3.15 'US Moves Towards Financial Fascism' (Webster Tarpley) (PressTV, youtube.com):
An analyst says the 'dictator' law that Orr will act under in the Detroit state takeover in order to avert bankruptcy means austerity and fascism for the people.  In the background of this a state of fiscal emergency has been declared on Detroit, which is on the verge of bankruptcy and a state-takeover is being instigated by the appointment of Kevin Orr, a corporate bankruptcy expert.  Detroit has a deficit of more than 300 million dollars and other debts amounting to 14 billion dollars.

Press TV has interviewed Dr. Webster Griffin Tarpley, author and historian, Washington about this issue.
Cities and states have seen their budgets decimated during the Great Recession, as revenue plunged due to dropping home prices and high unemployment. They had to make some desperate choices to save funds, including laying off scores of public safety workers (or even turning off their streetlights).
Oakland was no different, laying off 200 police officers, despite the city having the fifth-highest crime rate in the country. However, the city chose to fire those officers while preserving a $17 million payment to the National Football League's Oakland Raiders and Major League Baseball's Oakland Athletics:
Oakland, California, the fifth-most crime ridden city in America, faced a $32 million budget deficit last year. It closed the gap by dismissing a fourth of its police force, more than 200 officers.

Untouched was the $17.3 million that the city pays to stage 10 games a season for the National Football League's Oakland Raiders and to host Major League Baseball's Athletics in the O.co Coliseum. The funds cover debt financing and operations and are supplemented by $13.3 million from surrounding Alameda County, based on data compiled by Bloomberg from public records.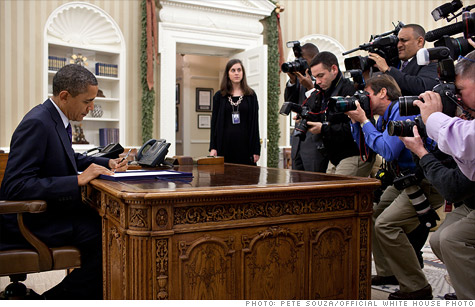 Obama signs away our future in the Oval Office.
NEW YORK (CNNMoney) — President Obama will propose a budget on Monday that forecasts a $901 billion deficit in 2013, and includes plans to make targeted investments in areas like infrastructure while hiking taxes on the rich.
The White House bills the document as a "blueprint for how we can rebuild an economy where hard work pays off and responsibility is rewarded."
But given the intense acrimony in Washington, especially on budget issues, few provisions in the document are likely to ever become law.
The budget will project that the deficit for fiscal year 2012 will top $1.3 trillion, before falling in 2013 to $901 billion, or 5.5% of gross domestic product.
By 2022, the deficit is forecast to fall to $704 billion, or 2.8% of GDP, according to the White House.
Senior administration officials discussed details of the budget with reporters on Friday night. The full budget will be released Monday morning.
The administration officials said the budget is very much a continuation of two previous Obama keystones.
This first is a speech delivered last year in Kansas where he presented Americans with a choice: a "fair shot" with him, or a return to "you're on your own economics."
The second is last month's State of the Union address, which focused on the broad themes of income inequality.
The 2013 budget is somewhat limited in scope because the White House had to fit spending on discretionary accounts below the limits set in the Budget Control Act approved by Congress last summer.
Over a decade, the cuts enshrined in the Budget Control Act total in the neighborhood of $1 trillion in discretionary spending.
That means it's no easy feat to find room for additional spending on infrastructure, research and development and education — investments Obama says are critical.
The White House said that in order to fit under the caps, it had to lower spending in certain areas. To that end, discretionary spending is projected to fall from 8.7% of GDP in 2011 to 5.0% in 2022.
RELATED:


Audit of the Federal Reserve Reveals $16 Trillion in Secret Bailouts