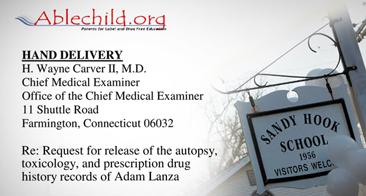 Click image to read the official toxicology records request to Connecticut Medical Examiner, H. Wayne Carver II, M.D.
While state and federal lawmakers frantically push for massive mental health reform and sweeping gun control  laws, two Connecticut mothers recently took to the streets of Newtown, connecting with local residents and gathering signatures on a petition that asks a simple but essential question—did prescription psychiatric drugs play a role in the Sandy Hook Elementary shooting?
Seems like an easy and obvious question that, remarkably, has escaped the consideration of legislators who seem hell-bent on legislating increased mental health services without first having all the necessary information to make thoughtful, fact-based decisions.
Sheila Matthews, co-founder of AbleChild, a national parents' rights organization, and Newtown resident, Patricia Sabato, went one-on-one with local residents to collect hundreds of signatures requesting the release of the complete autopsy/toxicology results and medical/psychiatric records of alleged shooter, Adam Lanza.
To back up the need for full disclosure of Lanza's records, the petition points out certain undisputed facts, such as, at least 31 school shootings and/or school-related acts of violence have been committed by those taking or withdrawing from psychiatric drugs resulting in 162 wounded and 72 killed.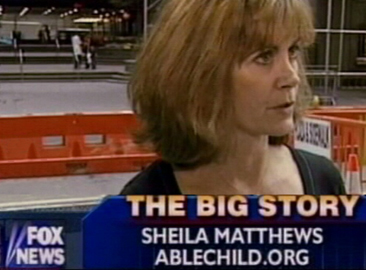 Sheila Matthews has appeared on TV numerous times, including on CNN, NBC and Fox. She has been interviewed on many talk radio programs and has been featured in major newspapers and magazines.
The Petition further points out that 22 international drug regulatory warnings have been issued on psychiatric drugs causing violent behavior, including mania, psychosis and homicidal ideation.  Additionally, between 2004-2011, there were nearly 13,000 reports to the FDA's MedWatch system of psychiatric drugs causing violent side effects, including homicide, mania and aggressive behavior.
Both Matthews and Sabato were gratified by the community's support. "The vast majority of the people were really supportive of our efforts," says Matthews. "They were really engaged," continued Matthews, "and they wanted, and felt like, they had a right to know if Lanza was on drugs."
Sabato mimics Matthews' sentiments. "A lot of people," says Sabato, "actually congratulated us for doing the petition." "The people of Newtown," explains Sabato, "know there is more to this story and, though they are tired of hearing Lanza's name, they still want to know everything that may have played a part in his actions."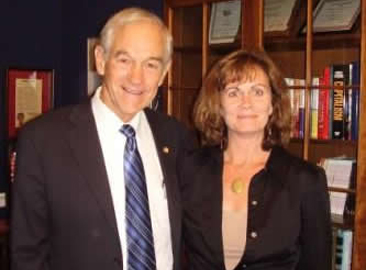 Sheila Matthews with former Congressman Ron Paul, who stated, "Too many children are suffering from being prescribed psychotropic drugs for nothing more than children's typical rambunctious behavior."
The mothers sent the petition to lawmakers and hand-delivered a letter to the State's Medical Examiner, H. Wayne Carver II, M.D., requesting that Lanza's autopsy/toxicology and medical/psychiatric history be publicly released.  The request literally cites two full pages of federal and state law supporting the request.
Despite the fact that, under Connecticut law, Carver is statutorily required to respond to the request, to date, the Medical Examiner has refused to even acknowledge receipt of the request, let alone release the requested information.
Certainly there are a number of questions that come to mind as to why the Coroner would refuse to release the information, but interfering with the on-going criminal investigation is not one of them.
In fact, Carver already has released selective information about Lanza's autopsy, which begs the question – what is in the autopsy that obviously has put the Medical Examiner on the wrong side of Connecticut law and the wishes of Newtown residents?
In the end, it's a simple question posed by those who lived through the nightmare. Was Adam Lanza on or withdrawing from psychiatric drugs at the time of the shooting?  The information is available. What's the secret?
–
Kelly Patricia O'Meara is an award winning investigative reporter for the Washington Times, Insight Magazine, penning dozens of articles exposing the fraud of psychiatric diagnosis and the dangers of the psychiatric drugs – including her ground-breaking 1999 cover story, Guns & Doses, exposing the link between psychiatric drugs and acts of senseless violence.  She is also the author of the highly acclaimed book, Psyched Out: How Psychiatry Sells Mental Illness and Pushes Pills that Kill.  Prior to working as an investigative journalist, O'Meara spent sixteen years on Capitol Hill as a congressional staffer to four Members of Congress. She holds a B.S. in Political Science from the University of Maryland.
This is a must see… Greg Palast hits another home run (it's too bad he included the Global Warming nonsense at the end, but we'll forgive him this time).
It's interesting to see the how the oil money funds the politicians, how the politicians reward the oil men, how they're all involved in election fraud, and how they all seem to be racists… isn't that called Fascism?  Another term could be "Oiligarchy".
2013.3.11 Congressman Tim Griffin Accused Of 'Voter Caging', Fronts XL Pipeline For Koch Brothers (Greg Palast) (TheRealNews, youtube.com):
Greg Palast: Griffin worked with Karl Rove, now backed by Koch brothers, fronts for tar sands pipeline in Congress.
Albeit – Middle Managers and patsies… Maybe this is just another way to eliminate the Competition? This could give Goldman Sachs (whom are parked in Tehran) pause. We ask, could THIS be the reason why Israel, the EU, and the USA are threatening Iran? Follow the money right?
By Pete Papaherakles
The outcome of the biggest banking fraud case in Iran's history was made official on February 18. According to Associated Press, four bankers have been sentenced to death in Iran for their role in a $2.6B scandal, while two more bankers were given life sentences, and 33 more accomplices will spend up to 25 years in jail, the chief prosecutor was quoted as saying. This is the biggest banking fraud in Iran's history, and the stiff decision reveals that the bankers in Iran don't run the country.
Iran's Supreme Court upheld the sentence passed at the trial last summer. Attorney General Gholam-Hossein Mohseni-Ejei told reporters that the four bankers were guilty of corruption and "disrupting the country's economic system." The scandal involved the use of forged documents in order to receive credit from banks, which enabled them to purchase state-owned companies.
Iran's PressTV said that, according to the indictment, the owners of Aria Investment Development Company, which has 35 offshoots active in diverse business activities, had bribed bank managers to get loans and letters of credit.
The four people sentenced to death include Aria President Mahafarid Amir-Khosravi, his legal adviser, Behdad Behzadi, his financial solicitor, Iraj Shoja and the head of the Ahvaz branch of Saderat Bank, Saeed Kiani Rezazadeh. The president of the Bank Melli branch in the city of Kish was sent to prison for life. Former Deputy Minister Khodamorad Ahmadi has been sentenced to 10 years in prison. Several others involved have also been slapped with heavy fines and many have also been prohibited from holding public office.
These sentences should send a strong message to bankers across the globe, who have been engaged in massive fraud and corruption. Political leaders spend a lot of time debating over how to deal with our crumbling economy. Ending systemic abuse would undoubtedly have a positive ripple effect. But no central bankers have been arrested in light of the recent financial debacle.
It is of interest to note that Iceland, a country that successfully resisted a targeted takeover by the bankers, has also found the political will to prosecute bankers and high-ranking government officials involved in that country's banking scandal, including Iceland's ex-prime minister.
In contrast, the United States has refused to sentence its own bankers, who are responsible for the current economic crisis, or even fine them, although overwhelming evidence exists of their guilt. Both Goldman Sachs and JPMorgan Chase got a pass for having deliberately defrauded the American public of many billions of dollars. Instead they got rewarded with a $700B taxpayer bailout package in 2008 and also received trillions of dollars' worth of interest-free handouts from the Federal Reserve.
The U.S. government is being hypocritical when it declares Iran's central bank a criminal organization. In truth, Iran is executing and jailing corrupt bankers, while our government is rewarding them with trillions of dollars in bailouts, sweetheart deals and interest-free loans.
Rep Steve Stockman (R-TX) made accusations against Barack Obama on Monday over his gun control campaign claiming that is it fraud based with fake messages over Twitter. Stockman claims that Obama is seeking to give the appearance of support greater than what he has for gun control legislation by flooding Twitter with messages from people that don't exist.
"Obama's anti-gun campaign is a fraud," Stockman said. "Obama's supporters are panicking and willing to do anything to create the appearance of popular support, even if it means trying to defraud Congress," he added. "I call upon the president to denounce this phony spam campaign."
When Obama called for people to tweet their congressmen in support of more gun control legislation, Stockman said he received a mere 16 tweets. However, he notes that upon closer examination, only six of the tweets were from six actual people and that the messages were all identical.
"The other 10 are fake, computer-generated spambots," his office said.
Then, in a press release issued by Stockman, he writes, "The other 10 are fake, computer-generated spambots."
• They all use the default "egg" avatar.
• They have account names resembling names automatically suggested by Twitter.
• They have engaged in no human interaction.
• They have tweeted almost nothing promotional, sponsored messages pushing real estates websites and other liberal "grassroots" campaigns.
• They follow mostly MSNBC anchors or media outlets, not actual people.
His press release went on to point out, "Reporter Robert Stacy McCain's investigation of the fraudulent Obama campaign, available at www.theothermccain.com, finds the majority of the Obama-supporting accounts were created in less than 48 hours before contacting members of Congress."
"Even more interesting, Stockman staff find two accounts happened to tweet Stockman back-to-back," the press release continued. "Both have only one follower, former Obama digital strategist Brad Schenck. Schenck somehow found and followed them before they ever tweeted anything, followed anyone or followed any real people. Of the six real people who contacted Stockman only one can be verified as a constituent. One lives outside the district and the remaining four do not list where they live."
"If you are a real person who contacted us about your support for the President's anti-gun campaign, we are listening. We do not agree with you, but we appreciate your sincere opinions and encourage you to continue to contact us," said Stockman. "But the vast majority of the President's supporters have no feelings because they fake profiles from spammers."
"The White House has some explaining to do. My own staff, and others looking into Obama's Twitter campaign, find the vast majority of messages are coming from fraudulent accounts. Some of these accounts are linked directly to a former Obama staffer. To what extent is the White House involved in this attempt to defraud Congress," said Stockman.
Stockman ultimately said that the Obama anti-gun campaign was "using the same scam techniques that sell male enhancement pills."
RELATED:
In what appears to be the most serious legal challenge to Scientology in several years, former high-level Scientologists Luis Garcia and his wife Rocio of Irvine, Calif., today filed a federal lawsuit against the Church of Scientology, alleging fraud over the way their contributions to the church were used. The suit was filed in Florida's Middle District with the help of veteran attorneys Ted Babbitt and Ronald Weil, who plan to file additional lawsuits by other former church members.
The suit seems to come at a particularly inopportune time for Scientology as it struggles to counter a massive dose of bad publicity over the publication of Lawrence Wright's damning history of the church, "Going Clear: Scientology, Hollywood, & the Prison of Belief." Among other things, Wright's book raises questions about the way Scientology leader David Miscavige has amassed wealth in the organization.
In 1993, when the Internal Revenue Service granted Scientology tax exempt status, the church was able to escape a $1 billion tax bill. But it was still held to a Supreme Court decision which required Scientology to give refunds to members who asked for them.
The Church of Scientology has strayed from principle and devolved into a cash-hungry enterprise that misuses parishioner donations to protect itself from questions and to intimidate its own members, a California couple charged Wednesday.
The couple said in a federal lawsuit that the church had misused about $400,000 of their money, including donations meant for construction projects and for relief from natural disasters.
Two of Iceland's most senior former bankers have been jailed for making reckless business loans, following investigations stemming from the collapse of the country's banks in 2008.
Larus Welding, the former chief executive officer of failed Icelandic bank Glitnir, and Gudmundur Hjaltason, a former director at the bank, have each been sentenced to nine months in jail for fraud, a court ruled.
They were sentenced by the Reykjavik District Court after the two men were indicted a year ago on charges that they had "misused their position and grossly endangered the bank's funds" by lending €102m to a company called Milestone ehf without guarantees or collateral, the prosecutor said. At the time Milestone was a shareholder in the bank.
The effort to unseat six Conservative MPs over allegations of using so-called robocalls to keep non-supporters from voting in the 2011 election goes before Federal Court on Monday.
The court will begin hearing testimony this week in a lawsuit funded by the left-wing Council of Canadians, which accuses the Tories of using automated phone messages to misdirect voters in Ontario, Manitoba, Saskatchewan, B.C. and Yukon.
"The evidence is compelling," said the Council's executive director Maude Barlow in a statement. "It shows there was a widespread, targeted and coordinated campaign of voter suppression and electoral fraud that affected the outcomes in at least these six federal ridings."
AT&T, Verizon Wireless, Sprint, and other wireless providers would be required to record and store information about Americans' private text messages for at least two years, according to a proposal that police have submitted to the U.S. Congress.
CNET has learned a constellation of law enforcement groups has asked the U.S. Senate to require that wireless companies retain that information, warning that the lack of a current federal requirement "can hinder law enforcement investigations."
They want an SMS retention requirement to be "considered" during congressional discussions over updating a 1986 privacy law for the cloud computing era — a move that could complicate debate over the measure and erode support for it among civil libertarians.
As the popularity of text messages has exploded in recent years, so has their use in criminal investigations and civil lawsuits. They have been introduced as evidence in armed robbery, cocaine distribution, and wire fraud prosecutions. In one 2009 case in Michigan, wireless provider SkyTel turned over the contents of 626,638 SMS messages, a figure described by a federal judge as "staggering."
WASHINGTON (AP) — President Barack Obama signed legislation Tuesday that affords greater protection to federal employees who expose fraud, waste and abuse in government operations.
Capping a 13-year effort by supporters of whistle-blower rights, the new law closes loopholes created by court rulings, which removed protections for federal whistle-blowers. One loophole specified that whistle-blowers were only protected when they were the first to report misconduct.
Global Corporate-Financier Mafia Grows New Tentacle: Global Tax Collectors.
by Tony Cartalucci 
May 10, 2012 – The Organisation for Economic Co-operation and Development (OECD), a 50 year old network constituting what is often known as the "West," has been the premier promoter of expanding corporate-financier hegemony across the planet. Done under the guise of "progressive" initiatives, claiming to "promote policies that will improve the economic and social well-being of people around the world," it is demonstratively run by the most explicit examples of institutions and individuals impeding such lofty goals.
Not least amongst them is convicted criminal George Soros and his "Open Society Institute." While surely the organization's rank and file includes a majority of well-intentioned "liberal-progressives," pursuing and promoting agendas seemingly benign, the reality is that the organization, in tandem with the US State Department and the British Foreign Ministry, is laying the groundwork for a homogeneous global network of administrators for what is literally a neo-imperial empire.
With characters like George Soros and his self-serving institution behind the OECD, Soros having been convicted and fined for insider trading in 2002, a conviction that was more recently upheld by the European Court of Human Rights," it would be laughable for such an enterprise to pose as international arbiters fighting financial fraud. Yet that is exactly what the OECD portends to do – and most recently announced the creation of "Tax Inspectors Without Borders." Its name invoking the equally well-intentioned, but ultimately fraudulent "Reporters Without Borders," another Soros-US State Department building block for what is to be a "global empire," it aims to "to help developing countries bolster their domestic revenues by making their tax systems fairer and more effective."
In reality it aims at imposing an international standard upon tax collection, and as each nation is financially destroyed by international bankers, IMF loansharking, and foreign-funded destabilization, the austerity measures demanded to be paid in "bailouts" and for "reconstruction" will be managed and coached by the OECD's new tentacle to ensure every unit of currency ends up in globalist coffers.
Image: OCED nations – also looking suspiciously like Wall Street and London's sphere of influence and NATO's membership.
….
Just as corporate-financier funded "human rights" organizations attempt to create a global homogeneous "civil society" to overwrite the indigenous social institutions of sovereign nation-states, the OECD's "Tax Inspectors Without Borders" will attempt to create a global homogeneous tax collection system to replace that of sovereign nation-states.
As covered in February 2012's "Soros Big-Busienss Accountability Project Funded by Big-Business," there is nothing "international" or "plural" about the coming global government. In reality it is driven by a handful of corporate-financier interests working to consolidate their power over not only finance and industry, but over governments and societies worldwide. This is the natural progression of what banking magnates like JP Morgan, the Rothschilds, Goldman, and the Rockefellers were in the midst of when US Marine Corps General Smedley Butler wrote "War is a Racket," and is a progression that will continue as long as average people continue feeding on a monthly basis the summation of their work, energy, attention, and income into the corporations and institutions of this growing monopoly.