The recent "Chechen Terrorists" Boston Bombings baloney has really solidified my belief in how things are going to play out on the world stage in terms of alliances and wars.  Please see my comments below followed by a supporting article…
I've had the belief for some time, due to long historical research, that Russia has been working behind the scenes with the US, and Britain. Actually, this alliance has been going on for a very long time, but I want to keep this short and to the point.
This concept is most recently demonstrated by the fact that Russia fully allowed the destruction of Libya, when anyone with half a strategic brain knew that the ridiculous "Humanitarian Intervention" and "No Fly Zone" would mean the complete destruction and looting of the country.
Russia is a very strong believer and partner in the "International Community" and proudly does its part, when required, to see that the overall goals of the United Nations (UN) continue to move forward… into the ditch of one world tyranny.
So because of my historical research, and various clues and reactions by Russia to the last 12 years of complete annihilation of the Middle East by NATO and the US, I reaffirm my conclusion that Russia will abandon Syria at its greatest time of need, or, Russia has already abandoned Syria and is actively working against it, from the inside, while continuing to pose as an ally.
What we've really been witnessing in the Middle East for the last 12 years is NOT wars for oil, although controlling the flow of oil is the most strategic part of controlling the world, but rather a war on a religion, a "War On Islam" or "War On Muslims", the last religion that has not been totally absorbed, corrupted, and replaced by so called Western "values" provided through Hollywood, television, and now the internet.  This is the attempted destruction of a culture, forever.
So when I ran across the RT article below, with the very bizarre comments by Russian officials (keep in mind this article was written April 16, before Chechen involvement was known, allegedly), compounded by my earlier viewing of RT's interview of Zubeidat Tsarnaev (mother of the accused Tsarnaev brothers), where RT's tone was distinctly accusatory, disregarded that she said her sons were being fully tracked by the FBI for the last 3 to 5 years, gave little allowance for the obvious language barrier, and finally didn't ask the lady exactly who the man was that she said her sons were "scared of".
Therefore, I believe all signs point toward a new open alliance between Russia and the US to "fight terrorism", all sparked by the "Chechen" Boston Bombings, to fight their "common enemy", to "fight this evil", the "International Network Of Assassins" (ie, Al Qaeda, Muslims)… just read the article below.
So are we to believe that Russia is completely unaware that NATO and the US have been arming, funding, supplying, and training this "common enemy", this so called "International Network Of Assassins", that have been invading and destroying Syria for the last two years????
2013.4.16 Scrap Blacklists, Fight Terrorism Together, Russian Officials To US (rt.com):
Hours after the Boston Marathon bombings, several top Russian politicians have said the US and Russia must join forces in countering terrorism, expressing hope it would revive the ties that came under threat after the Magnitsky List was published.

"It is important for the Russia-US relations that the American side understands that the main threat for the United States comes not from the people on the Magnitsky List, but from terrorists, and the administrations of our countries must make a mutual effort to fight this evil instead of making some lists or counter-lists," top Russian senator Viktor Ozerov has said, according to RIA Novosti.

The senator added that Russia also faced the objective of raising the security level at mass events similar to the Boston Marathon that was targeted by yet-unidentified bombers on Monday.  He said that the parliament must step up the work on the bill on security at sports events that had already passed the first hearing in the State Duma.

The head of the upper house's Foreign Affairs Committee, Mikhail Margelov, made a similar statement and called for a joint struggle against terrorism.

The senator noted that though the Boston Marathon attack cannot be compared to the September 11 events in New York City in terms of casualties, it is a reminder, for Russia and the United States alike, that terrorism has not yet been defeated and that terrorism is always an international phenomenon.

"The Boston events are another reminder that instead of making blacklists that are only dividing us, we should unite.  Our common enemy is obvious and all-penetrative.  This is a very sad case when one should not ask for whom the bell tolls," Margelov told the press.

The Russian official also expressed the opinion that the Boston bombings were organized by a homegrown US terrorist cell which, however, is an inseparable part of the "international network of assassins."

President Vladimir Putin has expressed his condolences in connection with the attack that killed three people and wounded scores of others.

"Vladimir Putin resolutely denounces this barbaric crime and expresses his belief that the fight against terrorism requires active cooperation of the international community as a whole," reads the statement released by the Kremlin press service.

The Russian president also emphasized that his country was ready to provide assistance in the investigation of the Boston bombing.
http://rt.com/politics/blacklists-together-terrorism-fight-925/
telegraph.co.uk
OA US official posted at the consulate said that British security officers had stored 9mm handguns and possibly a pair of sub-machine guns at the diplomatic site before it was attacked on September 11 last year.
The official, who spoke on condition of anonymity, also disclosed new details of the assassination attempt on Britain's ambassador to Libya, which prompted the Foreign Office to withdraw its team from Benghazi in June last year.
They said that Sir Dominic Asquith's vehicle was spared a direct hit with a rocket only because one of the cars in his convoy suffered motor problems shortly before the ambush and changed positions.
"There were three cars in the motorcade and two of them were exactly alike," the official said. "I think the gunner misidentified which vehicle the ambassador was supposed to be in and struck the security guys instead."
The official said a squad of Americans responded to the British distress call and arrived to find two of Sir Dominic's diplomatic protection officers wounded.
"We grabbed guns and gear and went the hell over there because we heard there was a man down. We felt we had to get there quick or we would lose him," he said.
Republican critics of the State Department's handling of the Benghazi attack have questioned why the US did not follow Britain's lead and withdraw from eastern Libya in view of the deteriorating security situation.
The same UN that authorized an ECOWAS invasion of Mali, that quickly changed to a France / NATO invasion, and created what the UN now calls a "humanitarian crisis in Mali", has just awarded the creator of this crisis, France's President Francois Hollande, with the UNESCO Peace Prize for his "valuable contribution to peace and stability in Africa".
So France and NATO's arming and funding of Al Qaeda terrorists to overthrow Libya, which has resulted in the destabilization Africa, and has conveniently provided the excuse for neo colonial invasions of multiple African countries, this equals peace and stability in Africa????
France has also just sent Special Forces troops into Cameroon to find hostages in Nigeria… sure, things are looking really peaceful and stable in Africa.
2013.2.21 Prize for Killing? UN Honors Hollande For Peace As War Goes On In Mali (Interviews Abayomi Azikiwe) (RT, youtube.com):
[youtube http://www.youtube.com/watch?v=-BhOR-LGqK4&w=560&h=315]
The French President will be awarded a UNESCO Peace Prize for the operation in Mali.  An official states that Francois Hollande made a "valuable contribution to peace and stability in Africa".  For more on the UNESCO move RT talks to Abayomi Azikiwe, editor at Pan-African News Wire.
It is absolutely Bizarre that this Pope would resign – so much so that it has not happened in 600 years! While all Popes carry a certain level of debauchery and corruption, this Pope seems to be the only one feeling the heat? It seems like a sure sign that he was going off the reservation. Did Pope Benedict disobey his masters? Or… was he just so incompetent in his duty to unite all Catholics to bring in a New World Order that he had to be replaced? Is someone going after the Vatican Loot? (As they just did with Libya and Egypt?) We are pondering these questions. We should know the answers when the New Pope is announced.  ~ Jack Blood
An Urgent Update from the International Tribunal into Crimes of Church and State (ITCCS) – Brussels
Rome:
In a statement to Reuters today, Vatican officials announced that Joseph Ratzinger will remain a permanent resident of Vatican City after his resignation. Doing so will offer him legal protection from any attempt to prosecute him in connection with sexual abuse cases around the world, Church sources said today
"His continued presence in the Vatican is necessary, otherwise he might be defenseless".
This startling admission of guilt by the church is also a direct obstruction of justice, and lends more weight to the charge by the ITCCS and others that the Vatican has arranged with the Italian government to shield Ratzinger from criminal prosecution, in violation of international laws ratified by Italy.
Commentary:
The Vatican decided today to give permanent sanctuary to a proven war criminal by allowing Joseph Ratzinger to obstruct justice and evade prosecution for crimes against humanity. And the government of Italy is colluding in this abrogation of international law.
This decision validates our claims about the criminal conspiracy surrounding Ratzinger and his Vatican co-conspirators. It also makes it clear that the Vatican is a rogue power that is flaunting every law to conceal its own criminality.
In response, the ITCCS calls upon its affiliates and all people of conscience to use our upcoming Easter Reclamation Campaign to converge on Rome and the Vatican to force the extradition of Ratzinger from Vatican City, and place him and his accessories on trial for crimes against humanity.
Commencing Sunday, March 24, 2013, our activists and others will begin an escalating series of Catholic church occupations and seizures of church property to bring about Ratzinger's extradition and reclaim stolen wealth from the criminal corporation known as Vatican Inc. – in the name of the legion of their victims, both living and dead.
.. and from Kevin Annett – The Rat Scurries Back to Vat!
Those whom the gods destroy, they first drive insane. Especially, it seems, in Rome.
Why would the oldest and wealthiest institution on our planet deliberately prove what its critics say about it, by first tossing their leader, a proven crook, out of his office after he's threatened with arrest, and then giving him shelter to avoid prosecution? That's the kind of panic and illogic displayed by a junior document-shredder, not a credible or wise body of men.
And that gives all of us hope.
Rome's incredible admission that they can't have the Pope stand trial has strengthened our cause and legitimacy enormously,  proving that no matter how big is your guilty opponent, provoking him for long enough will cause him to destroy himself by his own fear and stupidity.
Protecting Ratzinger within the walls of the Vatican may halt justice for a moment, but it violates a basic rule of warfare, which is to never give your enemy a permanent focus for their attack. Ratzinger, the evil Emperor, now a permanent fixture in the Vatican? The absurdity of offering such an ongoing focus to the civilized world's hatred of catholic criminality is also a sign that the church is adrift and improvising. But it also shows how genuinely worried is the Vtaican about the legal offensive mounted by our affiliates, lawyers for torture survivors, and the International Criminal Court.
The Vatican is pulling out all stops to keep Ratzinger out of court. Their loyal, one-man owned Italian media is assaulting the crap out of yours truly and our ITCCS these days, playing the "Deny, Distract and Discredit" strategy of any damage-controlling corporation.
Tottering Liz Windsor, aka Queen of England, is making a special and unprecedented trip to Rome on March 6 to kiss the ring, or other parts, of the new CEO of Vatican Inc. And Italian President Napolitano is meeting with President Obama today in Washington to undoubtedly line up more American backing for the Pontiff – not that Obama needs much encouraging, having stood loyally behind Ratzinger's claim of "diplomatic immunity".
But all to no avail, ultimately. When the Bloody Emperor stands naked, only our illusions keeps him protected and immune from the final accounting that is coming.
The tornado that followed my first exorcism outside the Vatican in 2009, and the lightning that struck it on the day of Benedict's resignation, were not accidental. Joe Ratzinger should know from the history of his own former SS buddies that criminal institutions can run, but they can't hide – even behind all the wealth and pomp in the world.
PLEASE RE-CIRCULATE THIS STORY AS WIDELY AS POSSIBLE! IF WE ALERT THE PUBLIC AND THE WORLD ABOUT THIS ISSUE – WE COULD BE SAVING THE LIVES OF COUNTLESS SYRIANS!
Jack Blood / www.Deadlinelive.info / 1.30.13
Upon hearing the set up last month – aka: "Assad has Chemical Weapons and plans to use them on his own people" etc… Most of us expected a scenario in which Syria's enemies – via well funded foreign fighters would set off a chemical attack on Syria's people to be blamed on the Assad regime'. This would be viewed internationally as an undeniable excuse to ramp up the war and take out Assad. For the children of course. This was the excuse (in the end) used to justify the war on Iraq.
What we didn't expect was to catch the Powers that be with their hands in the cookie jar.
Recently, emails were discovered that appear to be damning, emails fetched via a Malaysian hacker which say that the USA is trying to set up a false flag attack on Syria and blame it on Assad and potentially the Russians.  The correspondence exchange is via a British "Security" company.
The emails in this leak and files and information mainly trace back to two men in the Britam defence administration, one of which is the founder and dynamic director, Philip doughty and his Business Development Director David Goulding.
(Scroll down for more info on this "private" Company (Private meaning – plausible deniability! They seem to be at best – Special Ops Mercs for hire. Ala "Blackwater".)
Extremely personal information such as a self complied C.V, copy's of passports and more have been leaked from David and Philip as well as emails and other plans.
From a lot of the documents its very clear that britam is working closely and even offering types of training programs to the National Saudi Gaurd and some of its internal departments and specialist groups.
Company's that have contracts with Britam range from a couple of thousand up to Millions of dollars and have been on going for some time now.
HERE IS THE EMAIL EXCHANGE IN QUESTION:
Phil

We've got a new offer. It's about Syria again. Qataris propose an attractive deal and swear that the idea is approved by Washington.
We'll have to deliver a CW to Homs, a Soviet origin g-shell from Libya similar to those that Assad should have.
They want us to deploy our Ukrainian personnel that should speak Russian and make a video record.
Frankly, I don't think it's a good idea but the sums proposed are enormous. Your opinion?

Kind regards

David
Below you find more information confirming the process of interception and details about Britam Corp.  This story seems to have been scrubbed by the London Daily News (Due to Royal Pressure no doubt!) Thanks to Cyber War News for keeping it on the web. 
.
In the hackers release note they made it clear they got the data from a Malaysian based server and from a chart found within this data its shocking to see that Britam is using the security of McAfee but is not implementing this on the said server which is listed as a mail server. (see pic to below)
Its also clear that Britam does not practice data security very well as they have been storing user credentials, network information in unencrypted formats.
Break down of each folder.
Syria Folder:
288 KB 
2 PDF files and 1 email file.
File name: CV P Doughty CV2 091.pdf
CV for Philip doughty who is the dynamic director and founder of Britam Defence, currently resides in UAE according to his CV.
File name: Phil Doughty PP1 7200830372.pdf
PDF copy of current English, Irish passport for Philip Doughty.
File name: Sirian Issue.eml
Email between David Goulding who is the Business Development Director and Philip regarding a new offer about an operation in syria.
About Britam
Britam is a broad-ranging risk management and training consultancy. We provide advice, services and training that enable organisations to pursue their activities while managing their strategic and operational risks.
What we do
We work with commercial and governmental organisations, providing services in three key areas:
Corporate security services
Police and Military Training
Health and safety.
How we do it
Our management team has a background in UK Special Forces. This ethos defines our culture. We challenge the status quo, while ensuring our solutions are practical, affordable and delivered to the highest standards of service and conduct. Operationally, we combine our experience and expertise in counter-terrorism, insurgency and other public security situations with keen commercial awareness and discretion.
Where we do it
With offices in London, Dubai, Singapore, Iraq and Libya, and associated companies in Abu Dhabi and China, we are on hand wherever our clients need us.
Oil and gas sector expertise
Companies in this sector carry out many of their operations in politically and environmentally hostile regions, where the protection of people, assets and reputation is a constant and ever-changing challenge. Britam's proven track record and approach make us uniquely qualified to meet these challenges.
Obama cannot seem to decide if he is Lincoln or MLK….
January 21, 2013 (LD) – What's the greatest way to dishonor Martin Luther King Jr.? Compare him with US President Barack Obama – a servant of an engine for the greatest disparity, inequality, and injustice on Earth – driven by the very corporate-financier interests King stood up against, was opposed by throughout his entire life, and most likely was killed by. For Martin Luther King Jr. – whose famous speeches still echo through the halls of time, who spoke a message of peace and of the importance of character over the mere color of one's skin – he is ironically compared to Barack Obama simply because of the color of their skin, despite the fact that these two men possess the opposite in character, and represent infinitely opposing causes.
Image: A visual representation of the corporate-financier special interests represented by US President Barack Obama's cabinet, past and present. 
….
Indeed, despite the left-leaning facade President Obama displays publicly, his entire cabinet, past and present, is a collection of corporate-financier special interests, warmongers, criminals, and elitists who merely couch a corporate-fascist, self-serving agenda behind well-meaning liberal-esque causes. A look at these characters more closely reveals just this:

Timothy Geithner (Secretary of the Treasury): Group of 30, Council on Foreign Relations, private Federal Reserve
Eric Holder (Attorney General): Covington & Burling lobbying for Merck and representing Chiquita International Brands in lawsuits brought by relatives of people killed by Colombian terrorists.
Eric Shinseki (Secretary of Veteran Affairs): US Army, Council on Foreign Relations, Honeywell director (military contractor), Ducommun director (military contractor).
Rahm Emanuel (former Chief of Staff): Freddie Mac
William Daley (former Chief of Staff): JP Morgan executive committee member
Jacob "Jack" Lew (Chief of Staff) Council on Foreign Relations, Brookings Institution (Hamilton Project)
Susan Rice (UN Ambassador): McKinsey and Company, Brookings Institution, Council on Foreign Relations
Peter Orszag, (former Budget Director): Citi Group, Council on Foreign Relations
Paul Volcker: Council on Foreign Relations, private Federal Reserve, Group of 30
Ronald Kirk (US Trade Representative): lobbyist, part of Goldman Sachs, Kohlberg, Kravis, Roberts, and Texas Pacific Group partnership to buyout Energy Future Holdings.
Lawrence Summers (National Economic Council Director): World Bank, Council on Foreign Relations, Brookings Institution (Hamilton Project)
Image: Brookings Institution's corporate backers – clearly nothing to do with left-leaning liberal a
….
Of course, representation of the Council on Foreign Relations and the Brookings Institution (page 19, .pdf) should give any genuine left-leaning liberal pause for thought. These are think-tanks created by and for big business. The Brookings Institution in particular is home of the very architects of "George Bush's" myriad of wars – wars the faux-left in America claim Obama only grudgingly has been stuck with.
In reality, his policy is driven by not only the exact same corporate-financier interests that drove Bush's, but in fact, many of the exact same individuals are writing the policy versus nations like Libya, Syria, and Iran today who were behind "Bush's" Iraq and Afghanistan wars – the consequences of which still are reverberating. This is what is called, "continuity of agenda," with the feigned political proclivities of both Bush and Obama being nothing more than carefully orchestrated theater to divide and distract the public as a singular agenda transcends presidencies and perceived political lines.
And in reality, Martin Luther King Jr., should he still walk this world today, would undoubtedly be taking the podium and speaking out against this outrageous conspiracy against free humanity, and the affront to equality poseurs like President Barack Obama are attempting to foist upon the public and the world at large. He would undoubtedly condemn the global war Obama is waging from Mali to Libya, from Syria to Afghanistan and the borders of Pakistan, from Yemen to Somalia, to Uganda and beyond.
In a speech given on April 4, 1967 in New York City titled, "Beyond Vietnam – A Time to Break Silence," King gives what is perhaps the widest encapsulation of his philosophy and worldview, one that would undoubtedly criticize and clash with the disingenuous US presidents of today, celebrating Martin Luther King Jr. Day. And the beauty of the equality King helped usher in is, the fact that Obama is black should not shield him from the criticism of the very man that helped pave the way for his accession to office.
One section of King's enlightening speech criticizing the Vietnam War states:
"It is with such activity in mind that the words of the late John F. Kennedy come back to haunt us. Five years ago he said, "Those who make peaceful revolution impossible will make violent revolution inevitable." Increasingly, by choice or by accident, this is the role our nation has taken, the role of those who make peaceful revolution impossible by refusing to give up the privileges and the pleasures that come from the immense profits of overseas investments. I am convinced that if we are to get on the right side of the world revolution, we as a nation must undergo a radical revolution of values. We must rapidly begin…we must rapidly begin the shift from a thing-oriented society to a person-oriented society. When machines and computers, profit motives and property rights, are considered more important than people, the giant triplets of racism, extreme materialism, and militarism are incapable of being conquered.

A true revolution of values will soon cause us to question the fairness and justice of many of our past and present policies. On the one hand, we are called to play the Good Samaritan on life's roadside, but that will be only an initial act. One day we must come to see that the whole Jericho Road must be transformed so that men and women will not be constantly beaten and robbed as they make their journey on life's highway. True compassion is more than flinging a coin to a beggar. It comes to see that an edifice which produces beggars needs restructuring. A true revolution of values will soon look uneasily on the glaring contrast of poverty and wealth. With righteous indignation, it will look across the seas and see individual capitalists of the West investing huge sums of money in Asia, Africa, and South America, only to take the profits out with no concern for the social betterment of the countries, and say, "This is not just." It will look at our alliance with the landed gentry of South America and say, "This is not just." The Western arrogance of feeling that it has everything to teach others and nothing to learn from them is not just.

A true revolution of values will lay hand on the world order and say of war, "This way of settling differences is not just." This business of burning human beings with napalm, of filling our nation's homes with orphans and widows, of injecting poisonous drugs of hate into the veins of peoples normally humane, of sending men home from dark and bloody battlefields physically handicapped and psychologically deranged, cannot be reconciled with wisdom, justice, and love. A nation that continues year after year to spend more money on military defense than on programs of social uplift is approaching spiritual death.

America, the richest and most powerful nation in the world, can well lead the way in this revolution of values. There is nothing except a tragic death wish to prevent us from reordering our priorities so that the pursuit of peace will take precedence over the pursuit of war. There is nothing to keep us from molding a recalcitrant status quo with bruised hands until we have fashioned it into a brotherhood.

This kind of positive revolution of values is our best defense against communism. War is not the answer. Communism will never be defeated by the use of atomic bombs or nuclear weapons. Let us not join those who shout war and, through their misguided passions, urge the United States to relinquish its participation in the United Nations. These are days which demand wise restraint and calm reasonableness. We must not engage in a negative anticommunism, but rather in a positive thrust for democracy, realizing that our greatest defense against communism is to take offensive action in behalf of justice. We must with positive action seek to remove those conditions of poverty, insecurity, and injustice, which are the fertile soil in which the seed of communism grows and develops."
It is safe to say that America has not mended its ways and only traveled further down the dark path King warned us of back in 1967. The man "leading" us, or at least the front-man for the corporate-financier interests that drive America's destiny, may honor King with carefully contrived words and well orchestrated public stunts, but in deeds and actions Obama and the corporate-financier elite that hold his leash, defame and dishonor King in every way imaginable.
If you want to honor King and his life's work, honor it by implementing the words he uttered while alive, not by playing along with a system that resisted him until his death, and has since dishonored and exploited his memory with disingenuous praise while maliciously carrying out an agenda contra to everything King ever stood for.
You can read and listen to the whole April 4, 1967 speech, "Beyond Vietnam – A Time to Break Silence" on AmericanRhetoric.com.
And the Oscar goes to…. Hitlery Rodham – Clinton / Rockefeller Kissinger. Smart. If she is forced to testify to congress about what she knew, and when she knew the attack was coming in Libya, she would risk perjury and jail, (possibly murder, and treason!) —— That would give us a headache too!
STORY HIGHLIGHTS (Ahem)

The clot was discovered in a follow-up exam related to her concussion
Clinton is expected to remain hospitalized for at least the next 48 hours
She was scheduled to return to work this week after recovering from the concussion
(CNN) — Secretary of State Hillary Clinton was hospitalized Sunday after doctors discovered a blood clot during a follow-up exam related to a concussion she suffered this month, her spokesman said.
She is expected to remain at New York Presbyterian Hospital for the next 48 hours so doctors can monitor her condition and treat her with anti-coagulants, said Philippe Reines, deputy assistant secretary of state.
"Her doctors will continue to assess her condition, including other issues associated with her concussion," Reines said. "They will determine if any further action is required."
Reines did not specify where the clot was discovered.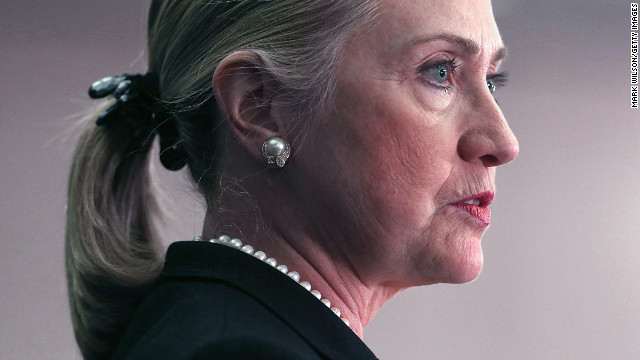 Photos: Clinton through the years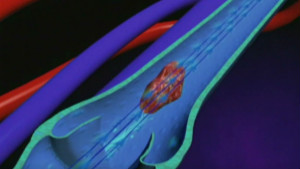 How dangerous are blood clots?
Clinton, 65, was suffering from a stomach virus earlier this month when she fainted due to dehydration, causing the concussion.
Clinton spent the holidays with her family last week after working from home.
She was scheduled to return to work at the State Department this week after being sidelined for the past three weeks. Her illness forced her to bow out of testifying December 20 before the House Foreign Affairs Committee on the deadly attack on the U.S. Consulate in Benghazi, Libya. Deputies Thomas Nides and Bill Burns appeared in her place.
The medical setback comes as Clinton is wrapping up her busy tenure as secretary of state, during which she has logged more than 400 travel days and nearly a million miles. She plans to step down from the post if and when Sen. John Kerry — President Barack Obama's choice to replace her — is confirmed by the Senate.
The invasion of Africa, as I predicted for Obama's first term, which only partially materialized, appears to have been given the green light for 2013.
It's unbelievable that the fake Left Wing and the fake Right Wing parties continue to pretend to argue over the artificially created "Fiscal Cliff" yet there's zero discussion about saving billions of dollars by pulling troops out of the hundreds of countries the US occupies… instead, more troops are being deployed.
There's a debate in the video below about whether this is "British Imperialism" or "US Imperialism" at work.  Africa has been Britain's domain for over 100 years, so Lawrence Freeman from LaRouche PAC is absolutely correct.  British banking in the sovereign city state known as the "City Of London" provides the credit to finance their US attack dog to go out and secure Britain's African domain… and that debt goes onto the US taxpayer's tab, to be paid back to the "City Of London", plus interest… not a bad deal for the bankers.
2012.12.28 US Global Warfare (PressTV, youtube.com):
[youtube http://www.youtube.com/watch?v=SSRfhQOx-rU&w=560&h=315]
The US 'Big Satan' imperialism is sending its troops to Africa on the pretext of 'war on terrorism'. Imperialism lies all the time and the only time it doesn't lie is as a result of a double lie which is a lie coming back on itself to tell the truth.

Al-Qaeda was the creation of the US Satan imperialism. And now, there is evidence showing that the US Satan imperialism is currently arming al-Qaeda as in the case of Libya and it is actively supporting al-Qaeda groups. Thus, the reason they give for the physical invasion of Africa is bogus. But the real reason is that Africa in terms of minerals and natural resources is the richest continent in the world while its people are the poorest people in the world.
Washington (CNN) — President Obama has decided to nominate Sen. John Kerry to be the next secretary of state and could make a formal announcement as early as next week, a Democrat who spoke to Kerry told CNN Saturday.
The expected nomination follows U.N. Ambassador Susan Rice's decision to withdraw her name from consideration for the post. She dropped out of the running Thursday after weeks of criticism from Republicans about statements she made about the September 11, 2012, attack on the U.S. mission in Benghazi, Libya, which left four Americans dead, including Ambassador Chris Stevens.
If confirmed by the Senate, Kerry would replace current Secretary of State Hillary Clinton, who plans to leave her post within the administration.
News from Syria is grim. Libya 2.0 looms. Fabricating a chemical weapons threat looks like pretext for full-scale war.
On December 8, the Toronto Sun said Foreign Affairs officials urged Canadian citizens to leave Syria. Maybe they know something they're not explaining.
On December 9, Israel National News said the London Sunday Times said IDF special forces now operate inside Syria. Allegedly they're trying to locate "non-conventional weapons" and "sabotage" them.
Israel considered ground and/or air attacks to destroy them. Perhaps they're still planned. The Sunday Times said if evidence suggests Assad used chemical weapons, Washington and Israel "might coordinate to carry out a ground invasion."
An unnamed military source told the Times that US forces could be ready "rapidly within days" if chemical weapons are used. "The muscle is already there to be flexed."
On December 9, The Times of Israel headlined "Syrian rebels claim new video shows victims of chemical attack."
A You Tube clip depicts alleged victims. It shows dead and injured Syrians with disfigured faces. Assad is blamed.
Days earlier, a You Tube video showed Syrian insurgents testing chemical weapons on lab rabbits. Threats to use them against Assad loyalists followed.
Lab equipment and chemical containers were shown. Some containers bore the Turkish chemical company Tekkim name.
An Arabic text wall poster read, "The Almighty Wind Brigade (Kateebat A Reeh Al Sarsar)."
A man shown begins mixing chemicals in a beaker. It emits gas. Rabbits in a glass box have convulsions, collapse and die. The audio states:
"You saw what happened. This will be your fate, you infidel Alawites. I swear by Allah to make you die like these rabbits, one minute after you inhale the gas."
Earlier reports said insurgents were given gas masks. They suggested a possible chemical attack coming blamed on Assad.
Saudi Arabia allegedly fitted ambulances and other vehicles with anti-gas/anti-chemical filtering systems in preparation for Free Syrian Army chemical attacks blamed on him.
Perhaps a major false flag incident looms. Daily headlines suggest Assad's days are numbered.
UK Foreign Secretary William Hague claims "some evidence" he saw indicates Assad is readying chemical weapons for use on opposition fighters.
He's seen nothing, of course, but media scoundrels don't explain. At the same time, Israeli Vice Prime Minister Moshe Yaalon said "we see no sign that this weaponry is being pointed at us."
Over the weekend, US and Russian diplomats met in Geneva. Foreign Minister Lavrov said doing so doesn't mean Moscow thinks Assad's fall is inevitable.
"We are not (discussing) Assad's fate," he said. "And all attempts to present the situation in any other way are unscrupulous, even for diplomats from those countries which are well-known for their intention to distort facts in their favor."
Lavrov accused US officials of spreading false rumors about Russia softening its position on Syria.
"US representatives started to make statements hinting that Russia is changing its position," he said. "This is not true. We have not changed our position, and only on these conditions we agreed to hold the Geneva meeting."
"We said we would be ready under one condition: that the basis of such brainstorming sessions will be formed by the Geneva document, without any additions, without any ultimatums, without any preconditions like President Assad's resignation."
Lavrov referred to the June Geneva meeting joint statement. It said any future Syrian transition government "could include members of the present government and the opposition and other groups and shall be formed on the basis of mutual consent."
Washington twisted the language to mean a future Syrian government must exclude Assad. Doing so, of course, disregards the will of most Syrians.
The present government has strong popular support. The longer conflict rages, the more it grows.
On December 9, RIA Novosti headlined "Russia Rules Out Libyan Scenario in Syria." On Sunday, Lavrov said:
"We'll not allow the Libyan experience to be reproduced in Syria. Unfortunately our Western partners have departed from the Geneva accords and are seeking the departure of….Assad."
He added that Syrians alone should choose their government.
Russian Security Council Secretary Nikolai Patrushev said Syrian leaders assured Moscow that chemical weapons are secure and won't be used.
"The Syrian government is assuring us that it will not allow their spread," said Patrushev. "We hope that this will be so."
He and Lavrov expressed more concern about foreign elements using them. They seized a chemical facility near Aleppo. Substances it produces can be used for chemical weapons.
Mossad-connected DEBKAfile (DF) posts regular inflammatory reports. They allege Assad may use chemical weapons. On December 10, it claimed he may have "passed some" to Hezbollah.
Unnamed "Syrian army" defectors alleged "containers were last week removed from Syrian bases at Jabal Kalamon and loaded on vehicles camouflaged as commercial trucks."
Contents are "thought to have been split up and hidden at different Hizbollah bases to make them harder to attack."
Israeli US ambassador Michael Oren said he has no information on this. At the same time, he called supplying Hezbollah with chemical weapons a "game changer/red line" for Israel.
"We have a very clear red line about those chemical weapons passing into the wrong hands," he said. Can you imagine if Hezbollah and its 70,000 rockets would get its hands on chemical weapons? That could kill thousands of people."
He said nothing about Israel's powerful nuclear, chemical and biological arsenal. If threatened, it's willing to use it. Israel menaces the entire region and beyond. Hezbollah, Syria, Iran, and Hamas threaten no one.
DF again alleged a Syrian sarin nerve gas threat. Baseless claims don't wash but get repeated. It claims chemical weapons are deployed near "at least five air force bases, with evidence of preparations to use them."
Placing them near warplanes "indicates an intention….to drop poison gas from the air."
According to unnamed "Western and Israeli intelligence officials," Assad "directed his troops fighting in and around Damascus to use chemical weapons if" foreign fighters appear able to "seiz(e) any part of Damascus international airport."
These and similar claims are baseless. For days, they've been circulating. Repetition makes people believe them.
Heightened tensions suggests full-scale intervention looms. Ravaging Syria may follow. A potential bloodbath looks possible. It  may exceed the worst of Libya.
On December 10, Voice of Russia (VoR) said Islamist rebels claim they seized a key north Syria army base at Sheikh Suleiman.
German Federal Intelligence Service head Gerhard Schindler believes Assad's government is close to falling. "Armed rebels are coordinating better, which is making their fight….more effective," he claims.
On Friday, a new unified command was established. Extremist elements are involved. Estimates suggest two-thirds of its representatives are Muslim Brotherhood and Salafist allies.
Washington wants Islamist fascist regimes throughout the region. It goes all-out to prevent democracies.
"Evidence is mounting that the regime in Damascus is now in its final phase," said Schindler.
On December 10, the Syrian Free Press presented a different view on the ground. "The Armed Forces Continue Targeting Terrorists and Their Hideouts," it headlined.
Many foreign fighters were killed. The Aleppo al-Bakkarh area was "completely cleared." Large stocks of weapons and munitions were seized or destroyed.
Fighting continues in other areas. Army units inflicted "heavy losses" on terrorists in Daraya and around Aleppo.
VoR said the Al-Watan news service reported that about 1,000 insurgents were killed in a battle east of Aleppo. Middle East expert Viktor Nadein-Rayevsky said foreign military intervention perhaps is imminent.
It "could be staged in a way to look like the opposition's offensive with foreign mercenaries taking part in the operation."
Turkey and other countries bordering Syria may get involved. He stressed that "constructive negotiations are the only way to settle the crisis."
Washington won't tolerate them. Conflict was planned long ago to oust Assad. Signs suggest full-scale Western-led intervention looms.
Stephen Lendman lives in Chicago and can be reached at lendmanstephen@sbcglobal.net. 
His new book is titled "Banker Occupation: Waging Financial War on Humanity."
http://www.claritypress.com/Lendman.html
Visit his blog site at sjlendman.blogspot.com and listen to cutting-edge discussions with distinguished guests on the Progressive Radio News Hour on the Progressive Radio Network Thursdays at 10AM US Central time and Saturdays and Sundays at noon. All programs are archived for easy listening.
http://www.progressiveradionetwork.com/the-progressive-news-hour