by Mario Andrade
4/6/2013
DeadlineLive.info
As the wacky and almost comical war rhetoric between North Korea and the United States escalates, the U.S. corporate media outlets have recently reported that Kim Jong Un is making preparations to 'hit U.S. mainland targets.' One of those alleged targets is Austin, Texas… out of all places. Setting aside the fact that North Korea has no capabilities to hit the U.S. mainland with missiles, or at least the lower 48 states, let's examine why Kim Jong Un would choose Austin, Texas.
Let's suppose that North Korea, after arduous research, testing, and scientific breakthroughs, finally develops a missile that can reach the U.S. mainland. Let's suppose that Kim Jong Un, the 'dear leader' of North Korea has an option to hit a variety of targets in the U.S., like the San Diego Navy Base and Camp Pendleton on the west coast, or perhaps Fort Benning, Naval Station Norfolk, or any other military location that can really cripple the abilities of the United States to launch a counter-attack.
Why in the world would North Korea choose Austin, Texas? And if dear leader Kim Jong Un hates Texas so much, then why not choose other targets in Texas? Why not San Antonio, which has three huge air force and army bases? Why not Fort Hood, which on a daily basis prepares thousands of army troops for overseas deployments? Why not Fort Bliss, Naval Air Station Corpus Christi or NAS Kingsville?
Austin would be of very little military value to a foreign enemy that would be crazy enough to hit the U.S. mainland. The only military base there is Camp Mabry, home of the Texas Military Forces – the Texas National Guard and the Texas State Guard. If Texas were to secede from the U.S., this would be the central location for all military operations of a newly independent state.
Uh-oh! Did I just mention the forbidden word 'secession'? Shhhhhh….!
Austin is also the capital of Texas, which wants back its $1 Billion worth of gold from the federal government. Texas is also one of the leading states opposing Obamacare and Obama's gun control agenda. Therefore, wouldn't you say that if Kim Jong Un's alleged war plans were real, and they were not photoshopped by the New York Times as many allege, wouldn't he be doing Obama a favor by attacking Austin?
Nonetheless, this is just a hypothetical scenario; a North Korean attack on Austin would probably never happen. But if it did, and North Korea doesn't have the capabilities to carry it out, then who would really be behind it? And wouldn't this be the perfect pretext to go to war against North Korea and eliminating domestic political opponents at the same time?
Of course all of this is Pure speculation (ahem Theory).If there IS a war, or a preemptive attack by the West using overwhelming force… N. Korea could go down like Iraq (who also talked a big game before being easily taken out.) Our money is on an exotic weapon causing a catastrophe, which cripples the nation…. w/ No to little retaliatory response. CNN and the Fear mongering PTB have others theories below. For what its worth.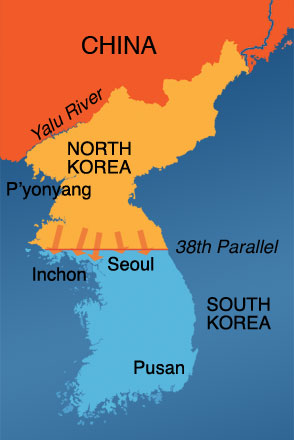 CNN's Tom Foreman and retired General James Marks map out potential strategies if North Korea attacks South Korea. OK. For more CNN videos, visit our site at http://www.cnn.com/video/

RE-POSTED AS THE LAST VIDEO WAS CENSORED! COPY THIS BEFORE IT IS PURGED!
The US Navy is reportedly deploying the huge Sea-based X-band radar to the Korean Peninsula what suggests that North Korea could be hit by a massive HAARP-made earthquake anytime soon
RELATED
X-Band radar: is it a conspiracy THEORY, or is it direct EVIDENCE?
HAARP Exposed – Check out this CBC (the Canadian state-funded broadcasting network) coverage of HAARP -

More at EndtheLie.com – http://EndtheLie.com/books-and-reading-material/haarp-exposed/#ixzz2PVvnIRB1
Did US secret weapons cause Japan's earthquake and tsunami???
"Top-secret wartime experiments were conducted off the coast of Auckland to perfect a tidal wave bomb, declassified files reveal. An Auckland University professor seconded to the Army set off a series of underwater explosions triggering mini-tidal waves at Whangaparaoa in 1944 and 1945. Details of the tsunami bomb, known as Project Seal, are contained in 53-year-old documents released by the Ministry of Foreign Affairs and Trade."
– From article in the New Zealand Herald (New Zealand's leading newspaper), 9/25/1999
A declassified government report (96 MB file) featured in the newspaper article below shows that a tsunami bomb was created as a potential weapon during WWII in a program code-named Project Seal. There is little doubt that this tsunami weapon was further developed and refined over the ensuing decades, though all documents related to current developments of the project are almost certainly still classified. Though it may seem far-fetched to imagine military involvement, these documents and reports raise serious questions about the recent tsunami in Japan and the December 26, 2004 tsunami in Indonesia.
The many layers of intense secrecy both in the government and military result in very few people being aware of the gruesome capabilities for death and destruction that have been developed over the years. Were it not for the below article in New Zealand's leading newspaper, the public would never have known that a tsunami bomb had been created many decades ago. No one denies that highly destructive weapons are being developed in secret by the militaries of the world. What the public doesn't know is what these weapons are, and what they are being used for. All of this is generally classified for reasons of "national security."
Sadly, the rubric of "national security" has all to often been used for secret political and economic gains which clearly do not benefit the public. Operation Northwoods, uncovered by ABC News in the year 2000, showed that the top Pentagon generals were willing to foment terrorism and sacrifice innocent civilians in order to provoke a war with Cuba in the early 1960s. Credible researchers into the government's HAARP program are convinced that this technology which manipulates our ionosphere is being used for military means and can even cause natural disasters like earthquakes. Because of this, we have to ask the hard questions.
It is unprecedented in recorded history for two major tidal waves to occur less than seven years apart. See brief descriptions of the 10 most destructive tsunamis in recorded history at this link. For four intriguing theories on what might have caused the Japanese earthquake (including one which predicted the date), click here. Theory two seems ridiculous, but the other three are worth considering. The fourth theory is based on HAARP and has some good information about that possibility.
aLSO:
Tsunami bomb NZ's devastating war secret
Top-secret wartime experiments were conducted off the coast of Auckland to perfect a tidal wave bomb, declassified files reveal.
An Auckland University professor seconded to the Army set off a series of underwater explosions triggering mini-tidal waves at Whangaparaoa in 1944 and 1945.
Professor Thomas Leech's work was considered so significant that United States defence chiefs said that if the project had been completed before the end of the war it could have played a role as effective as that of the atom bomb.
Details of the tsunami bomb, known as Project Seal, are contained in 53-year-old documents released by the Ministry of Foreign Affairs and Trade.
Kim Jong Un said on Wednesday that North Korea would attack U.S. military bases in the Pacific in addition to South Korea if its "enemies … make even the slightest movement," according to the North's official KCNA news agency.
The North also hit out over deployment of a U.S. B-52 bomber to South Korea, warning of "all-out action" – the latest of a series of threats issued by Pyongyang.
KCNA news agency said, in its usual flowery rhetoric, that the presence of the bomber showed the U.S. was preparing for "a pre-emptive nuclear strike," echoing its own earlier threat to do that.
(CNN) — A new joint military exercise between South Korea and the United States began Monday amid heightened tensions across the region.
In a sign of crumbling relations, North Korea refused to answer its hotline with Seoul, South Korea's unification ministry said Monday, according to the Yonhap news agency.
The ministry said the North did not answer two attempts to communicate by telephone at 9 a.m. and 4 p.m. local time.
The latest military drills involving the two allies are called Key Resolve. They follow the Foal Eagle joint exercises that began March 1, which are scheduled to last two months. More than 3,000 U.S. forces are taking part in Key Resolve, according to United States Forces Korea.
The latest exercises fall under the shadow of North Korea's army declaring invalid the armistice agreement that ended the Korean War in 1953, an article in Rodong Sinmun, the official newspaper of North Korea's ruling Workers' Party, reported Monday.
North Korea says it is scrapping all non-aggression pacts with South Korea, closing its hotline with Seoul and shutting their shared border point.
The announcement follows a fresh round of UN sanctions punishing Pyongyang for its nuclear test last month.
Earlier, Pyongyang said it reserved the right to a pre-emptive nuclear strike against its "aggressors".
The US said it took the threats seriously, but that "extreme rhetoric" was not unusual for Pyongyang.
South Korea's defence ministry said that the North would become "extinct" if it went through with its threat.
The North Korean announcement, carried on the KCNA state news agency, said the North was cancelling all non-aggression pacts with the South and closing the main Panmunjom border crossing inside the Demilitarized Zone.
FLASHBACK 27 May 2009: North Korea abandons truce and threatens to attack the South
Pyongyang said that South Korea's decision to start intercepting ships that are suspected of carrying weapons of mass destruction was tantamount to "a declaration of war against us".
The statement follows a number of missile tests and an underground nuclear test by the North in the last two days.
The statement, through North Korea's state newswire, warned Seoul that North Korea "will no longer be bound by the armistice accord" and that the "Korean peninsula will go back to a state of war".
Pyongyang had previously warned Seoul that joining the US-led Proliferation Security Initiative (PSI) would have fearful consequences.
No formal peace treaty has ever been signed between the two countries, but an armistice in 1953 and a Mutual Defence treaty between the US and South Korea effectively ended the Korean war.
By Jack Kim
SEOUL | Thu Mar 7, 2013 10:40am GMT
(Reuters) – North Korea threatened the United States on Thursday with a preemptive nuclear strike, raising the level of rhetoric while the U.N. Security Council considers new sanctions against the reclusive country.
North Korea has accused the United States of using military drills in South Korea as a launch pad for a nuclear war and has scrapped the armistice with Washington that ended hostilities in the 1950-53 Korean War.
North Korea has threatened to scrap the armistice which ended the 1950-53 Korean War if the South and US continue with an ongoing military drill.
The Korean People's Army Supreme Command spokesman issued the statement Tuesday, according to the state KCNA news agency. Pyongyang warned it will cancel the Korean War cease-fire agreement on March 11 if the drills are not halted.
Details of the tentative sanctions remained murky, with UN diplomats telling Reuters on condition of anonymity they hoped to receive the draft resolution at Tuesday's council session.
The announcement from Pyongyang comes as South Korean and US troops launched their annual joint military drills on Friday. Some 10,000 US troops and 200,000 South Korean soldiers are currently taking part in the exercises.
North Korea had previously warned the US commander in South Korea of "miserable destruction" if the US military went ahead with the two-month-long exercise, Yonhap News Agency reported on Friday.
North Korea warned Wednesday that the US mainland was "well within" the range of its nuclear weapons, as Pyongyang continued to ramp up the bellicose rhetoric after its recent nuclear test.
In an article posted on the official Uriminzokkiri website, a member of the Korean National Peace Committee — a propaganda body — said the North was now a "fully-independent rocket and nuclear weapons state".
"The United States should be acutely aware that the US mainland is now well within the range of our strategic rockets and nuclear weapons," the signed commentary said.
BEIJING, Feb 15 (Reuters) – North Korea has told its key ally, China, that it is prepared to stage one or even two more nuclear tests this year in an effort to force the United States into diplomatic talks with Pyongyang, said a source with direct knowledge of the message.
Further tests could also be accompanied this year by another rocket launch, said the source who has direct access to the top levels of government in both Beijing and Pyongyang.
The isolated regime conducted its third nuclear test on Tuesday, drawing global condemnation and a stern warning from the United States that it was a threat and a provocation.
"It's all ready. A fourth and fifth nuclear test and a rocket launch could be conducted soon, possibly this year," the source said, adding that the fourth nuclear test would be much larger than the third at an equivalent of 10 kilotons of TNT.
The tests will be undertaken, the source said, unless Washington holds talks with North Korea and abandons its policy of what Pyongyang sees as attempts at regime change.