Fascists like France's National Front Party leader Marine Le Pen, who proudly poses for pictures with French Neo Nazis, are promoting racist fears of "invading hordes" of "evil Muslims" taking over Europe to elevate her political party.  This is the same kind of "Dhimmitude" and "Eurabia" garbage promoted by Norway's Freemason mass murderer Anders Breivik, who was later praised by Neo Nazis in Russia.
The video below is from December, but you can see today in my new article that we now have French Police participating in racial violence against Arabs and black Muslims, and the French government attempting to cover up these abuses by banning free speech in the form of shutting down a website exposing the growing racism of the French Police and of the government of France.
A government banning free speech that's attempting to expose that same government's black clad paramilitary style police targeting, harassing, beating, arresting, and killing non whites is about as close to fascism as you can get… welcome to Vichy 2.0.
2012.12.12 Islamophobia Persists Despite Social Evolution (PressTV, youtube.com):
[youtube http://www.youtube.com/watch?v=q5HwDdeVxII&w=560&h=315]
French associations fighting Islamophobia say Muslims, Mosques and symbols of Islam are increasingly being stigmatized and attacked.  The worst cases of discrimination are faced by Muslim women, whether they belong to the poor classes or the upper classes.  Far right politicians have also stepped up anti-Muslim rants.  Muslims say they continue to face discrimination, particularly at workplace.

Press TV's Anustup Roy reports from Paris.
EU Army troops from 16 EU countries, plus Norway, are being sent to Mali to "train" Mali troops who have already been trained for years by the US and France.  My guess is this 500 troop number will greatly expand in the coming months.
See my previous EU Armed Austerity article projecting more military interventions by the EU Army… because that's what they said they would do.  This will be like an EU cancer spreading across Africa, with the help of US drones.
2013.2.19 'EU Troops Seek To Break Mali Into Pieces' (Interviews Douglas De Groot) (PressTV, youtube.com):
[youtube http://www.youtube.com/watch?v=wYdJGTIMxlo&w=560&h=315]
An analyst sees EU troop presence in Mali as a danger and a potential catalyst for a Western-style military intervention or even a partition of the country.

In the background of this the European Union has joined the French war in Mali with the formal approval for deployment of 500 troops. Thousands of French troops are already intervening in Mali to reign in armed militants that are trying to take over the northern part of the country and risk spillover into other countries most notably Algeria. No reason has been put forward as to why these 500 extra troops from the EU are needed or what they can do that the French cannot.

Press TV has interviewed Douglas De Groot from the Executive Intelligence Review, Washington about this issue.
Law enforcement sources say Adam Lanza was motivated by violent video games and a strong desire to kill more people than another infamous mass murderer.
Sources say Lanza saw himself as being in direct competition with Anders Breivik, a Norwegian man who killed 77 people in July 2011.
Breivik killed eight with a bombing in downtown Oslo. He then moved to a nearby island where hunted down and fatally shot 69 people, mostly teenagers attending a summer camp.
Two officials who have been briefed on the Newtown, Conn., investigation say Lanza wanted to top Breivik's death toll and targeted nearby Sandy Hook Elementary School because it was the "easiest target" with the "largest cluster of people."
There was another tragic event that took place on Friday, December 14th, 2012 in Newtown Connecticut. A young man killed his mother and then proceeded to a nearby school where he shot and killed more than two dozen people, most of them very young children. My heart goes out to the parents of those children who fell victim to this senseless violence. As a parent myself, I can't even begin to imagine the pain they must feel. No one should have to go through such an ordeal. Words seem to be woefully lacking when trying to offer comfort in a situation such as this, but one can only try as best one can to sympathize. I, like most sane people, wish to see a world where such violence is but a bad memory of a bygone era. Read more

Free Beacon
Russian strategic nuclear bombers threatened U.S. airspace near Alaska earlier this month and F-15 jets responded by intercepting the aircraft taking part in large-scale arctic war games, according to defense officials.
The Russian war games began the same day President Obama and Russian President Vladimir Putin held a frosty summit meeting in Mexico June 18.
U.S. officials said the arctic exercises over the Russian Far East and Pacific appeared to be a further sign of Russia's hardening posture toward the United States.
The Obama administration made no protest of the bomber intrusions, according to the officials, in line with its conciliatory "reset" policy of seeking warmer ties with Moscow.
About 30 strategic nuclear bombers and support aircraft took part in the war games that continued through June 25. The aircraft included Tu-95MS Bear H and Tu-160 Blackjack nuclear-capable bombers, along with Il-76 refueling tankers, A-50 airborne warning and control aircraft, and Su-27 and MiG-31 jet fighters. Some 200 troops also took part in the Russian Strategic Aviation forces exercise.
A spokesman for the joint U.S. Northern Command and North American Aerospace Defense command in Colorado Springs, which monitors air defense intrusions, had no immediate comment. A Pentagon spokesman declined to comment.
U.S. and Canadian F-15 and F-16 jets were involved in the intercepts that took place near the Air Identification Zone surrounding Alaskan airspace over the northern Pacific. 
The exercises are part of increasingly aggressive Russian military activities in the arctic region in both the eastern and western hemispheres, which have created security worries among governments in northern Europe and Canada.
One official said the failure to publicize the threatening bomber maneuvers might have been related to Obama's overheard promise in March to Russian President Dmitri Medvedev of "more flexibility."
According to the defense officials, the arctic bomber exercises are part of Russian efforts to assert control over vast areas of the arctic circle that are said to contain large mineral and oil deposits.
Retired Air Force Lt. Gen. Thomas McInerney, a former Alaska North American Aerospace Defense commander, said the Russian exercises should be a concern.
"The Russians continue to exercise our air defense identification zone, which shows Mr. Putin loves to let President Obama know that they still have global capability," McInerney said in an interview. "So much for reset."
McInerney also said the Obama administration kept the encounter between the bombers and U.S. fighters secret because "they obviously don't want the world to know that the exercise was done deliberately to coincide with the Obama-Putin summit."
Obama and Putin met in Los Cabos, Mexico June 18 in what aides described later as a "businesslike" encounter. The two leaders, however, were shown in video and photos as unsmiling and displaying a cool demeanor toward each other.
Russia's government and military have threatened preemptive military attacks on future U.S. missile defense sites in Europe as part of a Russian propaganda campaign against those defenses. Moscow views U.S. and NATO missile defenses as threatening its strategic missiles.
Defense officials said Russian bomber exercises highlight Moscow's targeting of the U.S. missile defense base at Fort Greely, Alaska, one of two major ground-based interceptor bases that are part of a limited integrated missile defense system against North Korean and possibly future Chinese or Russian missiles.
Additionally, the bomber exercises raised concerns that Russia was simulating cruise missile strikes aimed at disrupting U.S. oil pipelines in Alaska. Currently, the state's Trans-Alaska pipeline delivers more than 11 percent of U.S. oil.
The Russian bombers involved in the exercises are equipped with long-range precision-guided cruise missiles, including nuclear and conventional missiles.
A similar bomber exercise in 2007 involved Bear H and Blackjack bombers that conducted simulated cruise missile attacks on the United States. Those bombers operated from strategic bomber bases at Anadyr, Vorkuta, and Tiksi.
Military reference books state that Bear H bombers are deployed with six Kh-55 or Kh-55SM cruise missiles that can hit targets up to 1,800 miles away with either a high-explosive warhead or a 200-kiloton nuclear warhead.
Russian Air Force Lt. Col. Vladimir Deryabin, a Defense Ministry spokesman, told Russian state-controlled news agencies that the main purpose of the war games was to provide practice for strategic, fighter, and special aviation aircrews. The first phase involved the dispersal of aviation groups to air bases in the northern and eastern region. A second phase deployed aircraft that flew in groups with fighter cover, he said.
Deryabin said that the mission of the exercise was to "practice destruction of enemy air defenses and strategic facilities," according to a June 25 dispatch by the Russian news agency Interfax.
State Department documents made public by Wikileaks have revealed that Russian offensive military exercises in the arctic during the past several years have been aimed at Moscow's efforts to "emerge as the dominant arctic power by default."
Such exercises have alarmed Norway's government since many of the exercises took place near Norway's coast.
International discussions on Russian military exercises in the arctic have been highlighted by Moscow's failure to provide pre-flight notification of bomber exercise flights.
It could not be learned if the Russians notified the United States of the recent bomber exercises near Alaska.
Canada has complained that earlier Russian bomber flights were conducted without Russia notifying the Canadian government.
A classified 2009 cable from the U.S. Embassy Moscow said Russia in May 2009 outlined its policy toward the arctic for 2020 and beyond, and said Moscow adopted a "cold peace" policy against Europe and the United States. It stated that the region will be used for strategic resources and that Moscow is seeking to claim exclusive control over an emerging northern sea route passage.
"The Arctic region, both within Russia's legally clarified borders and in areas beyond, likely holds vast untapped resources of oil and gas," the cable states. "While many Russian analysts are skeptical that any of these resources will be economically exploitable in the near future, the Russian leadership wants to secure sovereignty over these 'strategic' resources."
As part of the arctic military expansion, Russia announced May 30 it was re-opening arctic air bases that had been closed after the Soviet Union collapsed in 1991.
Russian officials have said the strategic air bases will be used for arctic operations and include airfields in the far north at Naryan-Mar, on Novaya Zemlya, and Franz Josef Land.
Naryan-Mar is a mainland strategic air base and Novaya Zemlya and Franz Josef Land are islands.
Additionally, Russia has announced it is setting up an 8,000-troop Arctic Brigade that will be deployed on the Kola Peninsula, near Finland and Norway.
In 2010, Adm. James A. Winnefeld, then-commander of the Colorado-based U.S. North Command, said in an interview that Russia has continued to fly its strategic nuclear bombers near U.S. airspace as part of Moscow's efforts to maintain what he termed the illusion of power.
"In some cases, this is about the illusion of power, where power is not quite there," Winnefeld said from the Colorado Springs-based command known as Northcom. "They are trying to show the world that they are a powerful nation, and we're not giving them the satisfaction."
Not that this has anything to do with the Police stand down, or their unwillingness to act on prior knowledge…. It is just one more step in the Cover-up. Motive? He's crazy and played too many graphic fantasy video games. Though at this point we do not really know if these games contain triggers, or are just an easy target like Rock N Roll.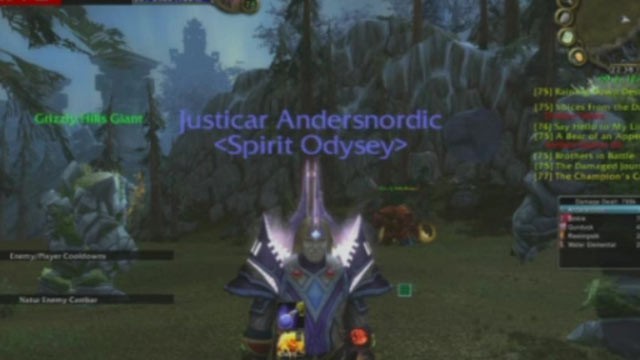 Anders Behring Breivik was an avid World of Warcraft player, using the above avatar and playing under the names "Andersnordic" and "Conservatism", prior to his violent rampage which left 77 people dead in Norway in July, 2011. (Obtained by ABC News)
Anders Breivik, the right-wing extremist who has confessed to killing 77 people during a murder spree in Norway last summer, played the violent computer game World of Warcraft nearly seven hours a day for several consecutive months before his attack, prosecutors say.
Breivik, 33, already known to have a long history with the online role-playing game, was particularly absorbed by it between November 2010 and February 2011, when he played for an average of 6 hours and 50 minutes per day, according to prosecutors.
The new evidence in Breivik's ongoing trial was presented in an Oslo court on Wednesday. When asked about his interest in the game by a prosecutor, Breivik angrily dismissed the idea that playing World of Warcraft had any connection to his attacks, according to media reports.
"It is not relevant to this case whatsoever," Breivik said, getting so upset that he threatened to turn off his microphone, according to Norwegian newspaper Verdens Gang.
On July 22, 2011, Breivik detonated a bomb in central Oslo that killed eight people, and then shot and killed 69 people attending a youth summer camp on the nearby island of Utoya. Breivik admitted mounting the attacks after his arrest, and used weapons named after Norse gods to massacre his victims.
He has previously stated that he played Warcraft, as well as another "first-person shooter" game called Modern Warfare, for hours daily.
In Warcraft, players assume the identity of an online character to use magic and weapons to battle monsters and other characters and go on quests.
According to prosecutors, Breivik played Warcraft under the aliases "Andersnordic" and "Conservatism."
Norwegian anthropologist Thomas Hylland Eriksen, who was brought in as an expert witness for Breivik's defense earlier this year, said in an interview with the British network ITN that Breivik was apparently unable to separate games from reality.
"He does not seem to be very successful at distinguishing between the virtual reality of 'World of Warcraft' and other video games and reality," Eriksen said.
In a March 2008 post on a web forum devoted to the game, user "Andersnordic" posted that the game had been responsible for making him "300kg, bald and pale," and told the game's developer Blizzard Entertainment, "You'll hear from my lawyer!"
Norwegian Anders Behring Breivik was sane when he killed 77 people last summer in attacks he saw as punishing pro-immigration "traitors", a psychiatric team said on Apr. 10, contradicting a prior report that found him psychotic.
OSLO (Reuters) – Anders Behring Breivik was sane when he killed 77 people in attacks he saw as punishing pro-immigration "traitors" in Norway, a psychiatric team said on Tuesday, contradicting a prior report that found him psychotic.
The new report could give judges grounds to sentence Breivik to prison instead of a psychiatric facility.
Breivik himself has insisted he is mentally stable and demanded that his attacks – the most violent in Norway since World War Two – be judged as political militancy and not the work of a deranged mind.
Breivik, 33, has admitted detonating a bomb that killed eight people at government headquarters in Oslo on July 22, then massacring 69 people with gunfire at a Labour Party summer camp. Most of the camp victims were teenagers.
His trial on terrorism and murder charges is scheduled to start in Oslo next week and last 10 weeks.
"We're talking about psychosis, and we have found no evidence of it," psychiatrist Asgar Aspaas told reporters after submitting the 310-page report based on weeks of round-the-clock observation.
Aspaas was one of two experts appointed to provide a second opinion after a previous team using different methods found Breivik to be a psychotic who also suffered from paranoid schizophrenia. The initial finding caused a public uproar.
"It's a completely open question now," said Jo Martin Stigen, a University of Oslo law professor. "I don't think we can rule out that he will be considered legally sane in the end."
The dueling psychiatric teams are expected to defend their diagnoses in court, which is unusual in Norway. The final ruling will be made by a five-judge panel as part of its verdict at the end of the trial.
SATISFIED
Defense attorney Geir Lippestad told reporters Breivik was satisfied by the new report and that Norwegians should brace themselves for "tough and demanding" testimony by the killer who espouses far-right ideology.
"Not only will he explain (his actions), but he will also say he regrets that he didn't go further," Lippestad said.
Lippestad has said he will call political experts, historians and even a radical Islamic cleric to testify that Breivik's view of irreconcilable cultures is shared by others.
If he is found guilty and the judges agree he is sane, Breivik could face 21 years in prison with the potential for unlimited extensions to prevent him from repeating his crimes.
If Breivik is ruled psychotic he could face an indefinite period of psychiatric care in a locked facility.
District Judge Ina Stroemstad, who is not on the case, said the trial judges would have to sort a tangle of evidence about Brevik's mental state, including his behavior in court.
"There is a broad picture now, with elements that do not go in the same direction, and that might make their conclusion more difficult," Stroemstad said.
At a preliminary hearing Breivik denied criminal guilt and suggested his actions were part of a war to save European culture.
"I am a military commander in the Norwegian resistance movement and Knights Templar Norway," Breivik said, echoing a written manifesto in which he called himself "a hero of Europe, a savior of our people and of European Christendom".
The new psychiatric report was not made public except for its main conclusions, while key parts of the prior evaluation made their way onto media websites.
"The background for the killings are his paranoid psychotic delusions that he is a participant in a civil war where he is responsible for deciding who lives and dies," the first report said. "His mission is to save the entire western world's culture and genes."
In a letter last week to news media, Breivik called the initial finding of psychosis a "humiliation" and said the experts seemed too traumatized by the killings to be objective.